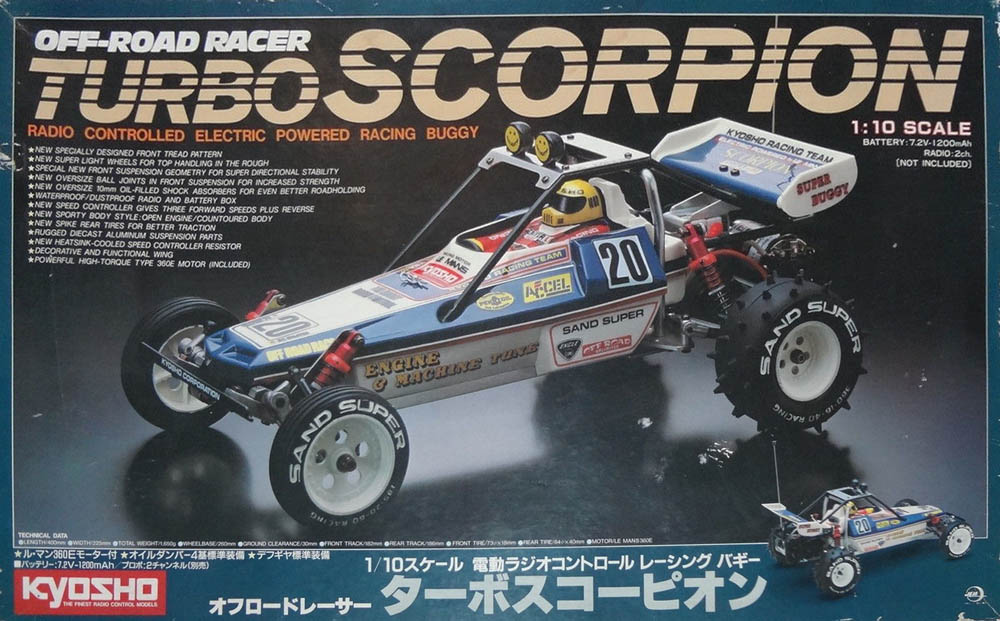 The Turbo Scorpion was the last in the line of electric powered buggies based on the original Scorpion. It was sold in the US as the Cox Turbo Scorpion, just like with the Scorpion, Beetle and Tomahawk. I have not found any documents proving it was sold as the Graupner Turbo Scorpion in Germany, like the others, but probably was sold by Graupner branded as the Kyosho Turbo Scorpion, like in the rest of the world. If anyone have images from catalogs, ads, manuals or boxes that proves this wrong, I will list it as the Graupner Turbo Scorpion, down below.
Cox Turbo Scorpion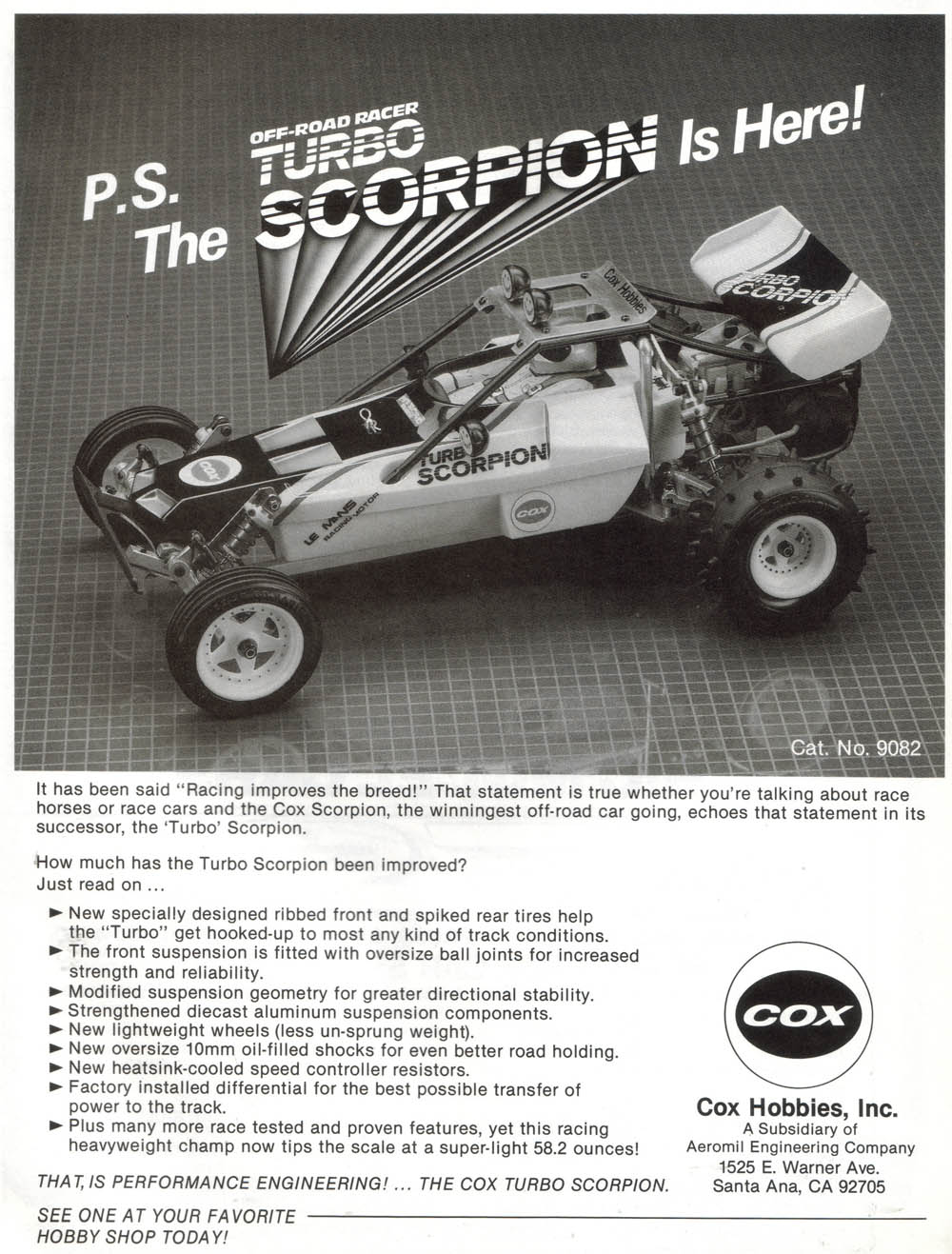 Identical to the Kyosho branded version, but sold by Cox Hobbies and branded Cox Turbo Scorpion for the US market. Released almost a year later in the US than in Japan.
| | |
| --- | --- |
| Variation | |
| Model number: | 9082 |
| Model name: | Cox Turbo Scorpion |
| Released: | 1986 |
| Type: | Model kit |
| Instr. manual: | English |
| Market: | USA |
| Made in: | Japan |
Kyosho Turbo Scorpion 2016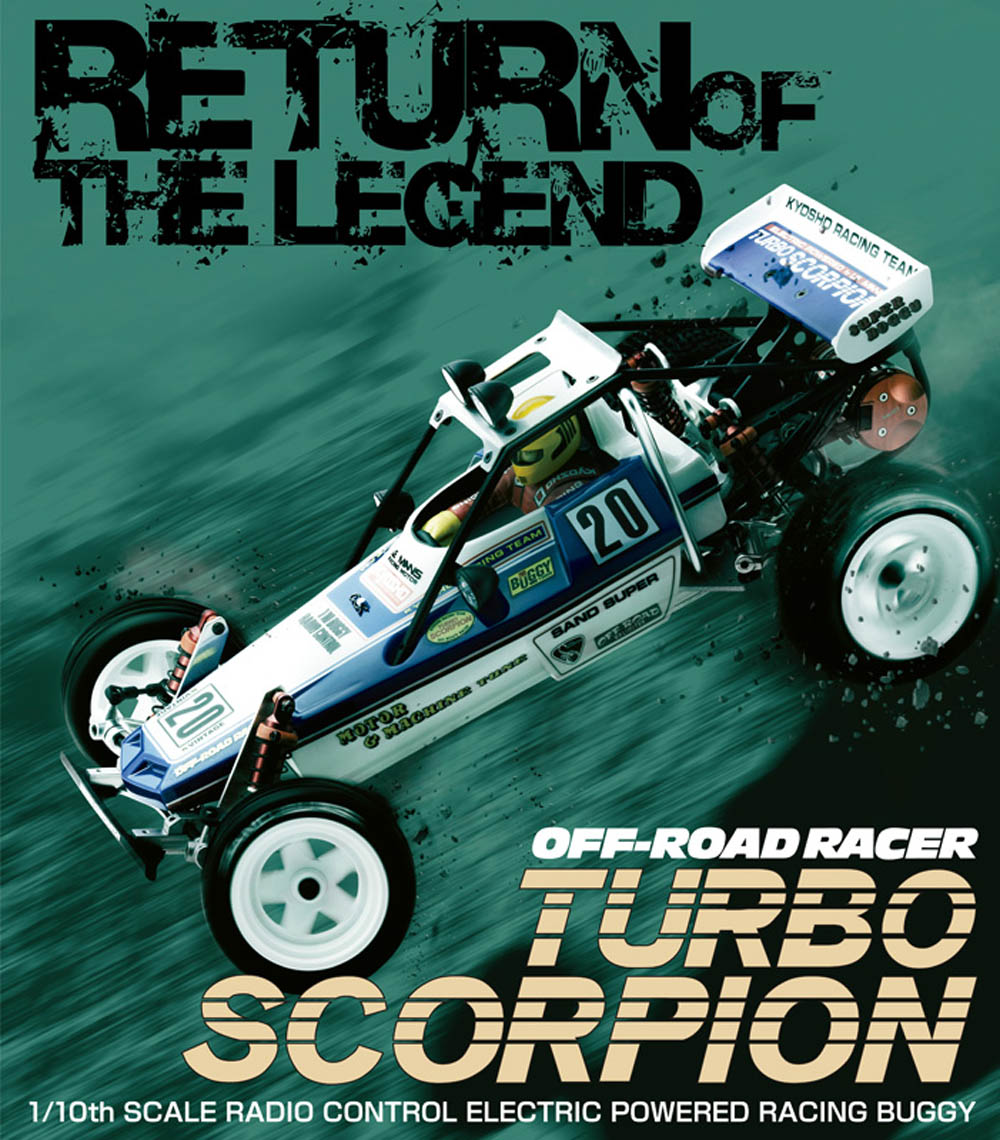 The Turbo Scorpion 2016 was announced in September 2016, but wasn't released until April 2017, due to problems with Kyoshos manufacturer in Taiwan.
| | |
| --- | --- |
| Re-release | |
| Model number: | 30615 |
| Model name: | Kyosho Turbo Scorpion 2016 |
| Released: | April 2017 (announced in September 2016) |
| Type: | Model kit |
| Chassis design: | Akira Kogawa |
| Body design: | Akira Kogawa |
| Design house: | Akira Design |
| Instr. manual: | English |
| Market: | World |
| Made in: | Taiwan |