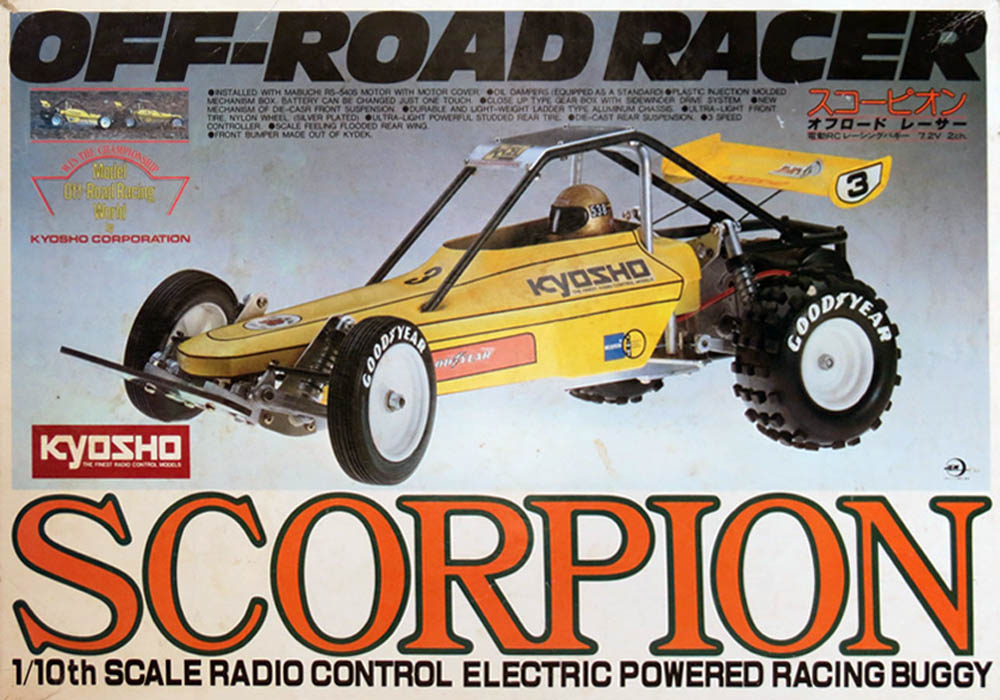 Graupner Scorpion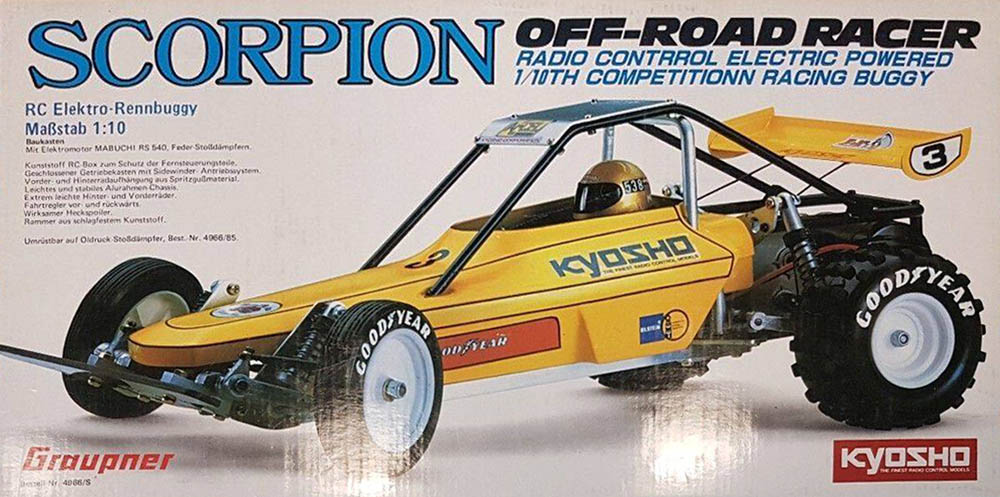 Graupner had the rights to distribute most of Kyoshos models (but not all) in Germany and some other European countries. Graupner re-branded the Scorpion as the Graupner Scorpion, but unlike Cox in the US, they also kept the Kyosho name on the box. In some European countries the Scorpion was sold by both Graupner and local Kyosho distributors. One such example is Sweden where the local distributor Slotcar sold Kyosho branded Scorpions, while there were Graupner branded versions on the market at the same time. This happened in countries that had different distributors for Kyosho and Graupner. In countries where Graupner and Kyosho had the same distributor, like in Norway, hobby shops could never know if the Scorpions they received would be Graupner or Kyosho branded.
Cox Scorpion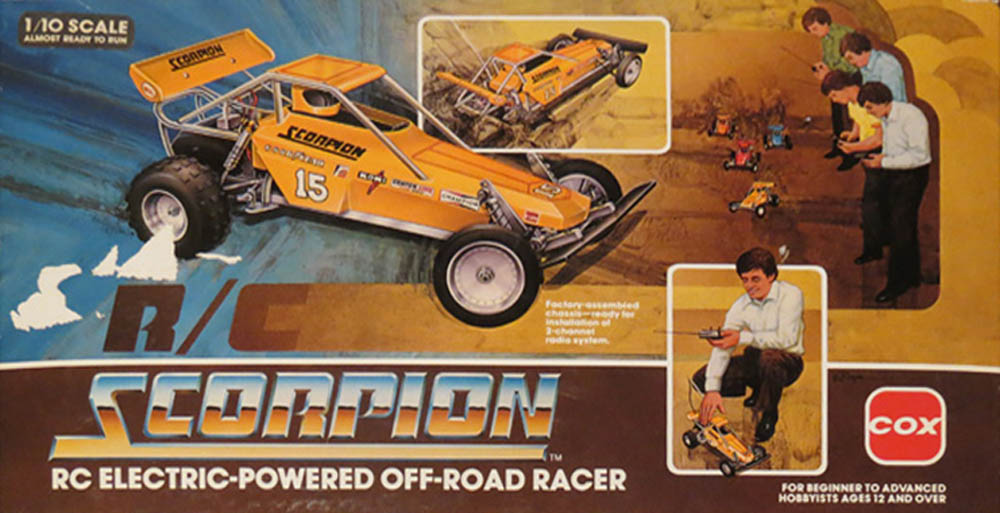 Surprisingly many people in the US still believe the Cox Scorpion was a US-made product, and not a re-branded Japanese Kyosho model. I have also seen people claiming it was designed in the US, but made in Japan. Both these assumptions are wrong. The Scorpion was designed for Kyosho in Japan by Akira Kogawa at the Auto Model design bureau in Tokyo. Cox Hobbies had the distribution rights in the US, and decided to re-brand it. One big difference between the Cox branded Scorpions and the Kyosho Scorpions was that the Cox version came pre-assembled, while the Kyosho version came as a kit. Cox also provided a different set of decals. Black tubs also seems to have been common on the Cox version. Other than that the two versions were identical. I have seen people pointing out differences in the parts between the two versions, but those were due to running changes made to the parts during its time on the market, and had nothing to do with if it was Cox or Kyosho branded. Due to the volume of parts and cars imported by Cox, these updates could show up on the Cox cars later or earlier than on the Kyosho cars. There were a few changes that I believe never showed up on the Cox cars, like the red shocks. That could be due to Cox already having large stocks of older cars/parts, or it could be that Cox insisted on getting the older parts, or it could just have been coincidental. I really don't know.
Kyosho Scorpion 2014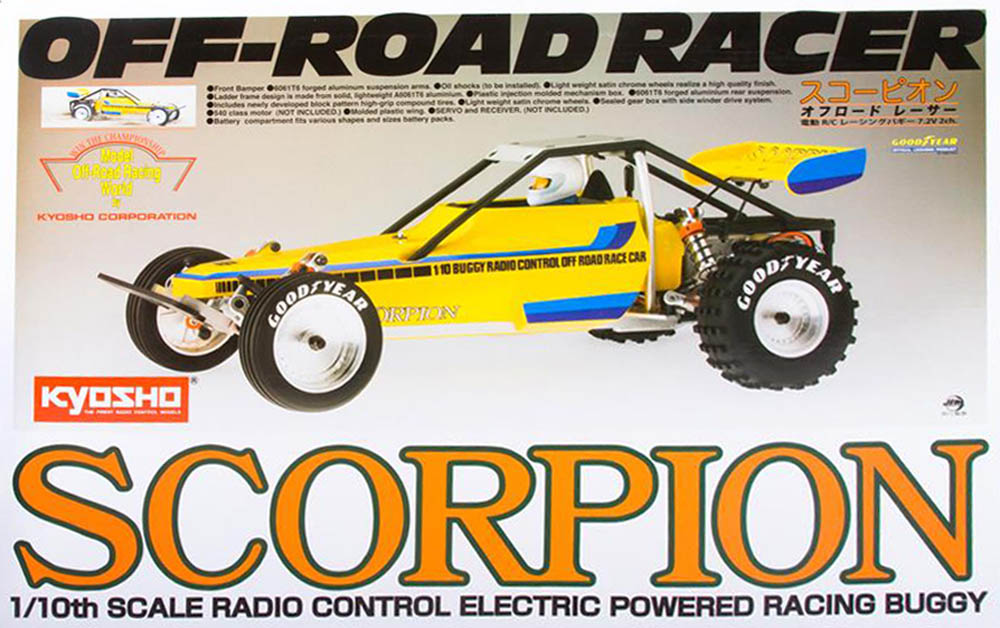 The re-released Scorpion 2014 was re-designed from the bottom up, by Akira Kogawa who also designed the original Scorpion from 1982. Every single part were designed in CAD from scratch, including the mold for the body. Kyosho had not kept the original molds and tooling from 1982. Don't believe those who's insisting this is just a myth, it's not, it's a fact. Told me directly by the designer himself. All his old drawings were still available at his old work place (Auto Model), though.
| | |
| --- | --- |
| Re-release | |
| Model number: | 30613 |
| Model name: | Kyosho Scorpion 2014 |
| Released: | June 2014 |
| Type: | Model kit |
| Chassis design: | Akira Kogawa |
| Body design: | Akira Kogawa |
| Design house: | Akira Design |
| Instr. manual: | English |
| Market: | World |
| Made in: | Taiwan (by Kingstar) |