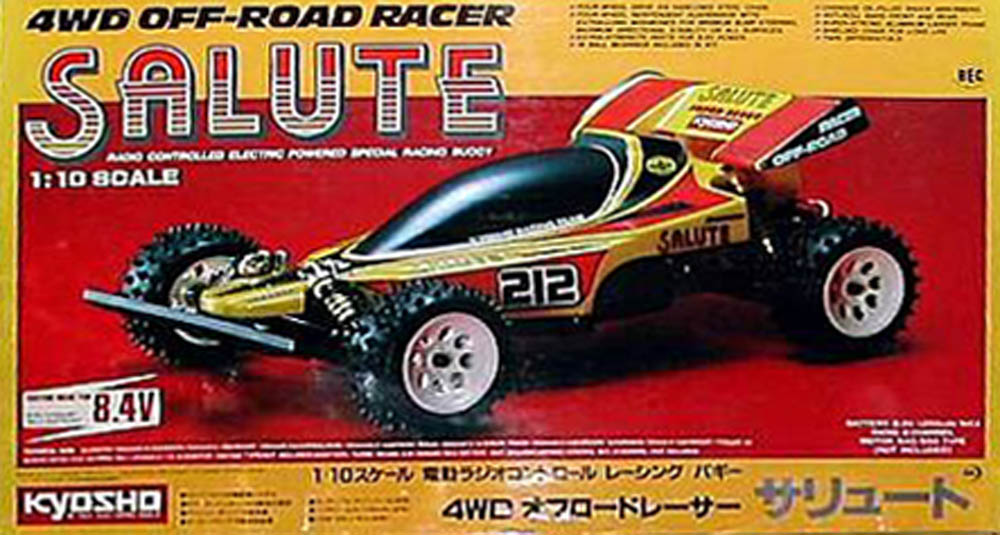 The Salute was a Turbo Optima, without motor, and with a "space age" body shell. You really don't want me to start saying what I really think about this body. It's the only body for the Optima series not designed by Akira Kogawa, and I still don't understand why Kyosho would let any one else tamper with the Kogawa perfection. I tried asking Kogawa who really designed this, but he couldn't remember….. he probably has suppressed it, or maybe being diplomatic, probably a wise choice. This Yellow version was made for the Japanese (Asian?) market. I'm a total Optima nut, and I have several versions of all the buggies in the Optima series. I don't have this. Never will. Probably. Maybe…. Well, who knows.
| | |
| --- | --- |
| Model number: | 3034 |
| Model name: | Kyosho Salute |
| Released: | October 1986 |
| Type: | Model kit |
| Chassis design: | Akira Kogawa |
| Body design: | ? |
| Design house: | Auto Model |
| Instr. manual: | English (v1) – English (v2) |
| Market: | Japan (Asia?) |
| Made in: | Japan |
| Related models: | Optima – Javelin – Turbo Optima – Optima Pro – Salute |
Kyosho Salute (blue)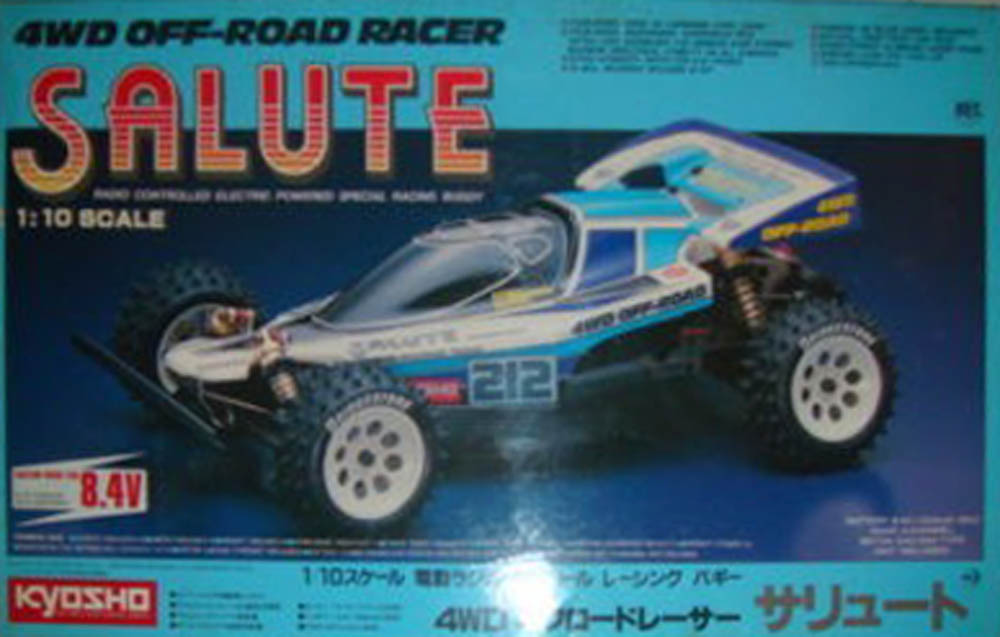 This blue version of the Salute has a slightly different body than the yellow one above, but that didn't help it much. This is the version reviewed in both US and French magazines, which makes me believe this is the "world" version, while the yellow is the Japanese (Asian?) version. If anyone have any more info on this, please comment down below.
| | |
| --- | --- |
| Variation | |
| Model number: | 3034 (the same as the yellow Salute) |
| Model name: | Kyosho Salute |
| Released: | October 1986 (?) |
| Type: | Model kit |
| Instr. manual: | English (v1) – English (v2) (the same as the yellow version) |
| Market: | World |
| Made in: | Japan |