Kyosho Salute (yellow box)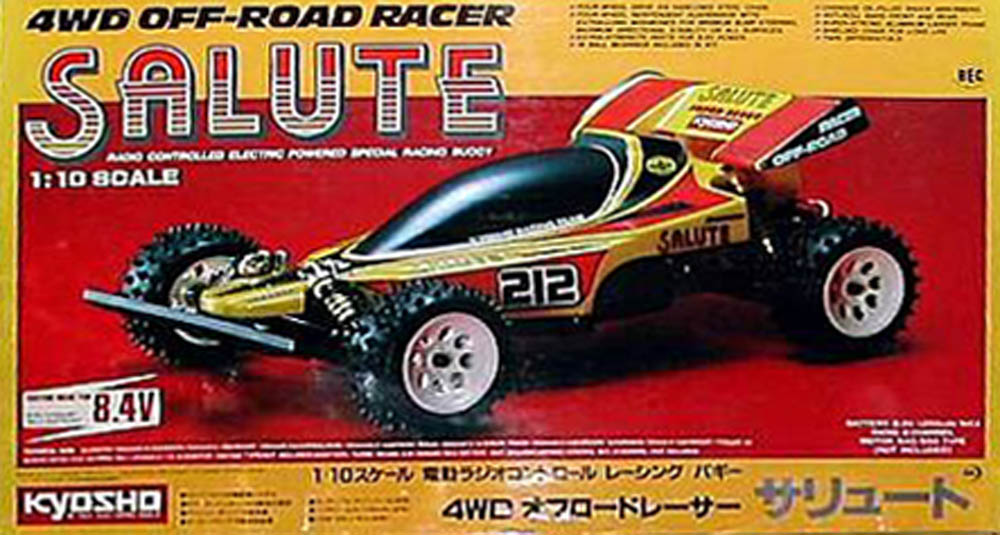 The Salute was a Turbo Optima, without motor, and with a "space age" body shell. You really don't want me to start saying what I really think about this body. It's the only body for the Optima series not designed by Akira Kogawa, and I still don't understand why Kyosho would let any one else tamper with the Kogawa perfection. I tried asking Kogawa who really designed this, but he couldn't remember….. he probably has suppressed it, or maybe being diplomatic, probably a wise choice. I have later been told this yellow version was the first version of the box, showing a prototype version of the body, even if it came with the body shown on the later blue boxes. I'm a total Optima nut, and I have several versions of all the buggies in the Optima series. I don't have this. Never will. Probably. Maybe…. Well, who knows.
| | |
| --- | --- |
| Model number: | 3034 |
| Model name: | Kyosho Salute |
| Released: | November 1986 |
| Type: | Model kit |
| Chassis design: | Akira Kogawa |
| Body design: | ? |
| Box-art painter: | Toshifumi Watanabe |
| Design house: | Auto Model |
| Instr. manual: | English (v1) – English (v2) |
| Market: | World |
| Made in: | Japan |
| Related models: | Optima – Javelin – Turbo Optima – Salute – Optima Pro |
Kyosho Salute (blue box)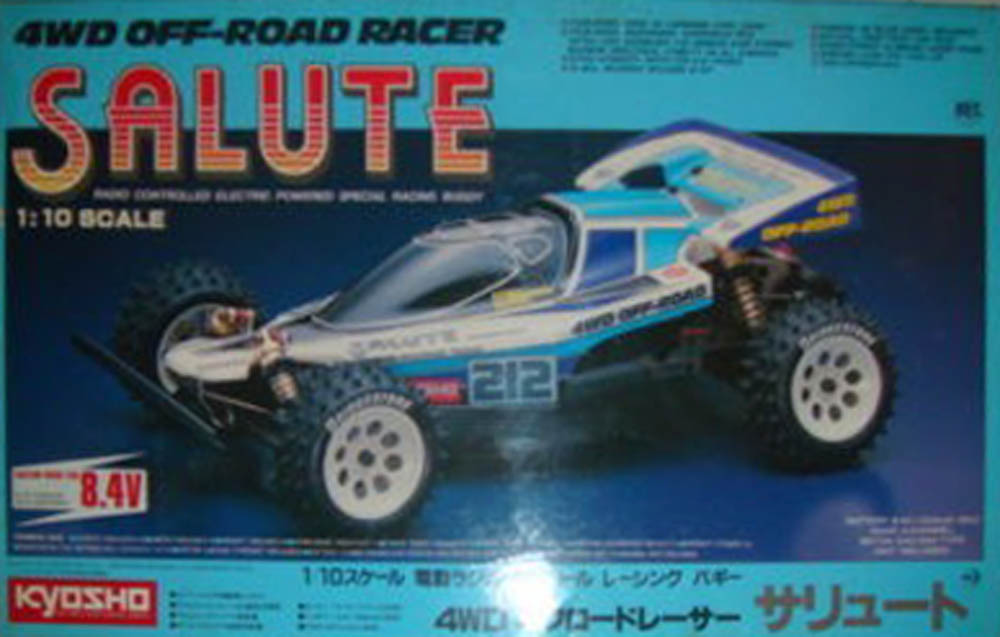 The Salute pictured on this blue version of the box has a slightly different body than the Salute on the yellow box shown above. But that honestly didn't help it much. From what I have understood, it was just the boxes that changed, not the contents.
| | |
| --- | --- |
| Box variation | |
| Model number: | 3034 (the same as the yellow box Salute) |
| Model name: | Kyosho Salute |
| Released: | Yellow box November 1986, nut sure about the blue box |
| Type: | Model kit |
| Box-art painter: | Toshifumi Watanabe |
| Instr. manual: | English (v1) – English (v2) (the same as the yellow version) |
| Market: | World |
| Made in: | Japan |