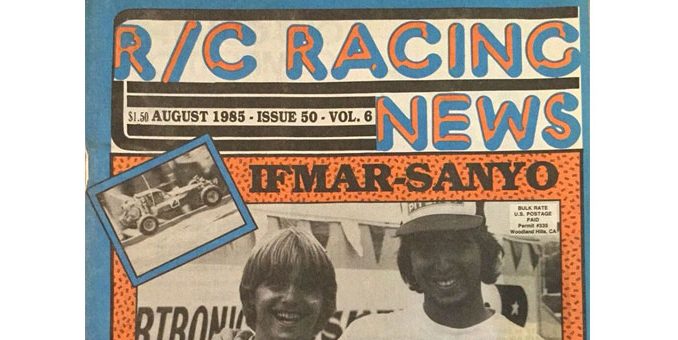 EDIT 2: PayPal money pool goal reached, collection sent.
EDIT: A PayPal money pool has been set up, all amounts are welcome to help us reach the goal.
PayPal money pool link: https://paypal.me/pools/c/8fXd4Ph0Ss
LIST OF THOSE WHO HAVE CONTRIBUTED WITH DONATIONS TO THE MONEY POOL:
Neil Dickens
Filip Williamsson
Dan Yurek
Mick Brown (owns 1 scanning ticket)
Jeff Malar
Guillaume Fleury (owns 2 scanning tickets)
Richard Bull
Erik de Sterk (owns 2 scanning tickets)
Martin Glowka
Dennis Martinusen (owns 2 scanning tickets)
Rob George (owns 1 scanning ticket)
Erik Westlund
Raphaël Gayoso (owns 1 scanning ticket)
Christopher Boland
Svein Harald Ytternes (owns 2 scanning tickets)
Dan Russell
Michael Slaughter (owns 2 scanning tickets)
Paul Mallos/Mallos Dexter (owns 10 scanning tickets!!!)
David Chapman
Mike Haswell (owns 8 scanning tickets!!!)
OverRC.com (owns 2 scanning tickets)
Gregory Lane
Mark Cabiling
The list will be updated as more donations are registered.
———————-
I have recently been offered to buy a rather large collection of the American magazine RC Racing News/RC News, with nearly complete years from 1981 to 1987. They are by no means cheap, but ranges from $30 pr. issue for the oldest, to $10 per issue for the newer magazines. These are the prices if bought together as a collection. I have already secured the 1985, 1986 and 1987 years, but the most expensive years are left. The price asked for the early magazines are $1000 + shipping, which is way more than I can afford to spend after already having cashed out $330 for the 85, 86, 87 collection. To be able to secure the 81, 82, 83, 84 collection as well, I have proposal for the community. More on this in a bit.
Magazines are an invaluable source for the early history of RC cars and RC car racing. What people remember from back then is very different from person to person, but what's printed in the magazines are solid. Yes, there are mistakes in the magazines as well, but all in all they're the most accurate sources available, especially these RC Racing News magazines, that were published by Lou Peralta, a very active event organiser (etc) in the early 80's. The RC Racing News (changed name to RC News in 1986) first came out in a newspaper format (from 1981 to April 1984), but was later printed in a magazine format. These early RC Racing News magazines (or rather newspapers) were of course printed using newspaper raster printing, so they are not very good for preserving photos, although larger pictures scan quite well. What they do contain are long reports from events with results, news etc., and the ads are also very interesting. We all know how old newspapers age, they get yellow, they start to crack, or they could even be eaten by bugs like silverfish. The collection I have been offered is said to be in a very good condition, showing very little of those defects. I have earlier bought quite a lot of Japanese magazines, and the contents of those have been very useful for the articles on this website. Now that I want to focus more on the early US scene, I see RC Racing News as the best source for the early ORRCA and ROAR organised races etc. The editor, Lou Peralta, was the organiser of the first MRC/Tamiya Off-Road World Championship races, as well as a lot of other ORRCA sanctioned events. He was also the president of ORRCA, and his editorials give a unique insight into the rivalry between the ORRCA and ROAR organisations in the early days of electric off-road racing.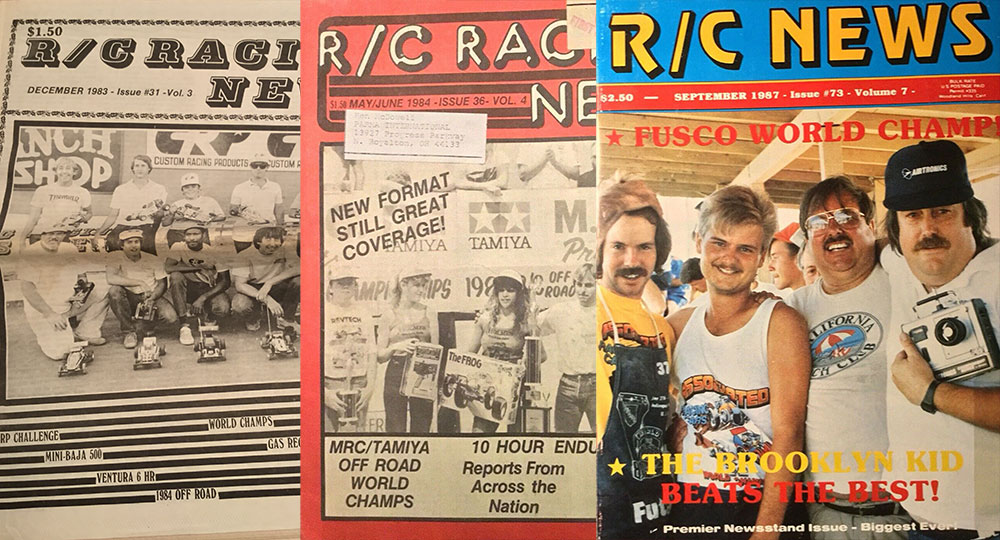 I was mentioning a proposal, earlier on…
When I started this website, I was clear that there should be no ads, pop-ups or whatever bothers me on websites. This should be a clean and free site, with focus on the content. This means I have taken all the cost myself, including webhosting, licences for software, literature etc. It amounts to quite a bit of money, per year. Don't take me wrong, I've done it happily, and with a big smile on my face! But to be able to buy the last part of this RC Racing News collection I need help, and I was thinking of some kind of crowdfunding/donation system. I'm just thinking out loud here… What if I set up a donation system where people could donate some dollars, and at the same time "buy" the right to request scans of a certain number of magazines? Like if you donate $30 you can request a scan of one of the magazines, and if you donate $50 you can request two scans? I will of course put the scanned magazines up for download here on the site, so everybody will be able to download them. So not only will you get your 1 or 2 scans, but also the scans "bought" by others. Every donation, even one single dollar, are of course also be appreciated, and you will still be able to download scans requested by others. If/when we get the magazines, I will first scan the cover and index pages, so you will be able to see the contents before deciding which magazine(s) you want to be scanned. Of course, the long term goal is to have them all scanned and uploaded to the document depository, but I will start with those requested by the donors. You can already see some of the covers of RC Racing News and RC News by clicking the "Magazines" tab in the menu above.
I'm not sure how good the scans of the earlier newspaper issues will be, but I have an A3 scanner, and I'll do my very best. The magazine format editions were also printed on cheap paper, so the scans of those won't be perfect either. But they should be good reads anyway. Click here for a scanned example of the first issue after changing from the newspaper format to the magazine format (May/June 1984). Here is also an example of a scan (not my scan, I'm not really sure where I got that from….) of the earlier newspaper format (May 1983).
Just one more thing…. Based on the sales of the re-released Turbo Optima, Kyosho have given the green light for the re-release of the Ultima, and it is being developed, as we speak. No release date set, but could be September/October if everything go as planned, or March/April in the "worst" case.