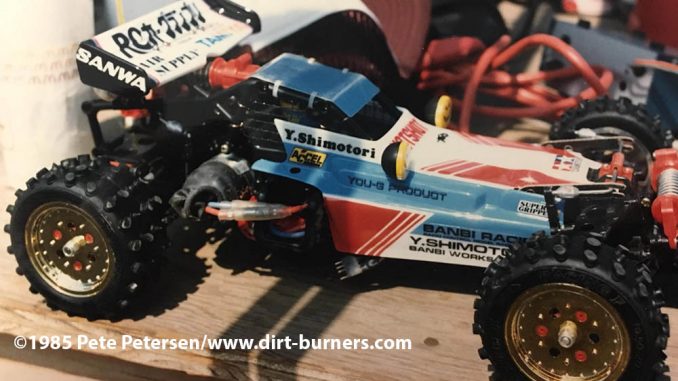 I have seen many extremely cool modified Tamiya Hotshot builds during the years, with all kinds of different chassis variants, from carbon or fiberglass (even 3D printed) side plate configurations, to flat chassis layouts. It's actually amazing how much people seem to love modifying this old favorite. Released in April of 1985, the Fumito Taki designed Hotshot was Tamiya's first real 4WD buggy, and became an icon for many a youngster who grew up in the 80's. Actually it's still an icon, and probably one of the most distinct and recognizable RC cars of all time.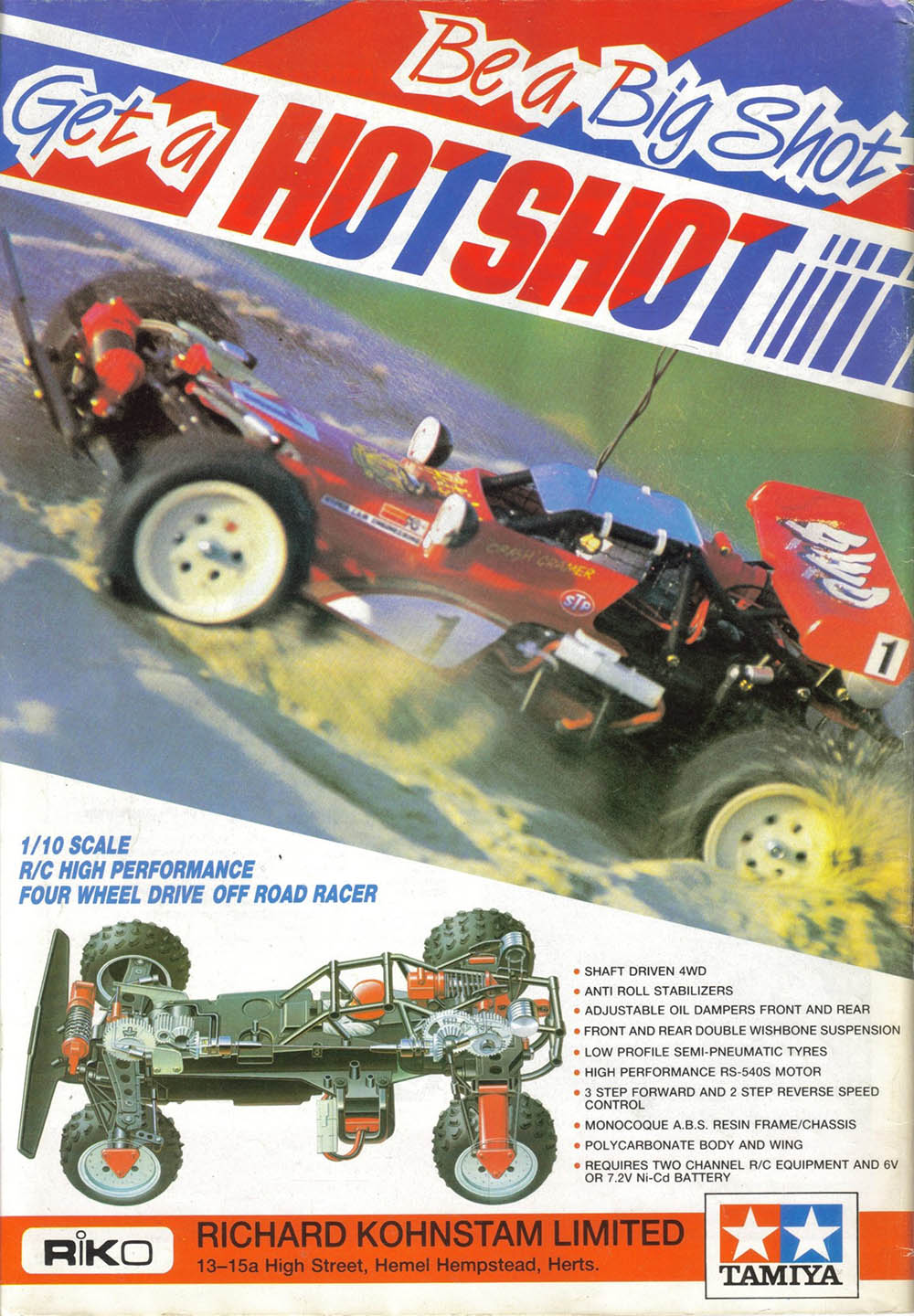 Sporting a center drive shaft, or cardan, the transmission of power from the rear to the front wheels was very much simplified compared to the chain (Yokomo YZ-834B, Kyosho Gallop etc.) or belt (Hirobo 44B) systems previously used in 4WD buggies. Less maintenance and bullet proof reliability made this approach a favorite among the younger drivers, and hobbyists. For racing the extra gears needed to convert the axis of rotation to the longitudinal cardan shaft, meant more loss of power and higher drain on the batteries, than with the belt or chain drive systems. Tamiya, however, stuck with this system all the way up, and beyond, the Egress and the Top Force in the 90's.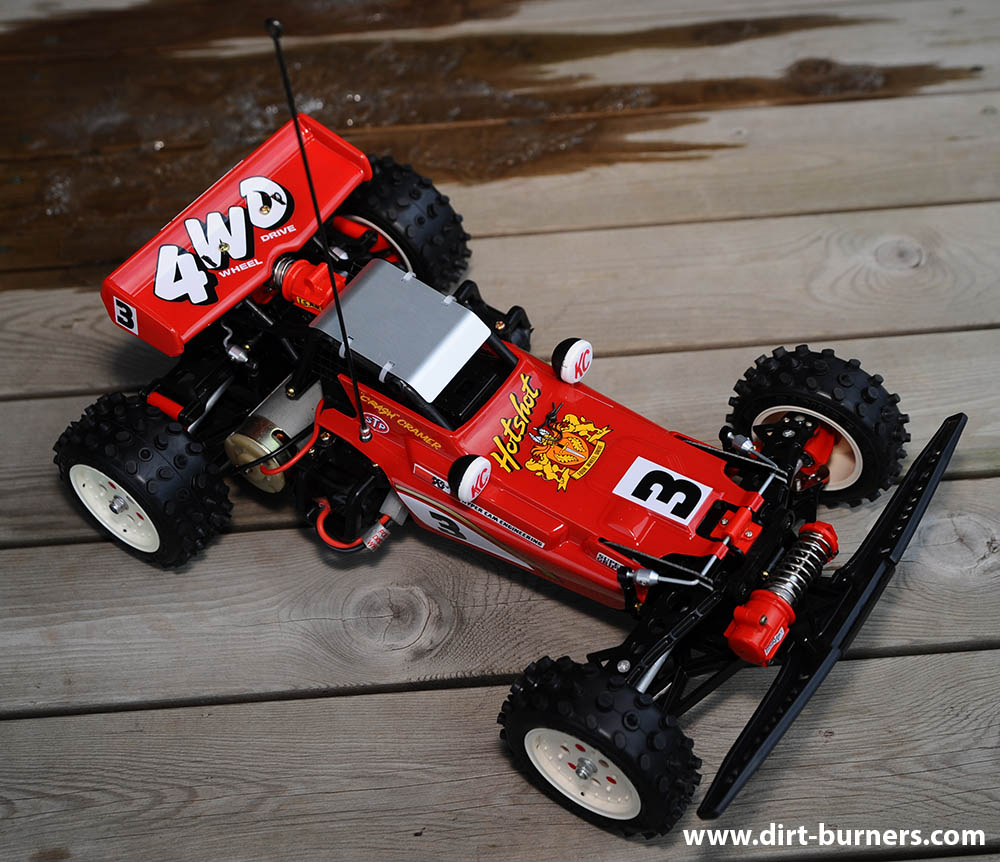 There has always been the odd brave soul, deciding to use these hobby grade buggies (well, talking about the Egress and the Top Force as "hobby grade" would be a stretch, just ask Jamie Booth, for starters) in big championship races, and one of the pioneers was Japanese legend Yoshiaki Shimotori. Shimotori, nicknamed "Kemur", was quite the character, and always went his own ways. Kemur died from illness in 2014, but left behind a legacy like few others in the RC world. For the 1985 World Championships in Del-Mar he had prepared two cars, a Tamiya Hornet for the stock class, and the newly released Tamiya Hotshot for modified.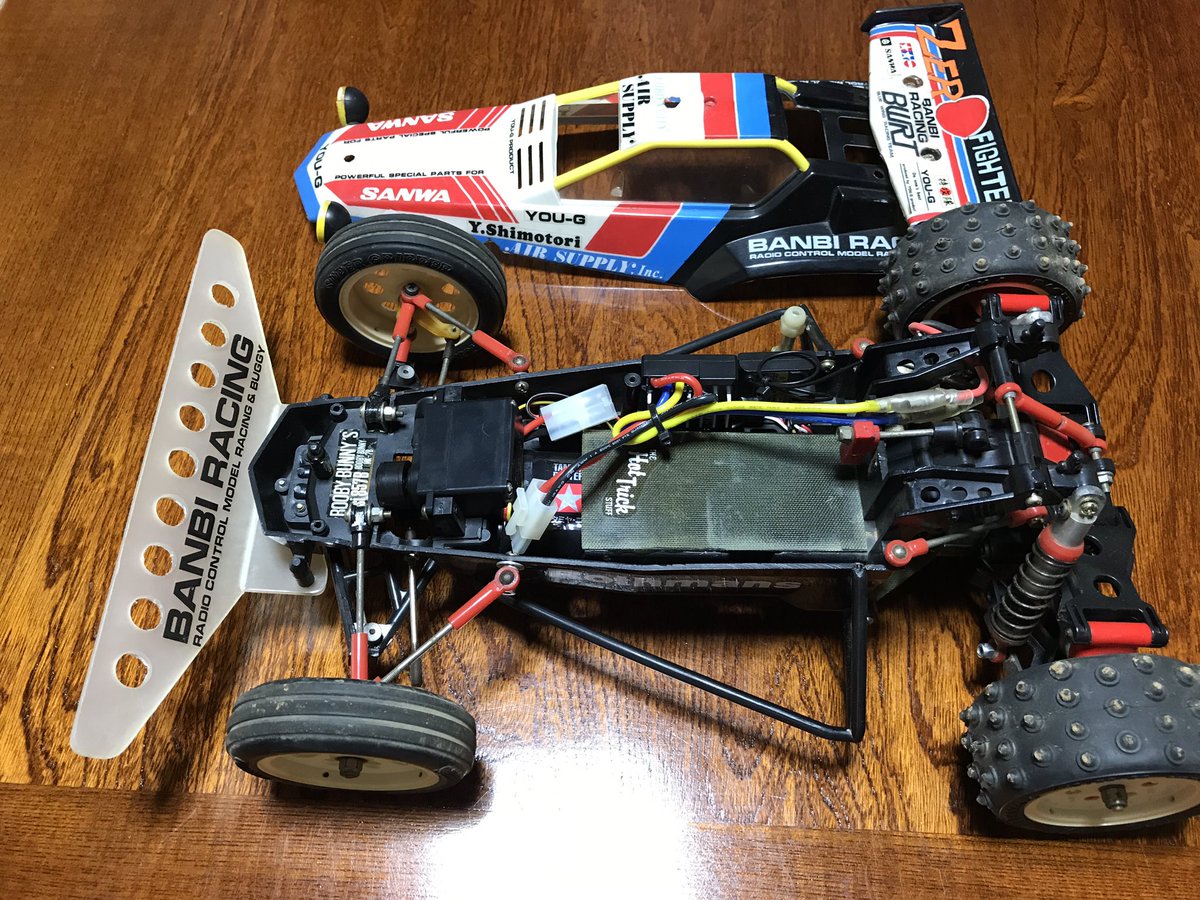 The Hornet was quite a creation, and was modified with a Hotshot(!) gear box, for starters. I won't go into any more details of his Hornet at this time, but rather talk a little about his Hotshot, a car there exists very few good photos of, even though it won second place in the modified concours competition in Del-Mar.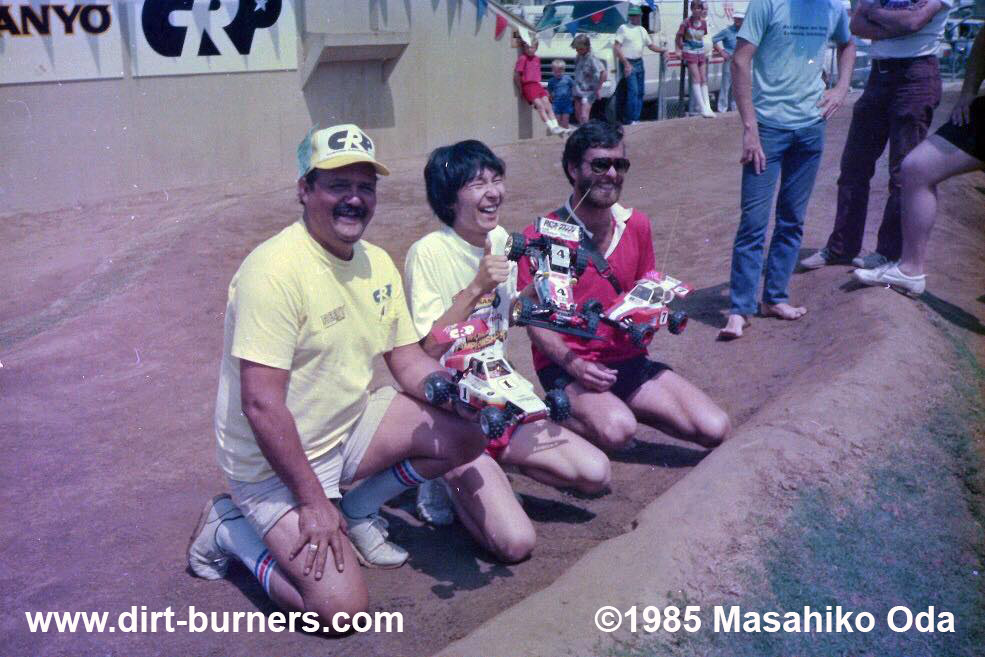 I started this article by praising the many cool Hotshot builds I've seen during the years, but Kemur's 1985 Worlds Hotshot was the one that started it all. This is the grandfather of all modified Hotshots! This is the real deal! This is THE shit!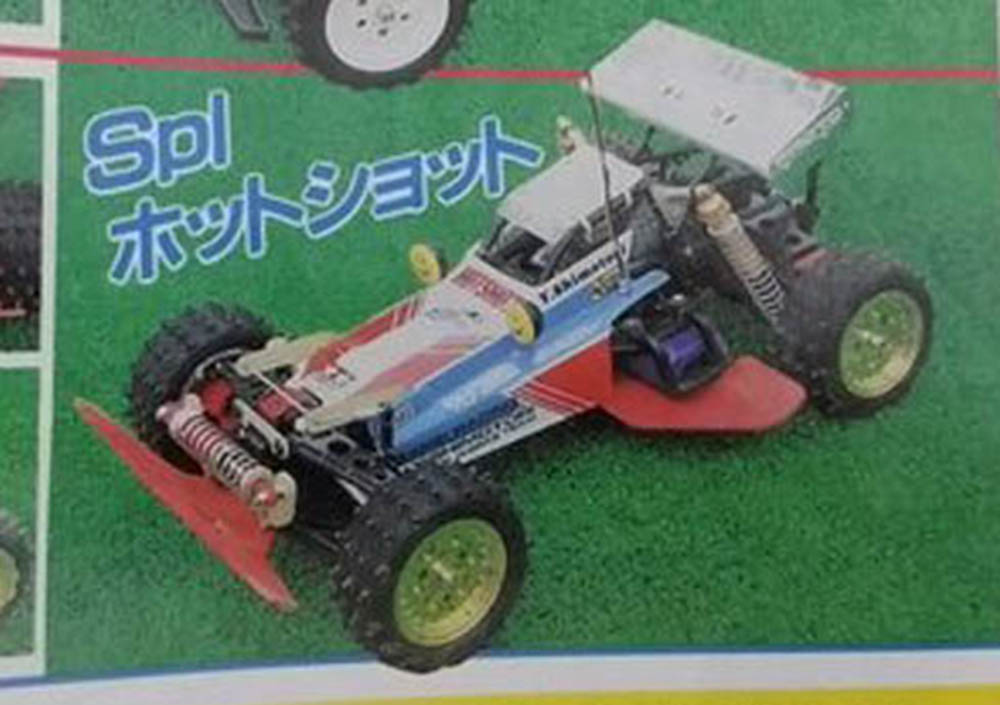 Arriving in California, Kemur's Hotshot was (using my favorite Gene Husting quote) "box stock, just as it comes out of the box", only in his trademark red-white-blue livery, and with the very early gold wheels. The car looked stunning and, as mentioned before, won the second place in the concourse competition. In Del-Mar Kemur met John Gudvangen of JG Manufacturing, who took an interest in this new Japanese buggy, and offered to make some hop ups for it.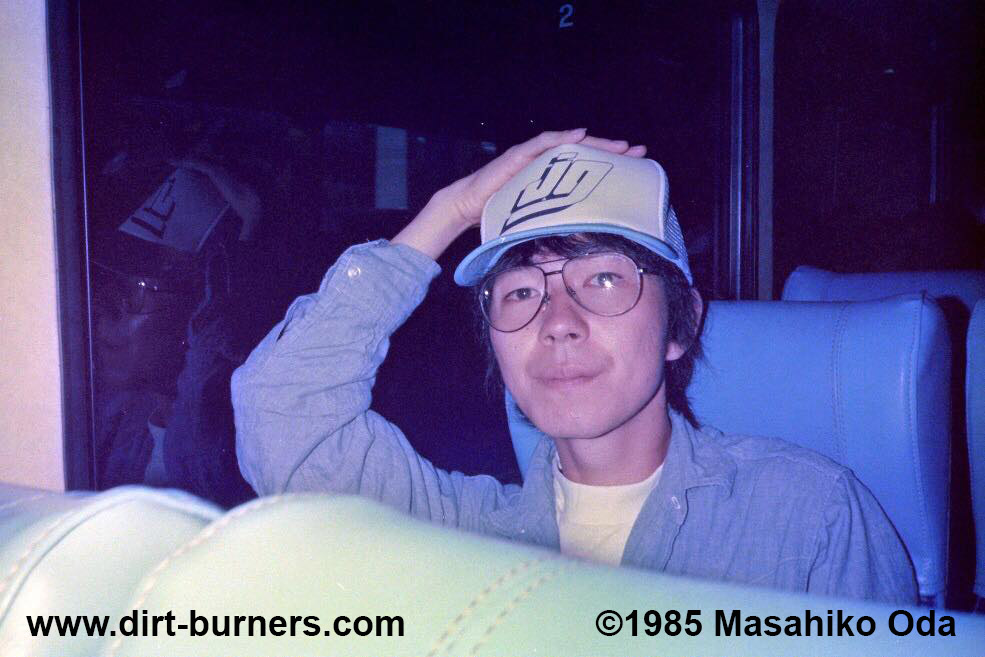 How many of these hop-ups that saw the day of light during the Worlds is unclear, but Kemur's Hotshot was the one Gudvangen studied and measured to design most of the hop-ups that JG Mfg. released for it. I have only ever seen one picture of the modified version, and not a good picture either. However, the picture is good enough to see which JG parts it was equipped with, and I have "silently" been collecting parts needed to make a replica of it. What I don't know is what's inside the car, like inside the gear boxes, and inside the radio box. Here I will just go "freestyling" and use parts that I know existed at the time. I know I have a few Japanese readers of my website, and even some who had close connections to Kemur. If anyone knows anything more about Yoshiaki's Hotshot, or have additional pictures, please don't hesitate to leave a comment below or contact me, even in Japanese if that's easier. I can have it translated.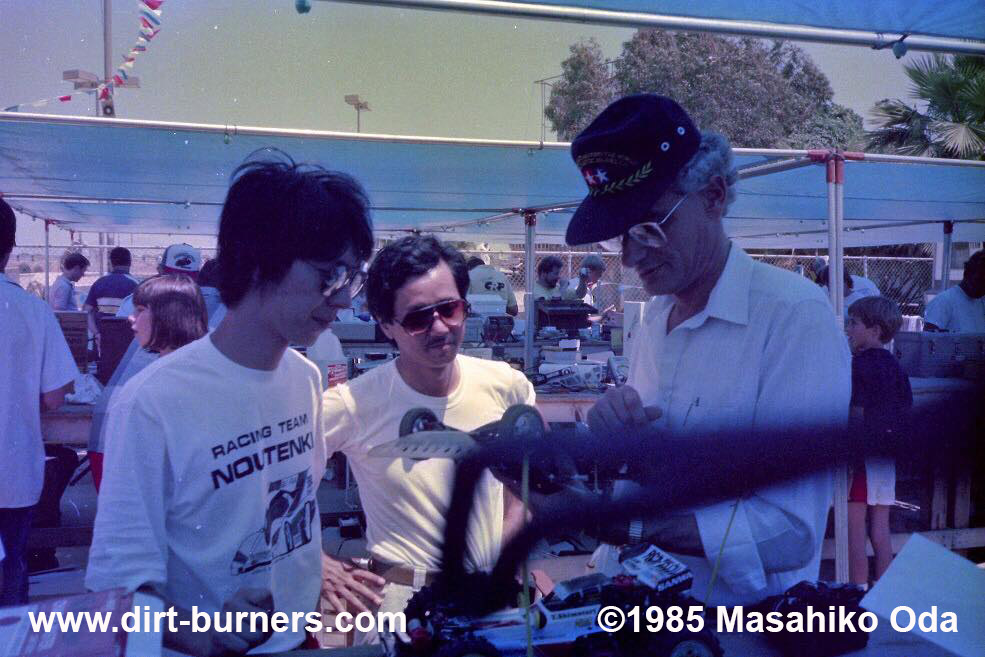 I have for a while been on the lookout for a donor Hotshot that I could use as a base for this build. I prefer doing it that way instead of finding separate parts, as then I have a "backbone" with all of the smaller parts, that could be difficult to source. There is always that one part…… I'd rather start off with a full car, and just replace the parts that are too bad to be used. I found this wreck in Japan, and got it for about 65 USD. That's less than most ebay or facebook sellers asks for a vintage chassis and radio box alone. I have not received the car yet, but it seems to be mostly complete. I'm sure at least some of the suspension arms are broken, as I've never seen a used vintage Hotshot (or Boomerang, or Super Sabre, or Bigwig or Hotshot II) with all arms "unharmed". They all seems to break where the threads of the suspension pins screws into the arm, either on the inside or on the outside (rear), towards the hub. This is a design flaw, where Tamiya should have stuck with the solution they had on the Hotshot prototypes. On the prototypes they used the same system as on eg. the Kyosho cars, with E-clips on the suspension pins, instead of actually screwing them into the arms. However, I do believe I have a few new or good used arms in my Hotshot box. On a side note, I suspect the car to contain a "surprise"….. There are motor and battery wires coming out of the radio box, but there are no wires going to the "rattlesnake" resistors, which could indicate there is an ESC in there. This is the stuff I find exciting with buying cars just from pictures. You'll never know what you'll find.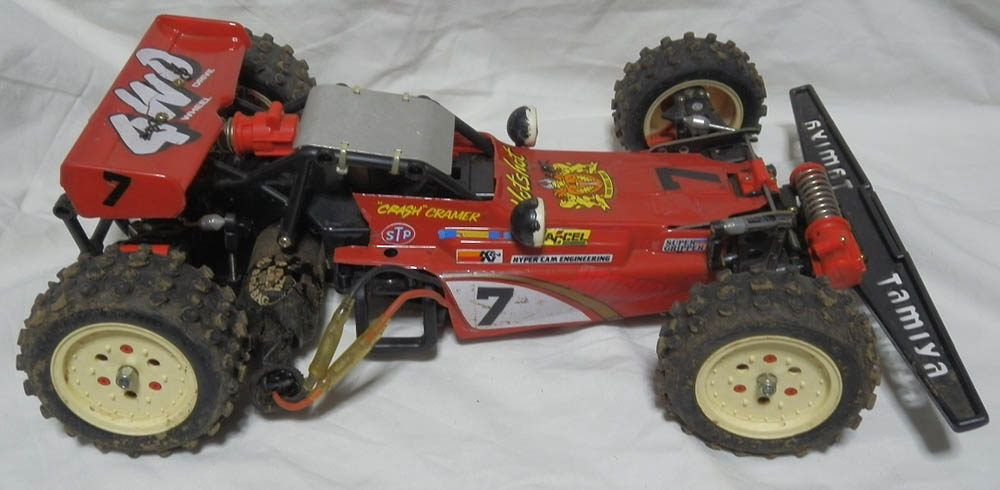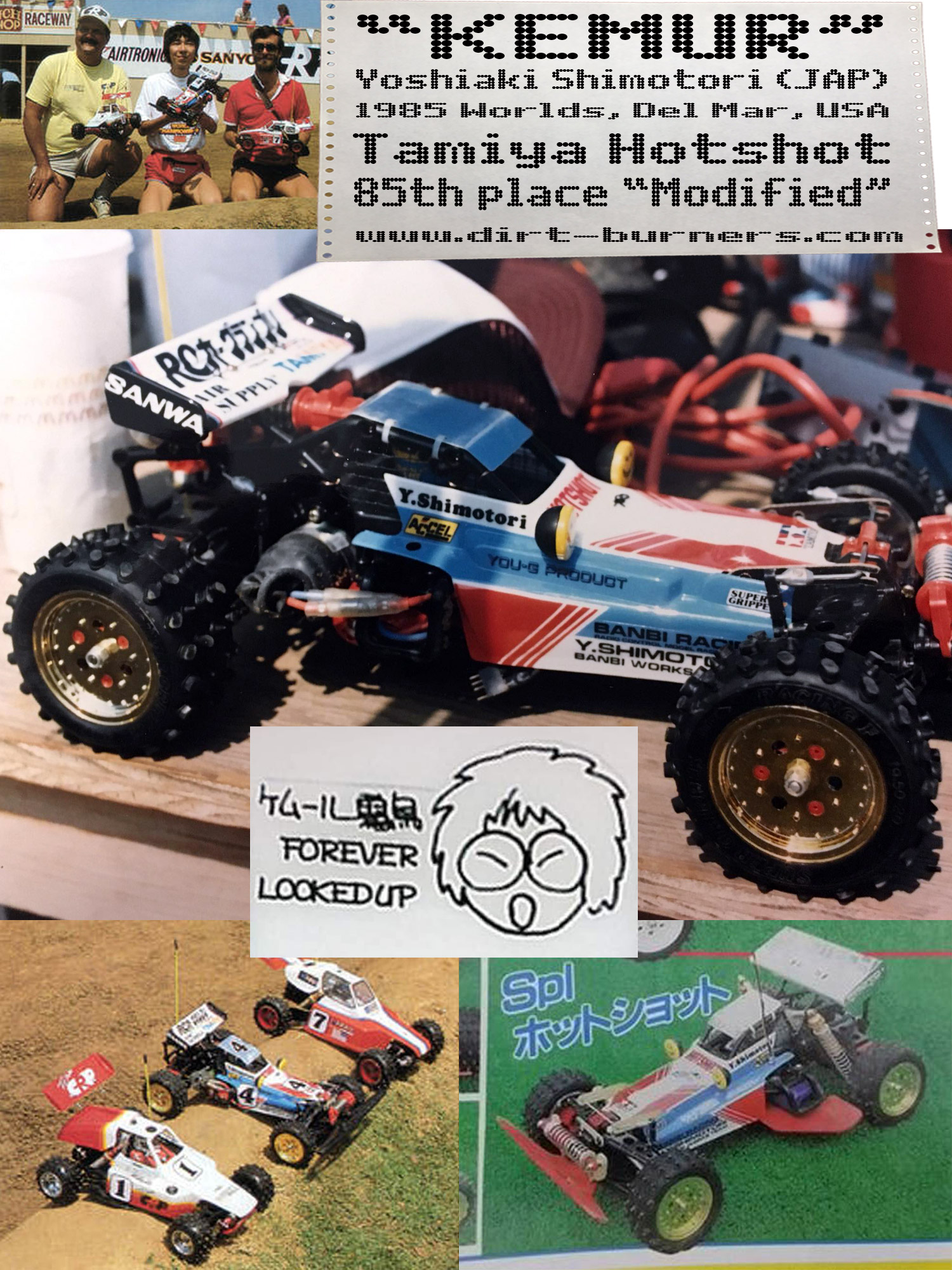 What can be seen from the only picture I have of Kemur's JG modified version is the following:
Red kydex JG front bumper (wide version) and battery tray/nerf guard.
I have a red kydex Hotshot bumper that I got from Mike Mills some years ago, that I had plans to cut and fit on a Kyosho Optima. Luckily I found an original for the Optima, and the Hotshot bumper went into my Hotshot spare parts/hop-up box. This is, however, the narrow version of the bumper, but that will have to do. The battery tray/nerf guard I have been looking for, but the only one I could find was priced at $55, with an additional $27 in shipping to Norway. Add 25% VAT and about $12 in fees, that thin piece of kydex would set me back more than $100. I was not prepared to spend that. Having worked with cutting kydex before, I decided on making my own, from the small picture I had of it. Using an original Hotshot battery tray (the triangle), I used the screw holes for the hinges and the locking pins, to size up the image to full size, and then drew the outlines that I later transferred to a sheet of red kydex I had bought on ebay a long time ago. I still have to trim it a little, and to make the "kick up bends" that goes towards the wheels, but that should be a breeze, as kydex can easily be formed if left in boiling water for a minute or so. I did the same with the bumper for my Torpedo Optima build.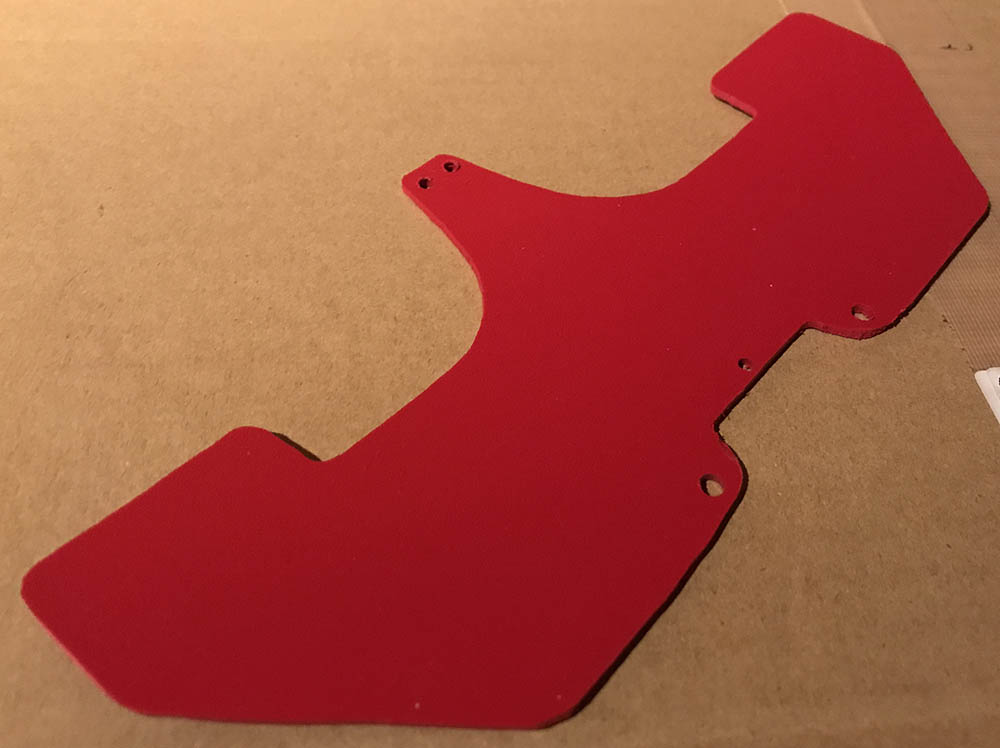 The first place I will sway away from Kemur's original JG Hotshot, is by using a red kydex JG roof. This must be one of the lesser known JG parts for the Hotshot. I found it in my Hotshot box, and have no idea where or when I got it. I haven't seen many of those during the years. I just have to use it on this build, as I can't see any other builds where it will fit better…..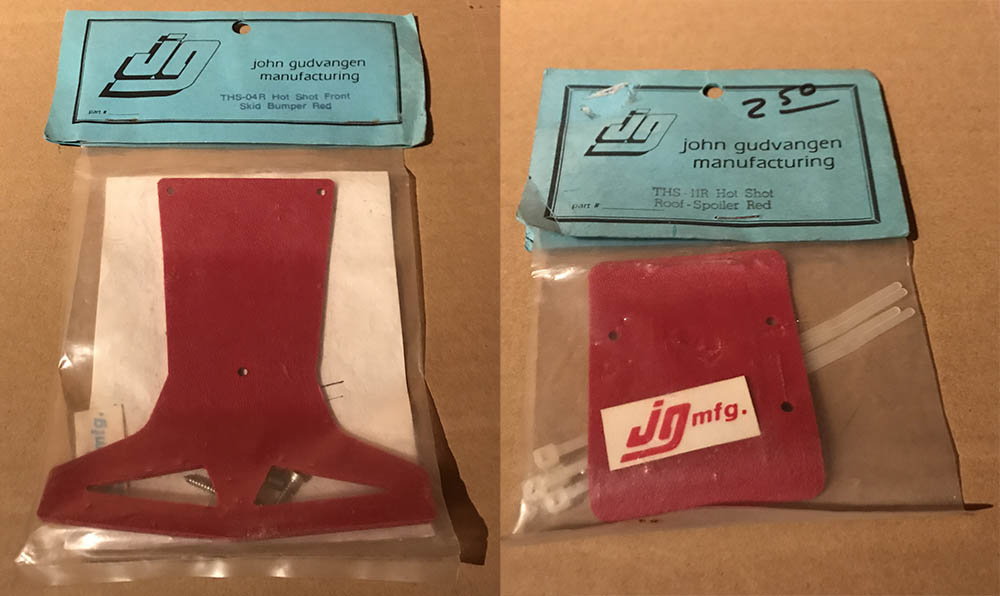 Greenish fiberglass front mono shock mounts, sway bar mounts, upper suspension arm brace and rear tall shock mounts.
The mono shock mounts and the rear shock mounts I had Jeff Malar of Factory Works cut for me, as he already had the files for them. I forgot to ask about the brace, though. I already had a couple of sets of the sway bar mounts, so that was no problem. I have also recently found an original set of the rear shock mounts, so that is sorted, too.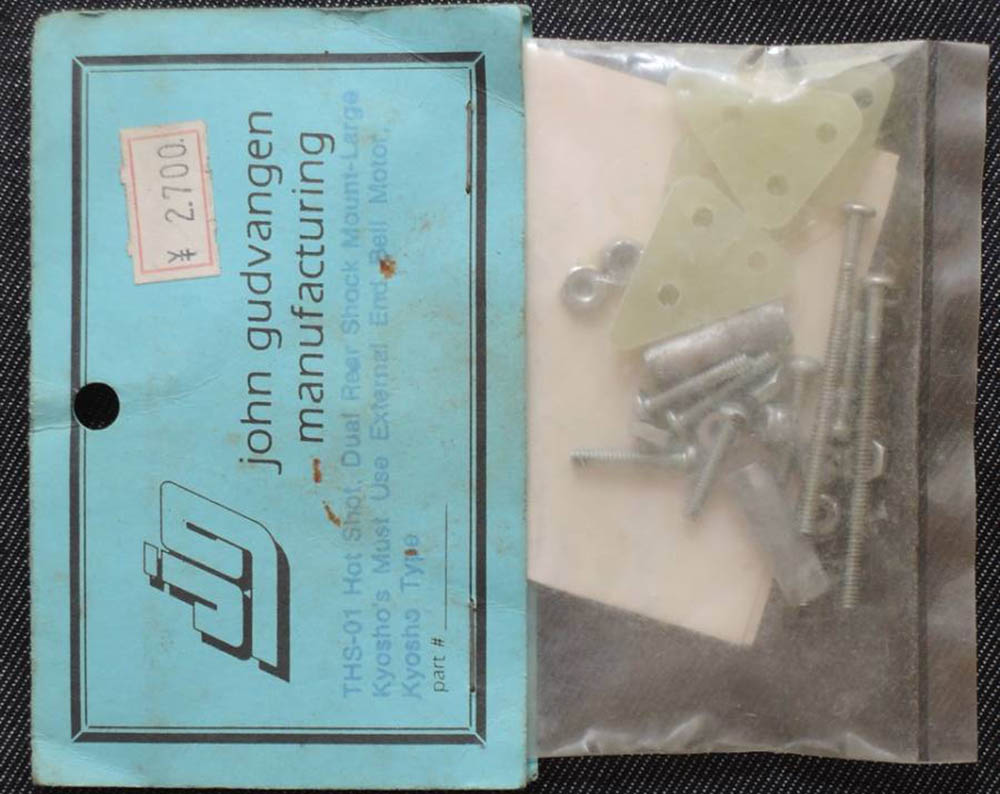 So the only thing missing now is the fiberglass brace. I do have both a red CRP and a black Parma brace, but those are nylon, not fiberglass, but one of those will have to do until I find a JG brace. If I can't find one, it should be an easy part to draw, and I'm sure Jeff would help me by cutting it.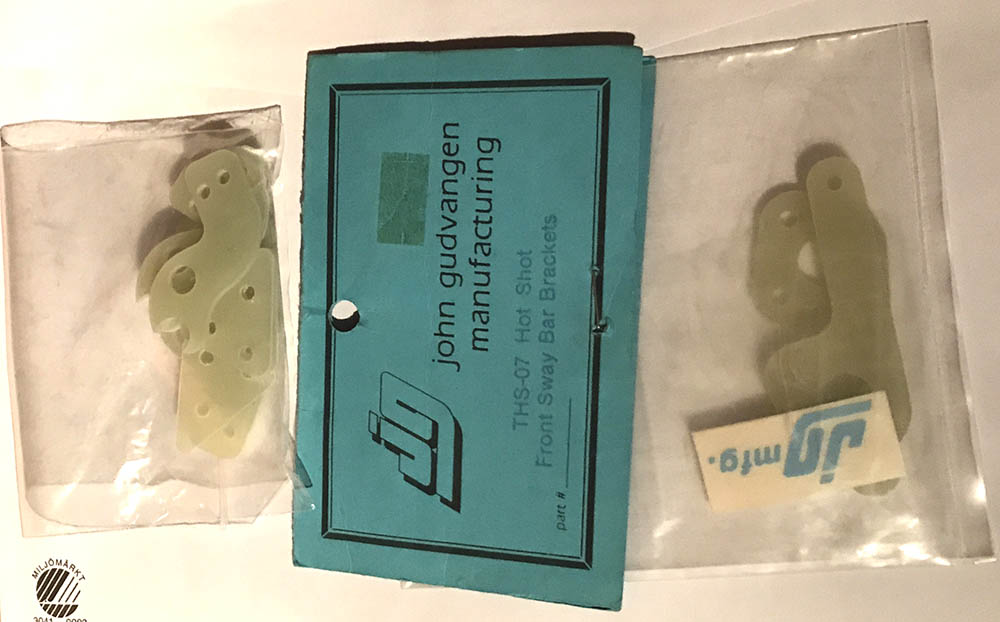 Early Edinger(?) RC10 rear shocks and Kyosho CB (or maybe Kyosho 1886) front mono shock, with JG nylon clamps.
The early, light gold, RC10 shocks at the rear will have to be replaced with some red Kyosho CB shocks. This is simply because I don't have any of those old Associated shocks, and I haven't been able to find anyone who were willing to sell me a pair. I'm actually not crying about that, as that is the one thing of Kemur's Hotshot that I don't really like, and I strongly believe it would look way cooler with some beautiful red CB's. I have my fair share of CB's 😉 If I should happen to stumble upon a pair of early RC10 shocks, I might reconsider, for authenticity.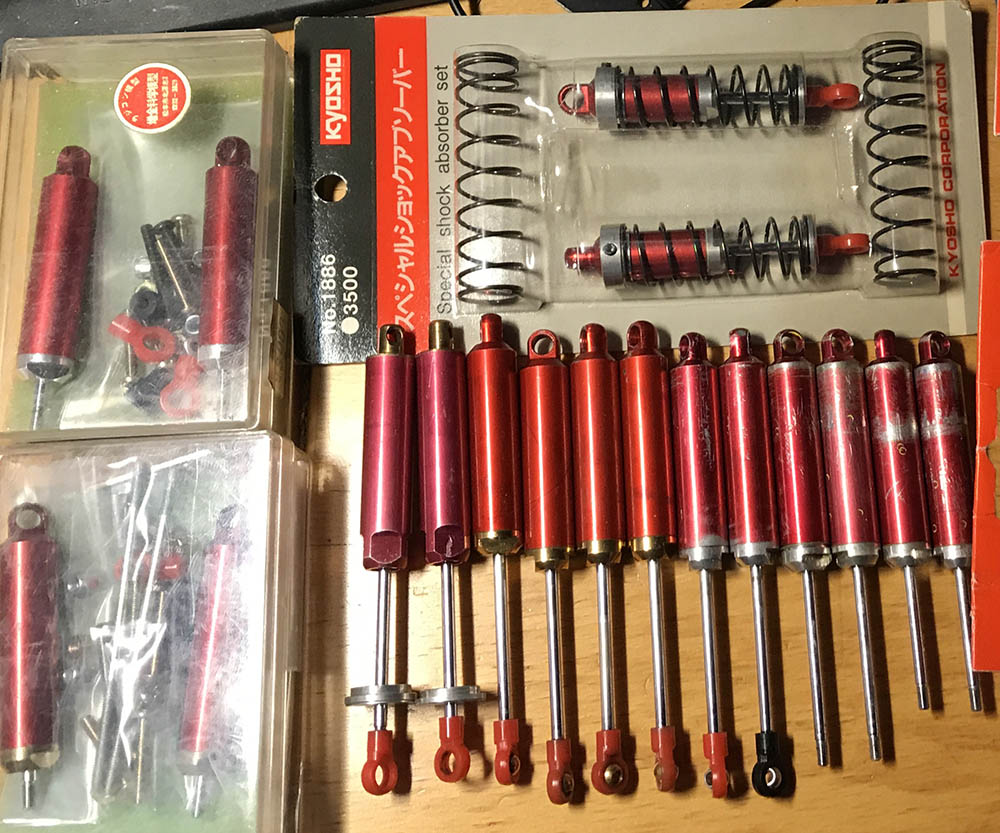 I also have a new set of JG springs, spring retainers and clamps, as seen on Shimotori's Gudvangen modified Hotshot.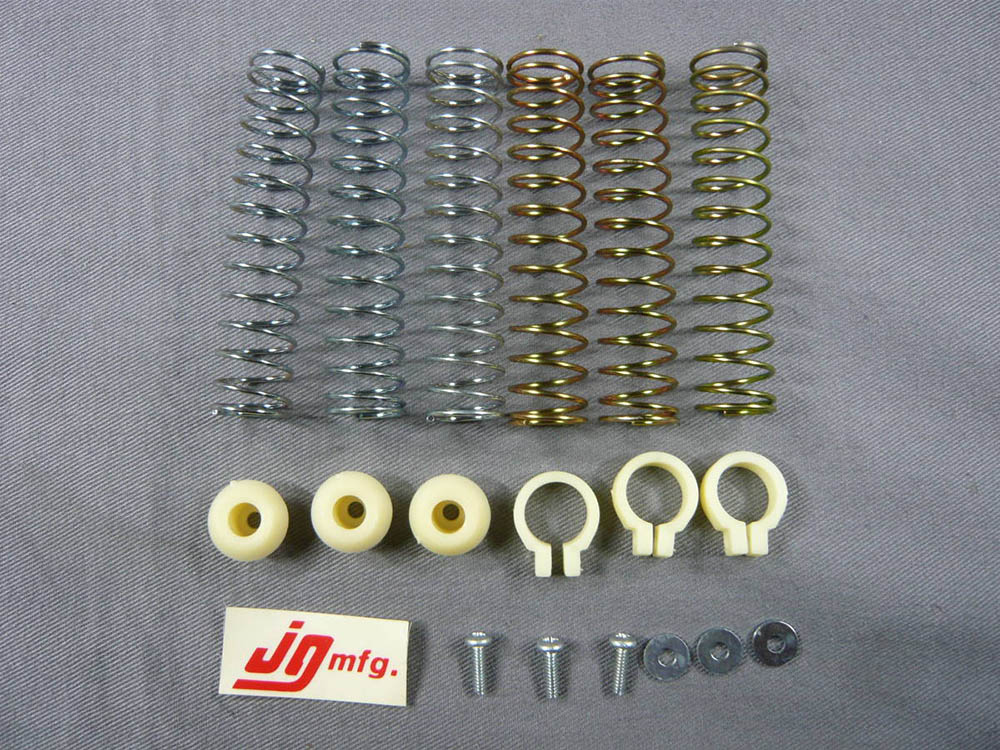 Raised wing.
I'm not sure about which wing is on the JG modified version of the buggy, but I can see that it is raised, compared to the original Hotshot. I haven't quite figured out how that is done, and it's difficult to see details or decals on the wing. It seems to be either silver or clear? What I might do is to use a wing like on the non-modified version of the car, as I have better pictures of that. The wing is one of the reasons I would like to see other pictures of the modified car.
Gearboxes and gears.
Now we're moving into unknown territory, as I have absolutely no ideas about what was done to the gearboxes. Being this early in the life of the Hotshot (released in april, worlds in July), I really don't think there were anyone making ball diffs or special gears for it yet, so I'll leave it as it is. I might put in some Thorp diffs, but at the moment I only have one of those, so it's most likely that I'll just leave the gearboxes standard.
Dog bones and cardan shaft.
The dog bones seems to be the standard Hotshot drive shafts, at least at the front, it's harder to see the rears, but I will just go for the original parts. Regarding the cardan shaft, I have no info of what was used, but as with the gears, I don't really think there were many options available. I do have a couple of British TMS hard steel shafts, and a Dirt Burners "torque limiter", but the DB part says it's for the Boomerang and Bigwig, so it's too new to use on this build. I'll decide later.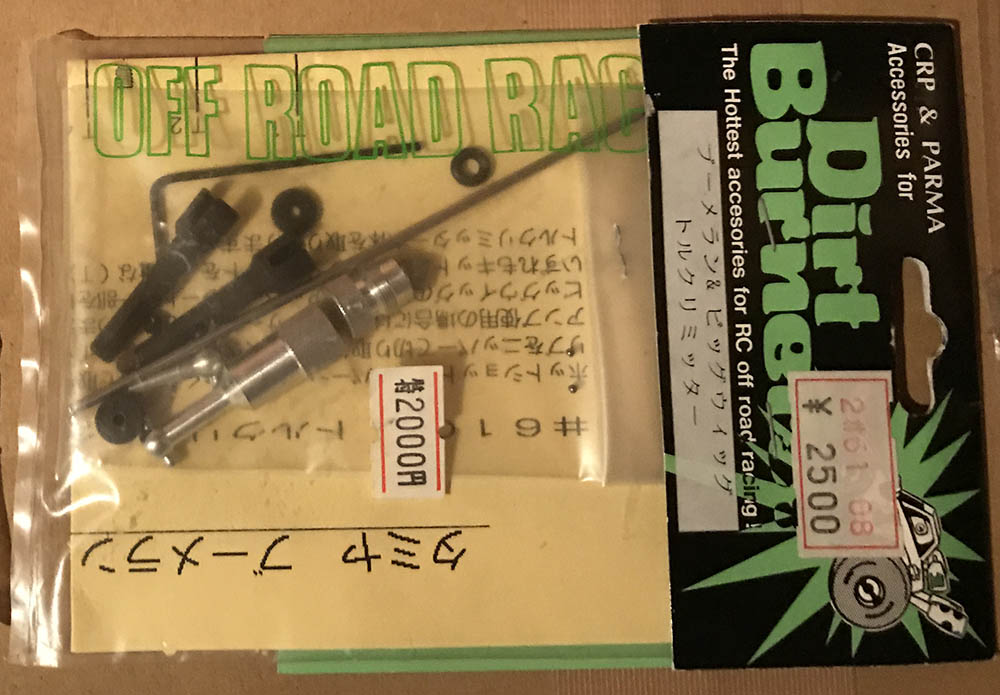 Wheels and tires.
The car first had standard Hotshot block & spike tires, while the modified car seems to have the all spiked Supershot tires. I will have to see what I have, but I believe I have a new set of the block/spike originals. I also have a new set of vintage gold wheels that I can use.
Electrics.
Again it's difficult to know what's inside the car, but there are a couple of clues on the original wing. There is an "Air Supply" decal, that makes me believe there is an Air Supply Trix motor in there. I have spoken to Hiroshi Nakamura, who were a part of the team driving the white Marui Samurai's at the event, and he said they used these motors and KO electronic speed controllers. That was the preferred choice in Japan at the time. I have quite a few Trix motors, and I have one with a red decal, that would fit this build nicely. Even though the wing have a "Sanwa" decal, I strongly believe Kemur used a KO ESC. It's absolutely possible he used Sanwa radios and a KO speedo. In most of Shimotori's cars that I have seen, there have been KO ESC's, and this is what I will use. Too bad it's inside the car, and can't be seen. These ESC's are just too beautiful to hide away 🙁 I might have a bruised and battered one, that I can throw in. Who's gonna see it anyway? Hmm…. by looking at the Hornet Kemur used in the stock class, the ESC does not seems to be a KO. It has a black plastic case, not seen on any KO ESC at the time. I will have to look into this, but it doesn't necessarily mean he didn't use a KO in the modified class. In the stock class they were using hand out stock motors, so he might have been using a better ESC for the hotter Trix motor he was using in the modified class.

I will post updates when I have received the donor car, and started the build.