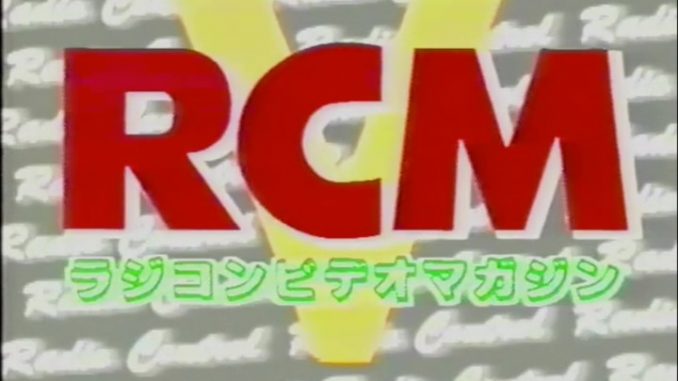 These videos are from an old Japanese VHS tape I found. Since Japan used their own NTSC TV-standard, different from both the US NTSC standard, as well as the PAL system used here in Norway, capturing them involved digging out my old Panasonic NV-W1. The NV-W1 is a $3000 1990's world video beast capable of playing and recording every different PAL, SECAM and NTSC variants of VHS tapes from all around the world, as well as converting between them all, both directly and input/output from/to other video sources. There are five parts in this video, and I will upload them one by one here in this post.
Part 1
In this first part we meet Toshifumi Watanabe from the Kyosho R&D department, in the studio talking with the show hosts about the Optima and Optima Mid series. Of course it's all in Japanese, but I had fun watching it anyway. If someone who speaks Japanese would like to translate the main subjects or anything, please do so in the comments below, and I'll add it up here.
Part 2
In part 2 Watanabe san has left the studio but the hosts keep on talking about the Mid, and now discuss the topic of hop-ups. Well, at least the guy is explaining, and the chick keeps nodding and saying "hai!". But hey, she's cute! Among the topics they discuss are motors, ESC's, ball diffs, turnbuckles and compare the MRE/Tech Racing shocks and the Kyosho golds. They also show a Mid with the Trinity graphite chassis, and talk about weight distribution and center of gravity using stick packs or saddle pack batteries.
Part 3
Now they have brought the Turbo Optima Mid and the Trinity Mid to the track to test them against each other. It's the guy who drives both of the cars, while the pretty girl holds the mike, still nods, still says "hai!", and still is pretty. They also talk a little bit more about setups.
Part 4
Moving on to part 4, and now it's time for some racing. I'm not sure what kind of race this is, if it's a local race or the Japanese Nationals, maybe? What I do know is that "pretty girl" (I think they show her name in Part 1, so if anyone who knows Japanese could translate it for me, so I can stop calling her "pretty girl"…..) now has a long talk with a young Masami Hirosaka, as well as his father Masaaki. This was probably recorded about half a year after Hirosaka san sensationally had won the Worlds in Romsey, and was now signed by Yokomo. The 870C he's holding is white, so this must have been before he made metallic green his trademark racing colour.
Part 5
This concludes the 1 hour video, and "Pretty girl" is still at the same race, now for the 4wd class. Now Masami Hirosaka is ready to race his 870C, and now that he's moved away from the Yokomo promotion area, he has brought his actual race car, which is a pink 870C instead of the box art promotion car he had in the previous interview. The male co-host of the show seems to be participating with the Turbo Optima Mid from the first parts of the video. The show ends with a presentation of some new products and cars, amongst them the Tamiya Avante and the mythical Hirobo Jealousy.
I'm very happy that I found this VHS tape, and was able to capture the video, even if it is old and in a foreign format. If you should happen to have any vintage RC VHS tapes like this, and need help to convert it, don't hesitate to contact me, as I have the equipment to capture from any existing VHS format (PAL, NTSC, SECAM incl. all variations of those). Even if many of those old magnetic media videos have exceeded their expected life, many are still playable and can still be saved from being lost for eternity. But it's now or never, or they'll forever be gone…..
Thank you for watching!