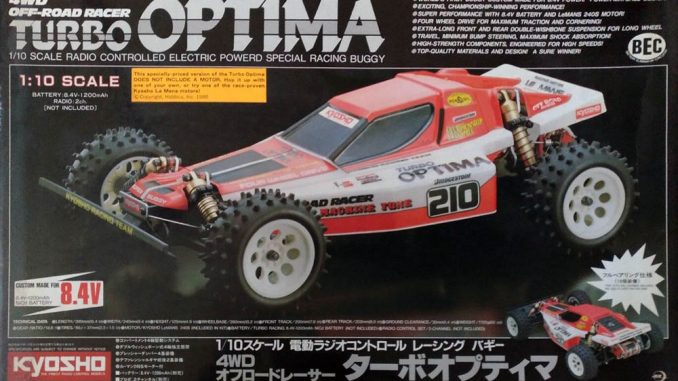 There have been a lot of bumps in the road for the Kyosho Legendary Series of re-releases, starting with the shutdown of the Kingstar factory in Taiwan that delayed the Turbo Scorpion 2016 release, and culminating with the takeover and restructuring of Kyosho itself that (temporarily it seems) stopped the re-release of the Turbo Optima. News early last summer seemed to indicate the whole re-release initiative had been scrapped, followed by slightly more positive signs later in the summer, when several people confirmed that work had started on finishing the remaining parts needed for the Turbo Optima. It's now about a year since I first heard chatter that work on a mold for the Turbo Optima body had started.
The latest news out of Japan is that the Turbo Optima once again is scheduled for re-release at the Shizuoka Hobby Show in May 2019, after the initial plan to release it at the same show, one year before, had been scrapped due to new ownership and restructuring of the company. We can expect an announcement in February/March (ish).
This is according to Kyosho's plans dated mid-November 2018, anyway. Recent developments at the company have resulted in ever changing plans the last year or two, but let's hope things have quiet down and are stabilized enough for them to (for once in a quite a while) stick to their plans and release the Turbo Optima 2019.
The question remains if the Turbo Optima 2019 will come in the same "style" as the Turbo Scorpion 2016, that was much more modernized compared to the earlier re-releases on the Scorpion chassis. Although great for racing, the larger wheels of the Turbo Scorpion 2016 was one thing disliked by many, as it changed the overall looks of the model away from the original 1985 release. I prefer these modernized part to be sold as hop-ups, instead of being parts of the kit. The original 1986 Turbo Optima is probably one of the most recognized and beloved RC models in the history, so Kyosho should be very careful doing anything to alter the looks of it, as I fear that could backfire on them. Most people seem to prefer the re-releases to be as faithful to the originals as possible, something the enhanced wing mount for the the Javelin 2017 showed.
I have not heard anything new about further platforms being scheduled for re-release, like the Ultima nor the Mid. Those are bigger projects that requires much more work and investments than with the Turbo Optima, for which they already have most of the parts from the Optima 2016 and Javelin 2017. But it's nice to see that the Legendary Series gets to live another day, and that could bring hope for the future.