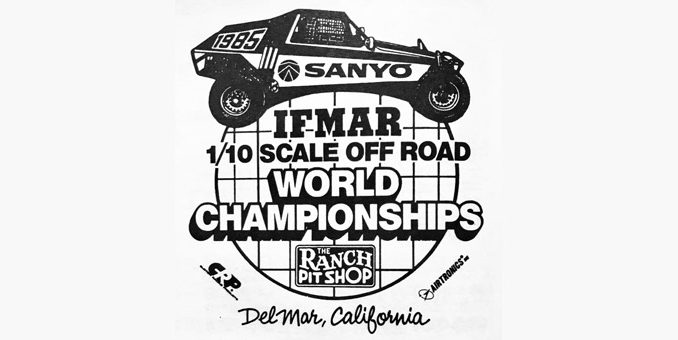 By 1985 IFMAR the world governing body for radio controlled car racing finally had opened their eyes to the 1/10 scale electric off road scene. While there previously had been arranged unofficial world championships, 1985 was the year that the largest and most popular class in the history of RC cars were acknowledged, and granted their own OFFICIAL World Championship.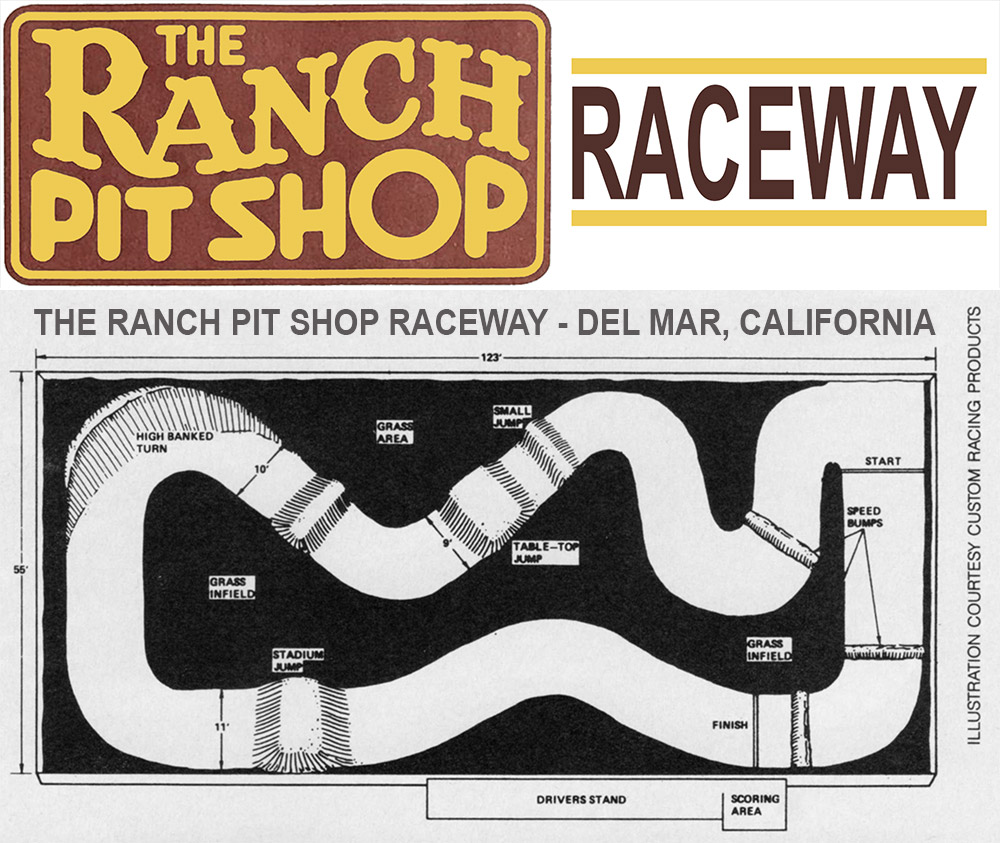 So which place would be better suited for this inaugural race, than South California, where the best racers and the largest 1/10 off road communities had their homes? The venue for this first IFMAR 1/10 off road Worlds, that took place from July 8th to July 14th in 1985, was the "The Ranch Pit Shop Raceway" in Del Mar, owned by the Losi family.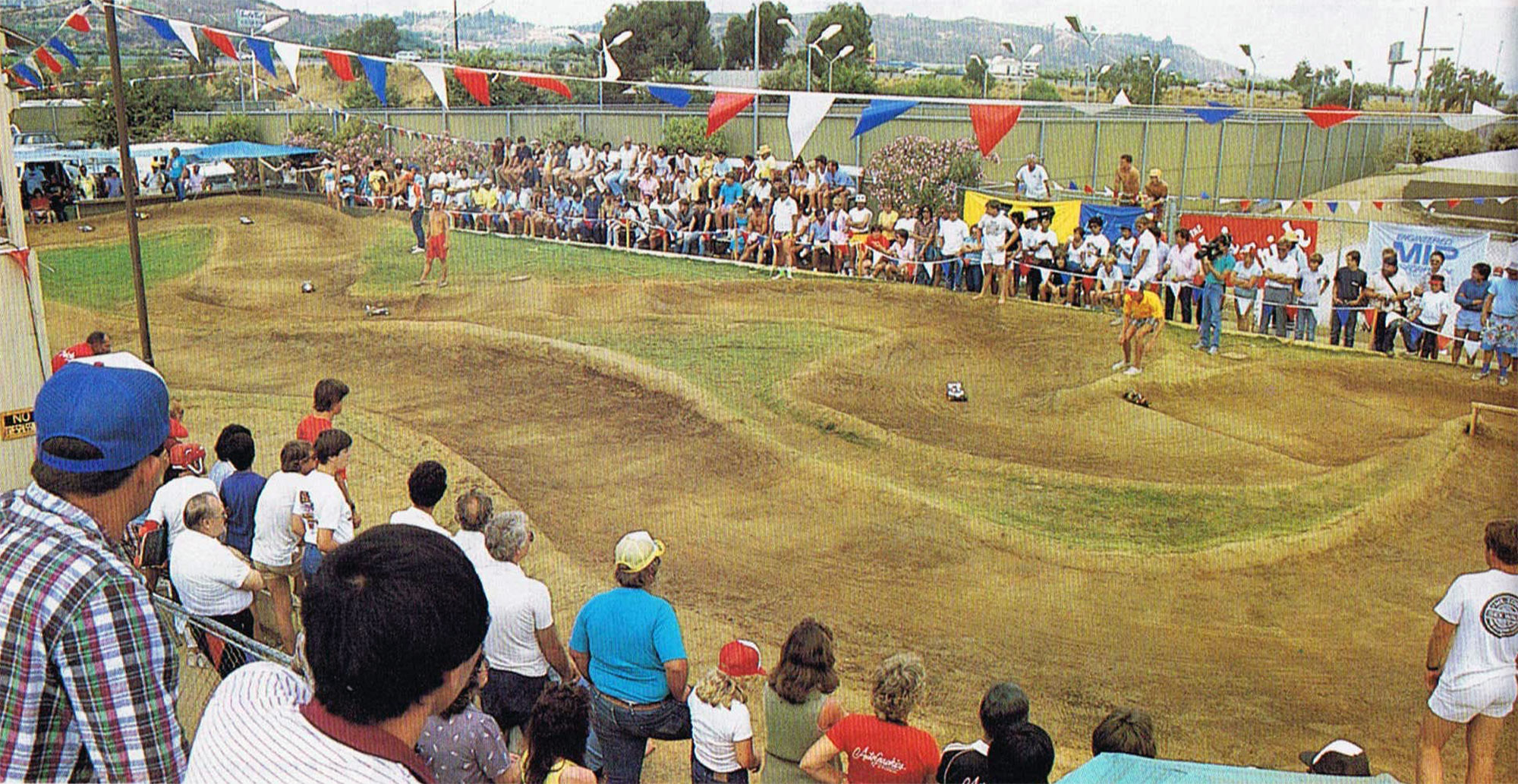 The Del Mar track is actually the third "The Ranch Pit Shop Raceway", and was established around 1983 and was right beside a skateboard park called the "Del Mar Skate Ranch". Both the track and skate park were demolished in 1987. This track is easily confused with the first, original "The Ranch Pit Shop Raceway" half an hours drive away in Colton, as the Colton track was right beside a skateboard park too, the "Colton Ranch Skatepark – Rancho Mediterrania". The Colton track and skate park closed down around 1983. The second "The Ranch Pit Shop Raceway", and the one most people seem to remember, was in Pomona. This track was previously known as "Thorp Raceway" and "Vehlie's Pit Shop". This was bought by the Losis around 1980-81. While working on this article I've learnt a few things about the different tracks and dates/years that contradicts what I've heard before, so I will have to revisit the article I did on the 1984 unofficial World Championships a while back. Among the things that was wrong in that article was that I believed they were at "The Ranch Pit Shop" in Del Mar preparing for the race, while they actually were in Pomona. I'll fix that later. I also think I'll some day will have to do a more comprehensive article on the three "Ranches". I have now corrected the info above after receiving more detailed info from Jeff Maurer.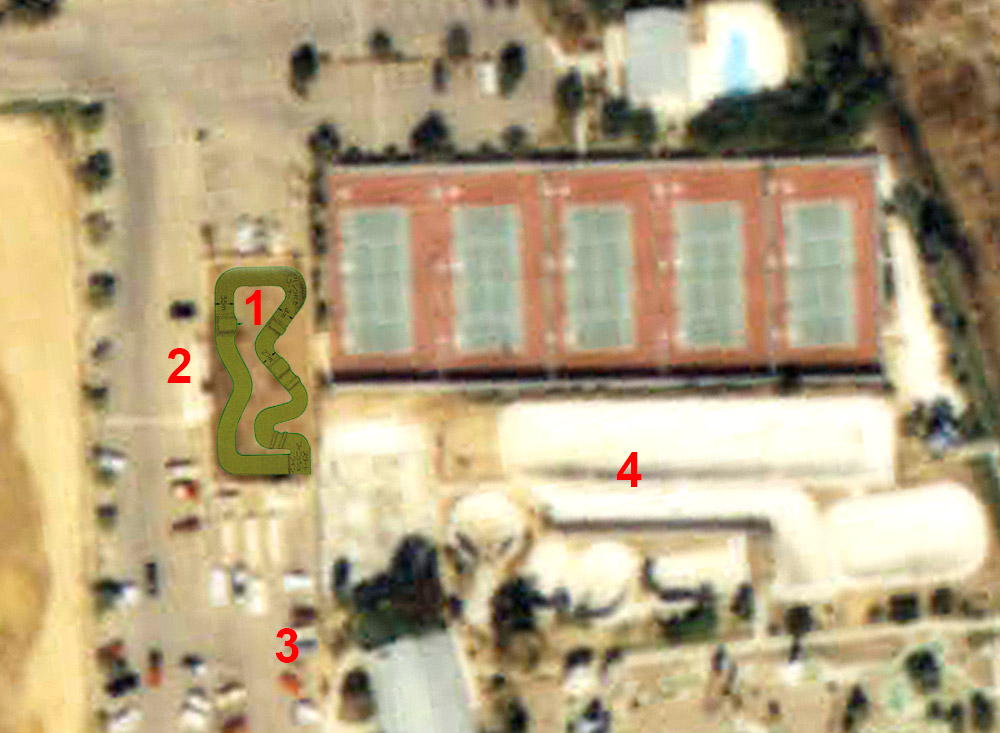 Here is how the location looks today in Google Maps:
The "Del Mar Skate Ranch" situated right beside the track were the "home" of some of the worlds most famous skaters, like Tony Hawk and Ken Park. Allen Losi, Gil Losi Jr's brother, had the "Colton Ranch Skatepark" as his preferred hang-out.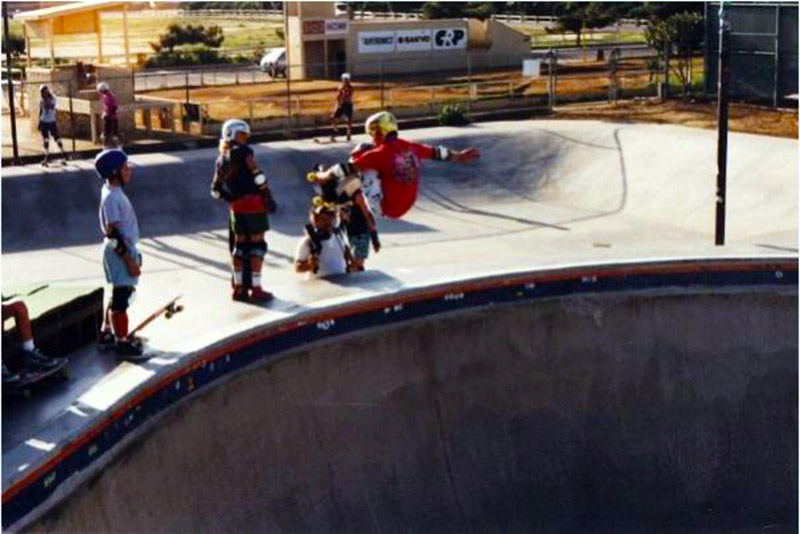 Both Gil Losi Jr. and his brother Allen Losi were great skaters, but while Allen continued with skating, Gil Jr. started on his RC journey. How many of you knew there were two "Team Losi", one skate brand and one RC brand? The skate brand made skateboards named "Variflex", and while the RC brand was later sold to Horizon Hobby, I believe the Losi family still owns the skate business, at least they did just a couple of years ago.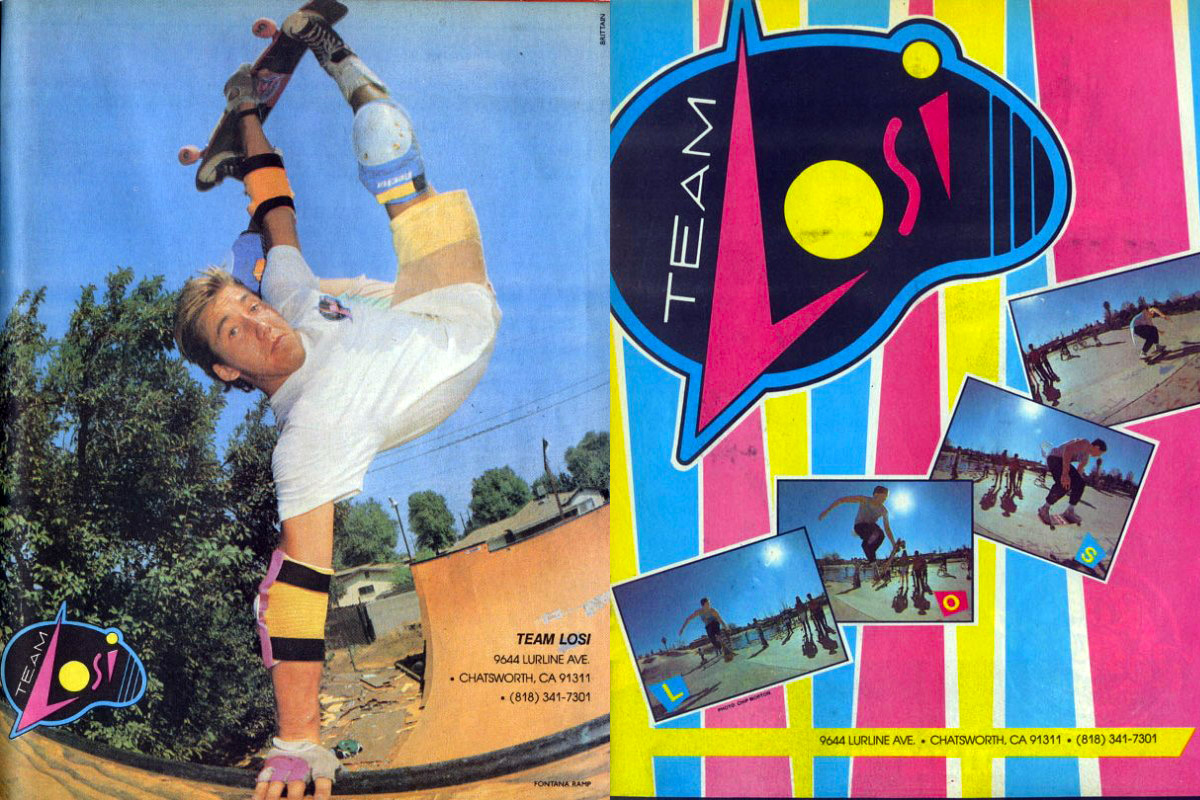 In this video from 2015 you can see two of the all-time greatest skaters, Tony Hawk and Kevin Staab, skate "The Wormhole" structure of the Del Mar Skate Ranch one last time, when it was briefly uncovered after everyone believed it had been bulldozed with the rest of the skate park, in 1987. The RC track would have been to the left in the video (see around 2:24). The fence you see facing the camera most of the time is to the tennis courts.
Well enough of the skating, and let's get back to the real stuff. Besides the obviously large contingent of North American drivers, there were also a rather large group travelling from Japan, but other than that there were just three racers from England, two from Australia, and one guy from South Africa. Even if Japan had a huge 1/10 off road community and came with a large number of drivers, they were not yet up to the standards of their American friends, it would show. To be completely honest I don't think the Japanese drivers that went to the 1985 Worlds were the best drivers in Japan. It seemed more to be a mix of designers and industry people, than the fiercest RC buggy pilots. That would of course change two years later when Japan unleashed Masami Hirosaka on to the world, and not to forget Katsunori Kondo who did the best overall total performance in 1987, with coming in second in both classes.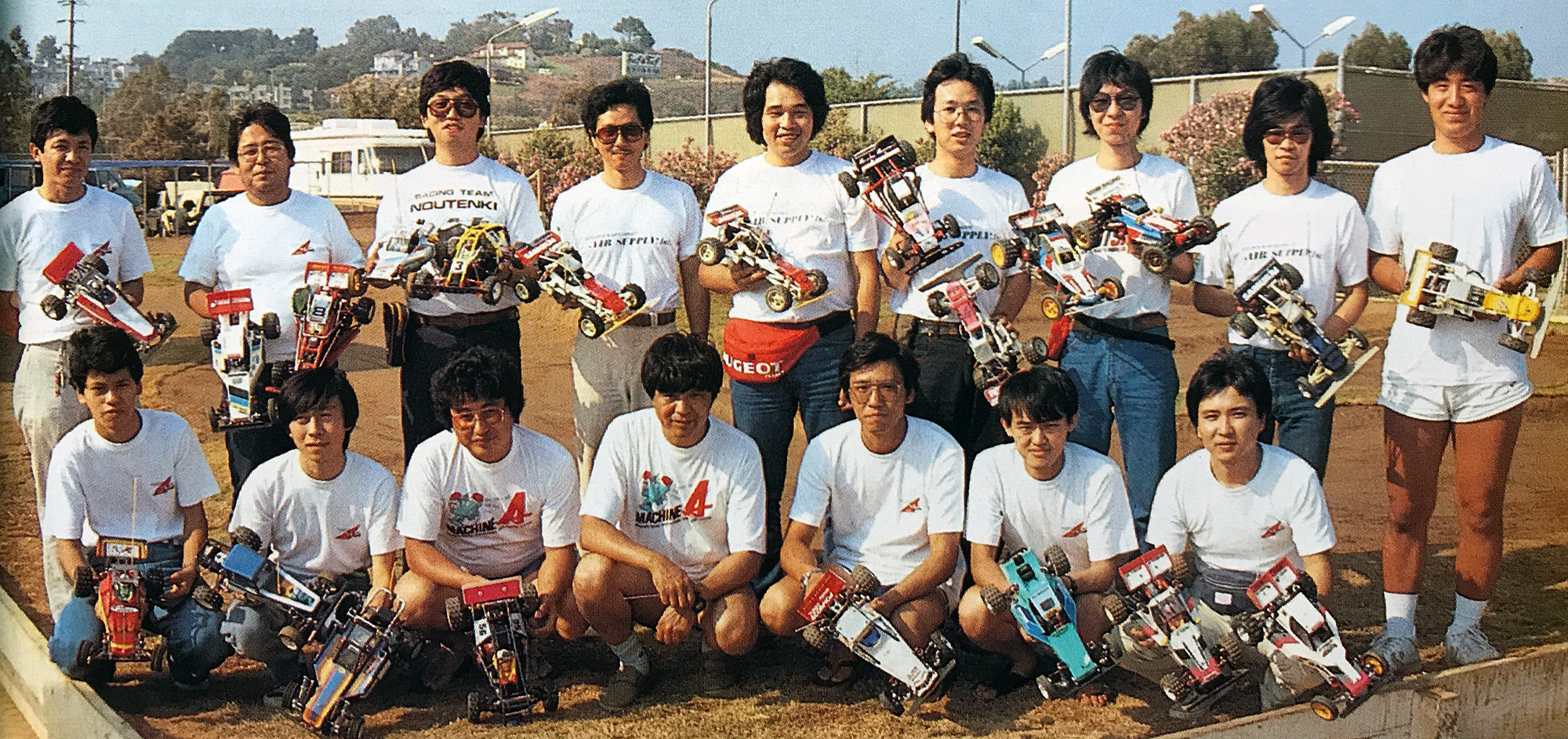 It seems every 1/10 off road worlds had it's own drama. In 1987 there were much talk about the very hard track surface and the limited time for practice, and in 1989 it was the Yokomo tire size controversy. In 1985 the drama was more of the hidden kind, and it was all inside the Kyosho team. While the Kyosho design house Auto Model and Akira Kogawa had the 4wd Optima ready for the "Modified" race, Kyosho decided to wait with that model, and instead use the older 4wds Gallop from Auto Models competing Kyosho design house Syuwa Kogyo and designers Shigeru Hino and Hidenori Tsuno. As a compromise the team used Auto Model/Kogawas 2wd Scorpion, Tomahawk and even the Turbo Scorpion (that was also yet to be released) in the "Stock" class.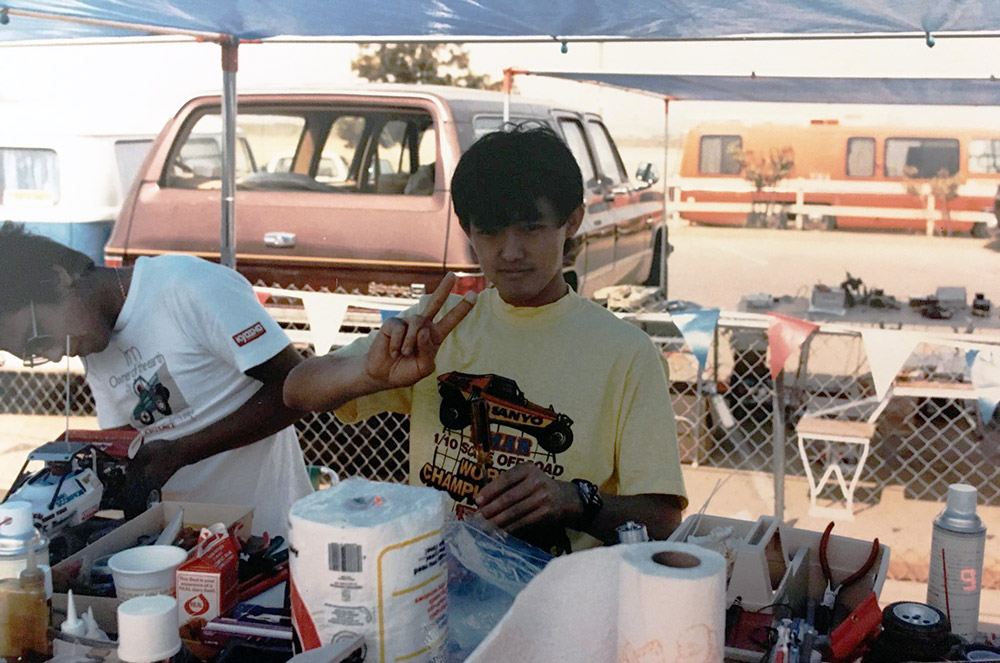 In this first worlds there were no separate 2wd and 4wd classes, just a "Stock" and a "Modified" class. The official reason for not taking the Optima, undoubtedly a much better and solid race buggy than the Gallop, is still unknown, but it's believed to have to do with the competition between the two design houses, and the fact that Syuwa chief designer Shigeru Hino had seniority over a very young (but enormously talented) Kogawa.

Kyosho released the Optima right after the Worlds, and lost out on a very good opportunity for some great publicity for the new model. In fact the Japanese magazines reviewed the Optima in the next issue, directly after the issues containing the Worlds reports. There is no doubt in my mind that an Optima prototype in the hands of a seasoned driver would have given Gil Losi Jr and the RPS/Yokomo team a real run for their money. But then I'll admit I'm quite biased regarding that matter. Adding that not many of the Kyosho team drivers chose to use the Gallop, kind of says it all, I think.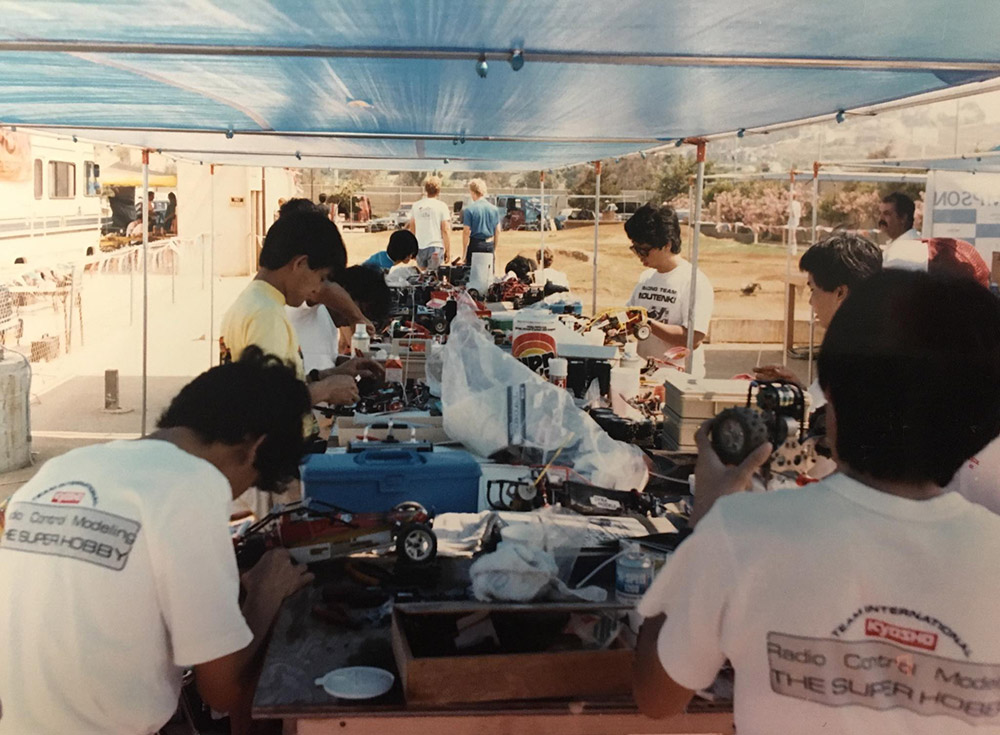 Kogawa himself used the same Tomahawk in both classes, just with 8.4v batteries in "Modified", something he told me was very challenging on the "slippery" track. I'll bet it must have hurt not being allowed to use the Optima that he'd been working so hard on, and that he probably knew was a better car than anything else on that starting grid….. But as we all know, and I've been saying time and time again, Kyosho work in mysterious ways. Even to this day.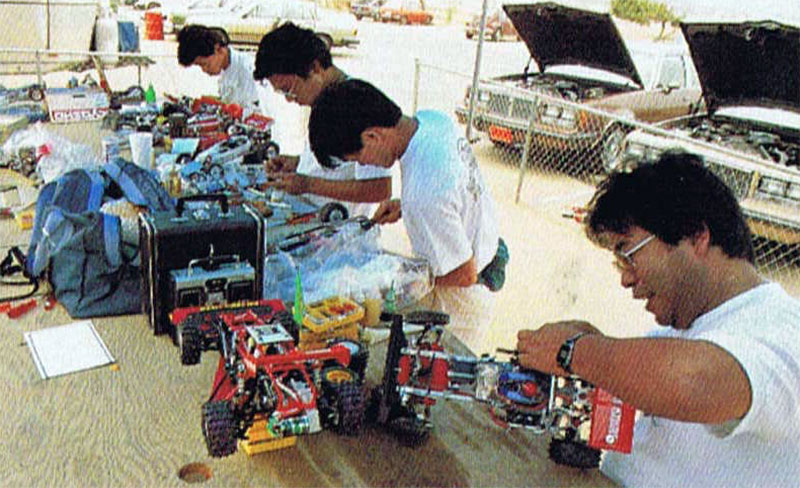 Two years later, at the 1987 WC im Romsey (England), things were very different, with Auto Model and Kogawa being in charge of it all, very much dominating both the (now separated) 2wd and 4wd classes. Auto Model has been leading the 1/10 off-road competitive buggy development for Kyosho ever since. Well, with a small "hiccup" you can read about here. In 1988 Kogawa decided to join his good friend Tatsuro Watanabe at his newly started company HPI (Hobby Products International).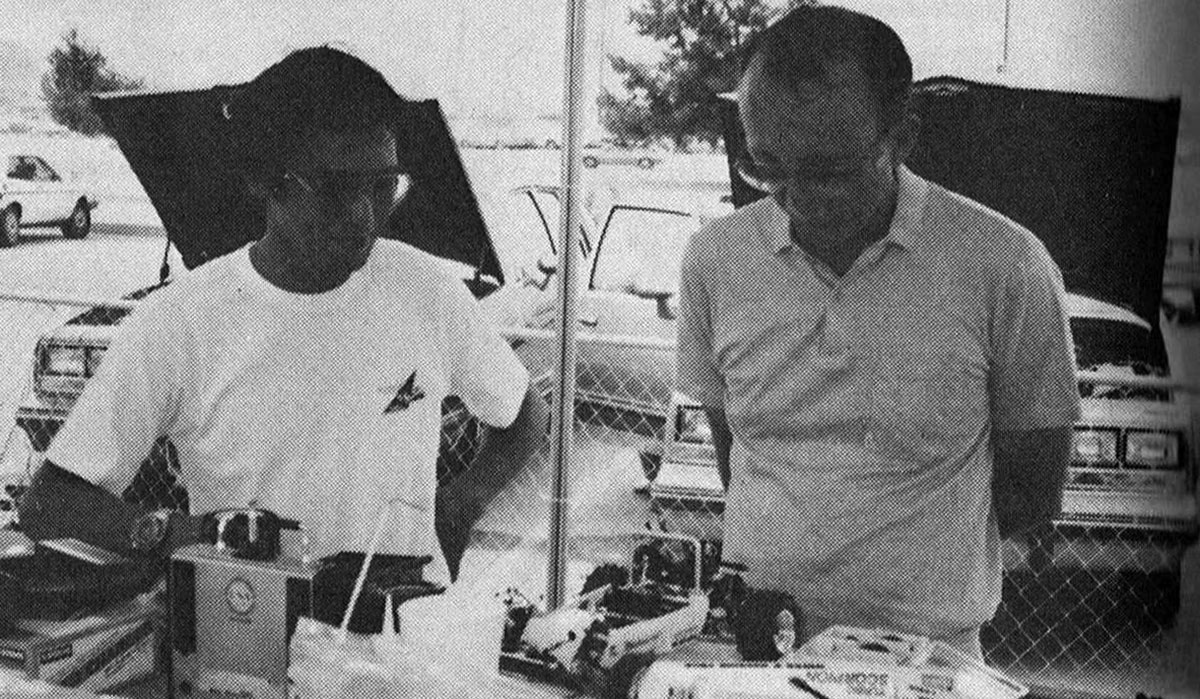 In addition to the designers Hino (Stock: Tomahawk/Modified: Gallop) and Kogawa (Tomahawk/Tomahawk), the rest of the Kyosho team of drivers were Hidetoshi Nagamine (Turbo Scorpion/Turbo Scorpion), Masatoshi Kobayashi (Turbo Scorpion/Turbo Scorpion), Kazuhiko Nakanishi (Scorpion/Scorpion), Toshifumi Watanabe (Scorpion/Gallop) and Yoshiaki Fujita (Scorpion/Dyna SRB). Although being a part of the Kyosho team, Fujita ran a Dyna Models modified Tamiya SRB in the "Modified" class, instead of the Gallop.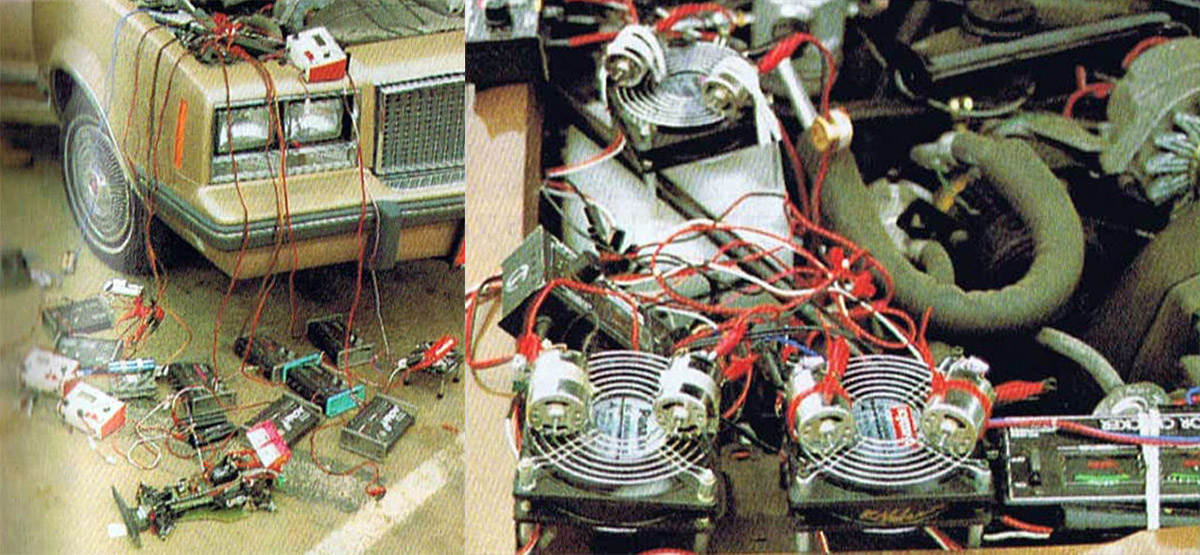 While Kyosho were putting themselves in the shadows at the 1985 Worlds, there were others that used the opportunity to show off their new developments. The Associated team had been working on improving their revolutionary RC10 buggy for over a year now, and it was the weapon of choice for many drivers with ambitions. All the variations of the RC10 were good examples of the ingenuity seen in the SoCal area at the time, with people and hop-up brands making loads of new parts for the car at a daily basis. Very much like they had embraced the Tamiya SRB's few years earlier. This was to be the first Worlds title for the RC10, the first of many. Associated also had a 4wd prototype ready, that came second in the "Modified" class, both in the hands of Jammin' Jay Halsey. Eustace Moore and his company MIP also had their own take on a 4wd RC10 ready for the "Modified" class.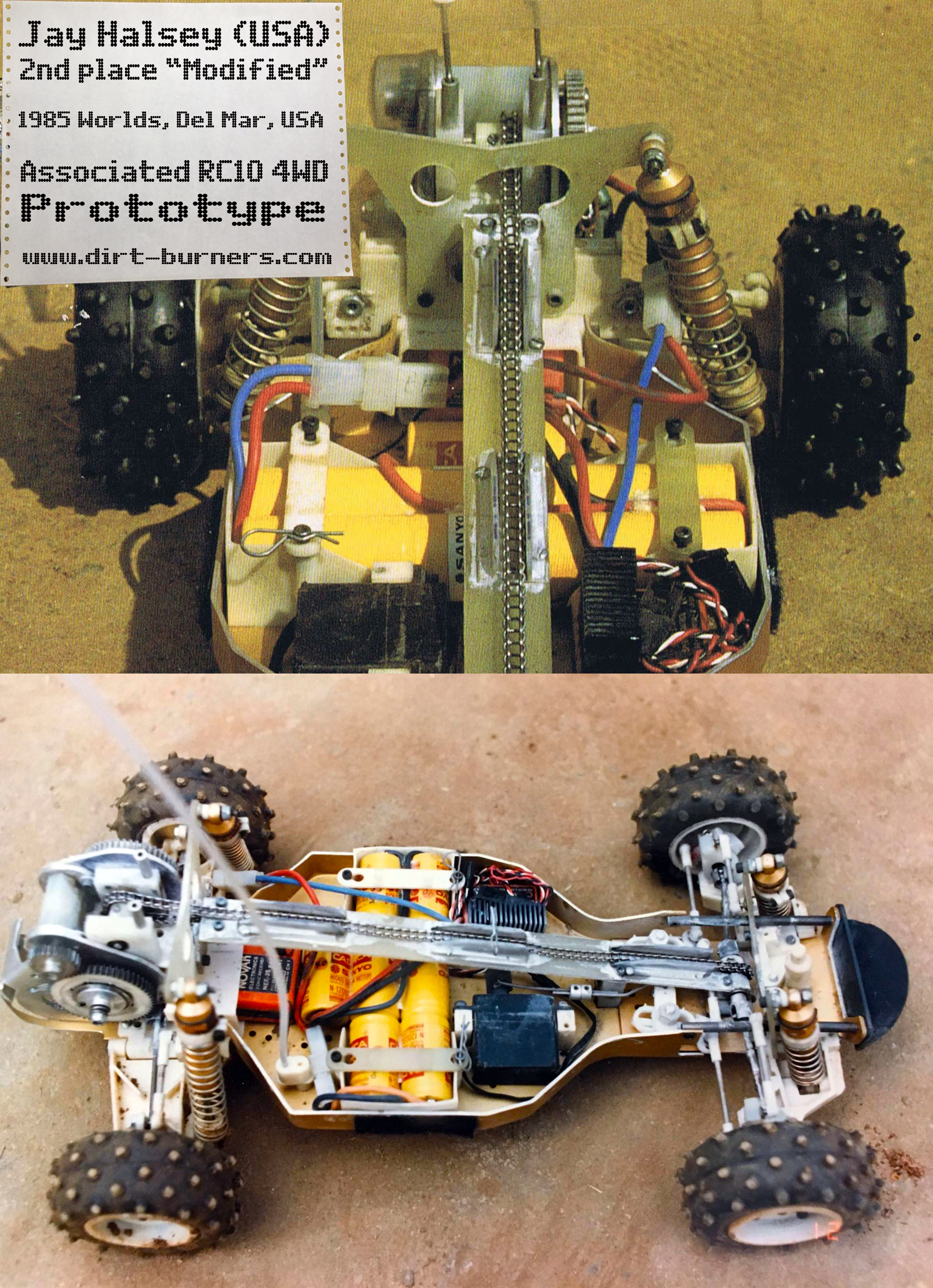 Losis own brand RPS (Ranch Pit Shop) had teamed up with Japanese Yokomo to further develop the Yokomo YZ-834B Dog Fighter 4wd buggy, released a while back. Yes, the 834 in "YZ-834B" means it was the design of the 4th month of 1983, but I'm not 100% sure of it's actual release date. The Dog Fighter had proved very capable and successful, and while other brands had heaps of new 4wd models released or ready to be released, the "old Dog" was still to hold its own for a few years (until the release of the 870C), due to the Losi/Yokomo connection.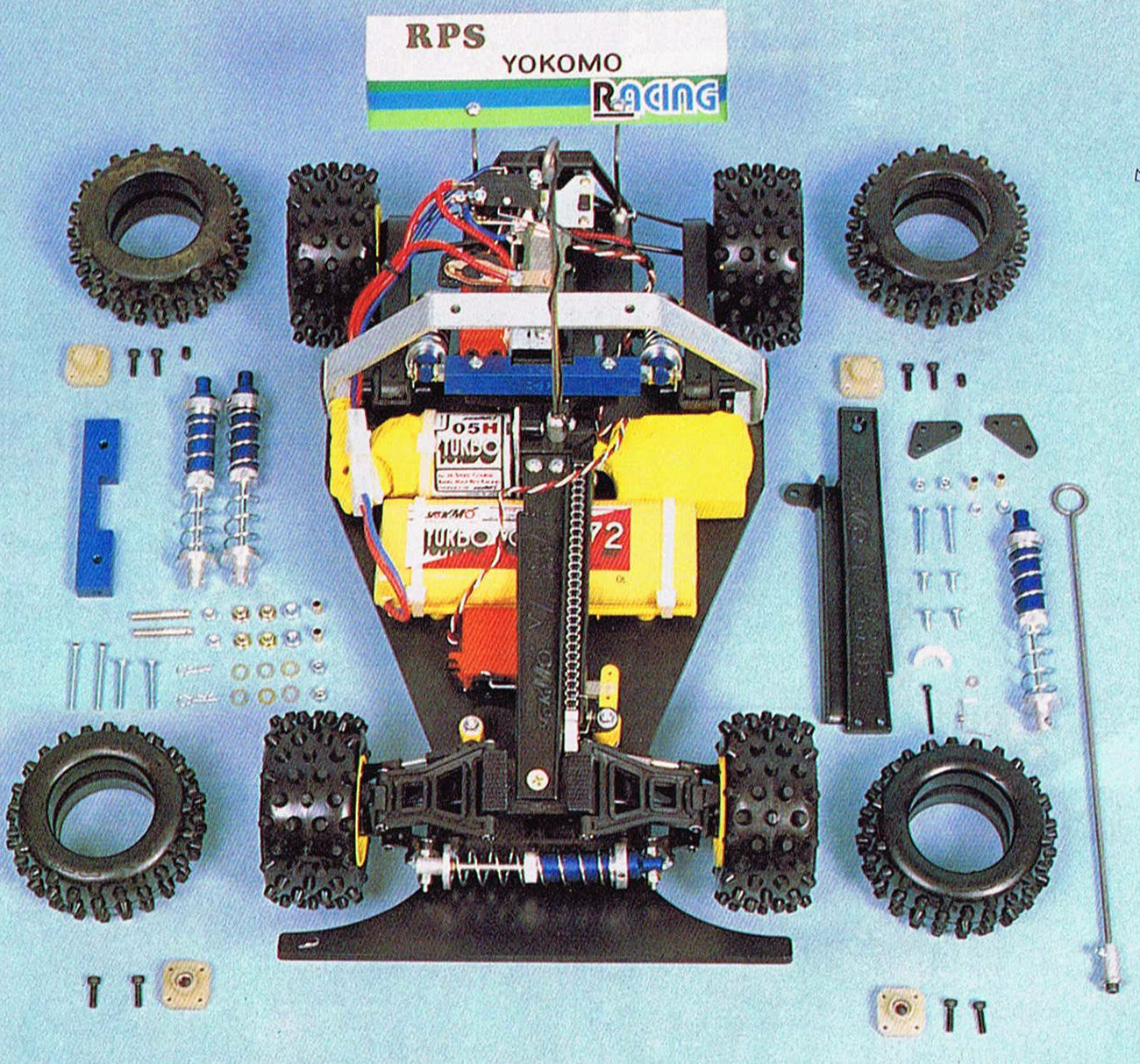 Marui were also present with a pool of drivers put together by the Proto design team, sponsored by Air Supply. The team consisted of the designers Tadashi Kurihara (Stock: Galaxy/Modified: Samurai), Hiroshi Nakamura (RC10/Samurai), and quite a few other prominent figures in the Japanese RC industry, like Air Supply owner Tetsuji Okamura (Galaxy/Samurai), RC magazine journalist Hiroshi Ohide (Galaxy/Samurai), and the to-be HPI founder/owner and former AYK employee Tatsuro Watanabe (Galaxy or Hunter/Samurai). My sources are split on which car Watanabe used in "Stock", as Nakamura thinks it was the Galaxy, but Watanabe himself believes it was a Hunter. Well, they're basically the same cars anyway, and whether it was the Galaxy or the Hunter, Tatsuro Watanabe did best of the Marui drivers in the "Stock" class, finishing 3rd in the G-Main, meaning he placed 63rd in total, just in front of his Kyosho namesake Toshifumi Watanabe and his Kyosho Tomahawk.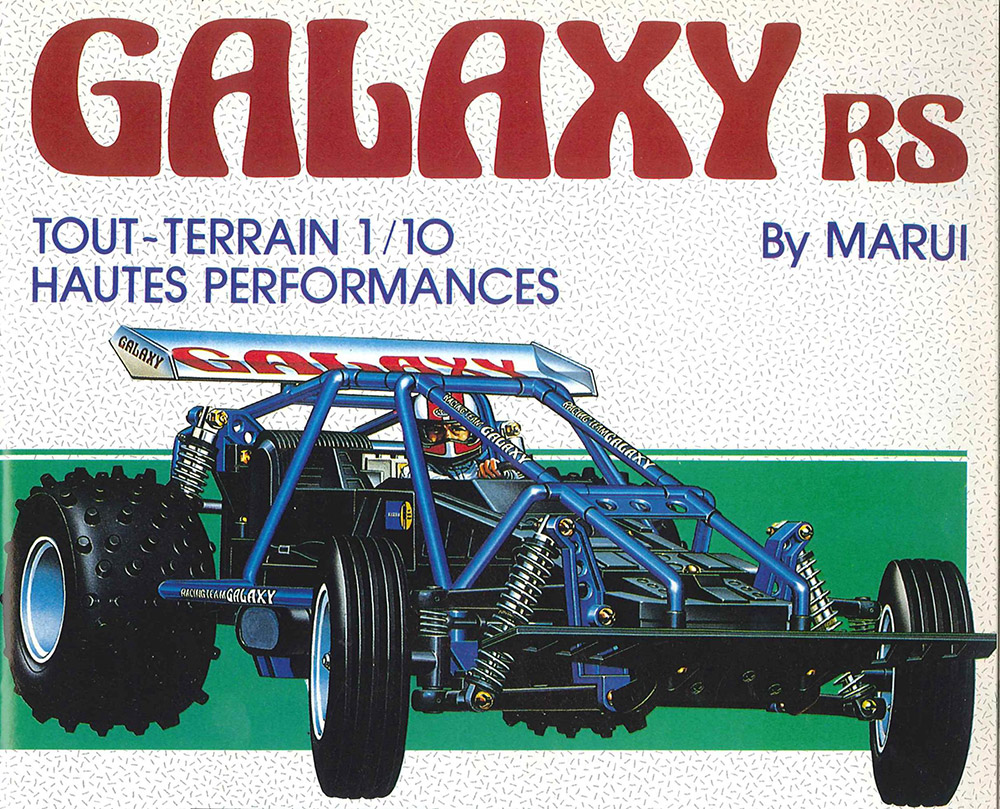 While the standard team car for the "stock" class was the Marui Galaxy, the Proto/Air Supply/Marui team were putting a newly developed car, that would later be known as the Marui Samurai, through it's pases in the Modified class. Compared to where Kyosho where with their Optima at the time, the Samurai was in a much earlier stage of development. Mechanical designer Hiroshi Nakamura wouldn't even describe it as a prototype, but rather a pre-prototype concept car.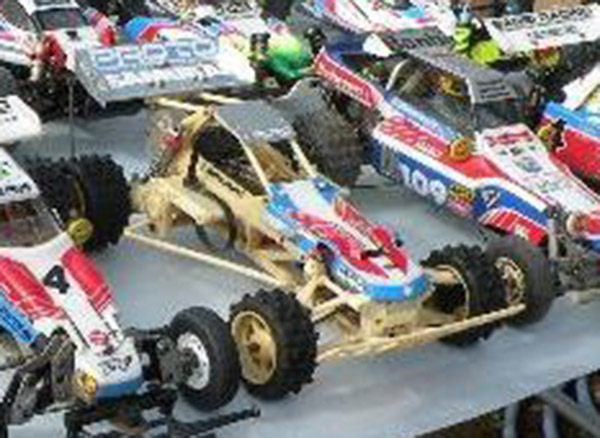 Slightly resembling the Kyosho Gallop (Kurihara, the exterior designer, came from a job at Kyosho), but without the four wheel steering. The Samurai concept prototypes were partly hand made and parts were manually casted from polyurethane resin. Although looking really nice, Hiroshi Nakamura, the mechanical designer of the buggy, told me: "The real challenge was to make the cars hold together for even one single run". Designer and Proto owner Tadashi Kurihara was the one who did best with the Samurai, finishing 84th, after ending 4th in the I-Mains, two places behind Kyosho designer Akira Kogawa and his Tomahawk, and just in front of Yoshiaki Shimotori and his Tamiya Hotshot. In my search for good pictures of this pre prototype Samurai, Tatsuro Watanabe, one of the team drivers, could tell me that they all had to hand in their cars to Proto after the event. Ironically, several of the drivers on the team, bought RC10's from the shop at the "Ranch", actually so many that the shop ran out of stock. At least that's what the legend says. I have, however, only managed to get confirmed that one person, Hiroshi Nakamura, bought a RC10. A car he used in the Stock race, where he finished in 69th place.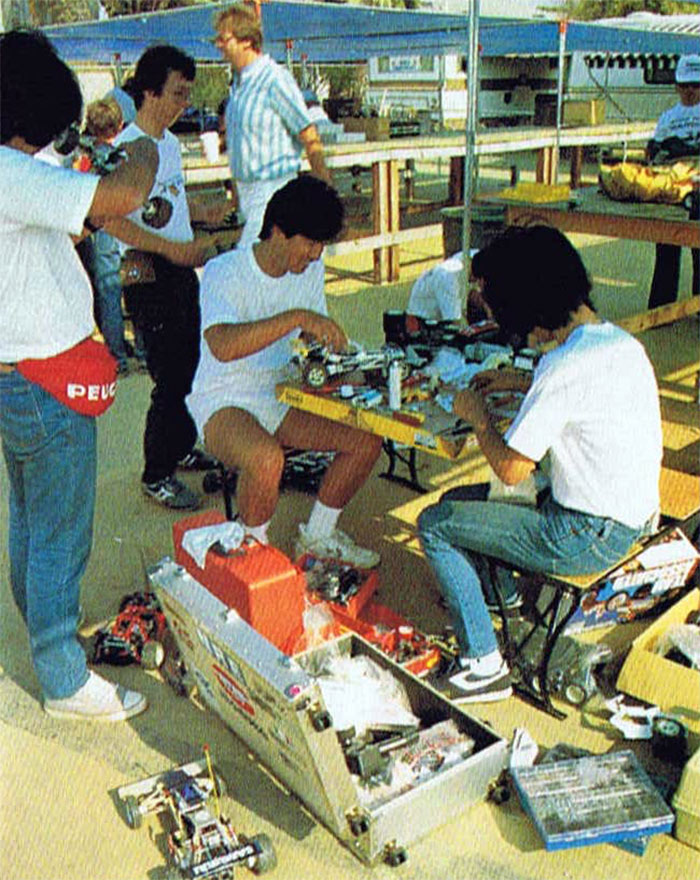 Marui never sent a team to a Worlds again, and decided to focus on the "basher" market instead, although the Proto design team wanted to keep developing buggies for racing. Nakamura decided to go on his own regarding race buggies, and we all remember his "Nakamura SPL" from the 1987 Worlds.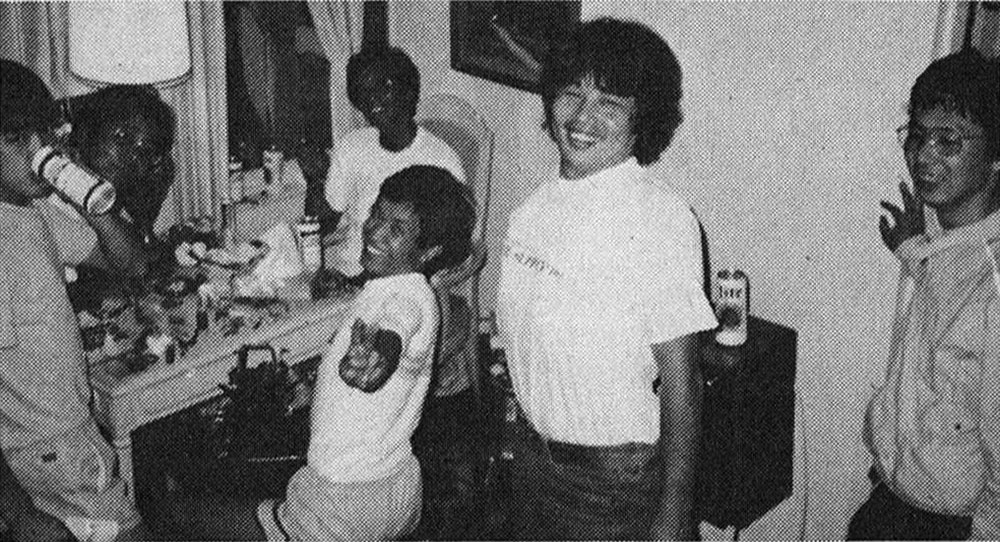 Another Japanese company that sent a team was Mugen, with Takashi Aizawa and Keiichi Kikuchi running their newly designed all wheel drive and steering Bulldog buggy in the Modified class. They did not compete in Stock. Aizawa ended 2nd in the Modified C-Main, placing him 22nd overall in the class, which was the best result for any of the Japanese drivers in either of the two classes. Kikuchi won the I-Main, giving him a 81st place.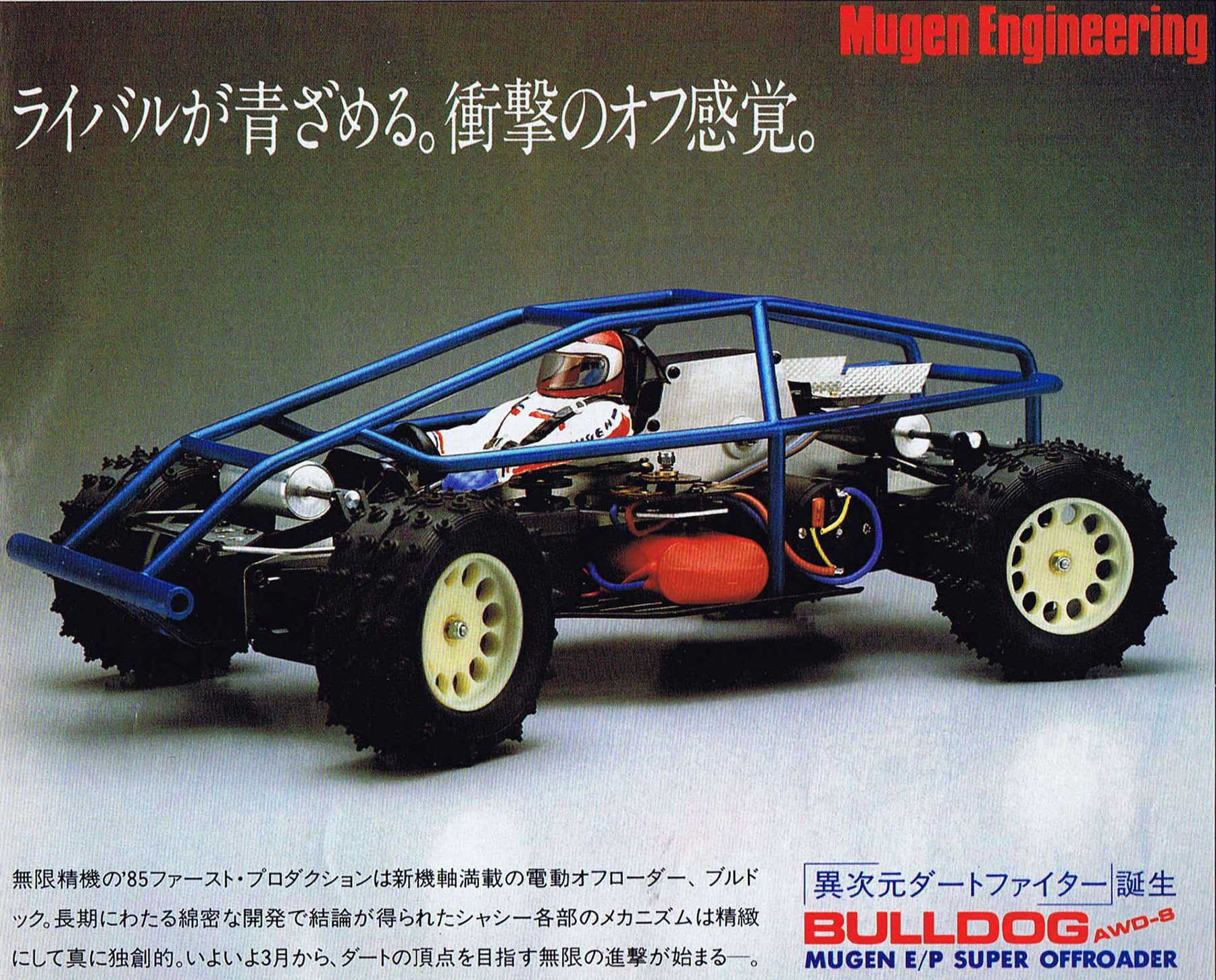 You can watch Aizawa in the Modified C-Main in this video. Also notice that Allen Losi, the skating brother of Gil Jr finished as number 7 in the C-main, placing him 27th overall.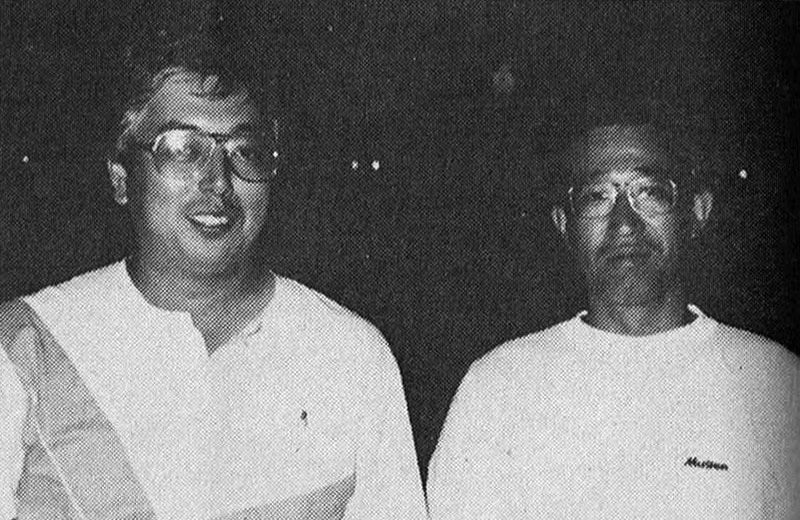 Tamiya was also attending, although not in an official capacity, but represented by the rather eccentric Yoshiaki "Kemur" Shimotori, running a Tamiya Hornet and their brand new Hotshot for a team called "Racing Team Noutenki". Masahiko Oda also raced for the same team, but used a Kyosho Tomahawk and a Hirobo Zerda. The Japanese word "Noutenki" could best be translated as "carefree" or "happy-go-lucky", a very fitting name that described the great Y. Shimotori perfectly! There were a couple of other MRC/Tamiya (Tamiya's US representatives) drivers in place, running the new Hotshot, but at the moment I don't know who they were. Shimotori's Hornet was heavily modified, with a totally redesigned front end, and a complete rear end and gear box from the Hotshot. One could of course argue if it still should be called a "Hornet".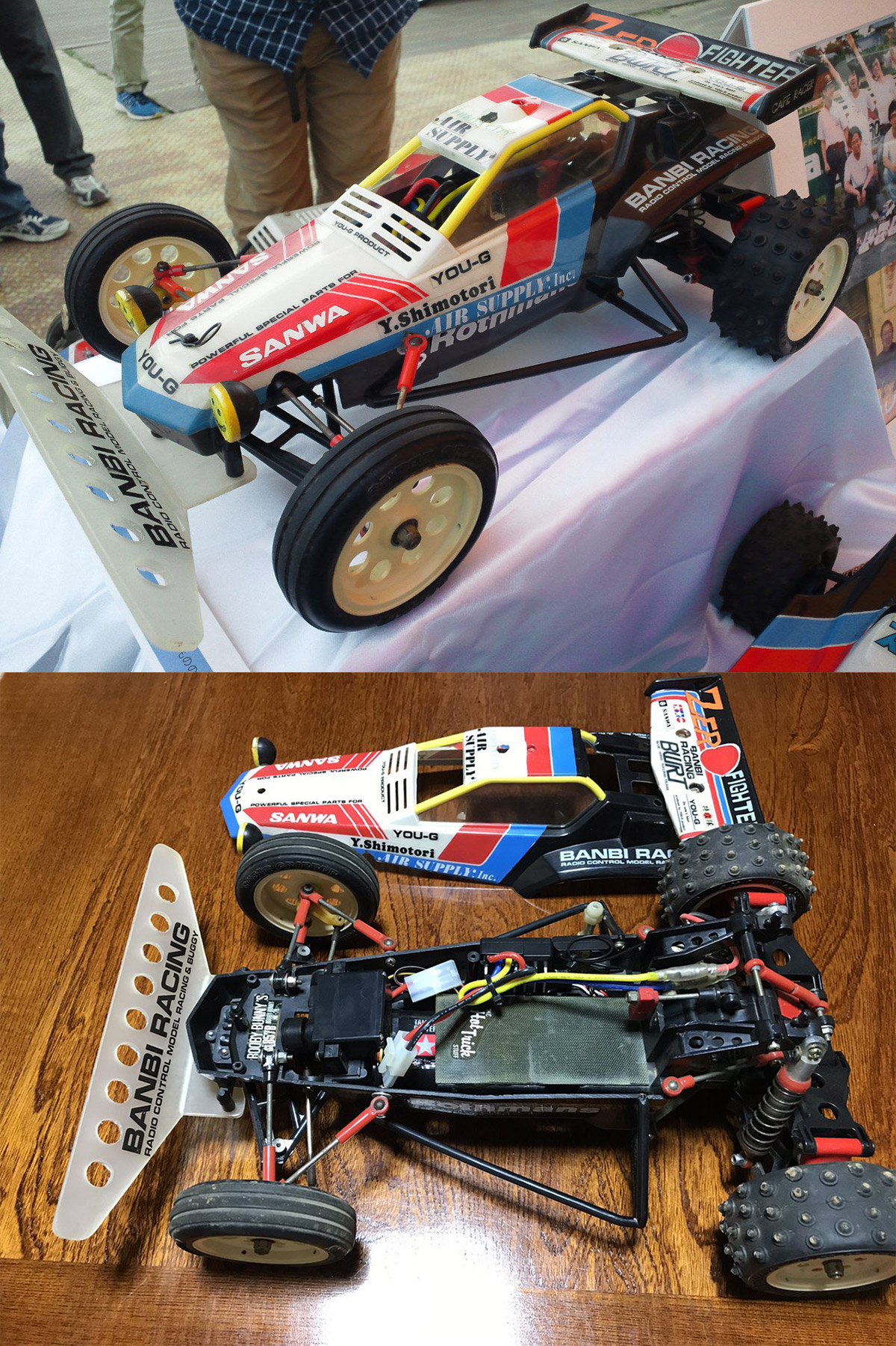 The Hotshot he brought, released just a couple of months earlier, was bone stock out of the box when he arrived in the US, with the original very early edition only gold wheels* and those cool looking mono shocks, but really did nothing in terms of dampening. Of course it had his "trade mark" red/white/blue paint scheme. But teaming up with John Gudvangen of JG Mfg. they modified the Hotshot a lot, and the car he brought back home to Japan was very different from the factory stock Hotshot he left with. Shimotori finished 88th in "stock" with the Hornet and 85th in "Modified" with the Hotshot, while Oda finished 94th in "Stock" with the Tomahawk, and 62nd in "Modified" with his Zerda.
*The gold wheels have been a very much debated topic in regards to the Hotshot. While the official box art shows gold wheels, there has been the established truth (by the Tamiyclub community) that Tamiya never supplied gold wheels with production cars, even if some people (including myself) have insisted that we got gold wheels with our Hotshots when buying them short time after the release. Strong words have been used, and people arguing against this established truth have been silenced by being ridiculed and simply bullied by the "truthkeepers". The Hotshot was released in mid April of 1985, while the Supershot that all came with gold wheels were released in late March the year after. The gold wheel option (#50255) for the Hotshot was released in late of December 1985/early January 1986. These dates are Tamiyas own published release dates. By looking at "Kemur" Shimotoris Hotshot in the pictures below from the 1985 Worlds (July 1985), it's indisputable that there were "gold" plated Hotshot wheels in circulation at least half a year before the official release of the #50255 "Hotshot Plated Wheel" option. The question that remains is how a set of these gold plated wheels found their way into the box of my NIB Hotshot when bought in May/June of 1985 at my LHS "Modellbygger'n" in Tromsø, Norway? That's seven months before the #50255 option release. My Hotshot was one of only two Hotshots the LHS got in their initial shipment. I'm not 100% sure of this, but at least I remember only seeing two, and I remember a friend waiting months for the next batch to arrive. One of the two Hotshots in the shop was a display model with gold wheels, and the other was new in the box, also with gold wheels. I believe they got the display model pre-built from the Norwegian distributor Harald Lyche & Co, as I was in that shop at least every other day, and I remember them having that display model right from the start. They wouldn't had time to build it themselves. I bought the kit the day after, after promising my mother I would sell my Subaru Brat. I still remember waiting for school to end, hoping the kit wasn't sold by the time I got there. I'm just guessing here, but I believe there must have been a small number of first batch Hotshots, intended for promotional use or something, that came with the plated wheels, but these were dropped when the larger batches of Hotshots were made. I'm aware that by saying this I'm sticking my head out, exposing it for the guillotine. But to be honest I don't care, as I know I got gold plated wheels with my Hotshot, and no flaming or derogatory comments will ever change that…… I know….. I'm a brave man 😉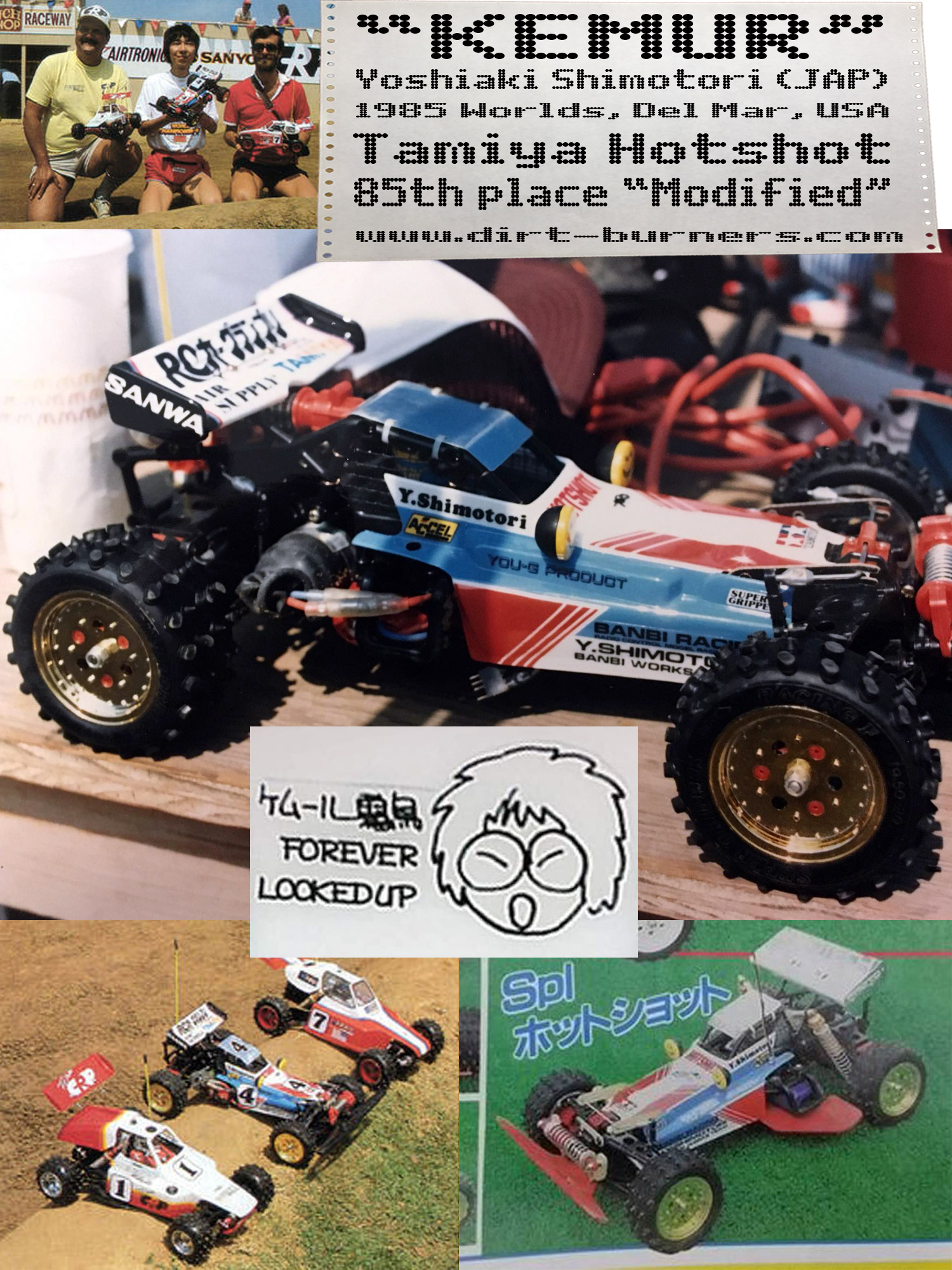 So keep in mind that many of the JG parts you have on your Hotshot sitting on your shelf, were designed by Gudvangen and "Kemur" Shimotori at the Ranch Pit Shop in Del Mar, during the week leading up to the 1985 Worlds! Although falling through in the race, "Kemur" won second place in the "Modified" concours competition with his Hotshot, behind Herb Hanss.

The track was set up with a new high tech AMB electronic lap counting system that mostly worked great. I believe the system was brought down to Del Mar from the other "The Ranch Pit Shop" in Pomona, a couple of hours drive away.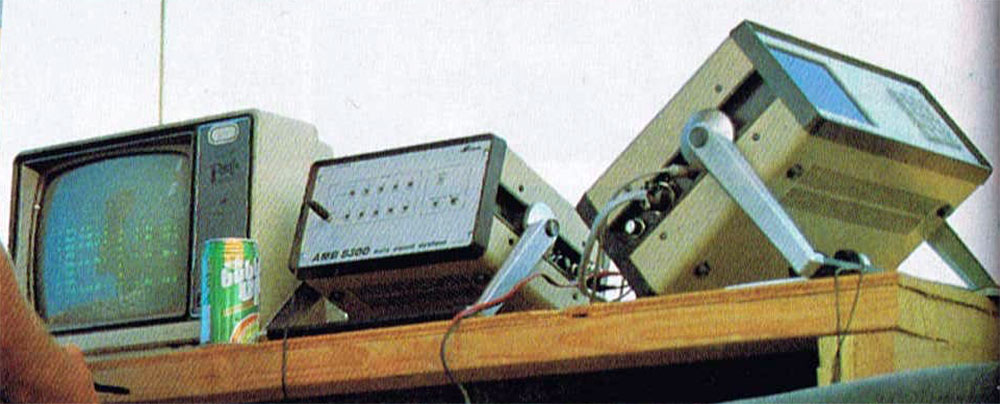 There were however some drivers, with a certain combination of transponders and radio equipment (transponder #10 and Sanwa/Airtronics FM radios on the orange frequenzy), who experienced interference from the timing system every time they passed the scoring bridge. Most of the problems were fixed by positioning the transponders and motor/speed controller as far away from each other as possible, and using three capacitors on the motors, positive to can, negative to can and the third between positive and negative.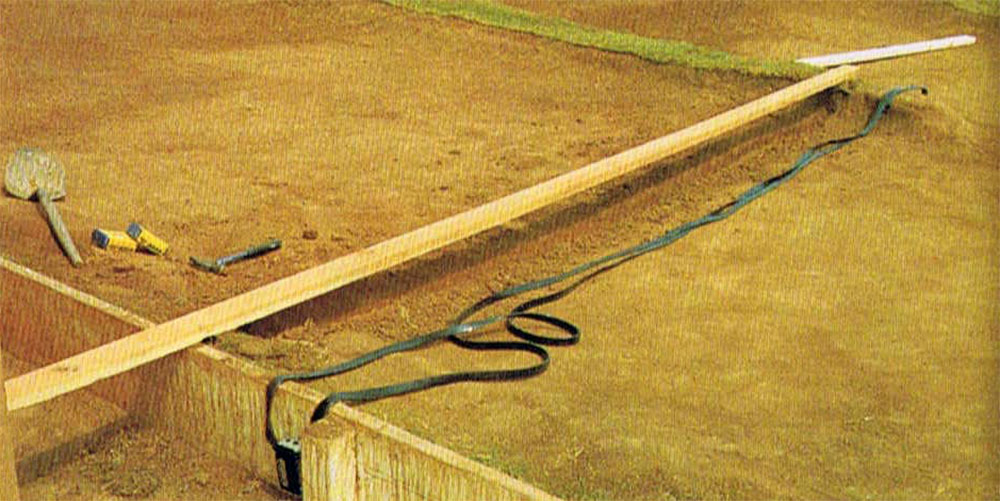 There were two classes, "Stock" and "Modified". The "Stock" class was restricted to 7.2v batteries and stock hand-out motors. In the "Modified" class almost anything was allowed, like 8.4v batteries and tuned motors.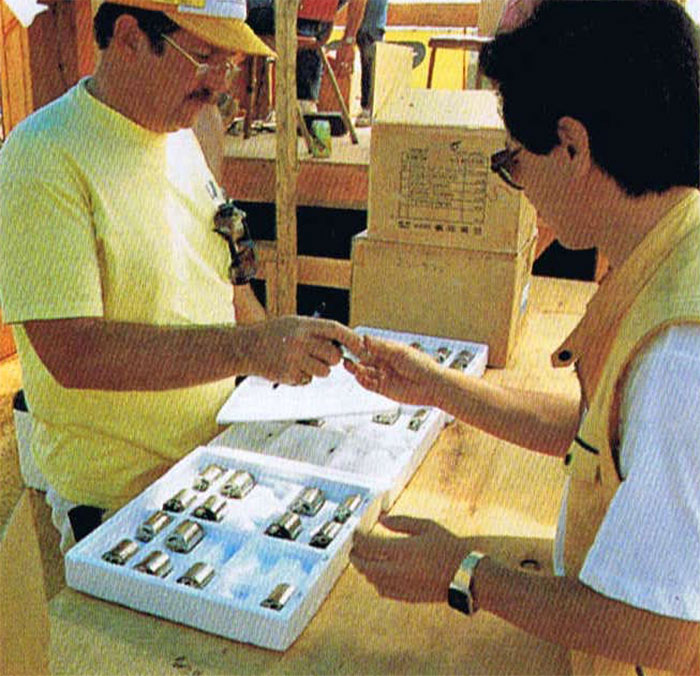 Stock class

First out was the "Stock" class where Gil Losi Jr. was TQ, followed by Tony Neisinger, Kris Moore, Gary Kyes, Mike Dunn, Jay Halsey, Mike Giem, Paul Dionne, Eustace Moore and Jerry Case. There were no bump-ups in the finals and the A-Main was run as a best two out of three system. The three legs were spread out between the lower finals on Thursday, and in the A-1 Jay Halsey really found the speed, and clocked his first 20 lap run. In A-2 Halsey did another 20 lap race, this time even faster, actually the fastest run of the Stock class, all week. These two very fast races meant that Halsey could ignore his second place in the A-3, as his two wins were fast enough to grant him the title "1985 Stock World Champion". TQ Gil Losi Jr. raced to silver and Tony Neisinger won the bronze. Following them were Giem, E. Moore, K. Moore, Kyes, Dionne, Case and Dunn. Unfortunately I haven't been able to find any videos from the Stock class.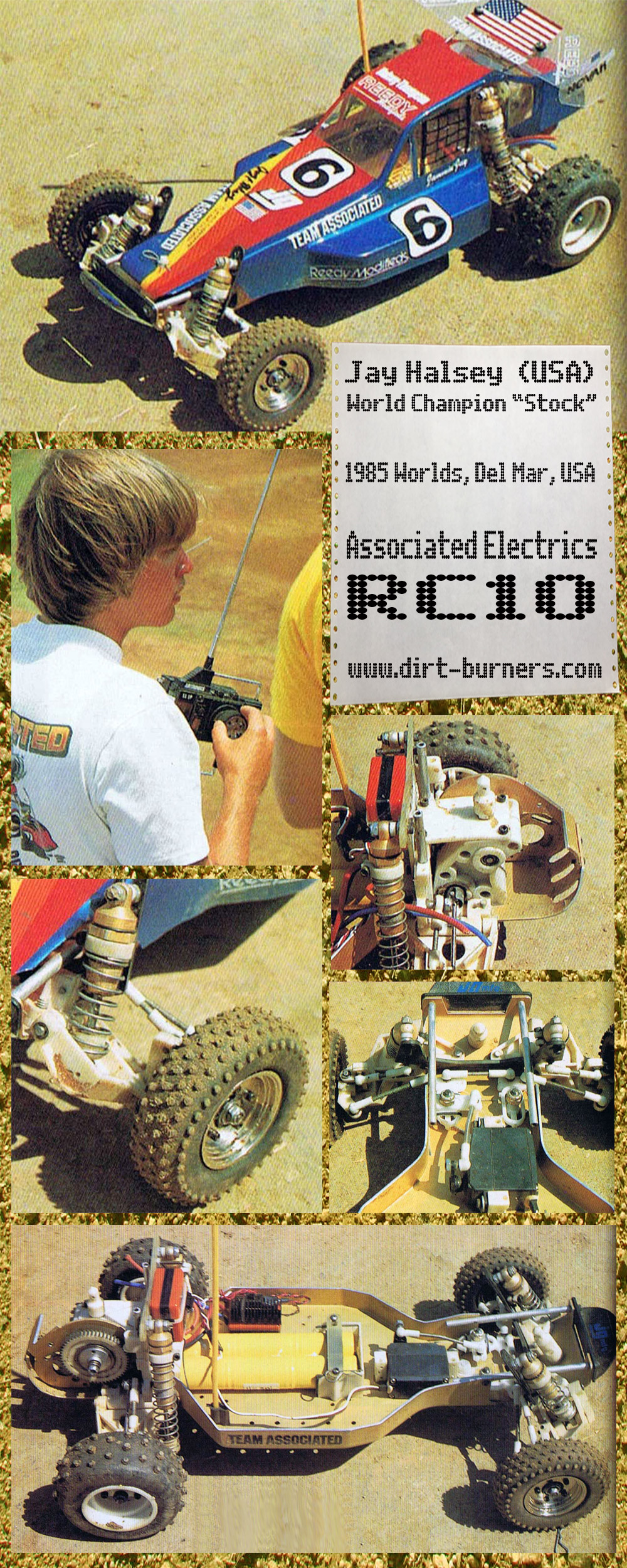 Modified class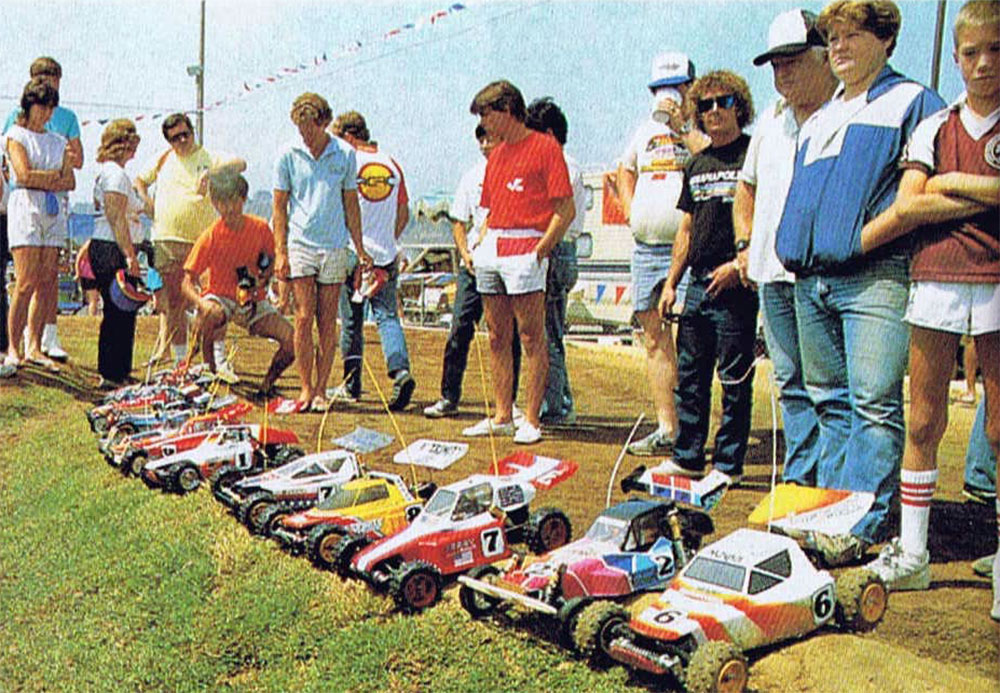 On Friday the qualifying rounds for the "Modified" class started. While 20 lap runs were for the few top racers in "Stock", the hotter motors, 8.4v batteries, 4wd etc. made 20 lap runs the order of the day in "Modified". Once again Gil Losi Jr. was TQ, running his Trinity powered RPS/Yokomo, with "Stock" World Champion Jay Halsey and his prototype 4wd RC10 in second position. Eric Soderquist were third, followed by Mike Dunn, Chris Allec, Mike Giem, Paul Dionne, Gary Kyes, Glenn Glass and Eustace Moore. With just a few exeptions, very much the same field as in the "Stock" competition. The ten top qualifiers in "Modified" were much closer than in the "Stock" competition, with only 7 seconds dividing the ten racers. Like in the "Stock" class, the A-Main was a best two of three runs system, and all three legs were run on Sunday, the last day of the event.
A-1 Main
In A-1 Gil Losi Jr. continued his great racing from the qualifiers, and won the leg followed by Giem and Kyes.
A-2 Main
A-2 didn't go as smooth as A-1 for Losi Jr. as he was passed by Halsey halfway through the race after a glitch that resulted in him ending fifth, after Halsey, Dionne, Allec and Soderquist. This meant that nothing was decided before A-3, the third and last run. The "Modified" World Championship was still up for grabs, with Halsey and Losi Jr. both having good chances for triumph.
Losi Jr. took an early lead, while Halsey lagged a bit behind. Then Losi's Yokomo landed on the head after a jump, and before the car was flipped back, Halsey were right back in the game. Halsey followed tight for a couple of laps, and finally found enough room and opportunity to pass. It should't be for long though. Shortly after they picked up the slower drivers, and Losi did the better job of passing them, leaving Halsey in second again. Losi kept his lead all the way to the finish line, with Halsey following in second and Chris Allec in third. A recount of the laps would however promote Paul Dionne to third, and slipping Allec down to fourth. Giem finished fifth, followed by Soderquist, Glass, Dunn, Moore and Gary Kyes in tenth.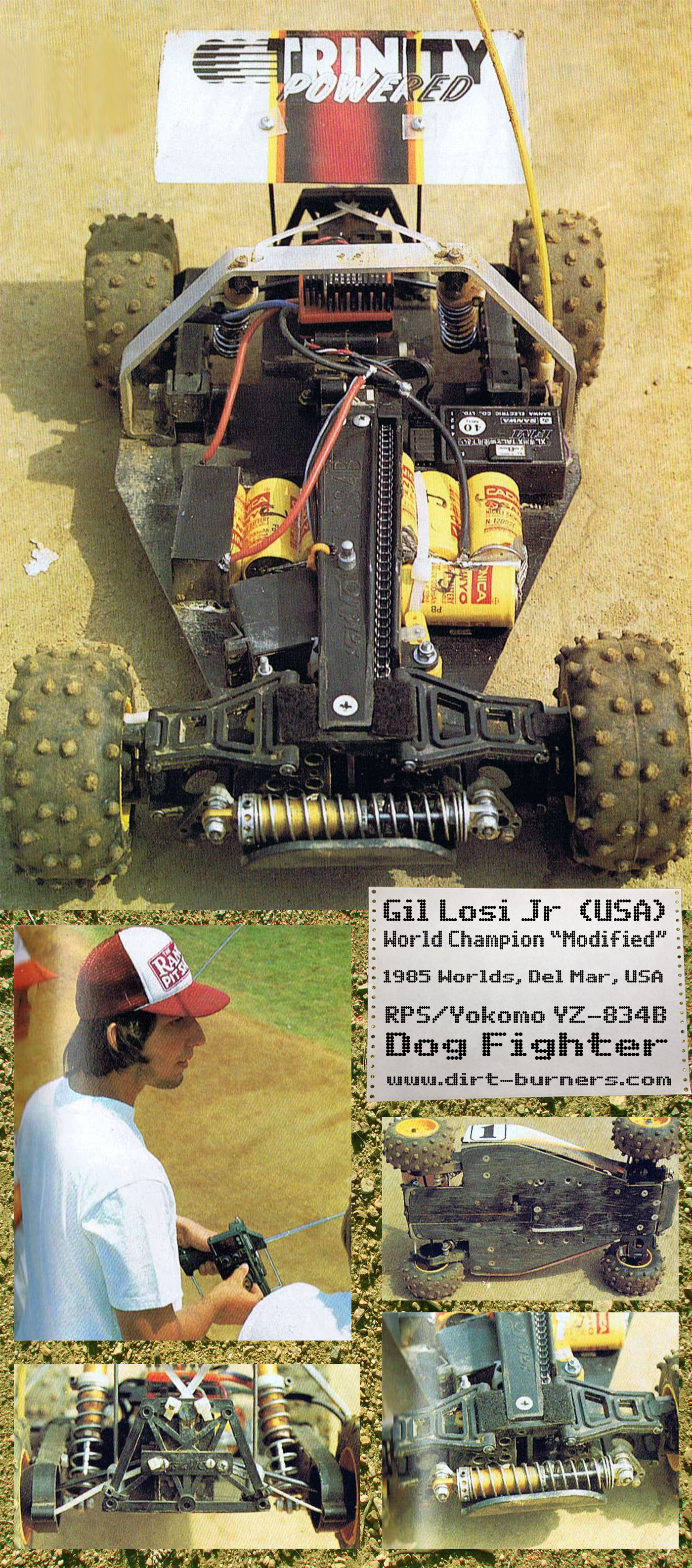 So way back in 1985, these two guys became the first ever official IFMAR World Champions in 1/10 electric off road RC racing!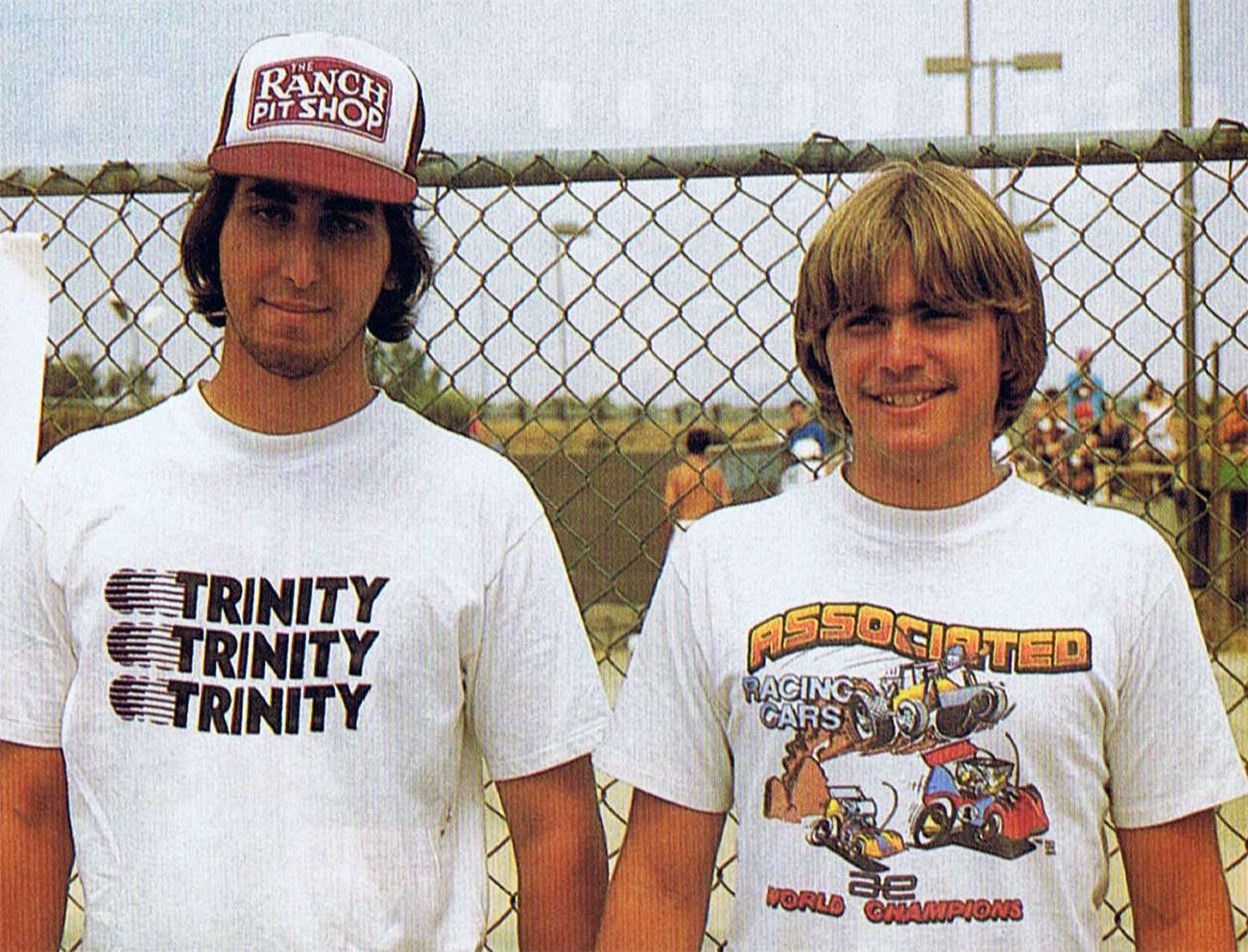 A rare view of many of the top cars, as well as an interview with the Modified World Champion, Gil Losi Jr, going through his Trinity RPS/Yokomo.
Here is Gene Hustings video review of the event. I'm sorry but even if these videos are really informative and great ways of getting the "feel" of the different events, it strikes me that all of Hustings videos sounds more like long Associated commercials than actual race reports. But who knows, that was maybe the point of them? But him saying that Halseys winning RC10 is "box stock, just as it comes out of the box" is not completely true. Had he said something along the lines of "mostly out of the box, just with a few modified parts", it would be closer to the truth. The magazine article about Jays car that he shows in the video, does not even show the actual RC10 that Jay used. Just compare it to the one on the pictures further up, where both the chassis and the motor guard have been milled etc. Husting also shows a picture of Tatsuro Watanabe and Hiroshi Nakamura working on a RC10, and he says they both bought RC10's and improved their lap times by two rounds. While Nakamura told me it was correct regarding him buying a RC10, Watanabe said he used a Marui. But anyway, the video has some great still-photos from the event, and well worth a watch! The '85 Worlds part, starts at around 1:21:18.
Photo galleries
Akira Kogawas personal pictures from the 85 Worlds
(These images were kindly shared by Akira Kogawa. If reposting on websites, blogs or social media etc., please do not remove or edit the credentials.)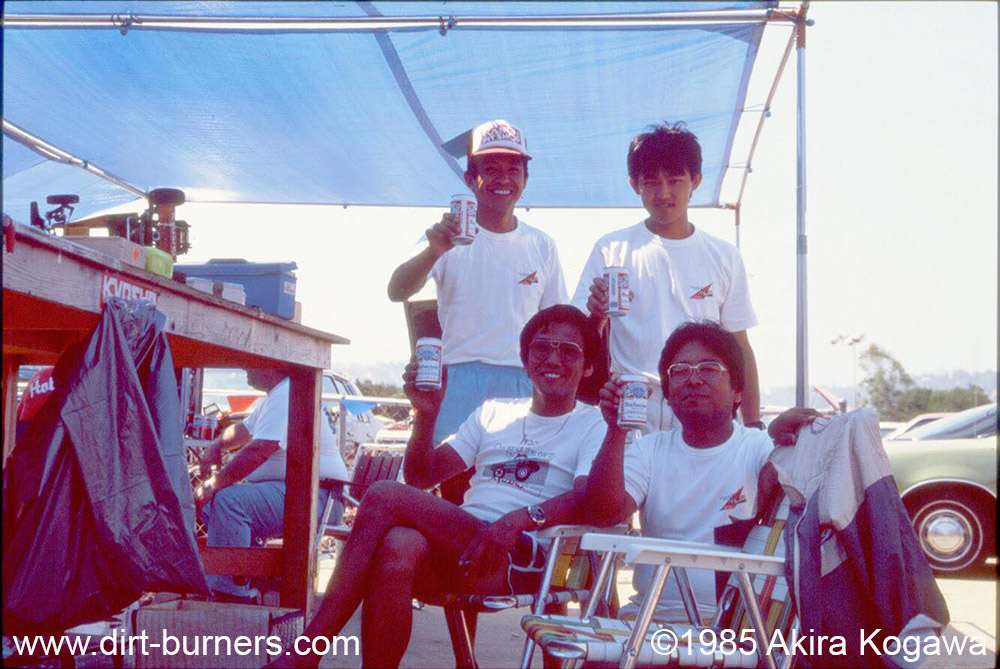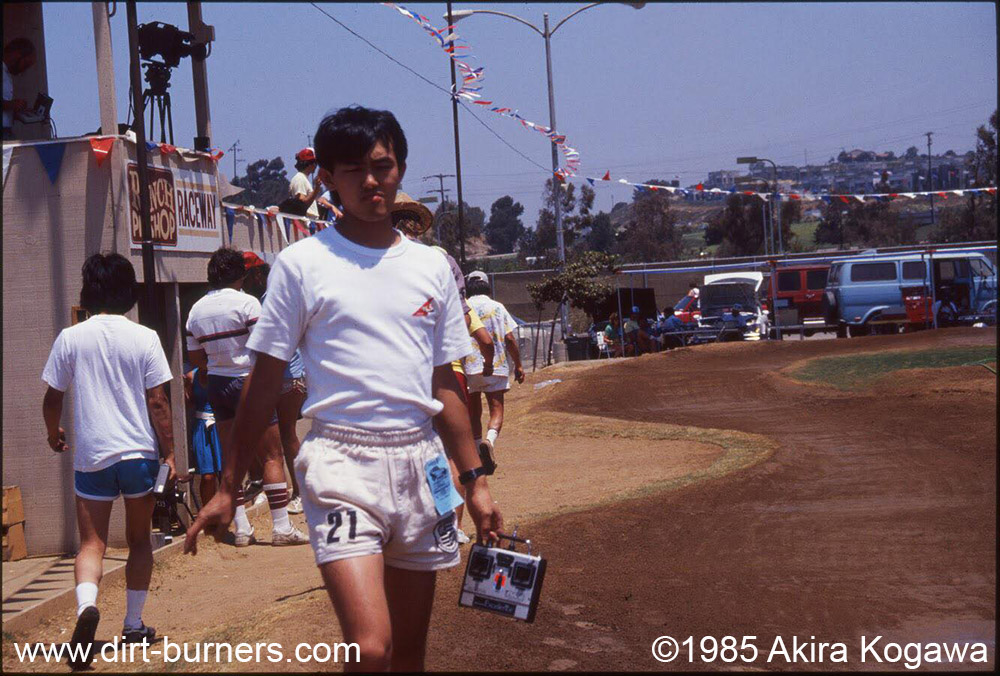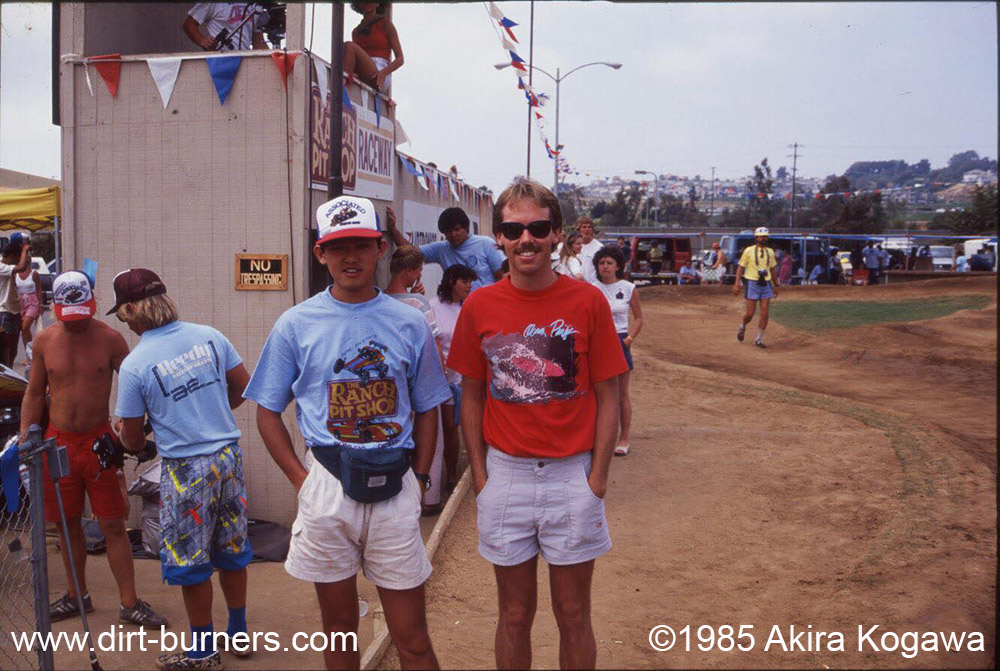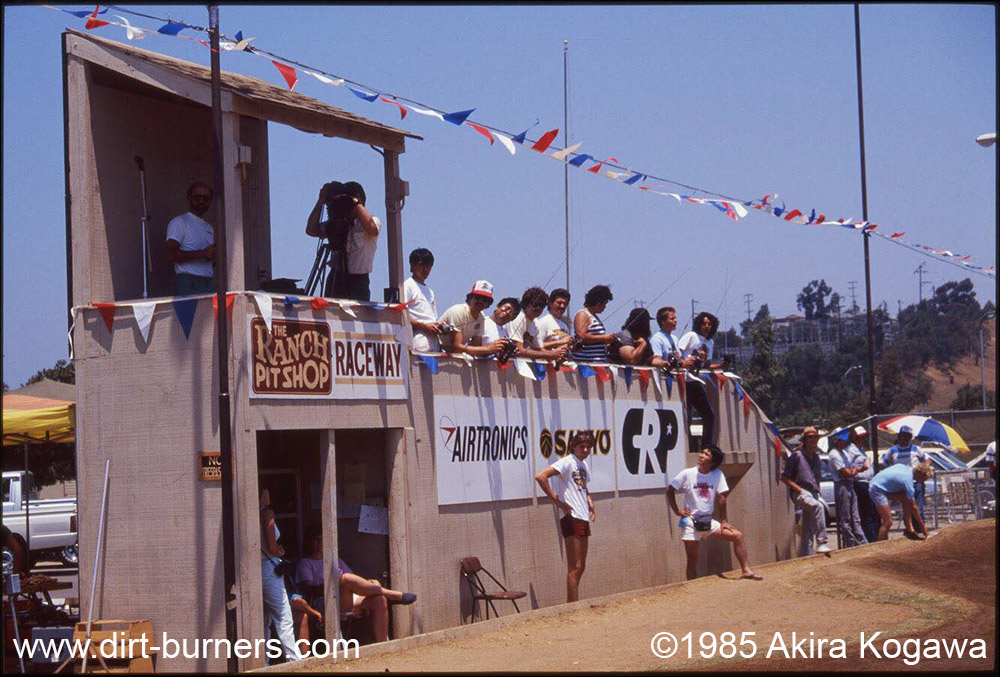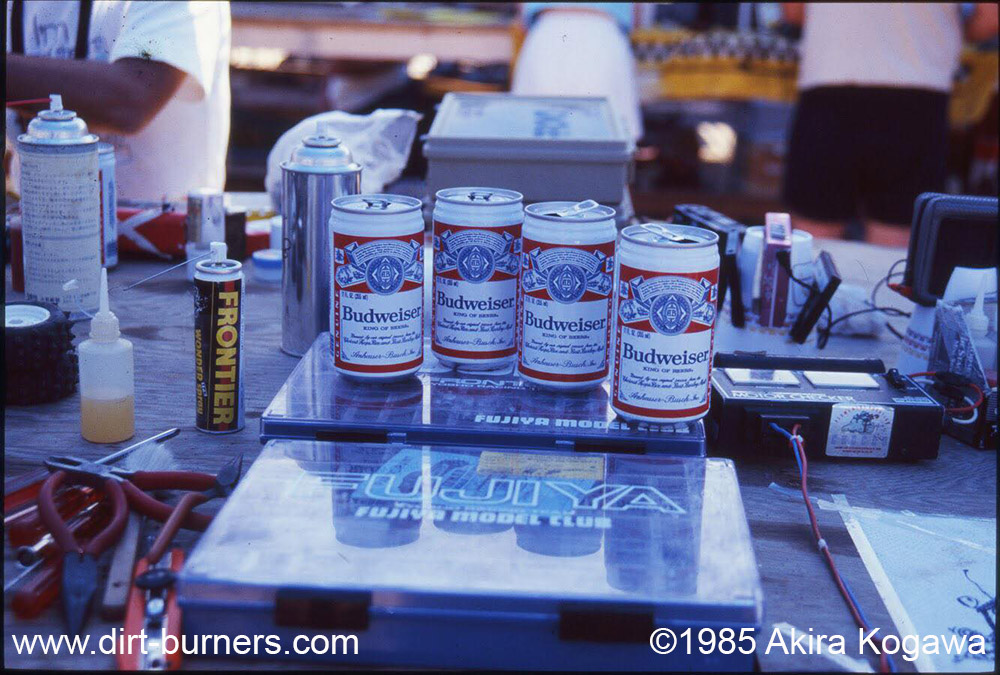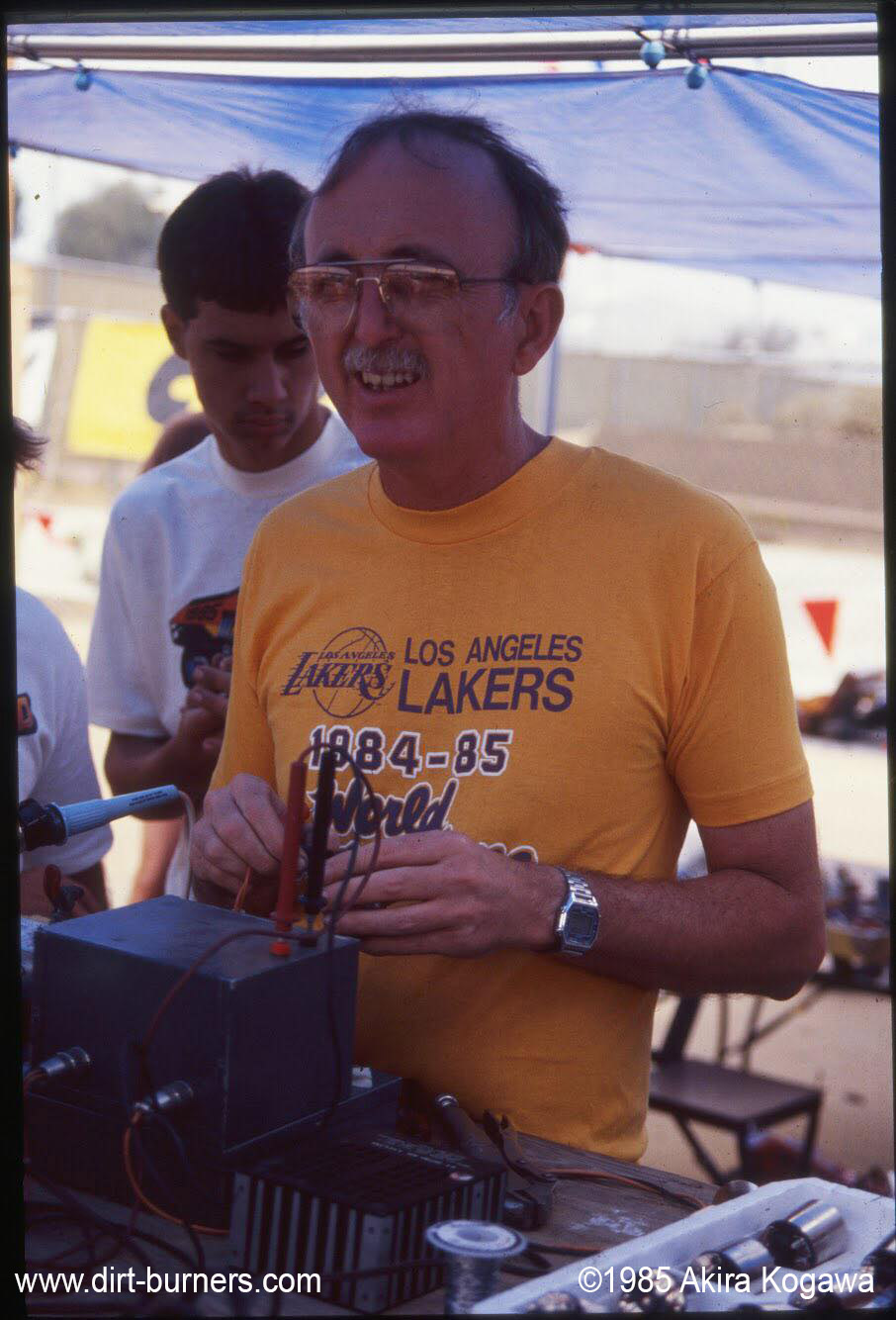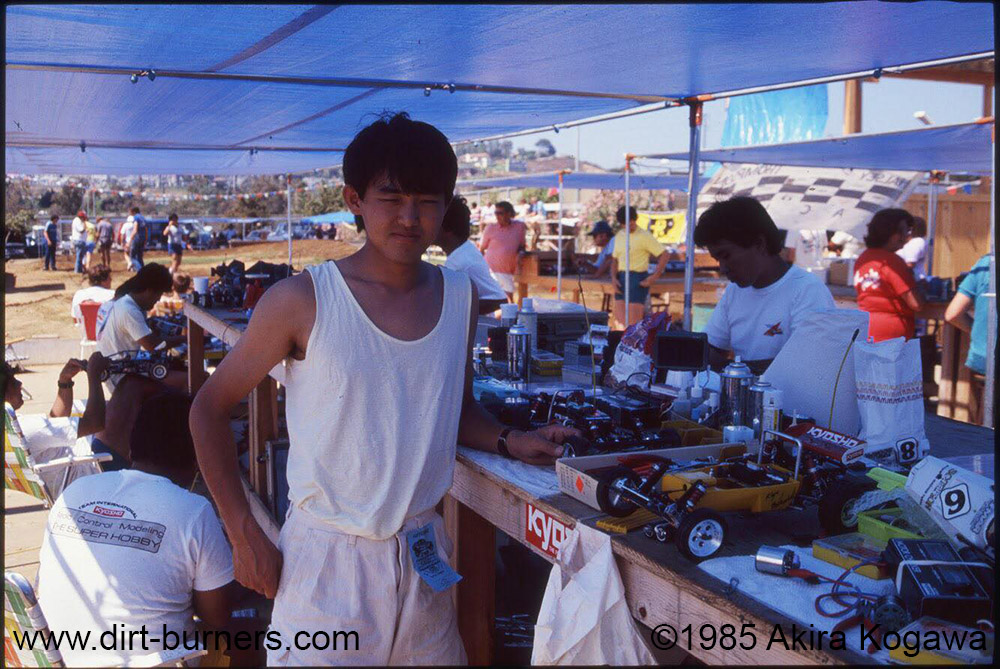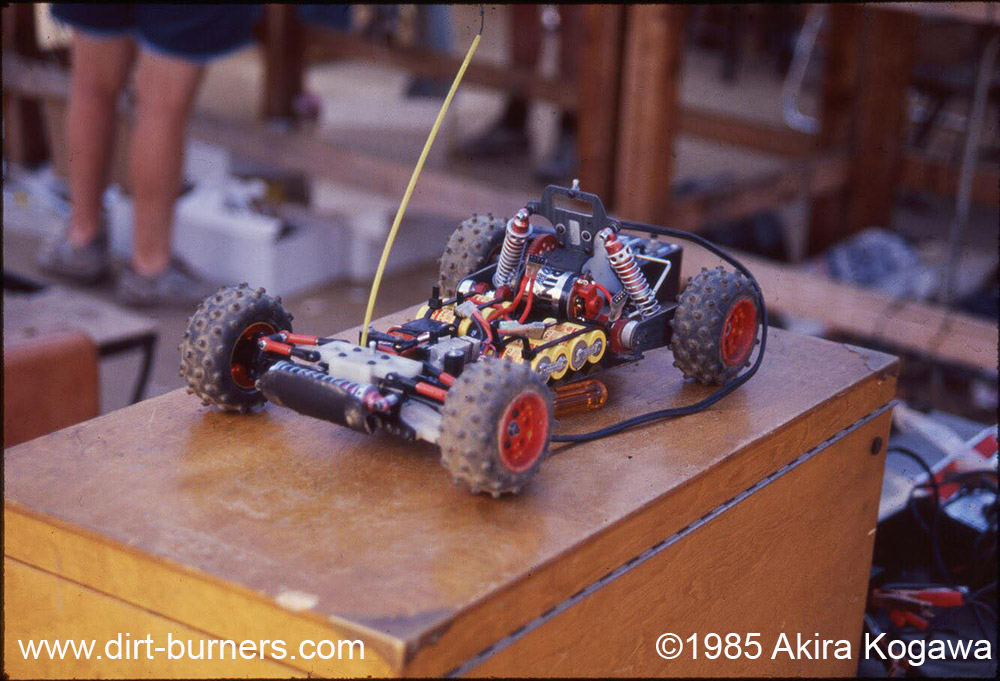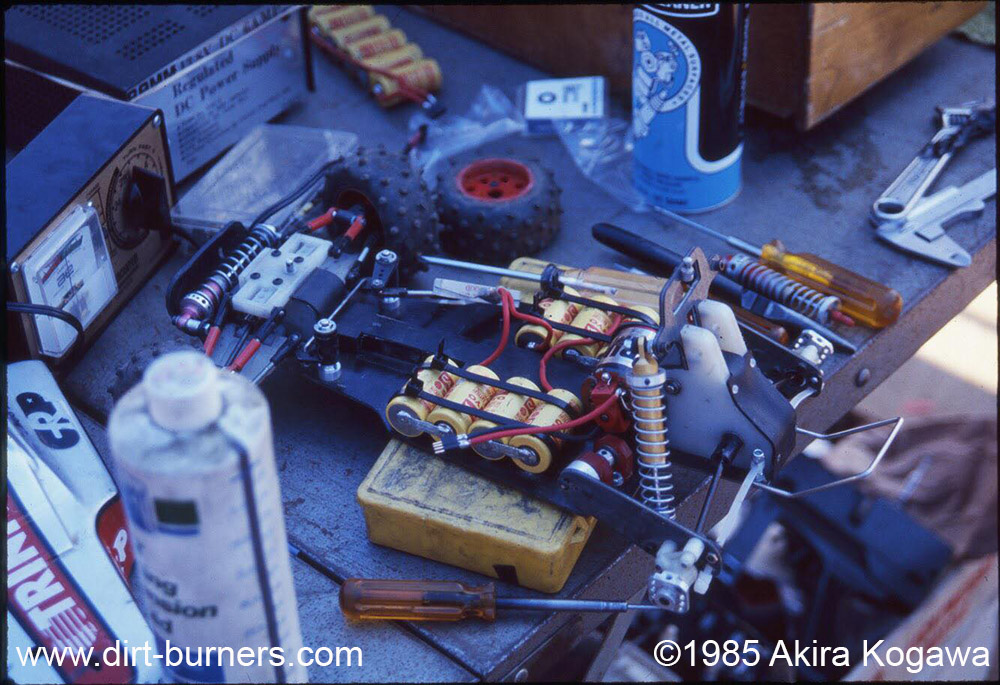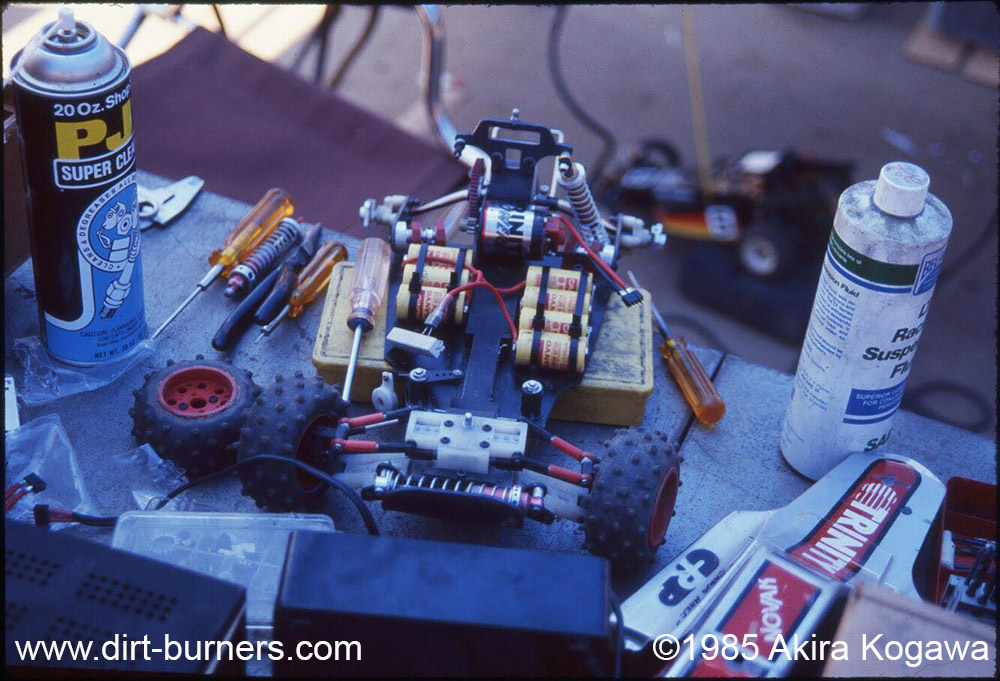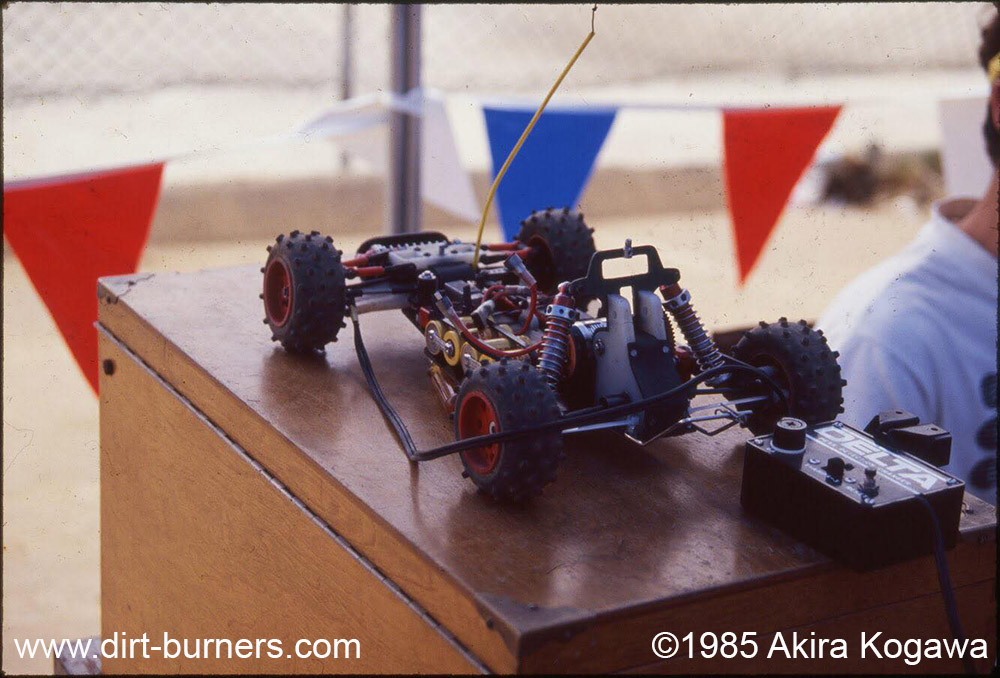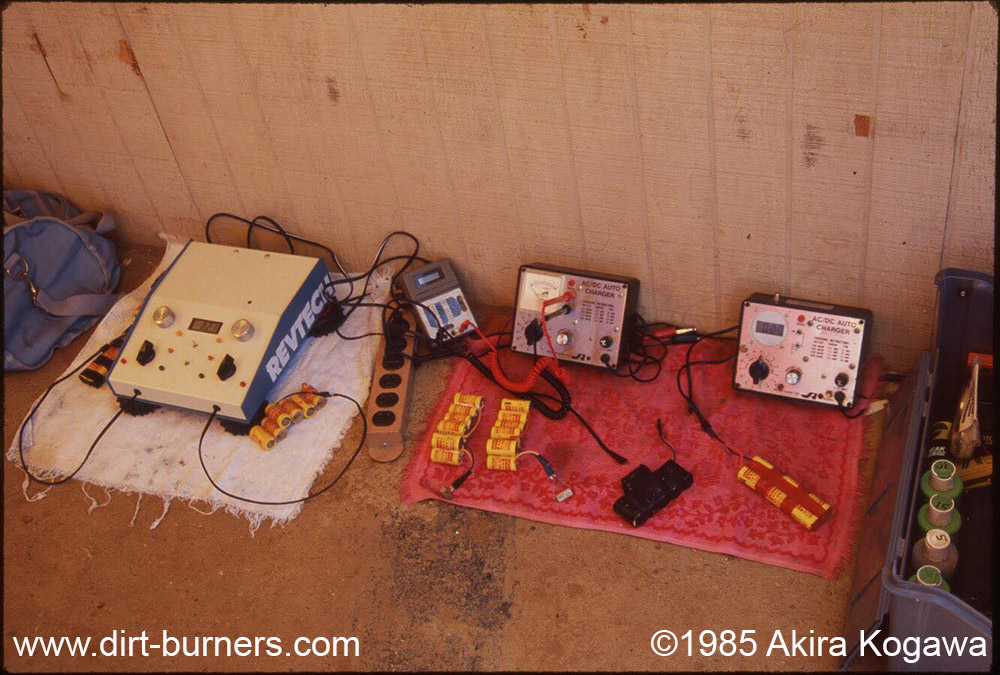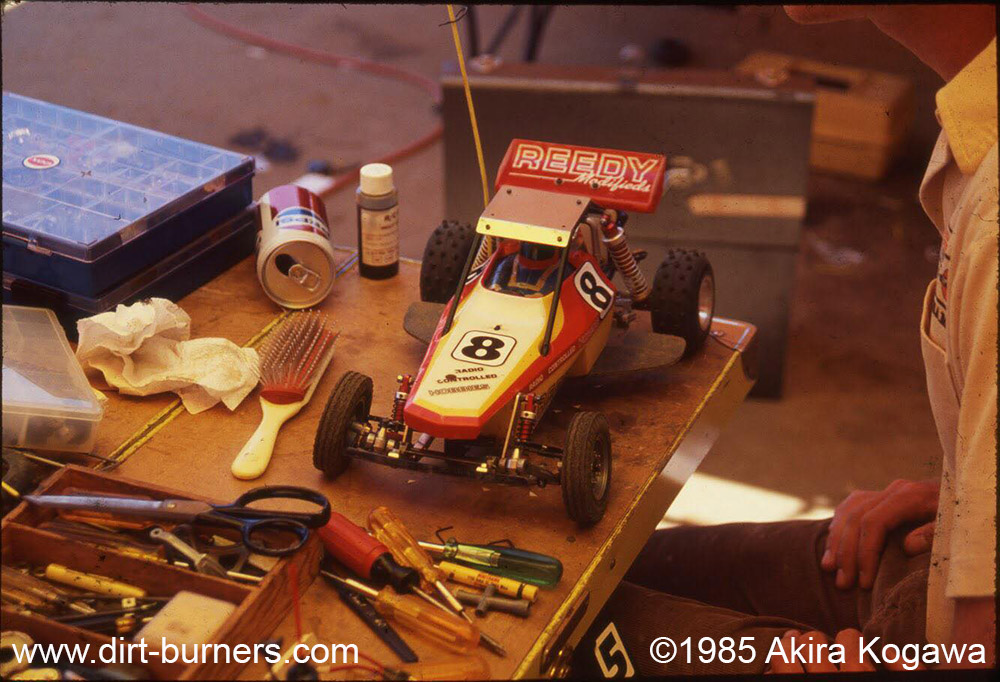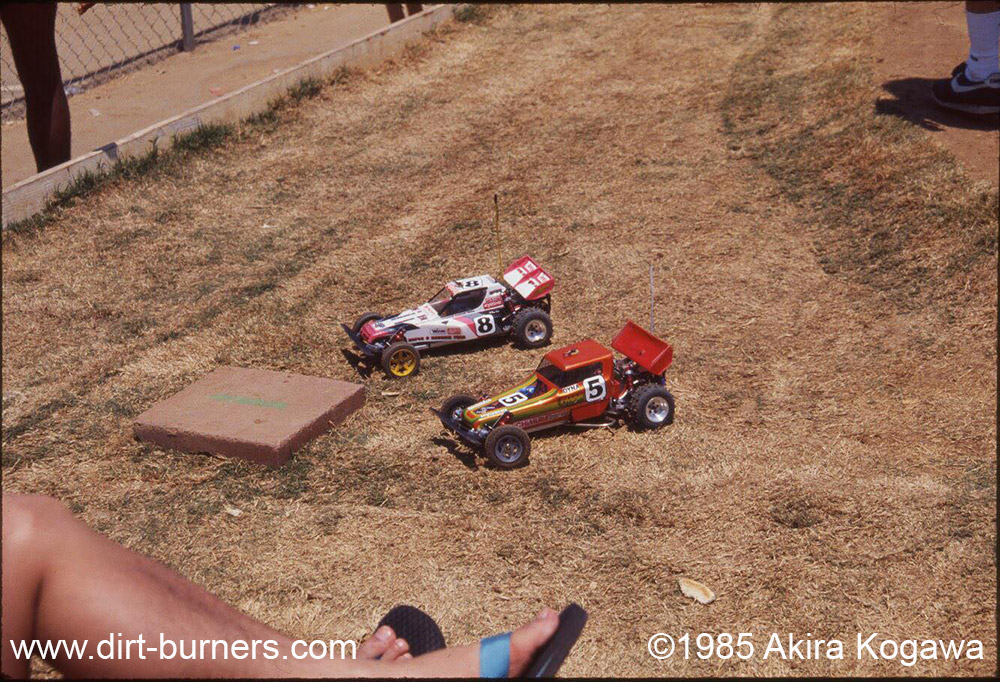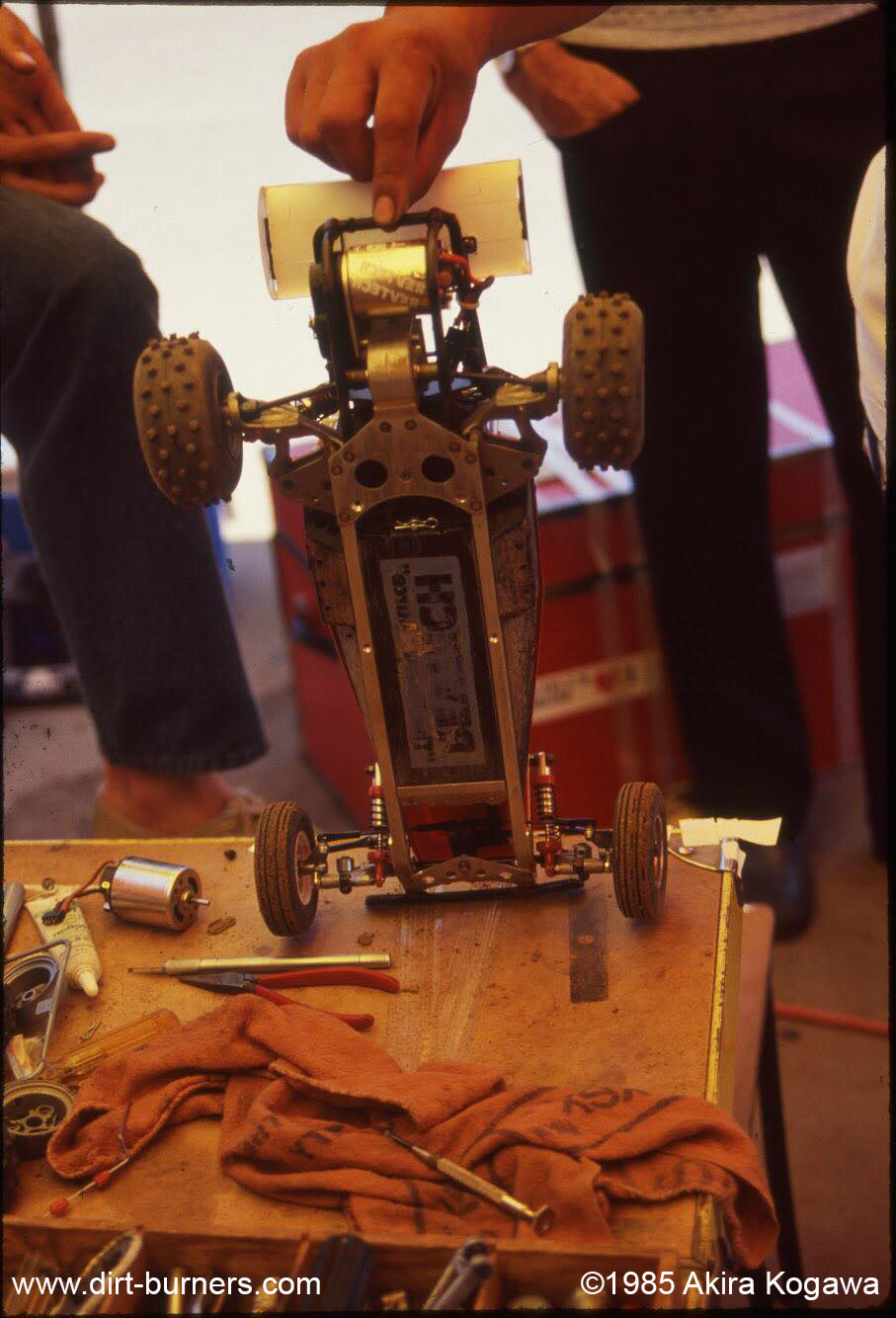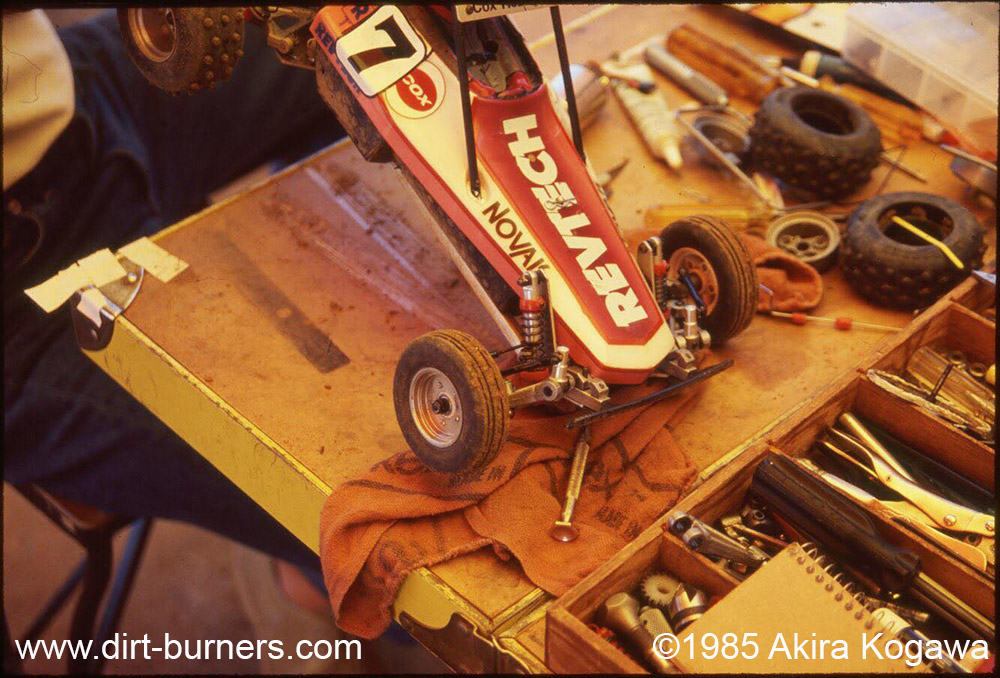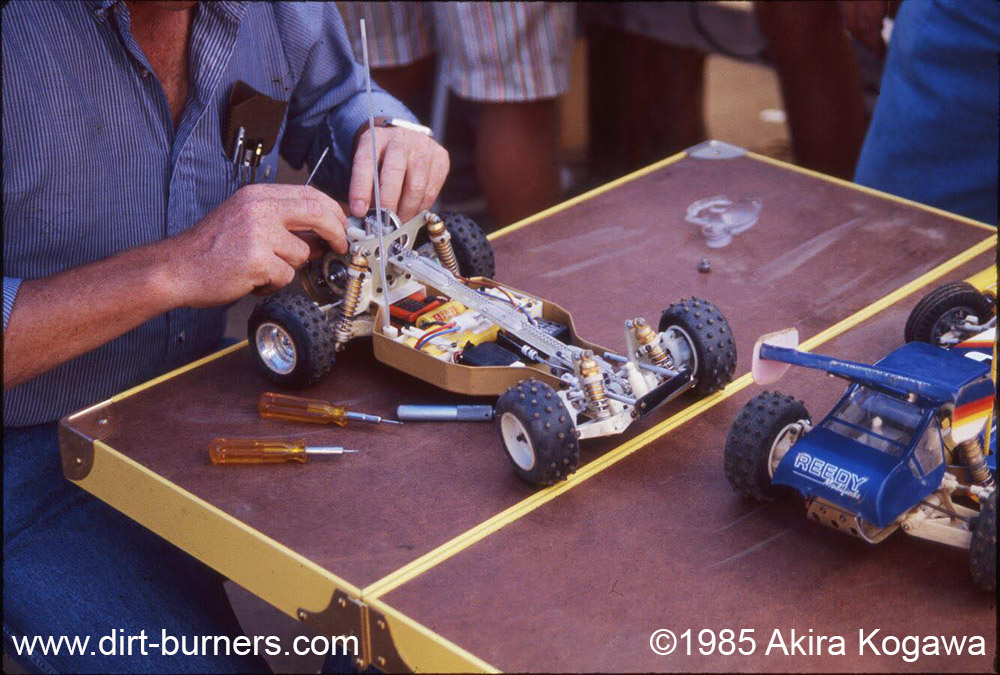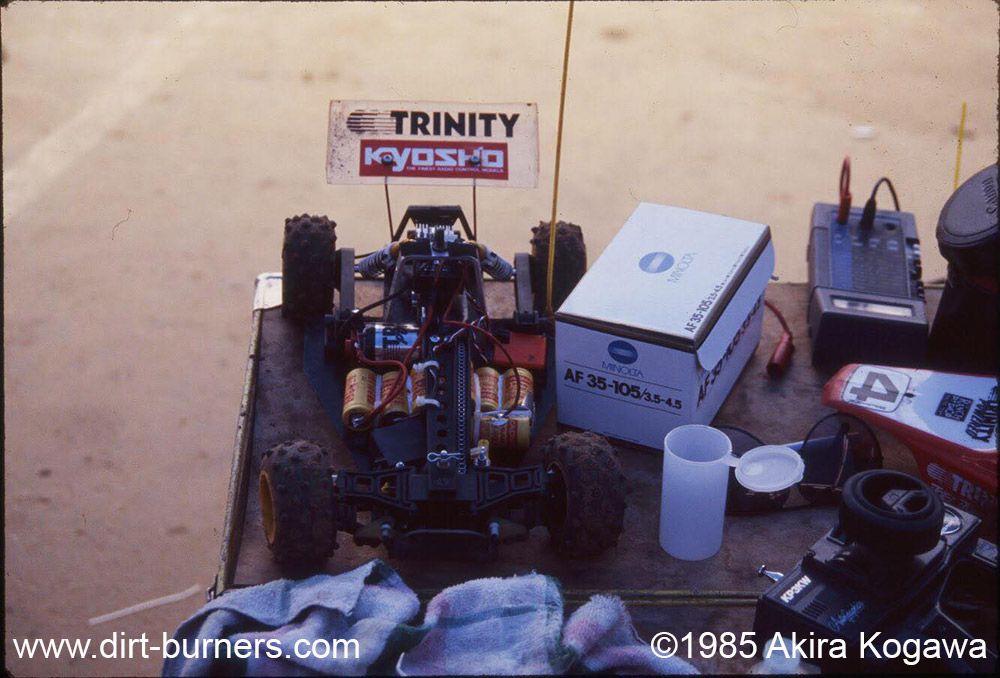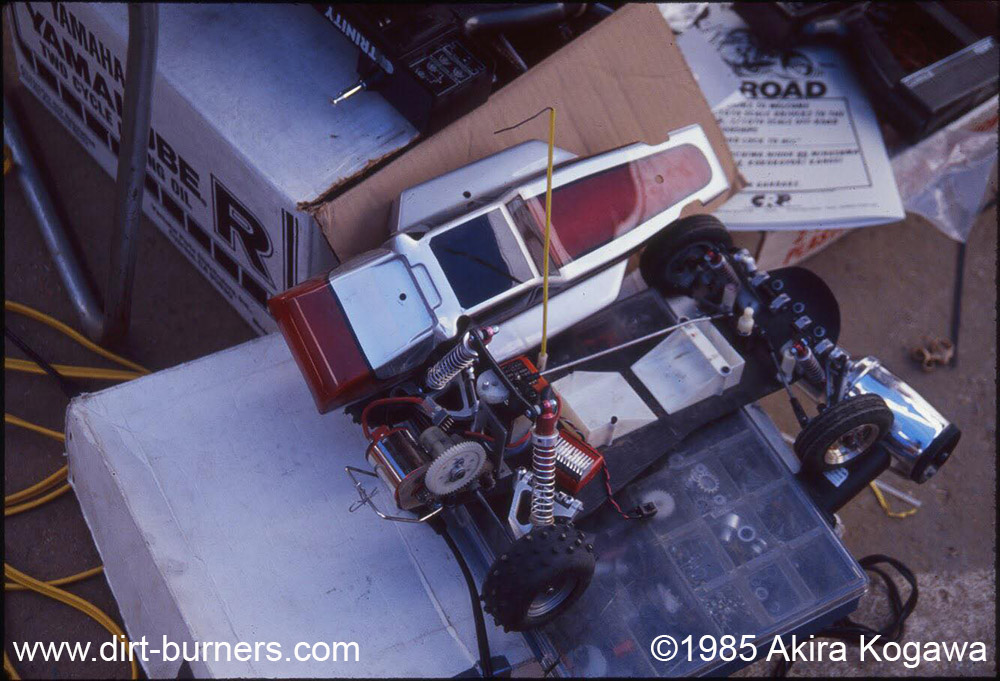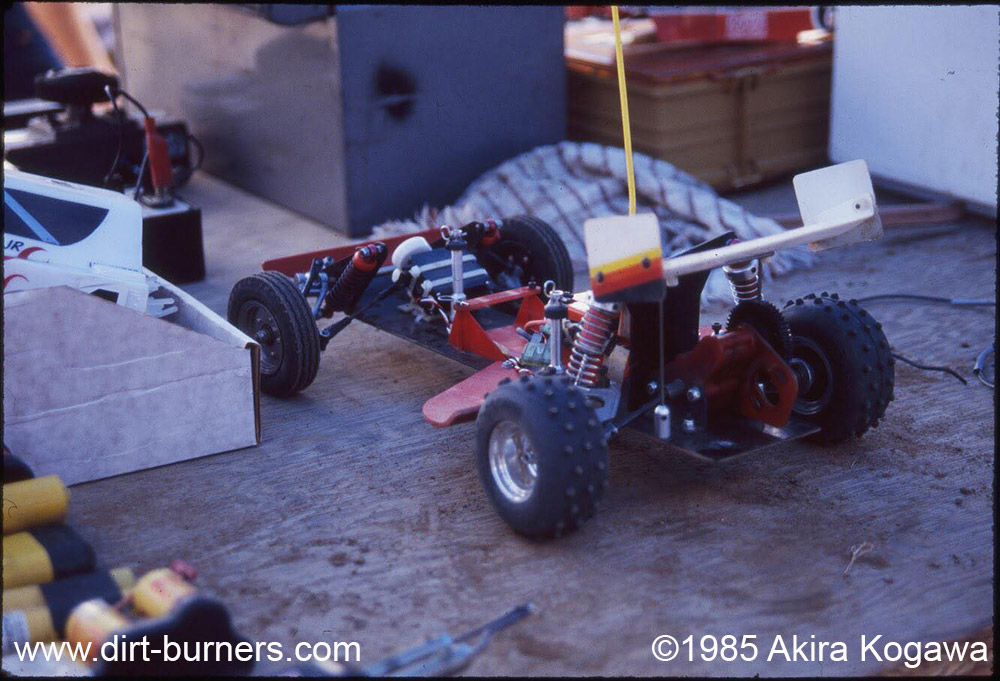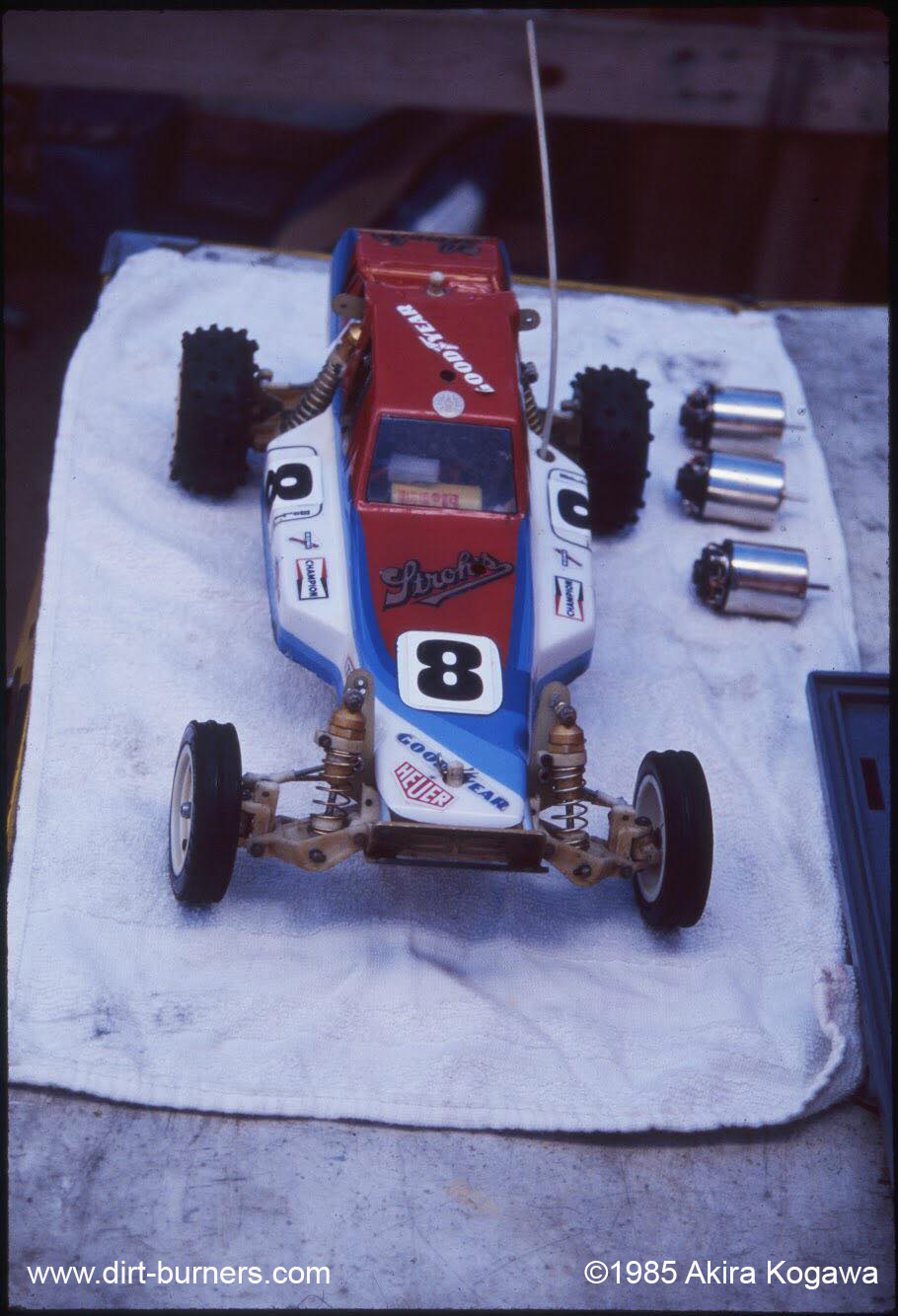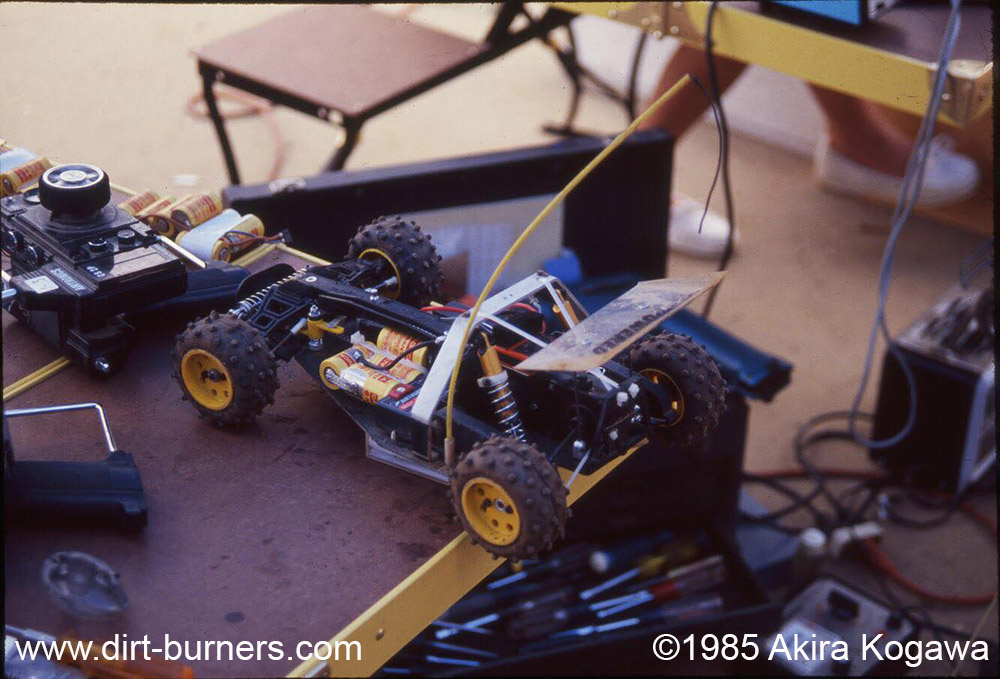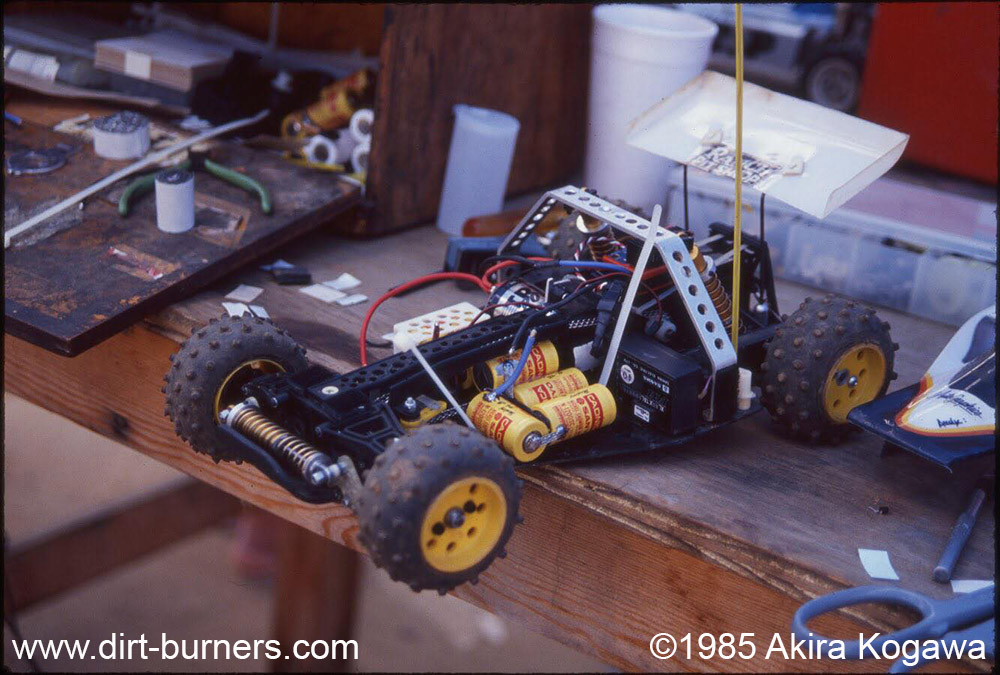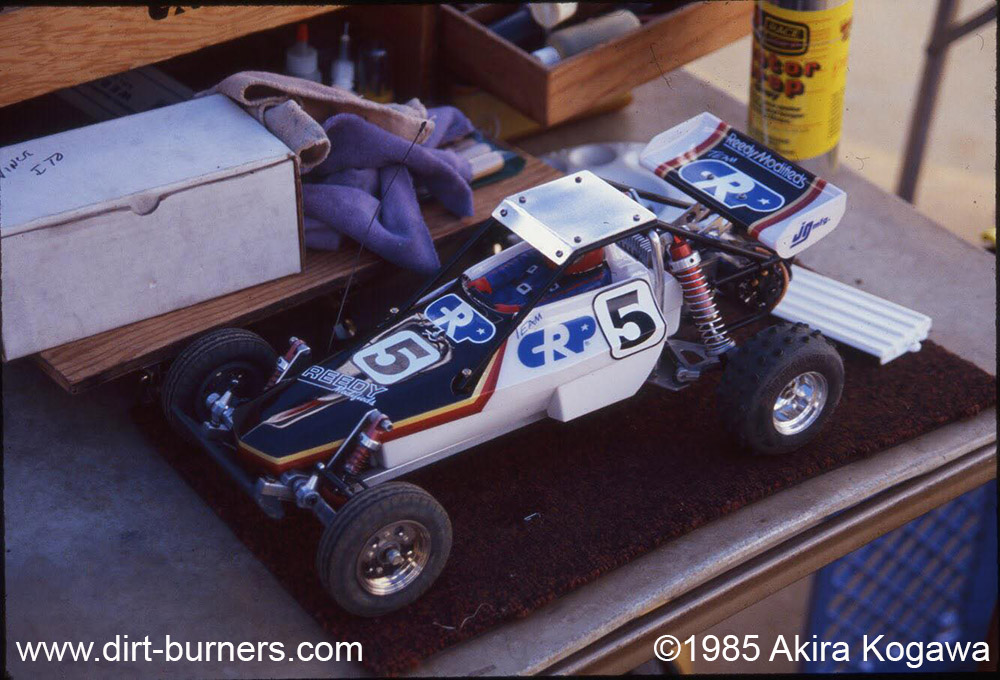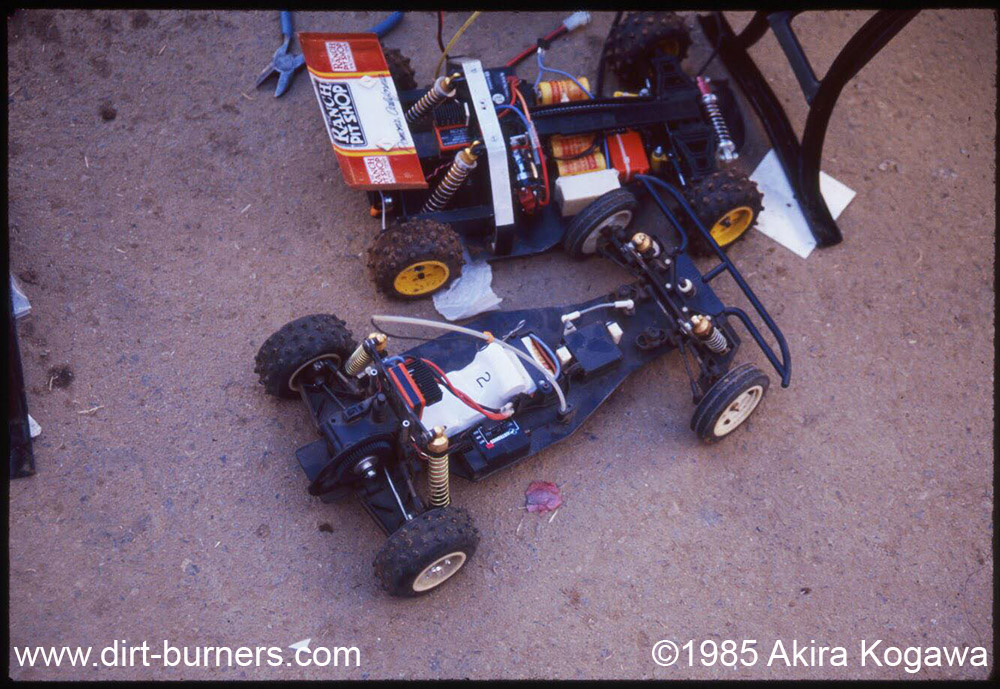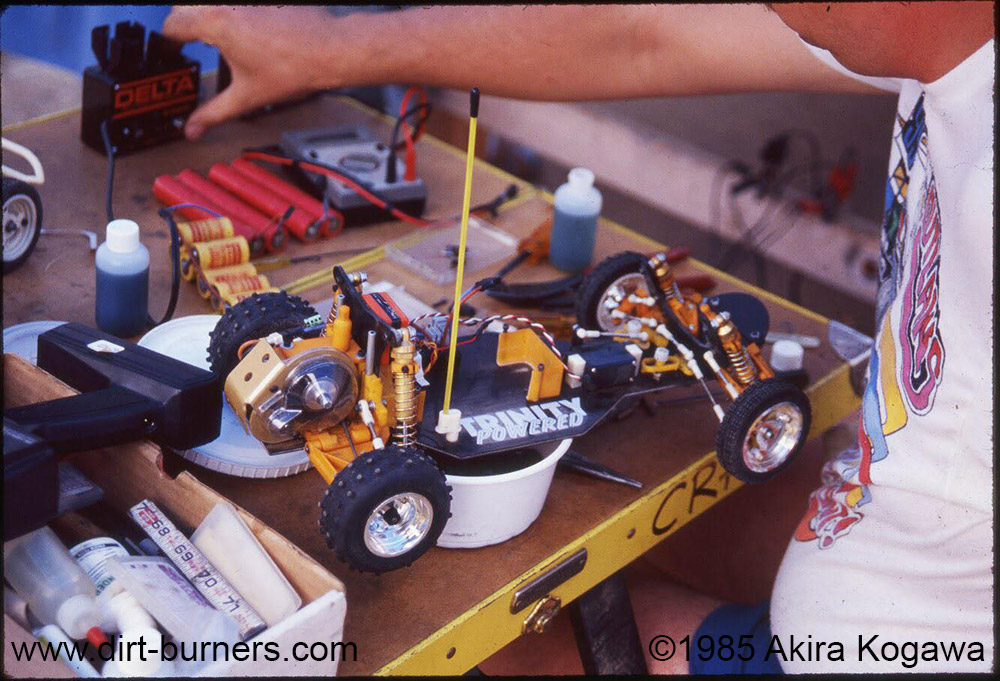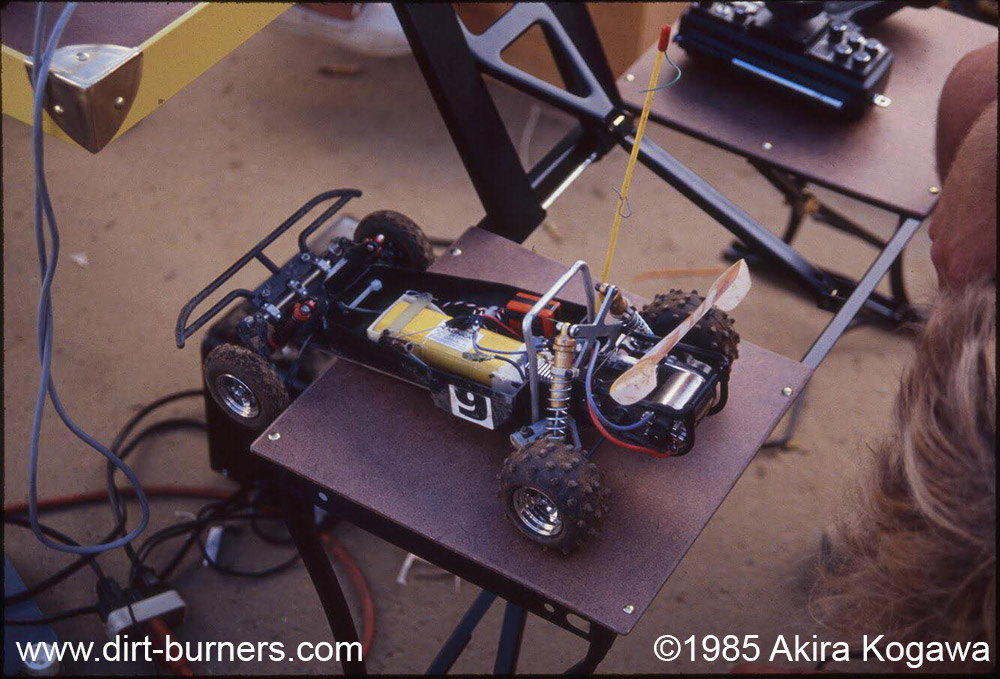 Pete Petersens personal pictures from the 85 Worlds
(These images were kindly shared by Pete Petersen. If reposting on websites, blogs or social media etc., please do not remove or edit the credentials.)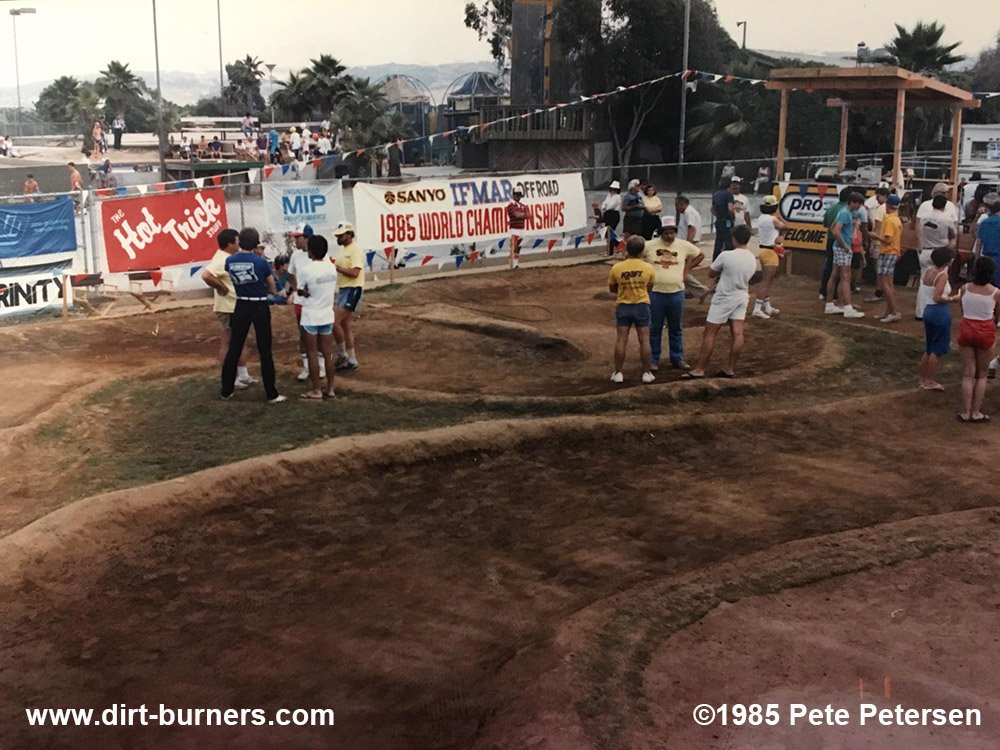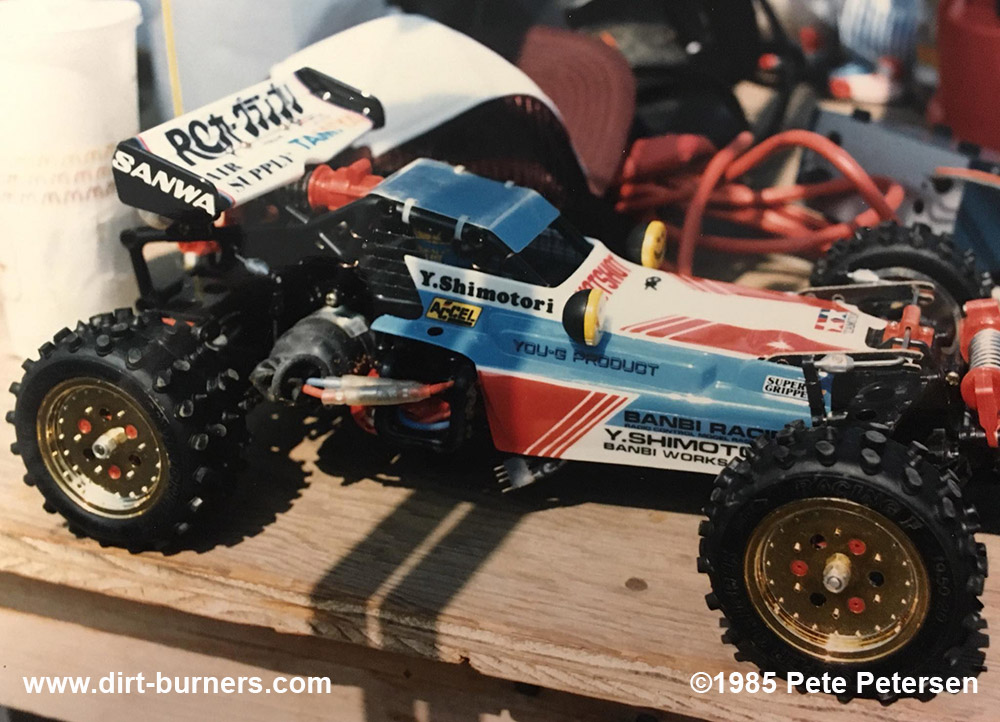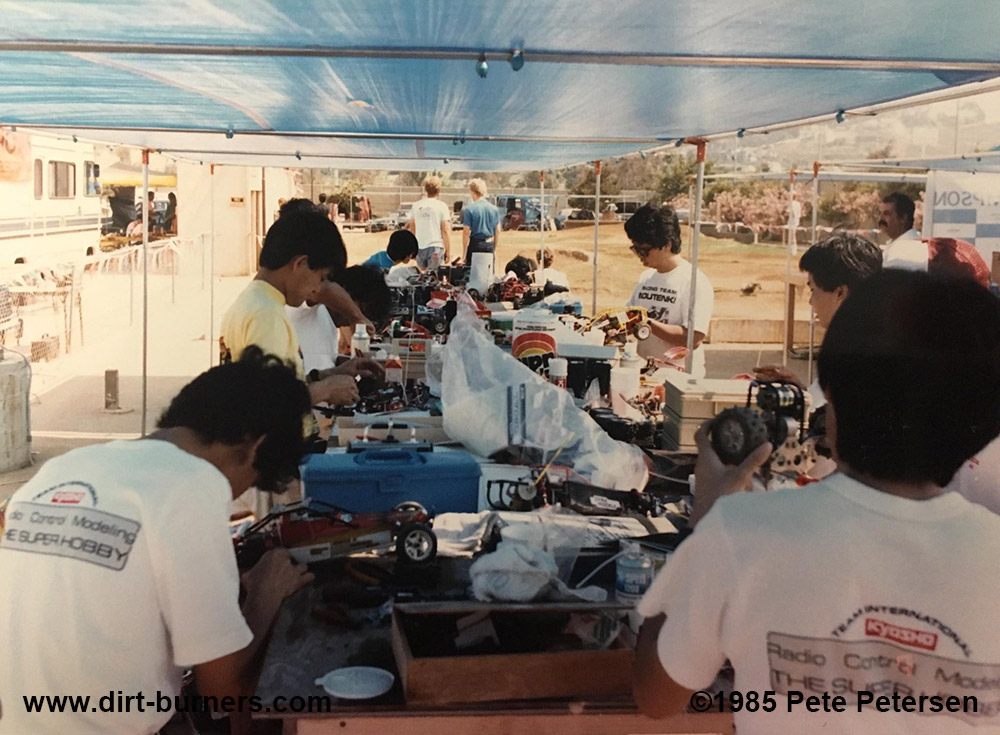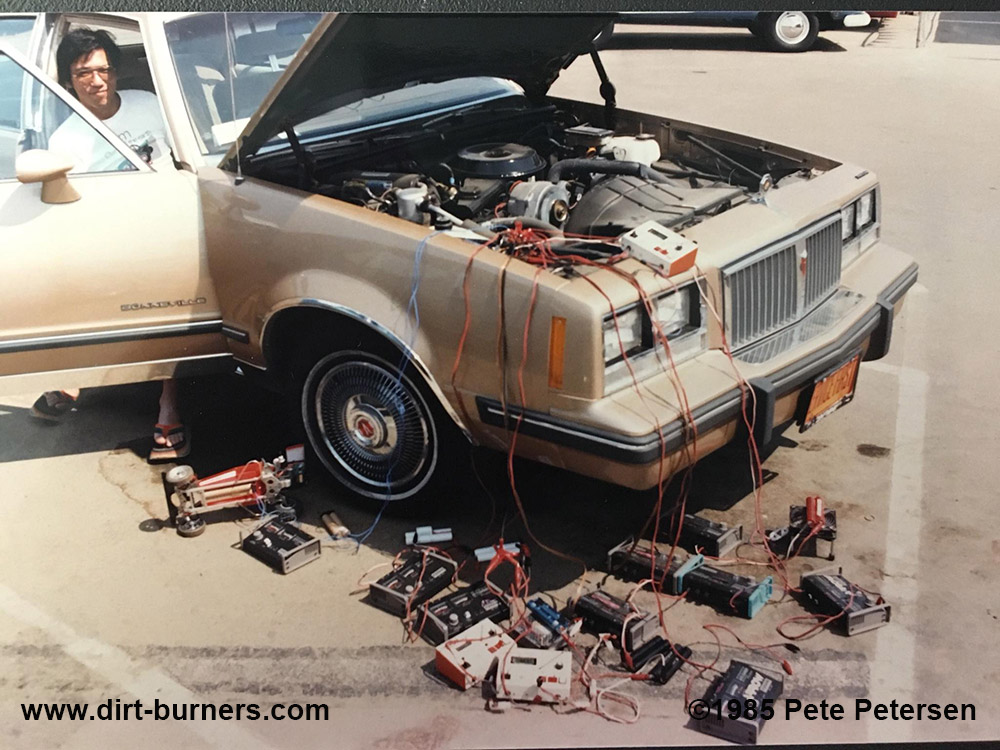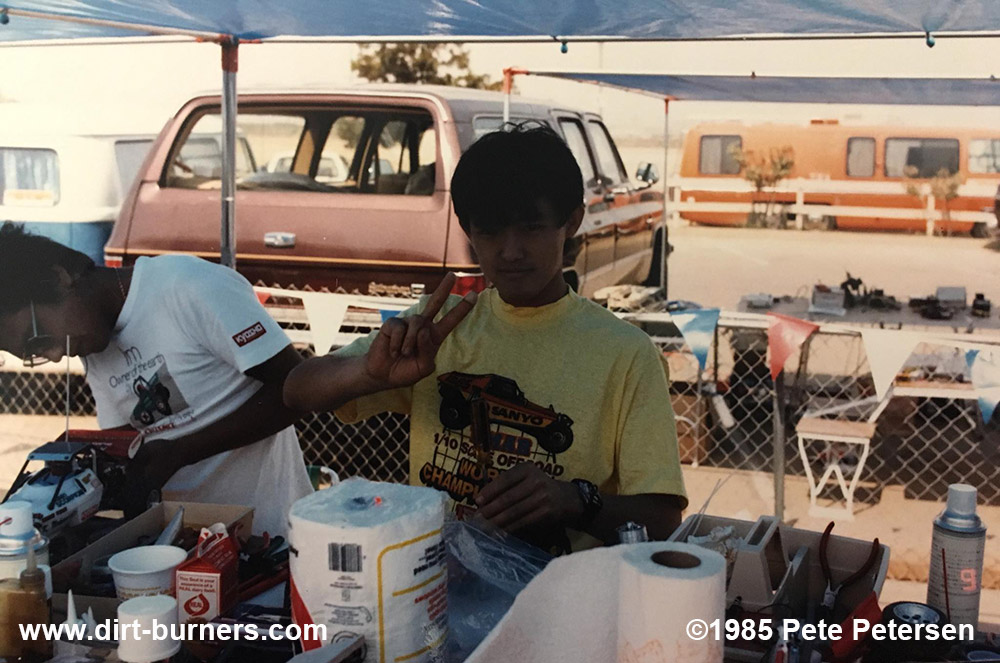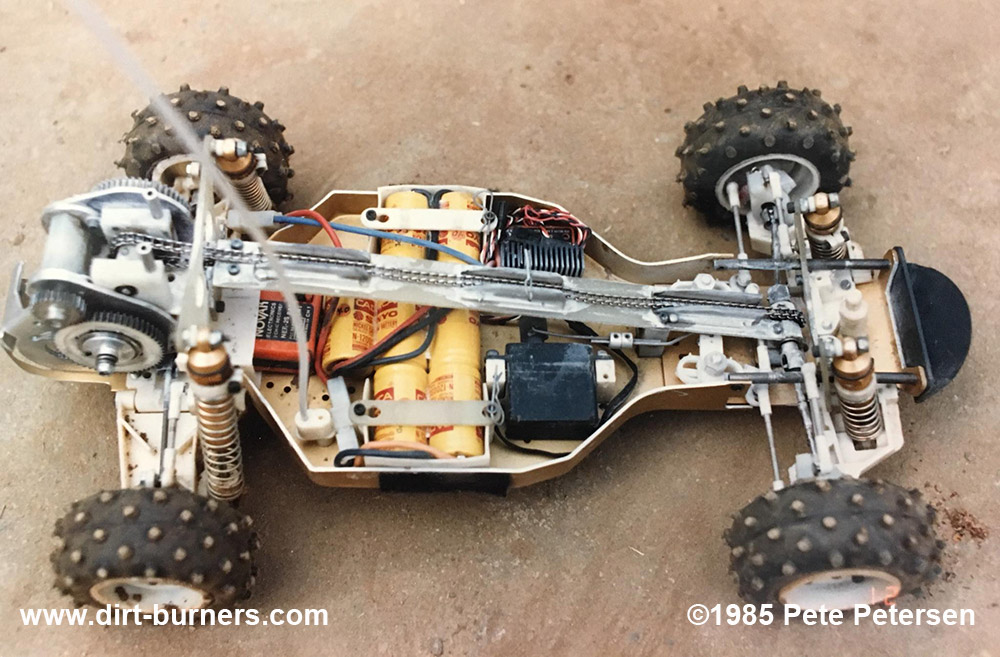 Masahiko Odas personal pictures from the 85 Worlds
(These images were kindly shared by Masahiko Oda. If reposting on websites, blogs or social media etc., please do not remove or edit the credentials.)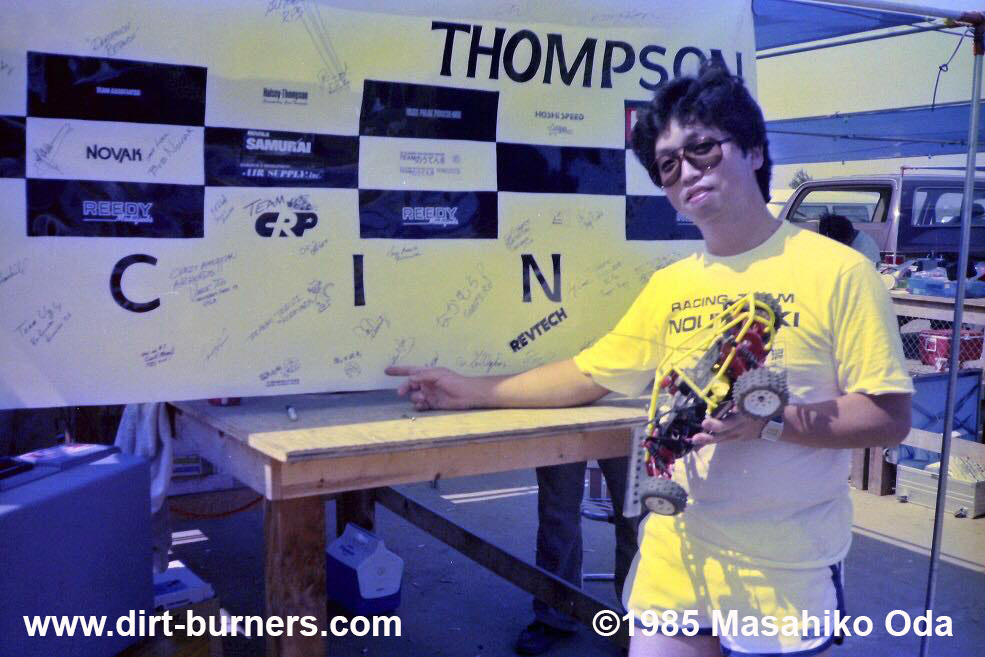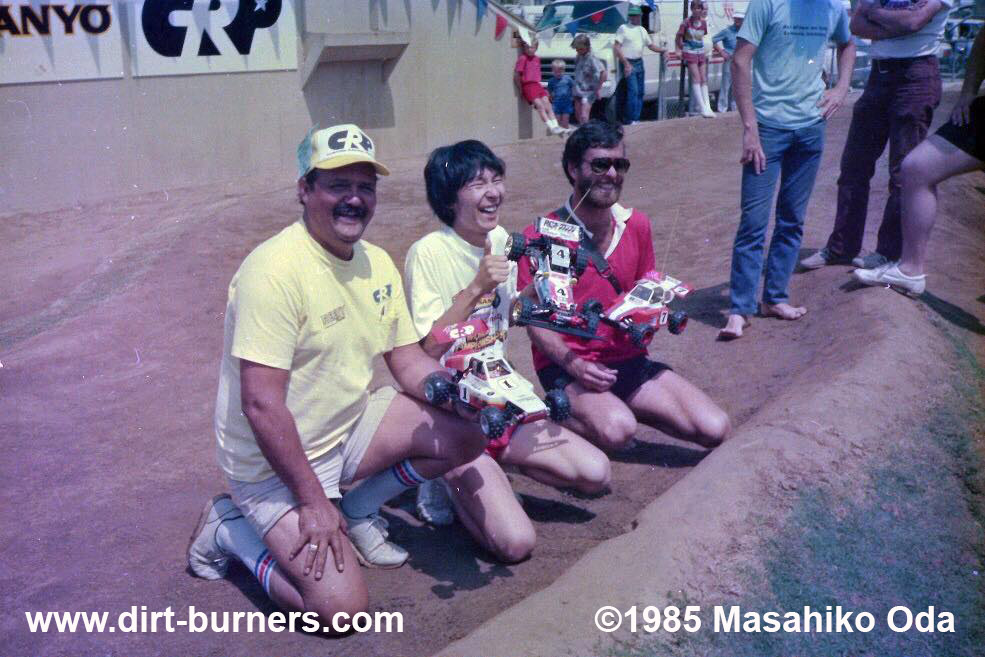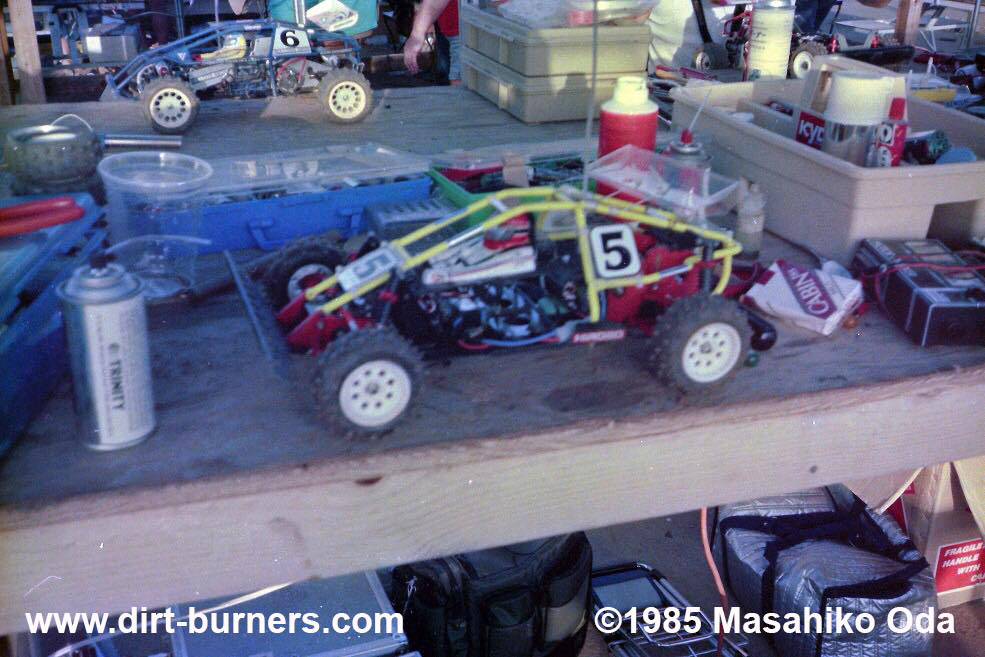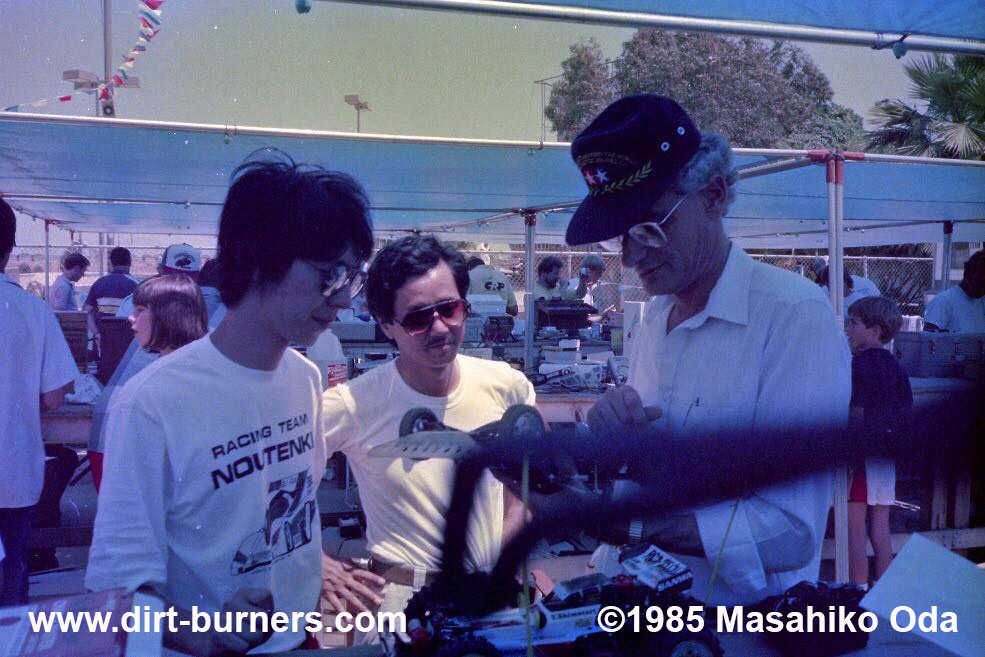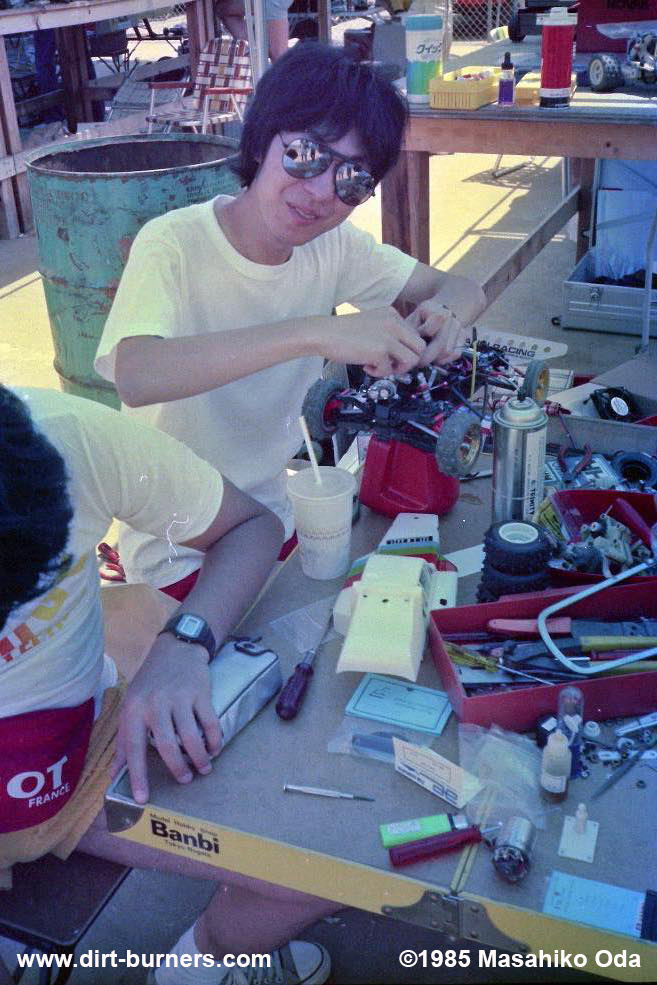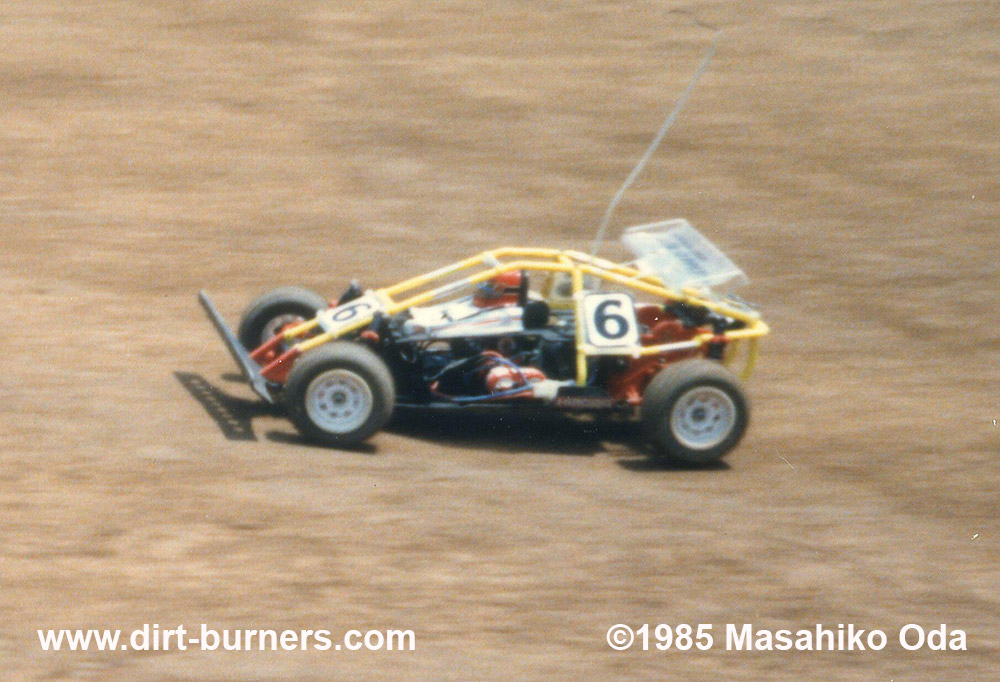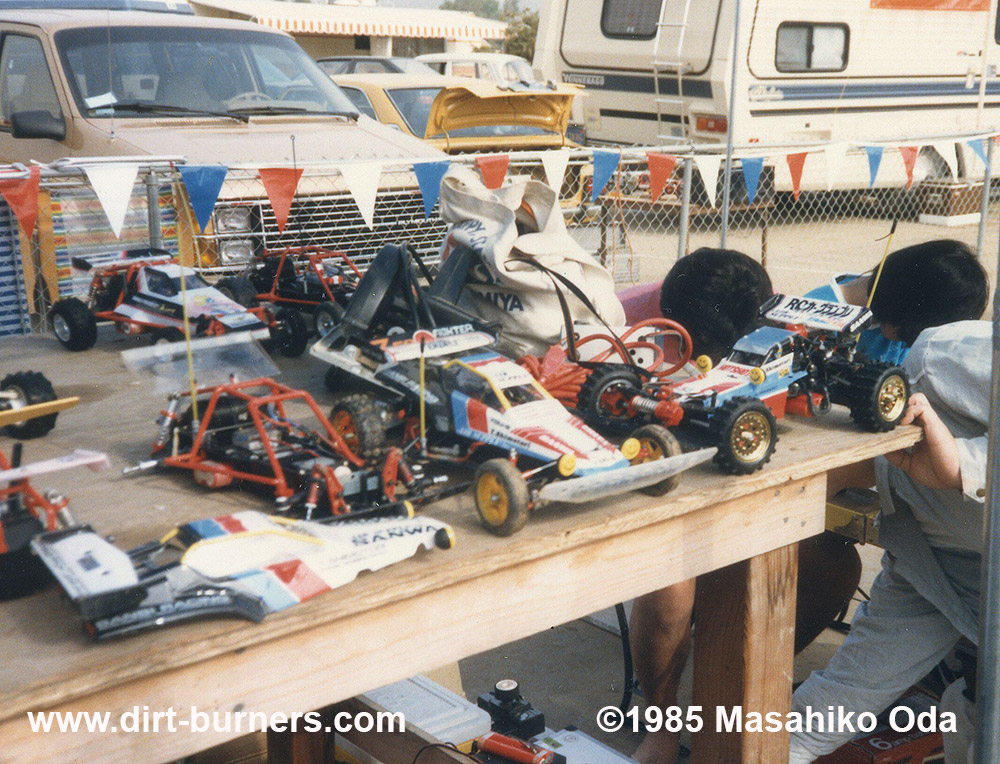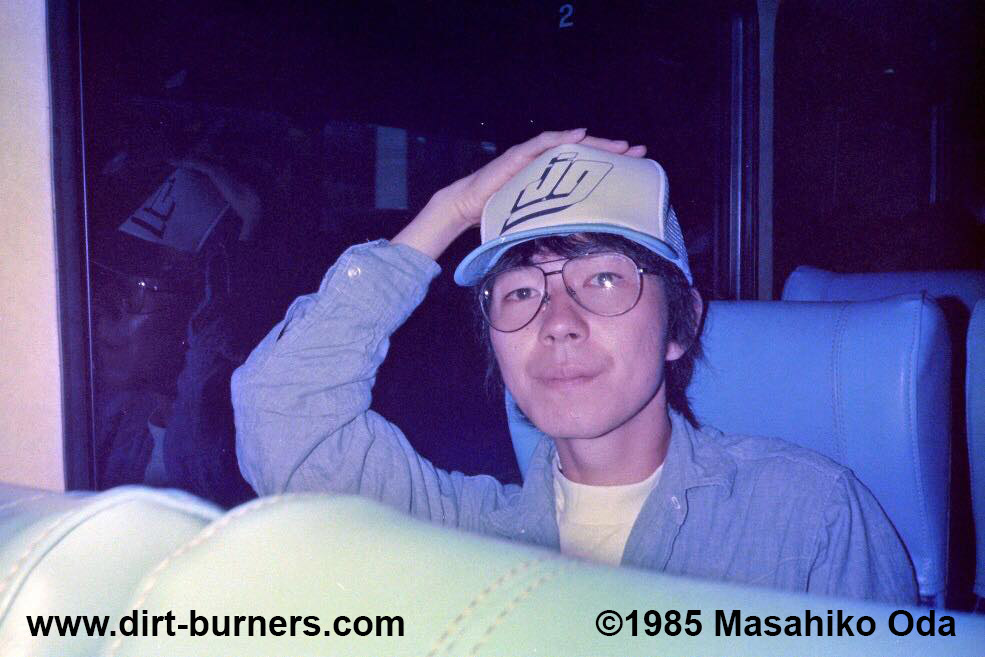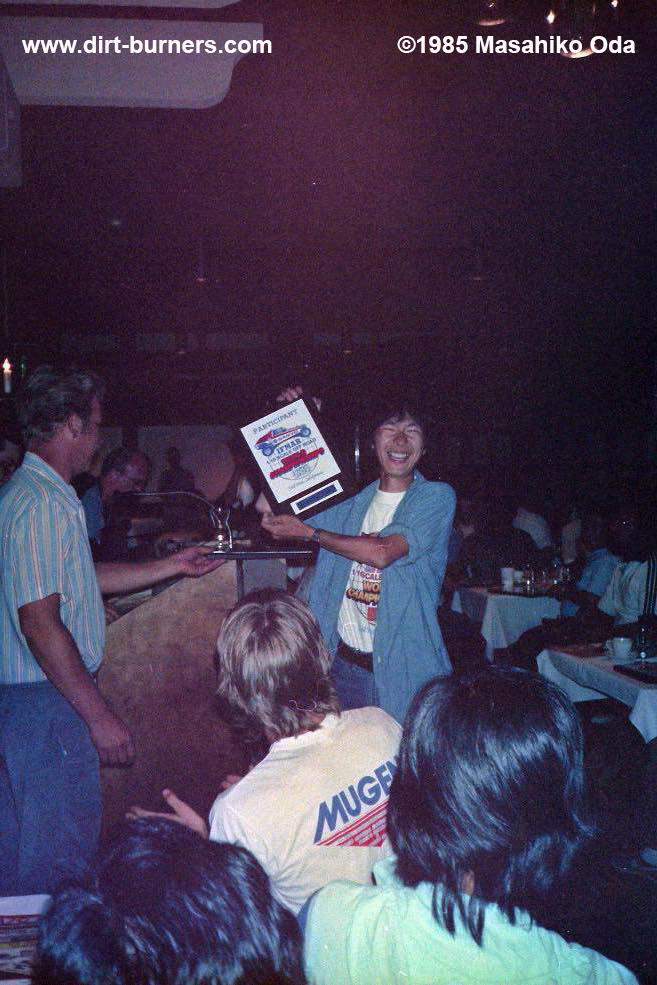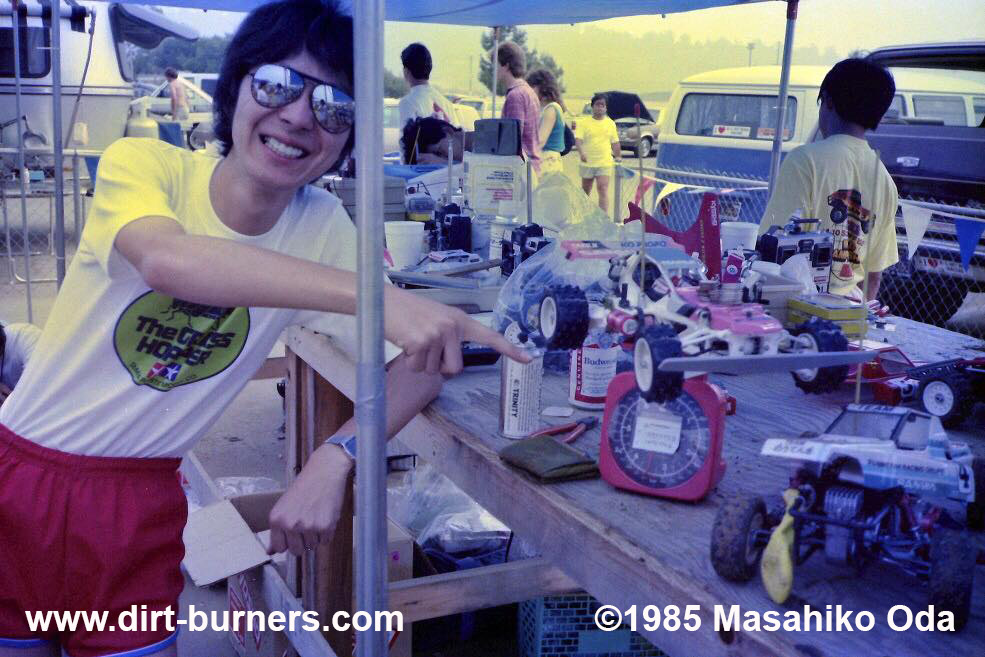 Epilog
I have some race reports in my document depository. Direct links (opens in new browser tabs):
Radio Control Model Cars, November 1985, English (US) (.pdf)
Radio Race Car International, September-October 1985, English (UK) (.pdf)
Radio Control Technique, September 1985, Japanese (.pdf)
NEW: Auto-Model Technik, 1985, German (.pdf)
IF YOU HAVE ANY OTHER MAGAZINES WITH REPORTS FROM THIS RACE, PLEASE CONTACT ME AS I'M VERY INTERESTED IN GETTING MY HANDS ON GOOD SCANS OF THOSE FOR THE DOCUMENT DEPOSITORY. PLEASE LEAVE A COMMENT BELOW IF YOU CAN HELP!
I'M IN PARTICULAR LOOKING FOR THE ARTICLE IN THE DECEMBER 1985 EDITION OF RCM (RADIO CONTROL MODELER) BY GENE HUSTING.
If you were in Del Mar at the Worlds, and maybe even have your own photos from the event, please leave me a note in the comments section below. I would love to hear what you have to say, and I will add additional photos below the article if you would like to help preserving the history.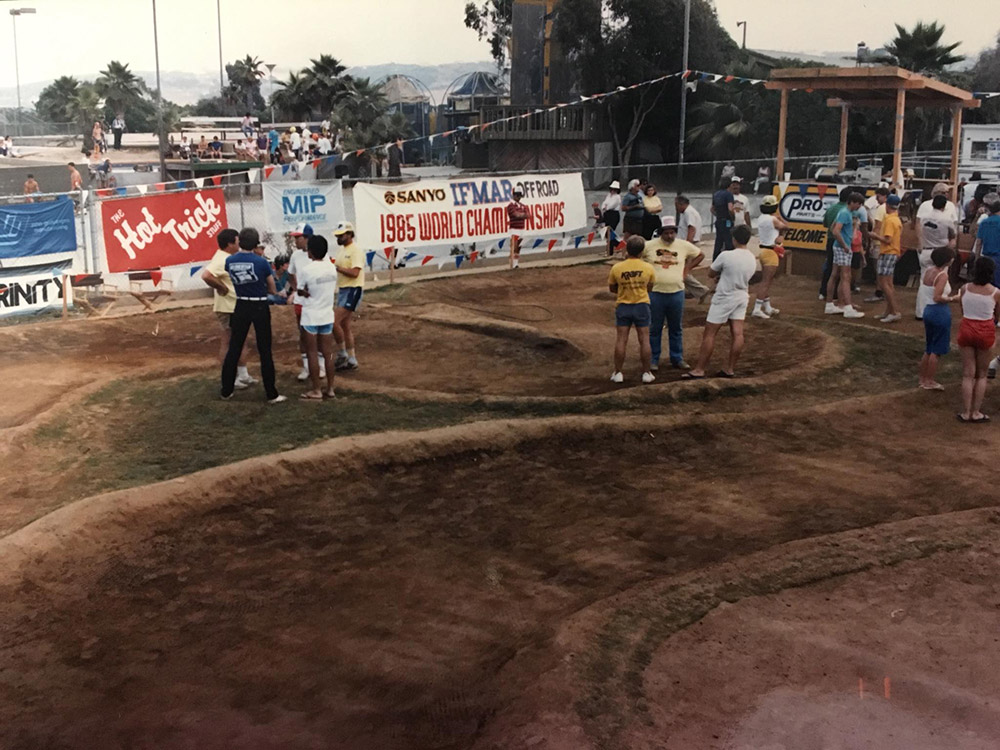 The sources here are many, so many that I'm a bit afraid of mentioning anyone in fear of forgetting someone, but if you feel you should be listed, please shout!
Obviously the reports in RC magazines and various websites have been great sources, as has people like Akira Kogawa, Hiroshi Nakamura, Tatsuro Watanabe and of course Mike Haswell and Dan Yurek for their many scans of vintage magazines and articles. Kent Clausen…. Thank you for helping me finding the location of that old Del Mar track. That was some sweet work you did there finding those old aerial photos! Pete Petersen, thank you for letting me use your pictures, I love them. Masahiko Oda, thank you for digging out those great old photos! I would also extend a big thank you to Shin Kumada who kindly keeps helping me translate from Japanese to English.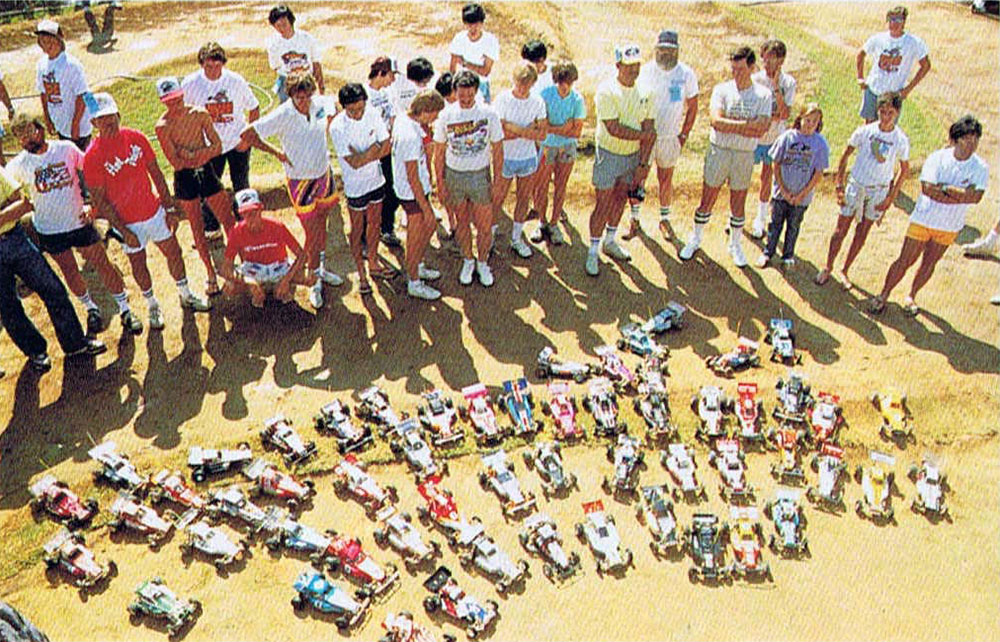 One thing you might have noticed is the weighting towards the Japanese teams and drivers in this article. This has mostly to do with two factors. The first is that the race reports from the Japanese magazines are much more comprehensive than those from the American and European magazines that I have, and they, of course, focus more on the Japanese participants. The second reason is that the Japanese drivers and team members, despite the obvious language barrier, seem much more willing to help when I ask them specifics about their cars, their teams and their experiences. The lengths people like Akira Kogawa and Hiroshi Nakamura have gone to help me (over a long period of time) are quite amazing, it's really more than anyone could ask. But it also shows that they're very proud of what they have been parts of, and want to help keeping it from being forgotten. I also received a lot of help from the British drivers when I earlier was researching the 87 Worlds, with people contacting old friends and colleagues all over the place to get me pictures, stories, quotes etc. Although there are exceptions, it has been surprisingly quiet from many of the US drivers when I have tried asking them things, mostly answering with a word or two, if bothering to answer at all. I think that is sad, as I believe they deserve a much bigger place in an article like this. After all they were very dominant in both classes. But the hard facts are that I can't work with anything but the sources and material I have, and there is not much I can do about it. Believe me I have tried.