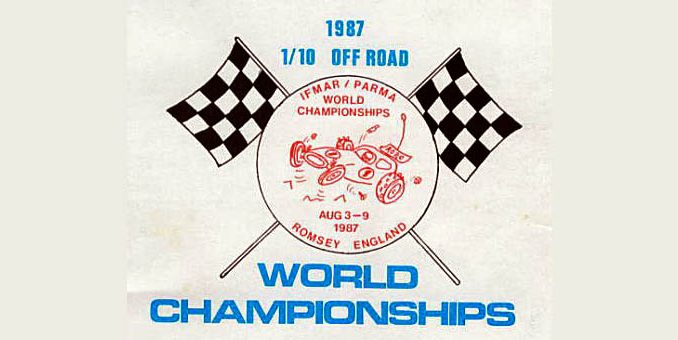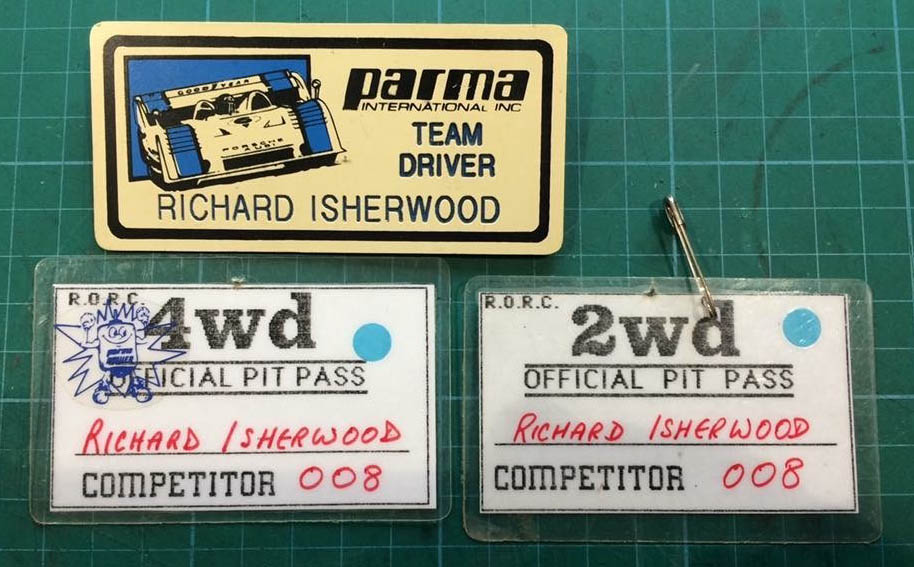 After a couple of years with unofficial as well as the first ever official 1/10 scale off road world championships being held in the US, the time was come for the European Federation of Radio Operated Model Automobiles (EFRA) to arrange the second official world championships. The British Radio Car Association (BRCA) was chosen to host the races that took place in Romsey, just a 15 mins. drive from Southampton, in the southern parts of England. Parma International was the main sponsor of the event that carried the official name "IFMAR/PARMA 1987 1/10 OFF ROAD WORLD CHAMPIONSHIPS". The event took place between the 3rd and the 9th of August at the track of Romsey Off-Road Club.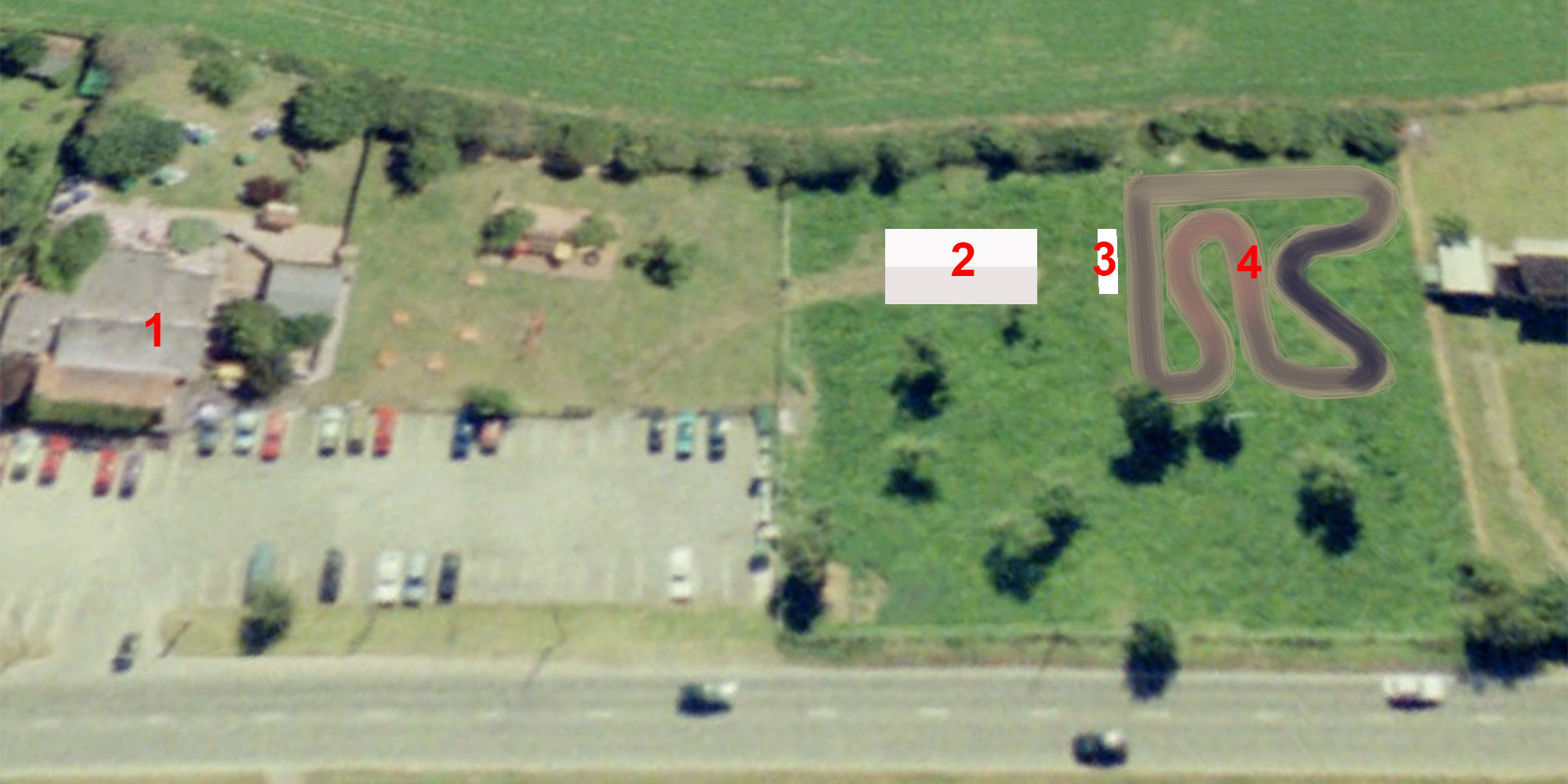 The track was in a small field just beside the Malthouse Inn, and was owned by Mr. and Mrs. Rickman, the landlord and landlady of the Inn. You can find it (the track itself is long gone) on Google Maps by clicking here. The Inn is recently re-opened, and would be a cool place to visit if anyone is in that area. Please notice that the image above is upside down, compared to the Google Maps link.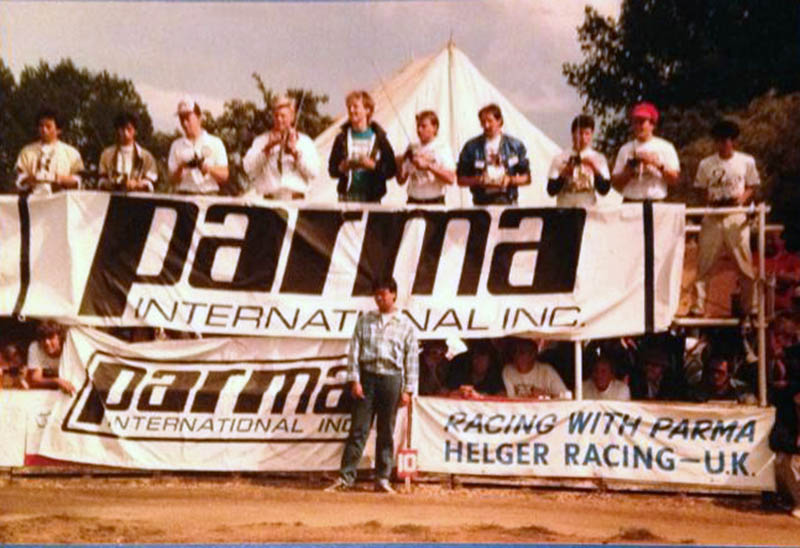 Unlike at the 1985 IFMAR 1/10 World Championships, there were no longer any "stock" class, only a 2wd "modified" and a 4wd "modified" class. The event saw quite a few prototype cars being run, as the World Championship now was seen as a great place to showcase new products. Among the teams that were bringing prototypes to the race were both Mugen, Yokomo and Kyosho.
Mugen brought a rather small team with 4 prototype cars that should eventually evolve into the Mercury Xi-4 buggy.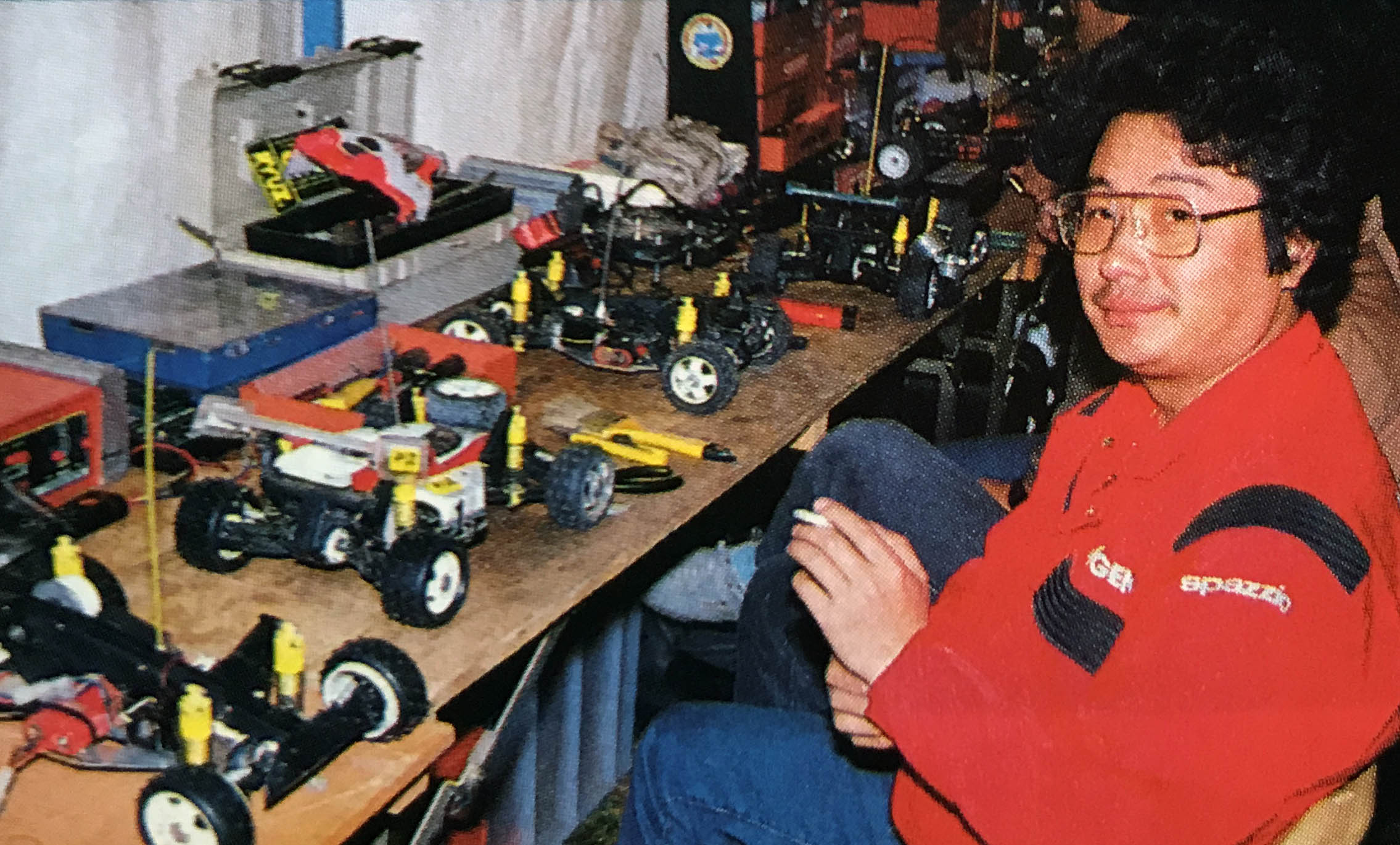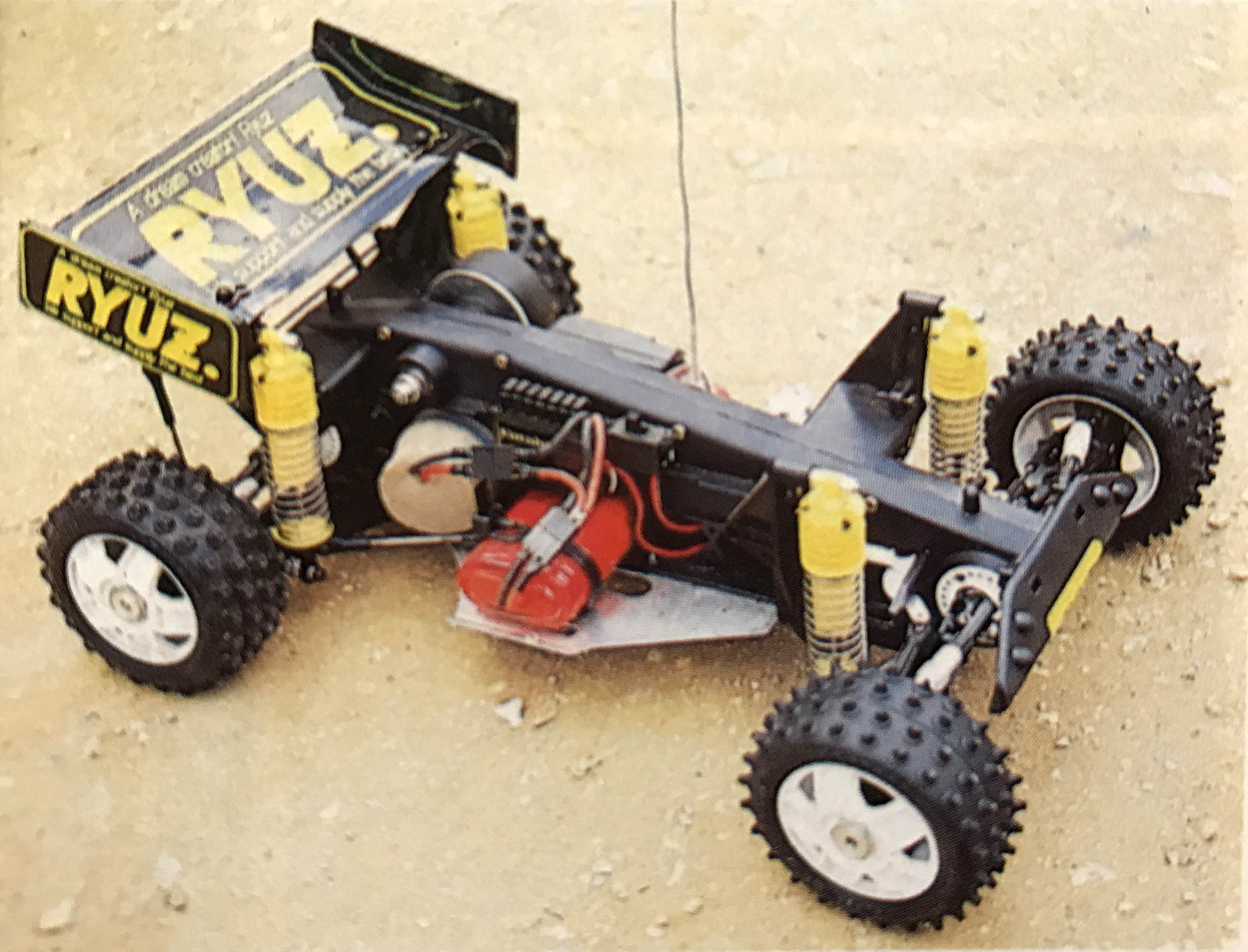 Yokomo had experienced great success with their YZ-834B Dog Fighter, that had proved to be a real contender in races around the world. To the World Championships the Yokomo team had brought prototypes of their next buggy, the YZ-870C, later to be known as the Super Dog Fighter.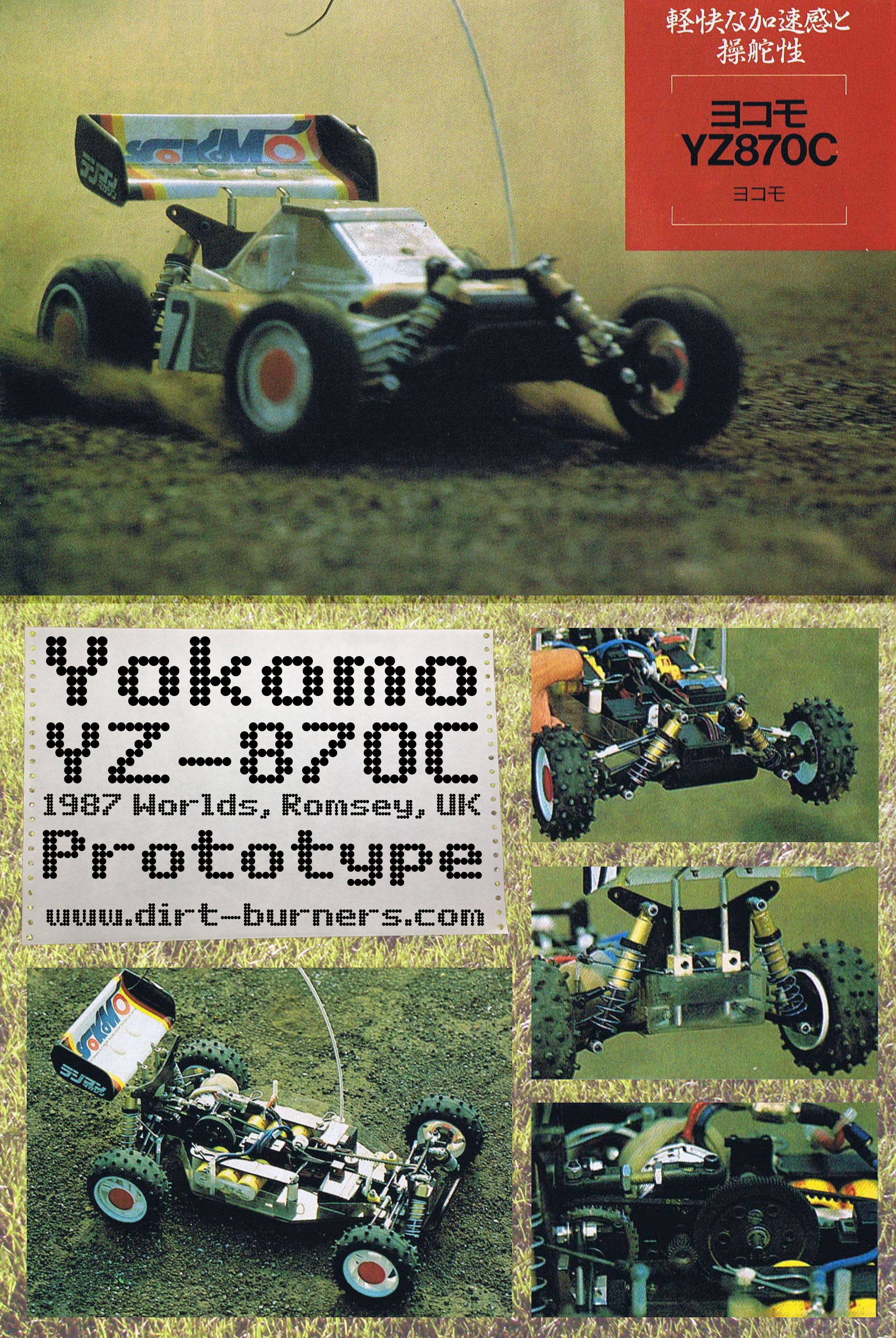 There were also variants of Yokomos older buggy, the YZ-834B being used at the event, refined with hop ups from RPS (The Ranch Pit Shop), Trinity etc.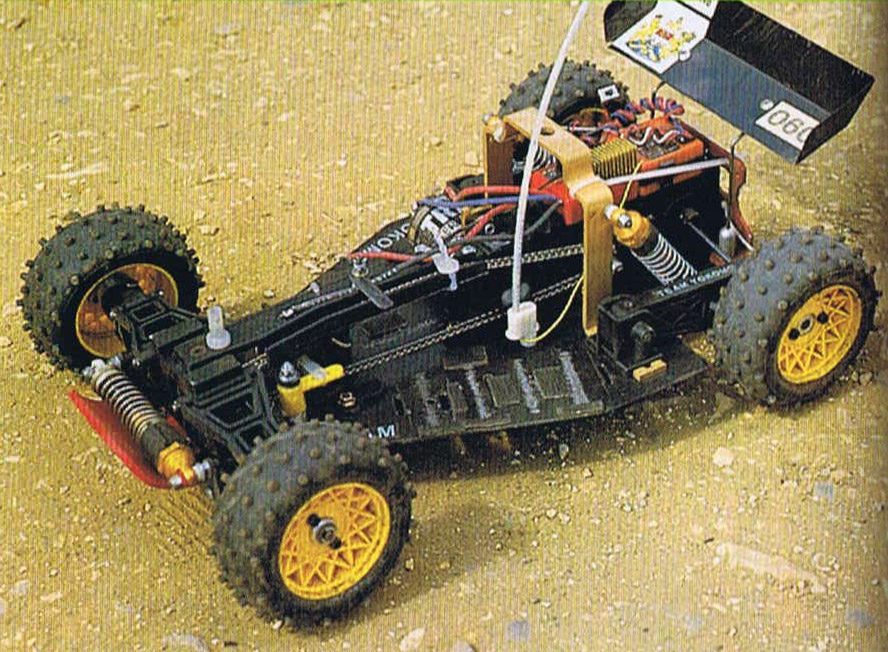 Eustace Moore and his Moore's Ideal Products (MIP) were also present with both 2WD and 4WD versions of their MIP RC10 buggies. The 2WD version was equipped with the MIP SP-2 gear box, graphite chassis and lots of other "refinements".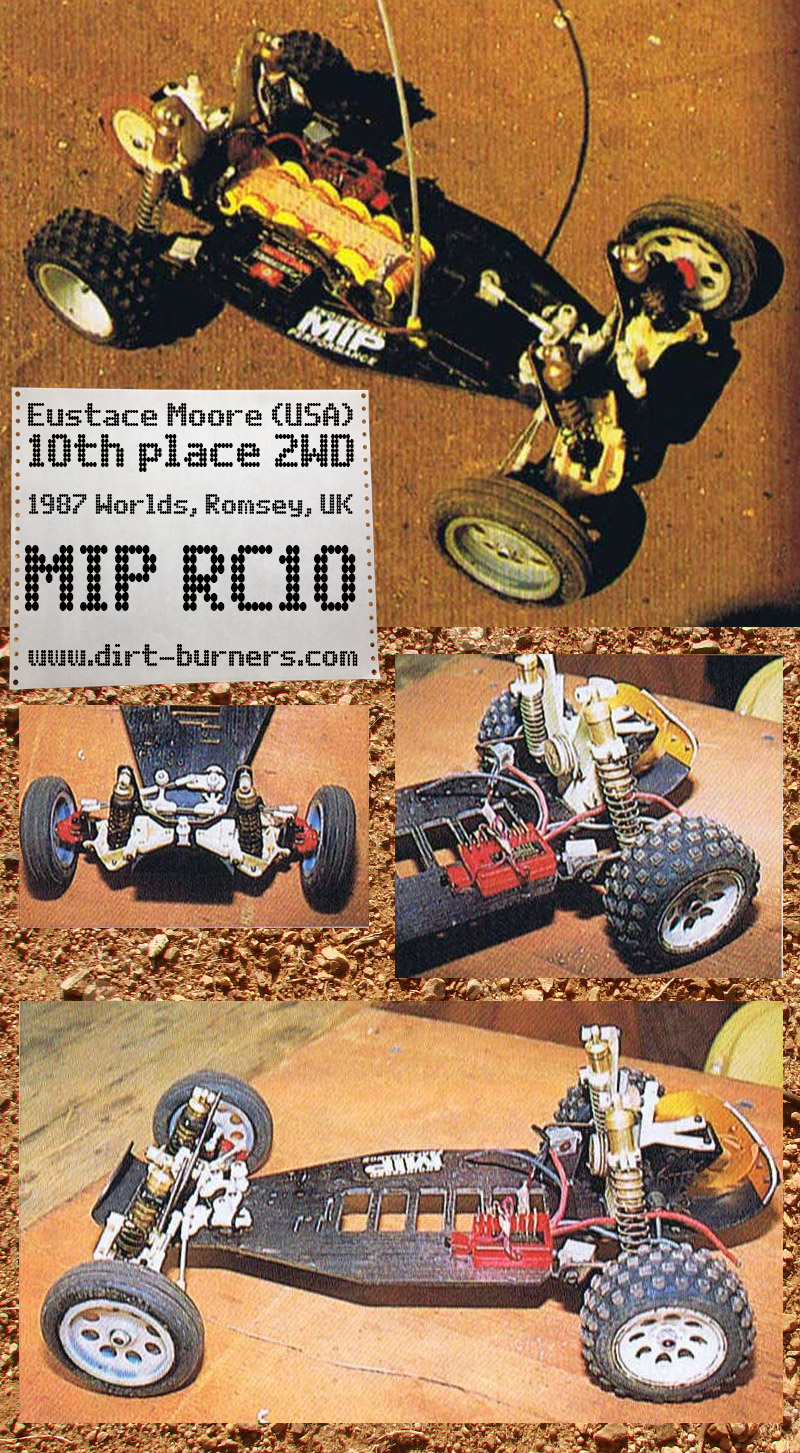 Eustace's 4WD RC10 now used a chain drive system to get power to the front wheels, and was a very lightweight 4WD system compared to many of the purpose designed 4WD buggies.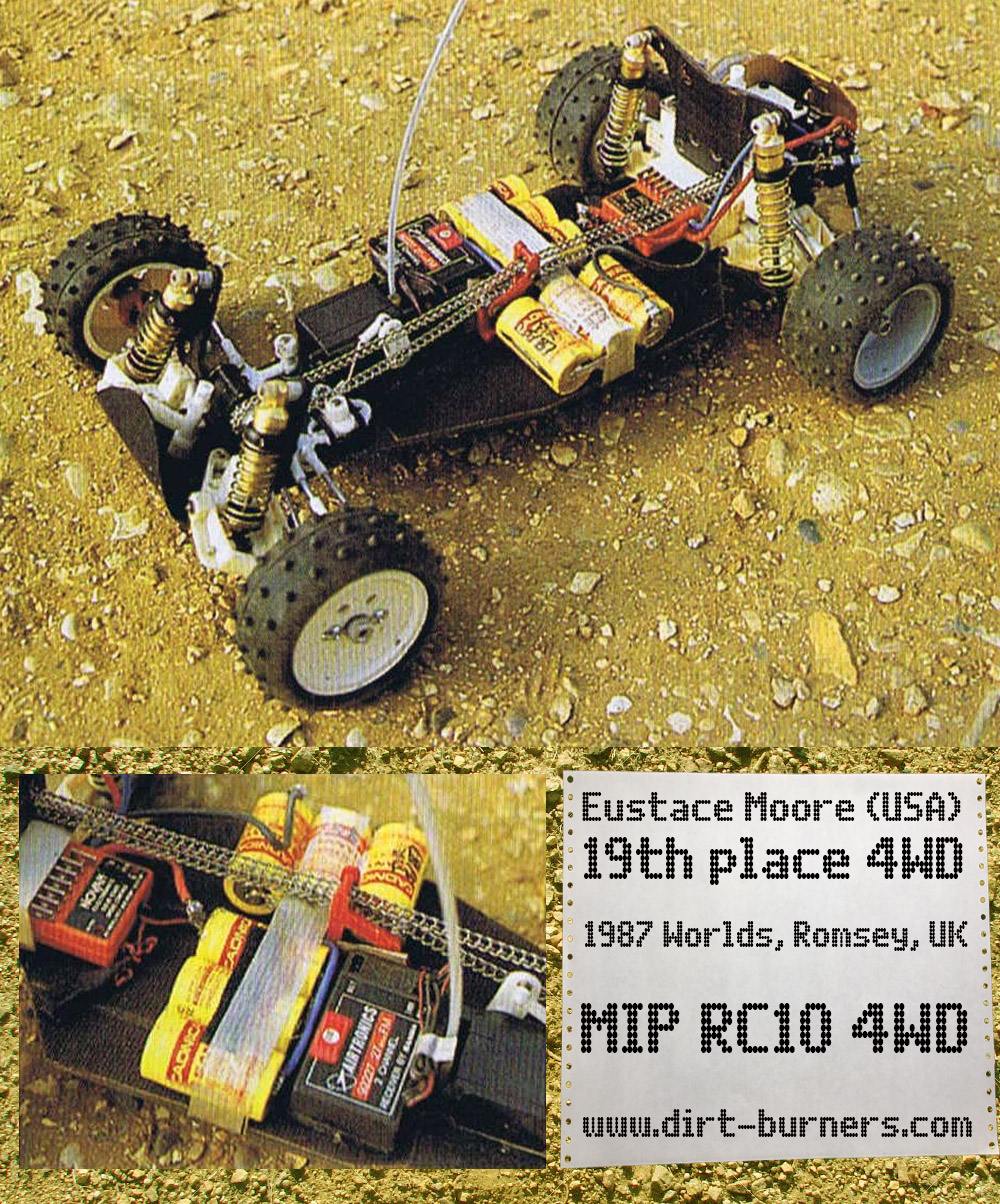 Just like with the Yokomos, some even opted for using the older versions, like this MIP RC10 with the old "speedo wire" drive system.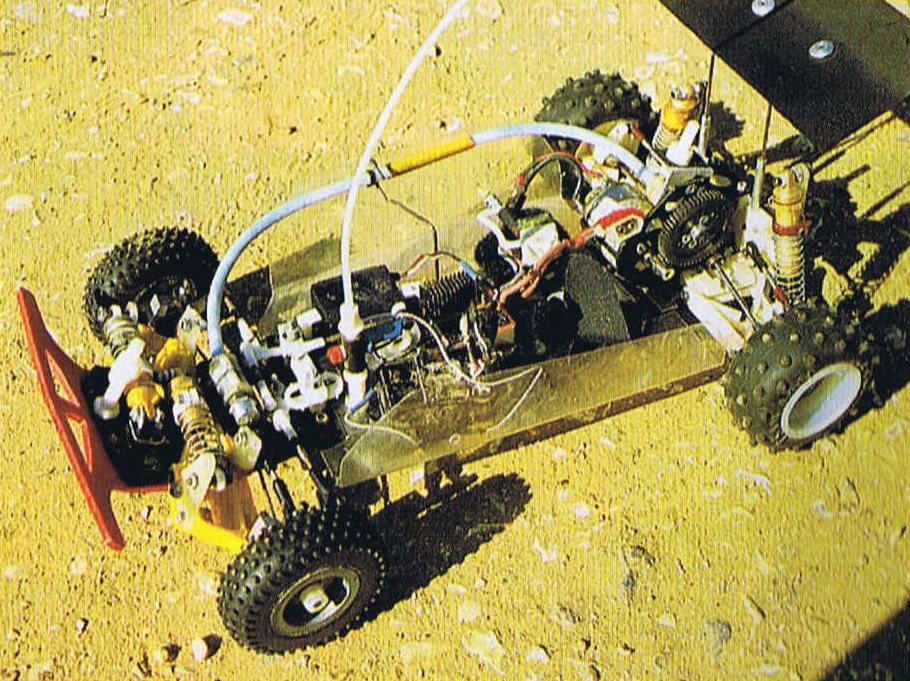 PB entered the competition with their 4WD Mini Mustang.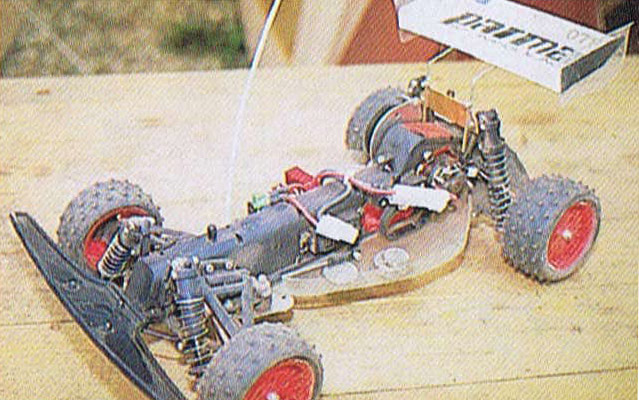 The Dutch PK team ran Schumacher CAT's with their red anodized aluminum saddle pack chassis',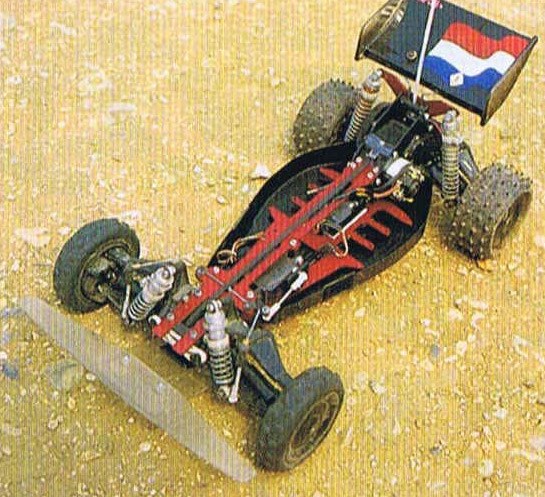 while the Italian TAG team showed up with their in-line motor Coyote buggies.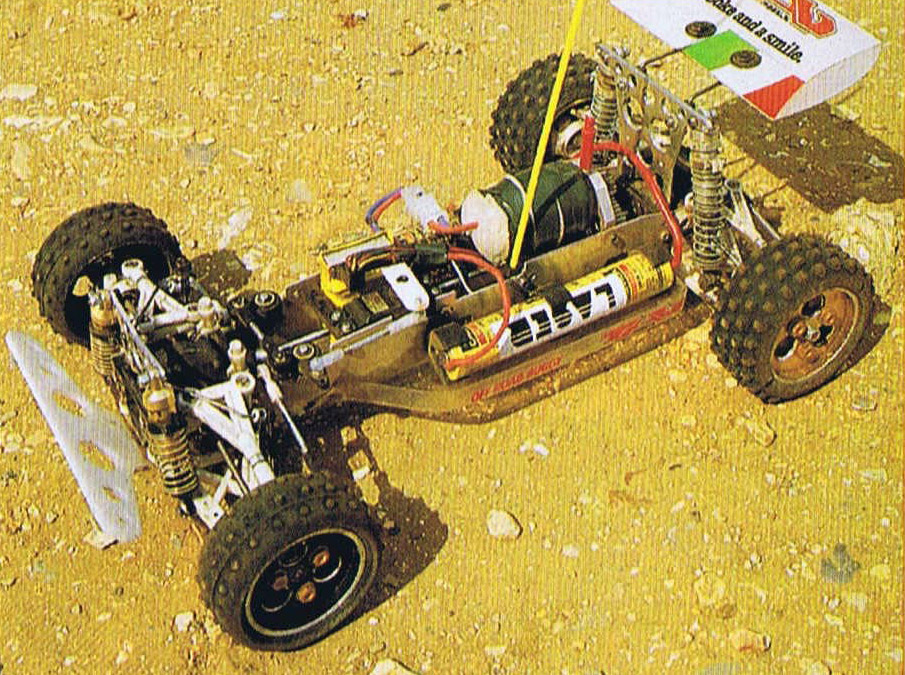 But the bravest one of all came all the way from Hong Kong, packing his Tamiya Falcon for the 2WD competition.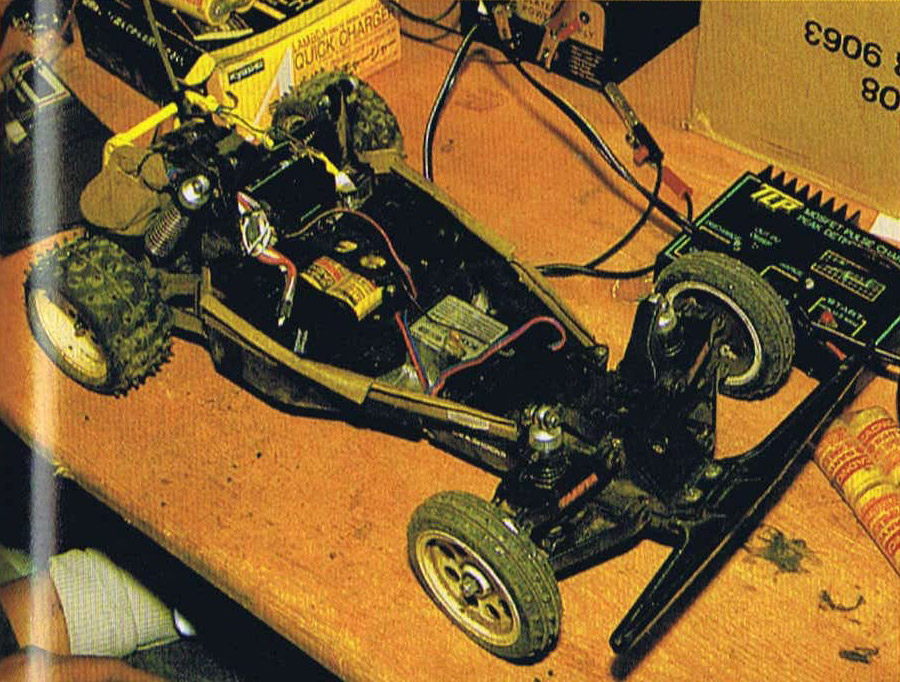 The mid motor Optima had it's debut in a major race just a few months earlier, at the 1987 US Nationals where Joel Johnson became runner's up behind James Dieter and his Schumacher CAT. The Mids were surrounded by many rumours and much gossip, and I still remember impatiently waiting for it's release, buying the Option House belt drive kit for my Turbo Optima to shorten the wait. For Romsey Kyosho had put together a team of around 30 drivers from around the world equipped with Optima Mid prototypes, among them were the designer himself, Akira Kogawa who finished 68th of 120, proving he was not just a brilliant designer, but a pretty good driver as well.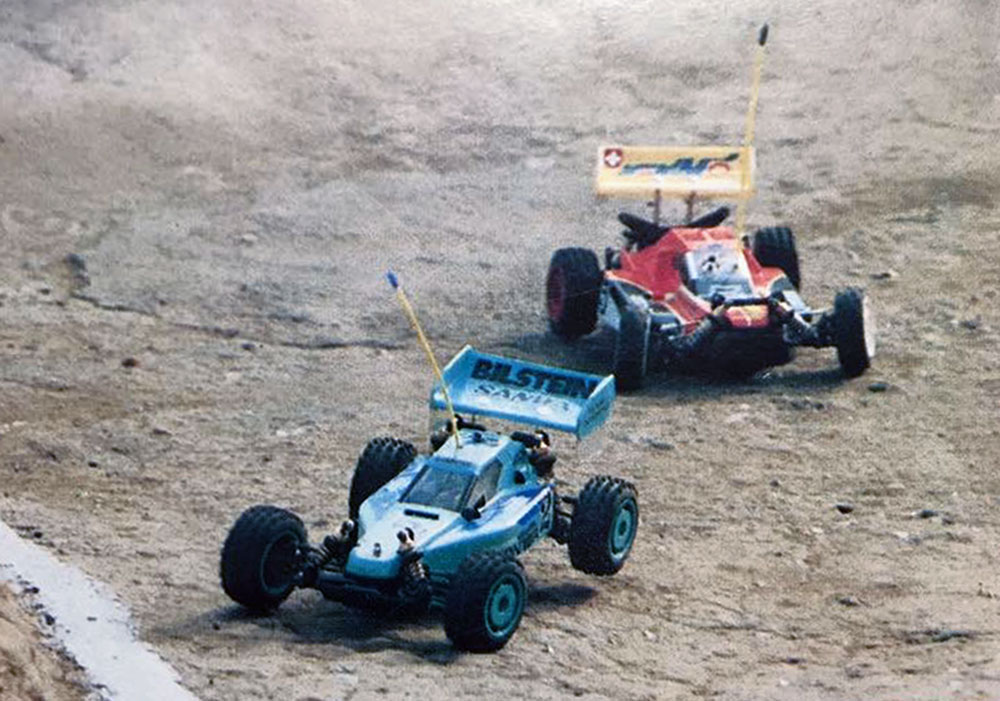 Due to the new mid motor Optimas, the old rear motor Optimas were fewer to be seen, and this was to be one of the last major races for the now ageing design. In its swan song, the Optima saw some very interesting configurations, like Atsuhiro Ohno's Torpedo Optima, that I have earlier made a replica of

Scratch builds and hybrids have always been parts of the 1/10 off-road scene, and it was no different here. The genious Hiroshi Nakamura (of Proto/Marui fame) arrived with his Nakamura SPL (Nakamura Special) that was a 4WD buggy based on Kyosho Ultima suspension, but with a 4WD system made up of two MIP SP-2 gear boxes, connected with a drive shaft through bevel gears from a RC helicopter. The buggy had a specially made carbon tub chassis, in the style of the original aluminum Ultima chassis, and a carbon top plate as well. The body was the same Proto/Air Supply Ranco One body that Atsuhiro Ohno used on his Torpedo Optima, seen above. I can't help it, but I really like this body.

People were also starting experimenting with front wheel drive 2WD buggies, also known as FF's. While working on the Optima Mid, Kyosho chief designer Akira Kogawa also was working on a front wheel drive buggy that later would be released as the Maxxum FF, Kogawas last design for Kyosho. Maybe he got some inspiration from seeing German drivers Wolfgang Petermann and Stephan Kaske and their front wheel drive Schumacher CAT's, The Schumacher CAT FF? Even if the CAT FF wasn't any success at the Worlds, at least it achieved one thing to be remembered for… having front wheel driven cars banned from the 2WD class, and placed together with the 4WD buggies.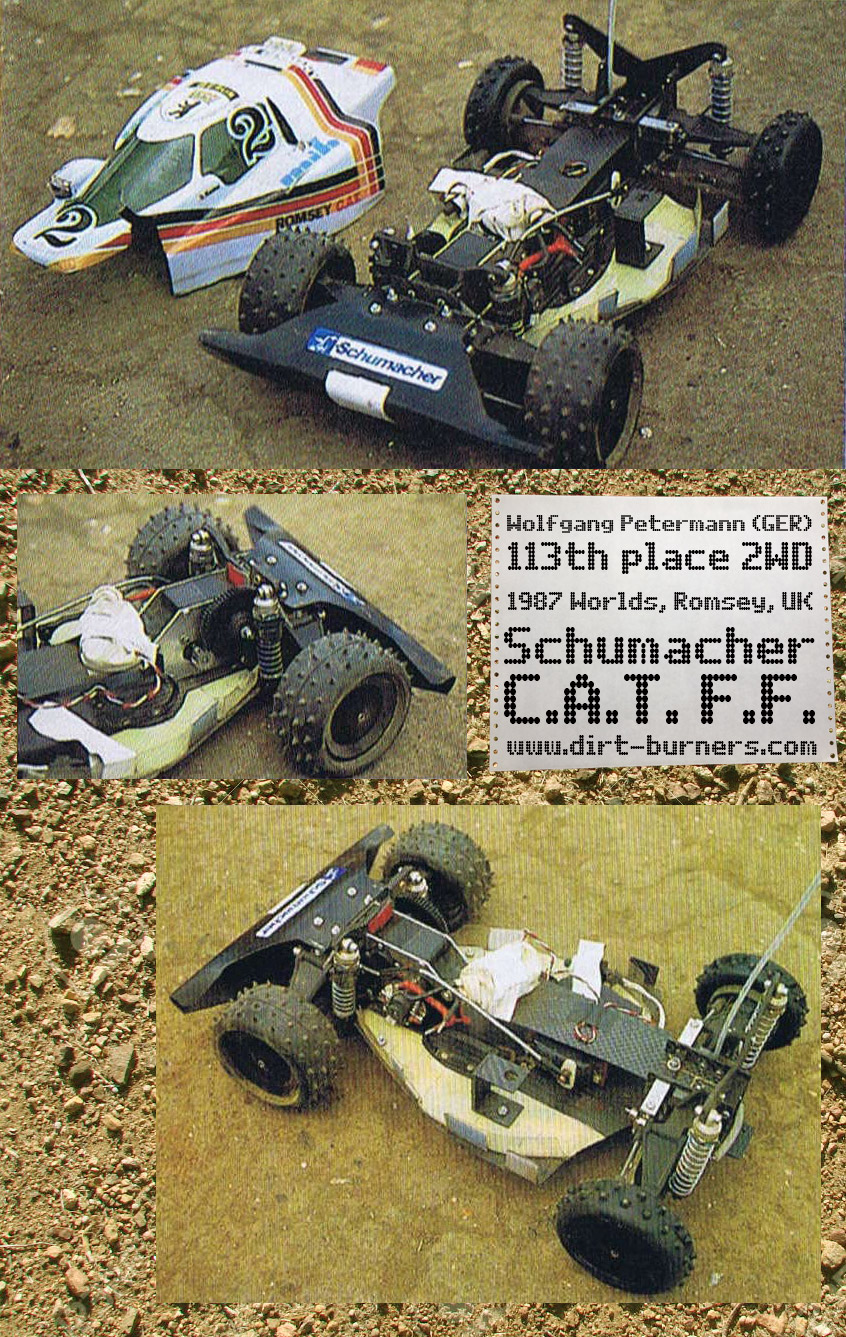 It was clear that Kyosho had strong intentions in Romsey, with lots of top drivers and both the Ultima and the Optima Mid looking like great contenders for the title. Schumacher also brought their new long wheel base CAT XL, but the to-be Champion Masami Hirosaka actually arrived in England with the older and shorter CAT, but were given a CAT XL by Schumacher the night before the race. The CAT version used by Hirosaka was later to be named the CAT XLS, but at the time of the World Championships, it still went by the name CAT XL. As I've never owned a Schumacher, I will not pretend to know what the differences between the two are…. If you know, feel free to comment below.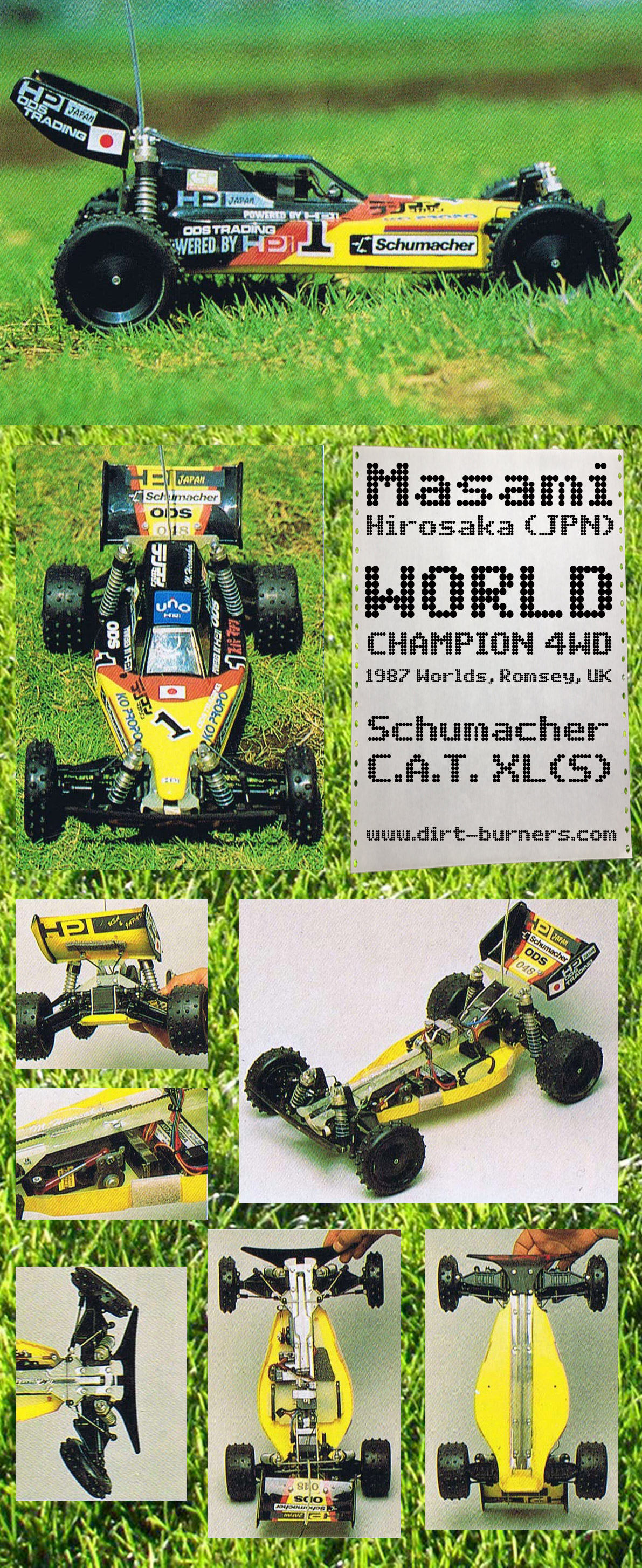 The big stars of the show were of course to be Masami Hirosaka and Joel Johnson, who won the World Champion titles, but there were other drivers that also really deserves to be mentioned for stunning performances, like Katsunori Kondo who became the first runner up in both classes, and of course the "local" favourite Jamie Booth, who came in third in the 4wd class.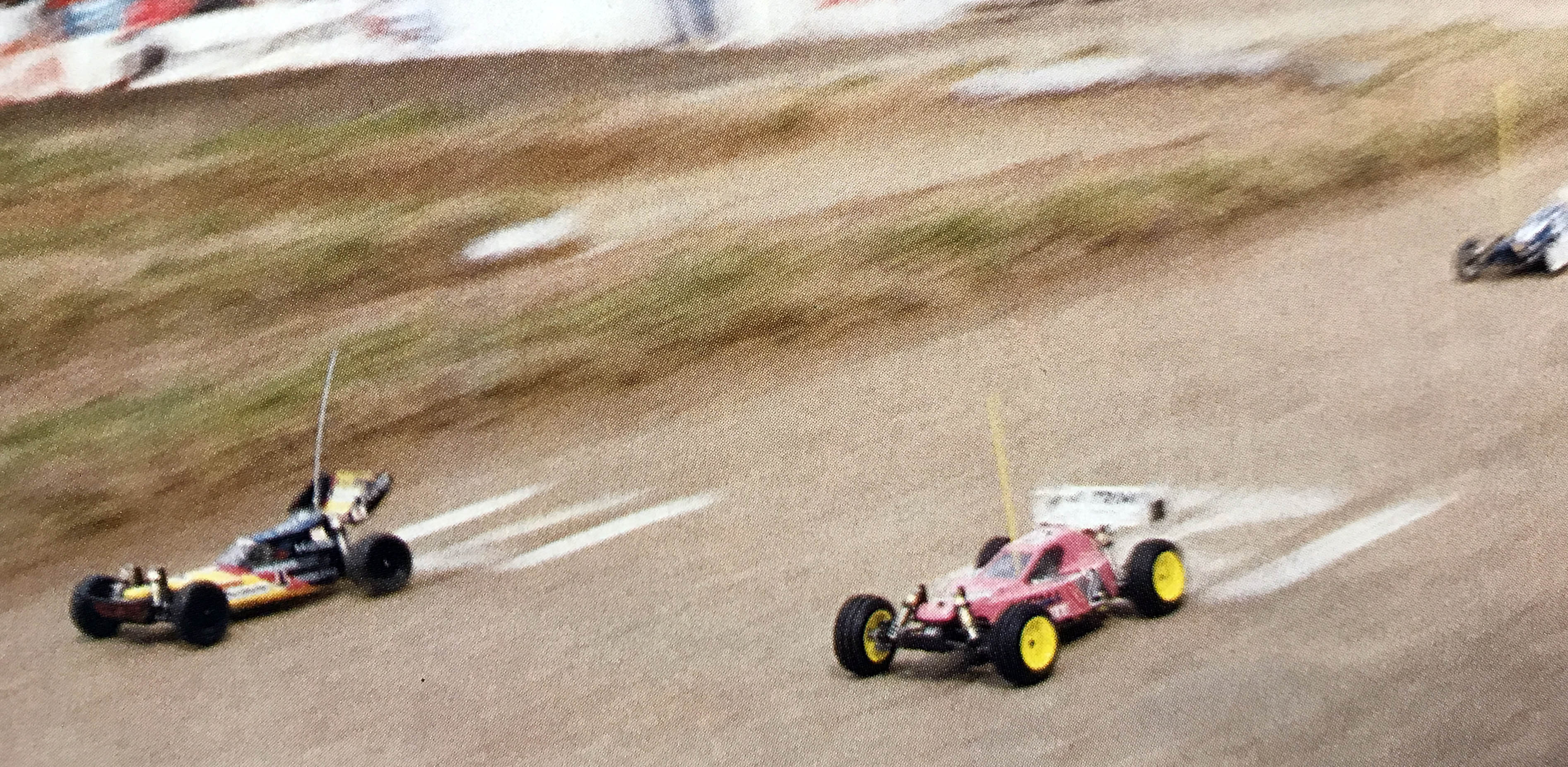 The surface of the track took many drivers by surprise, as the dirt was very hard packed, and some even described it "almost as driving on concrete". The surface was a mix of dirt, cement, oiled dirt etc, and the hard track meant for very fast racing, and was also very kind on the batteries, meaning more options on motor tuning without the fear of running out of juice. But despite that, some actually had problems with making the batteries last the full rounds anyway.

The straight was very hard packed dirt, so much so that holes in the track were filled in with cement, and it even was so hard that the starting grid was painted on the surface, just like on tarmac or on concrete on-road tracks. The starting straight ended in a banked turn that lead into an oiled dirt area with another banked turn following after that.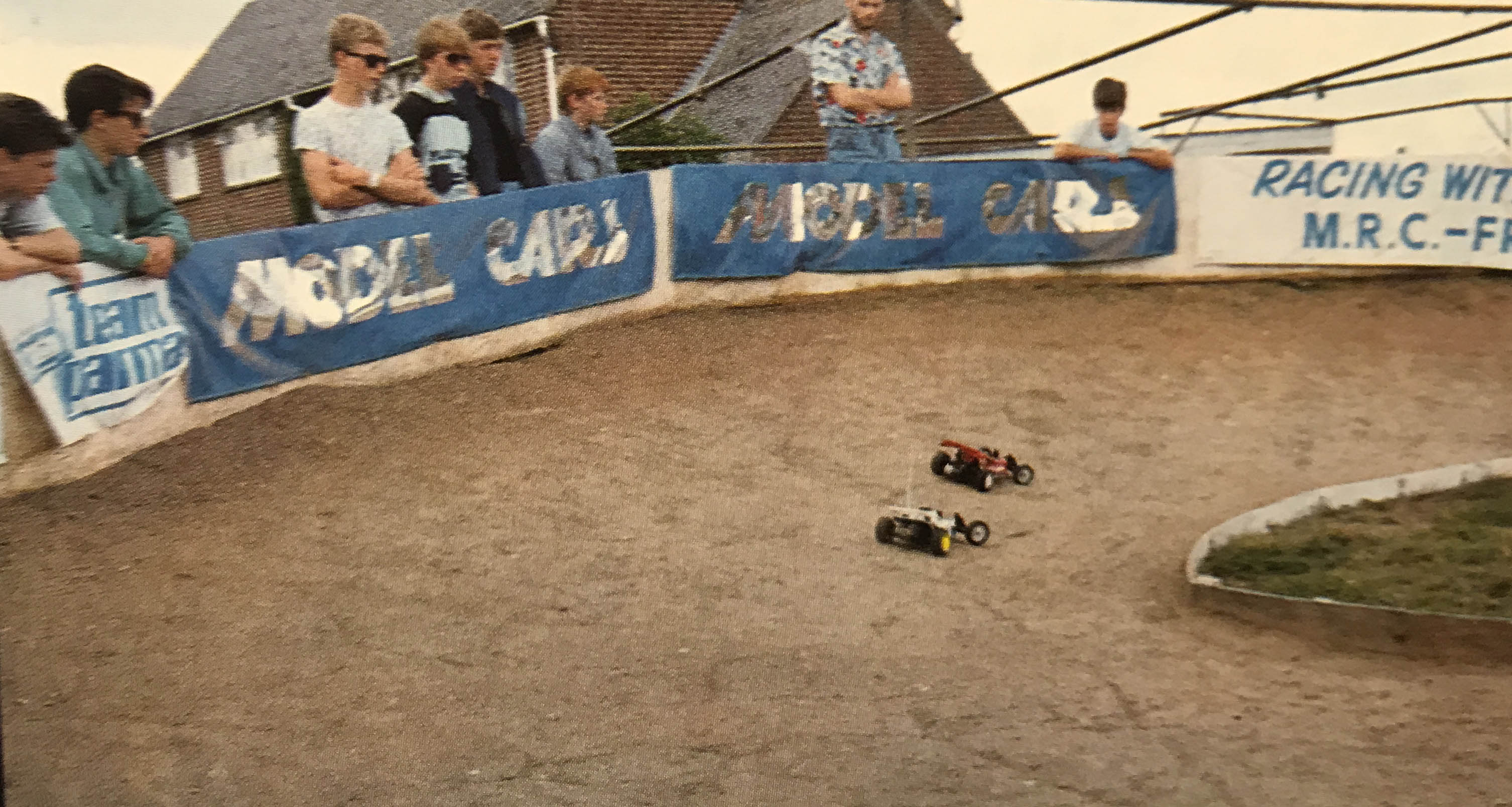 After the banked turns, there was a drop-off going into a "carousel" and then to an uphill jump.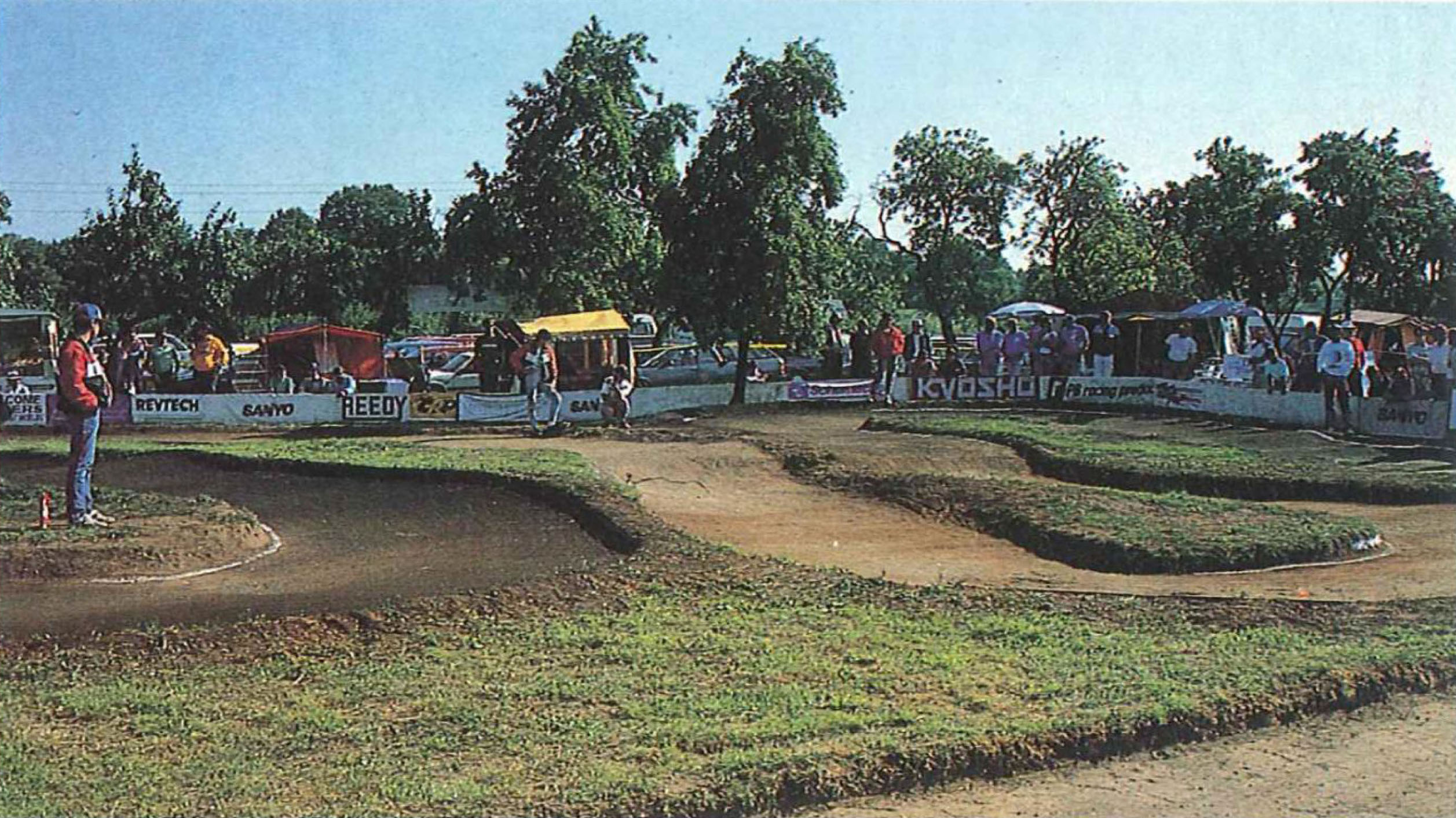 After the uphill jump came a turn, that eventually lead back to the hard packed straight again.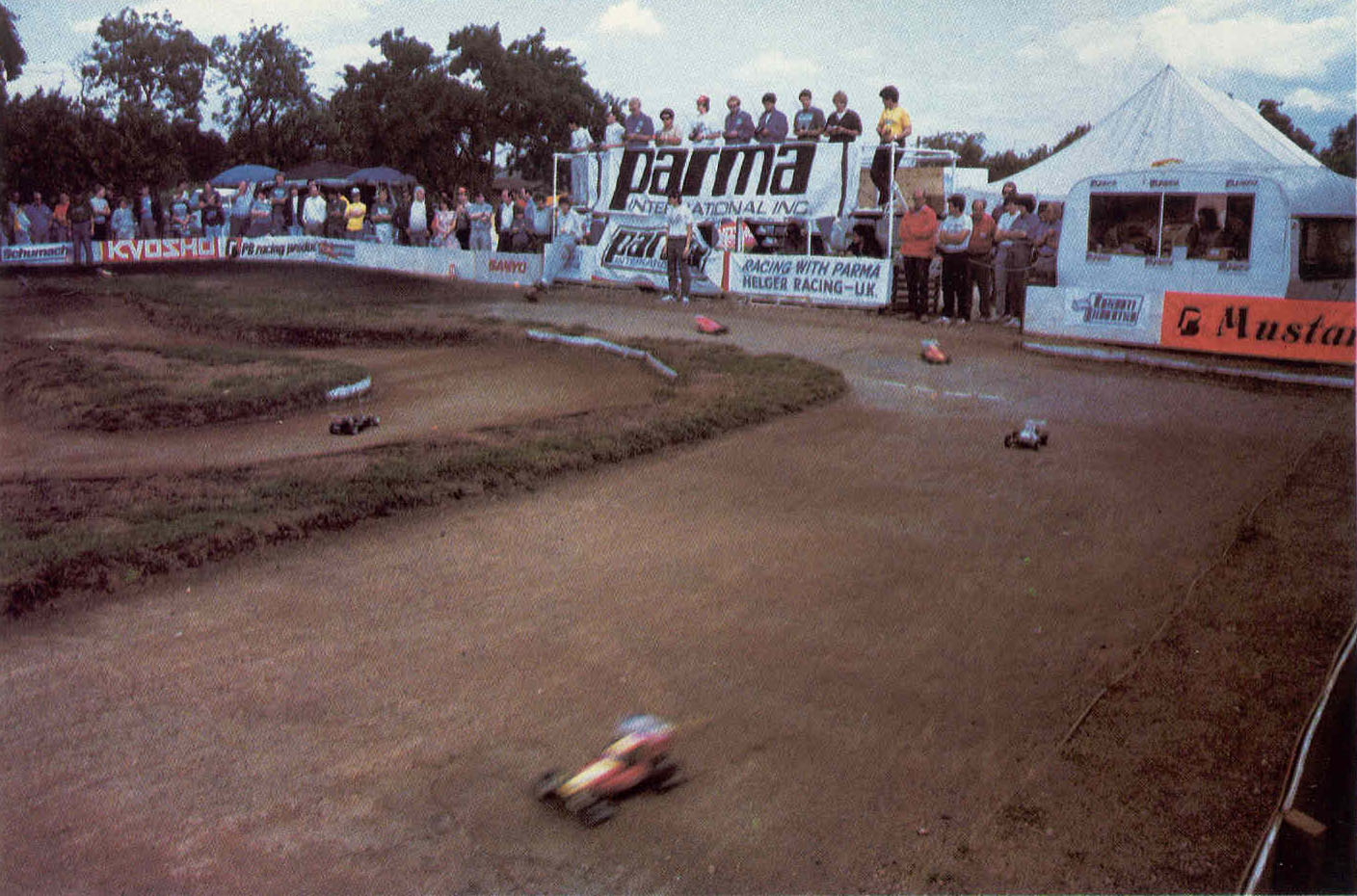 Earnie Provetti (owner of Trinity) said that after inspecting the track, he immediately called home and ordered hotter motors to be sent by courier. Many decided on using motors originally wound for high speed oval racing. Joel Johnson (Trinity/Kyosho), who came from 1/12 on-road racing, and had only prepared for off-road for a couple of months after qualifying as an alternate, immediately felt "at home" at the hard packed track. Johnson also described that the limited number of large jumps suited him very well. "I never was any good at jumps", he told me.

But while some of the US drivers and staff liked the the track and surface, others expressed their disbelief and anger when seeing the track, amongst them was Gene Husting of Associated Electrics. Husting described the track so hard that it was impossible to even touch with a rake, but probably a jackhammer could be able to do the job. Who knows, maybe he would have expressed himself differently if it were their RC10's that dominated the 2wd event, and not the Kyosho Ultimas….. At least the conditions were fair for everybody. There were also a bit of controversy surrounding the limited track time for practice, and at the IFMAR meeting on Wednesday 5th (after the 2wd finals) there were strong voices calling for another day of practice before the 4wd event. On Thursday the 6th the track was closed all day for a day of rest, and could have been used to get more track time. However the track stayed closed that day, despite the the voices calling for extra practice. The track was also completely closed off in the days before the event, so teams arriving early were not given the chance to practice at the track.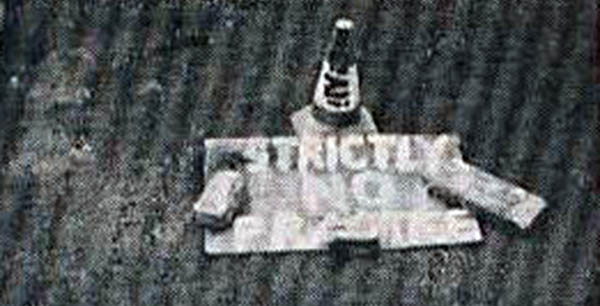 But even if some of the Associated staff were unimpressed with the track and facilities, motor legend Mike Reedy seemed to enjoy life in Romsey so much that the next year the "Reedy Spring International" were arranged there. This despite (or maybe because?) UK competitor Tony Wells taking Mike for a ride in his Ford Escort RS2000 and almost scaring the pants off him. There are actually many stories circulating about the "reckless" driving among the English guys, both at the Romsey WC and elsewhere. How about Steve Haynes driving his VW Scirocco into a telephone pole support wire, putting a diagonal cut all the way into the hood of the car? One story that is not from Romsey, but rather from the return from a European Championship in Austria I believe, Jamie Booth should supposedly have been driving his RC car on the German Autobahn while sitting on the bus or something like that. Maybe I'll have to revisit that story at a later time. Jamie? There are also rumours of Mike Reedy playing pinball for motors against Richard Isherwood in the pub at the Malthouse Inn in Romsey. Probably very favourable for Richards motor budget, as the same rumours also hinted that Mike was rubbish at pinball.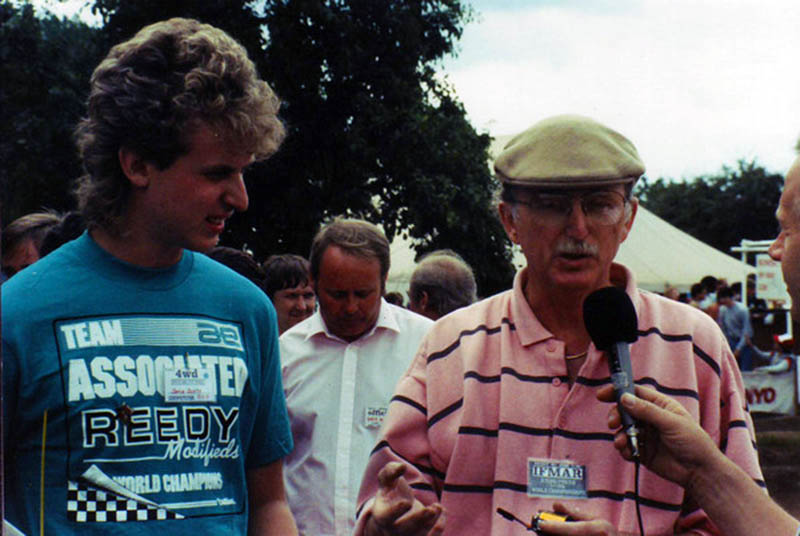 First out was the 2wd competition that started on Monday the 3rd, and concluded with the finals on Wednesday the 5th of August, while the 4wd event started on Friday August 7th, with the finals on Sunday the 9th. Days 1 of both events were used for registration, technical inspection and free practice in the morning, followed by the timed practice (in heat format) in the afternoons. Days 2 (Tuesday and Saturday) saw the first to fifth rounds of the qualifying heats, while days 3 (Wednesday and Sunday) first saw the sixth round of qualifying heats, and then the finals, from L to A.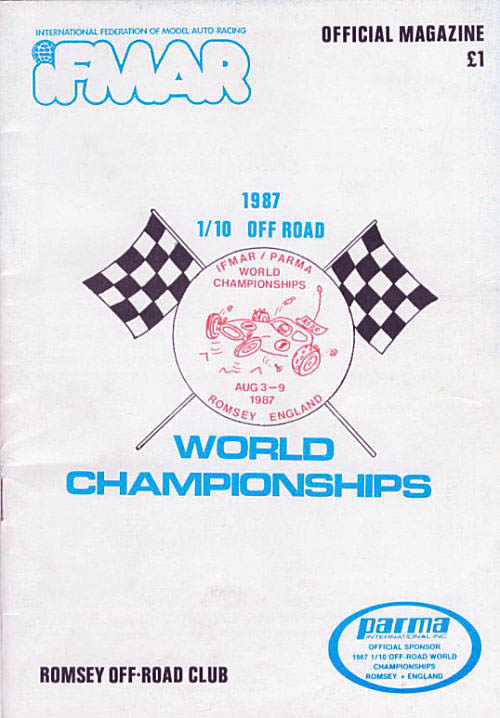 Participants from at least 16 countries competed at the event, 39 from the US, 22 from the UK, 17 from Japan, 12 from Australia, 11 each from Germany and France, 9 from Italy, 5 from Hong Kong, 4 each from The Netherlands and Switzerland, 3 each from Sweden and Ireland, 2 each from Belgium and Austria, and 1 each from Finland and Denmark. These are from the official programme, but I believe there also were some late entries, as I know there were a couple of Norwegians (Egil Holth and Terje Brynhildsen) there as well. Some of the drivers competed in both classes, while others in just one of the two. Some of the smart ones who were just aiming for the 4wd class, also competed in the 2wd class to get more track time and a better feel of the track, as track practice was limited to 20 minutes for each class, and very strictly regulated as I said before.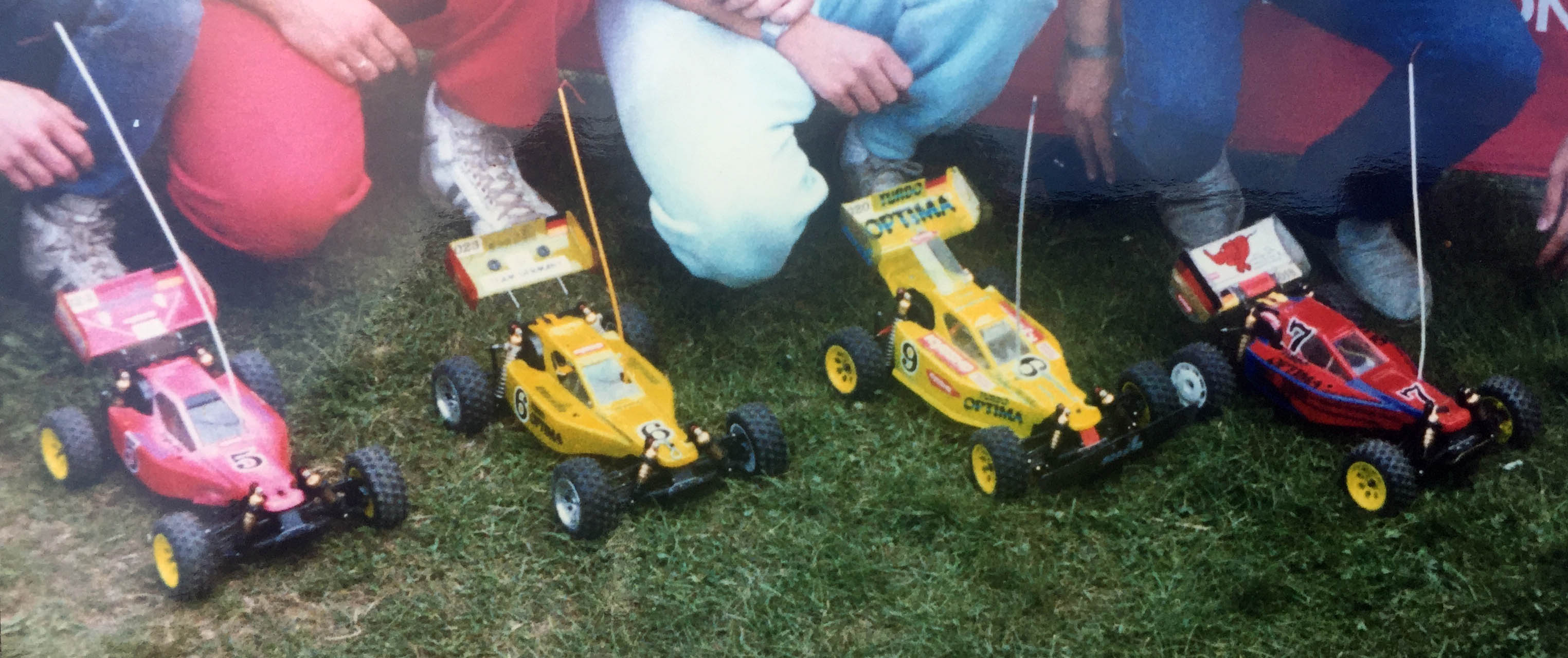 The pit area consisted of a large marquee, that proved to be too small for housing the pits for around 120 drivers plus other crew. There was also a Parma (main sponsor) booth and a motor rebuild center.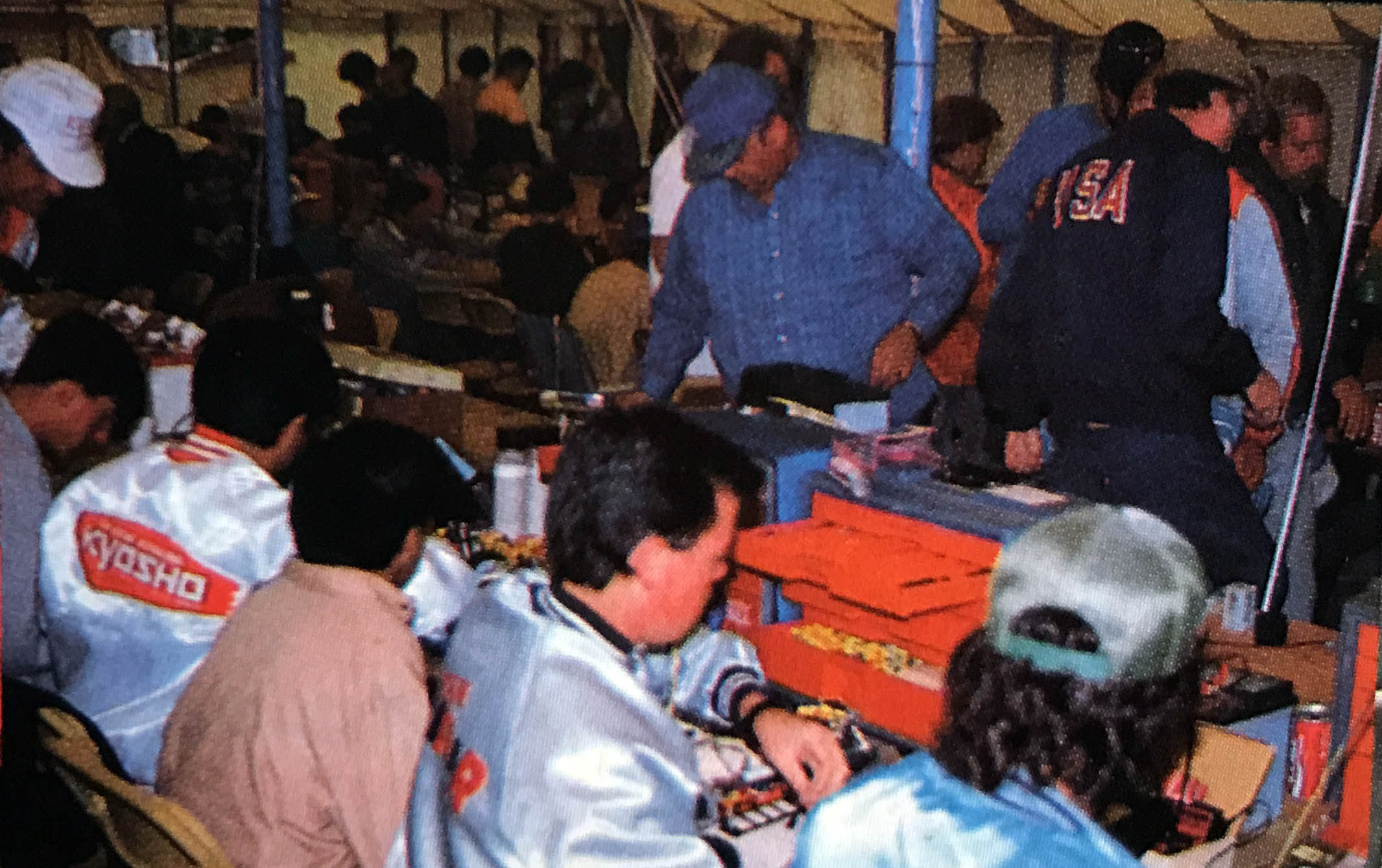 Kyosho/Ripmax had a hospitality area set up for relaxation and small-talk.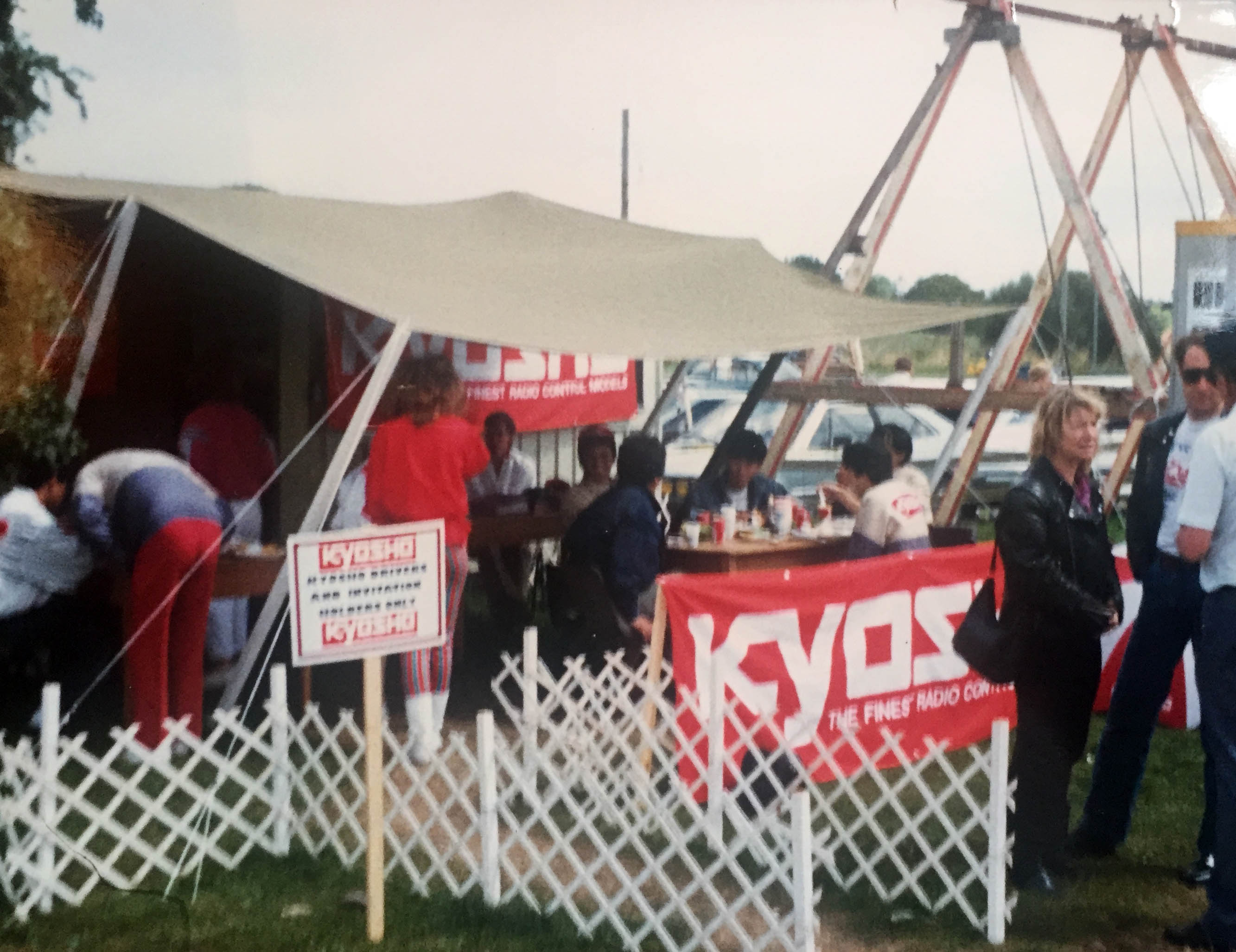 2WD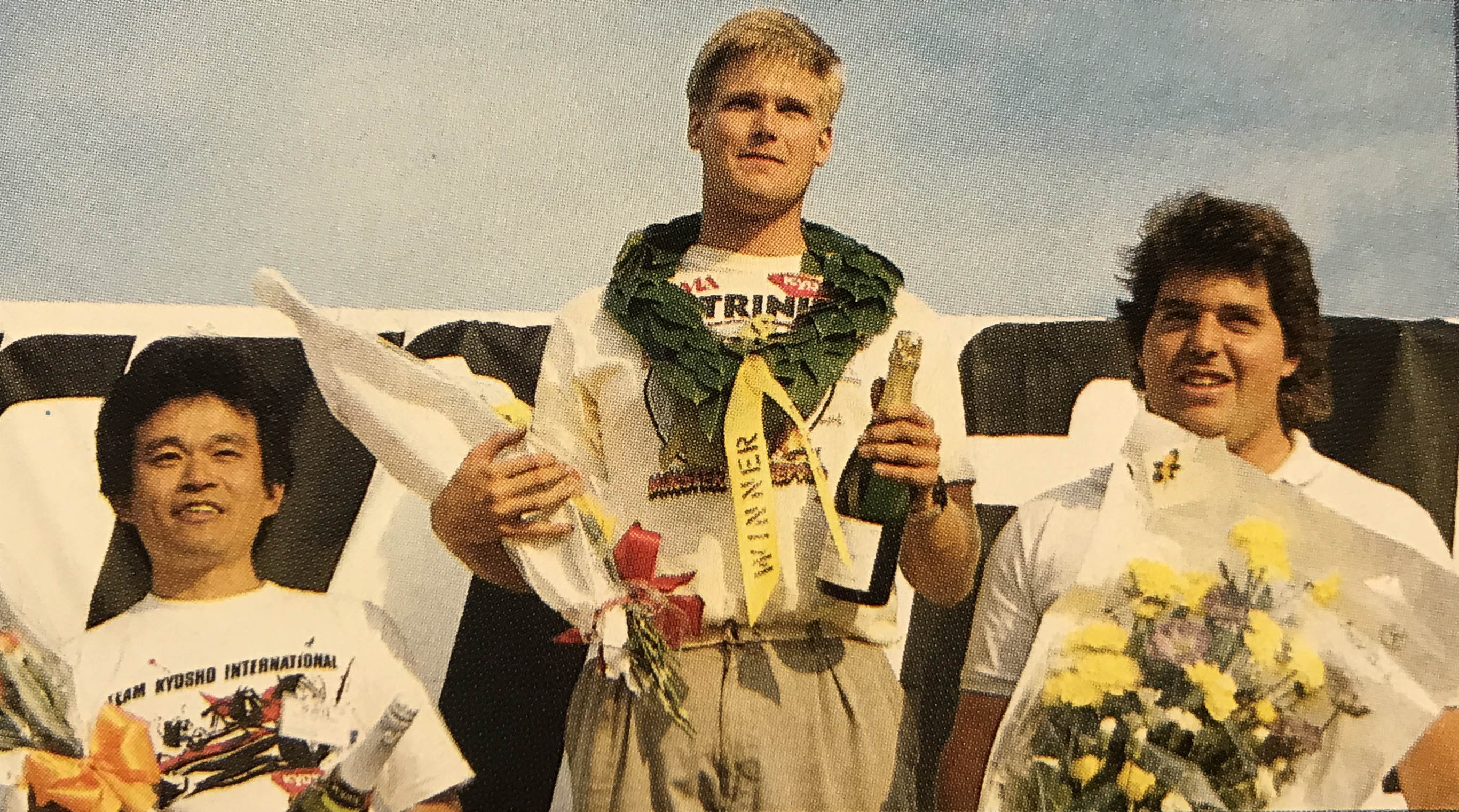 The 2wd qualifying rounds were dominated by Jay Halsey (RC10), Joel Johnson (Ultima) and Kris Moore (Ultima), with Kris Moore being TQ. The A-final consisted of three runs, where the two best runs were counted.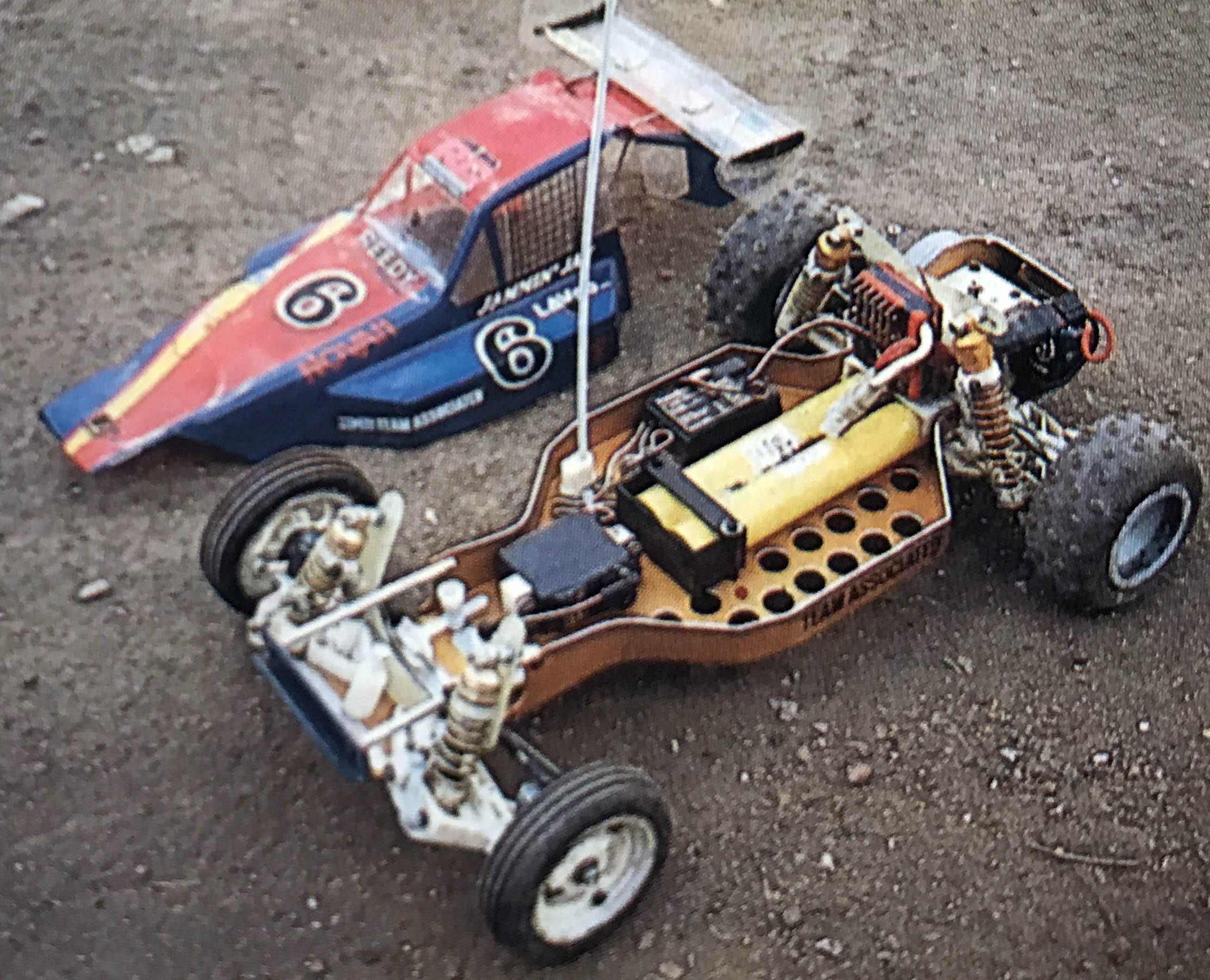 2WD A-Final run #1
In run 1 it was a fight between Joel Johnson, Kris Moore, Jay Halsey and Masami Hirosaka. Halsey got on to a flying start but was soon overtaken by Kris and his Ultima. Hirosaka and Johnson also managed to pass Jay after a small error by the Associated driver, and Joel managed to squeeze his Ultima in front of Hirosakas RC10. Johnson followed Kris for a while, and when the right moment came, he passed and stayed in the lead to the finish line, despite some brave attempts by Kris to take back the lead. Jamie Booth finished third followed by Mike Christensen, Katsunori Kondo, Rory Cull, Jay Halsey, Kevin Moore, Eustace Moore and Masami Hirosaka ending last (DNF).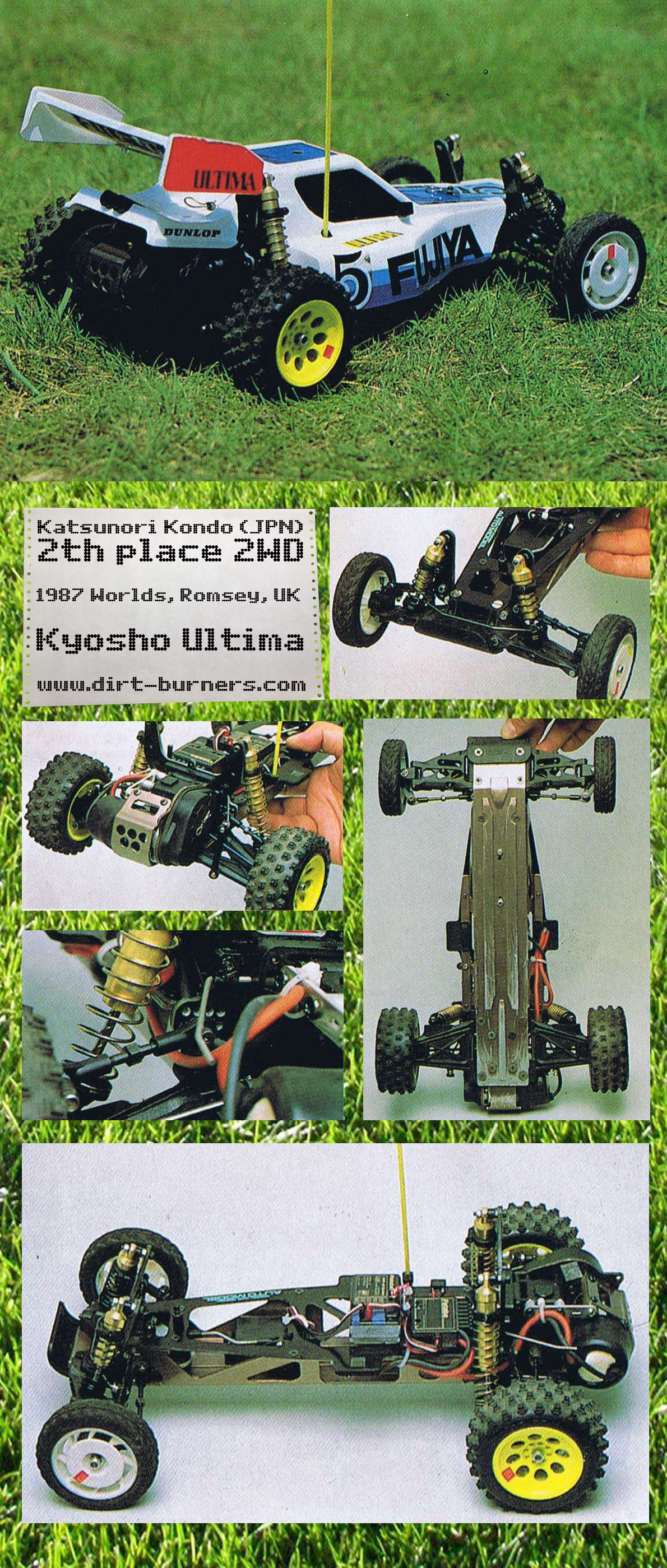 2WD A-Final run #2
The second run looked to be a fight between Moore, Halsey and Johnson, but then Halsey made an error, and it was now Moore leading the pack, with Johnson chasing him. When the duo were about to lap some slower drivers, both crashed and Mike Christensen took over the lead, with home favourite Jamie Booth in second and Katsunori Kondo (Ultima) in third. The trio didn't make any big mistakes and passed the finish line in the same order followed by Kevin Moore, Joel Johnson, Jay Halsey, Rory Cull, Eustace Moore, Masami Hirosaka and Kris Moore finishing last (DNF).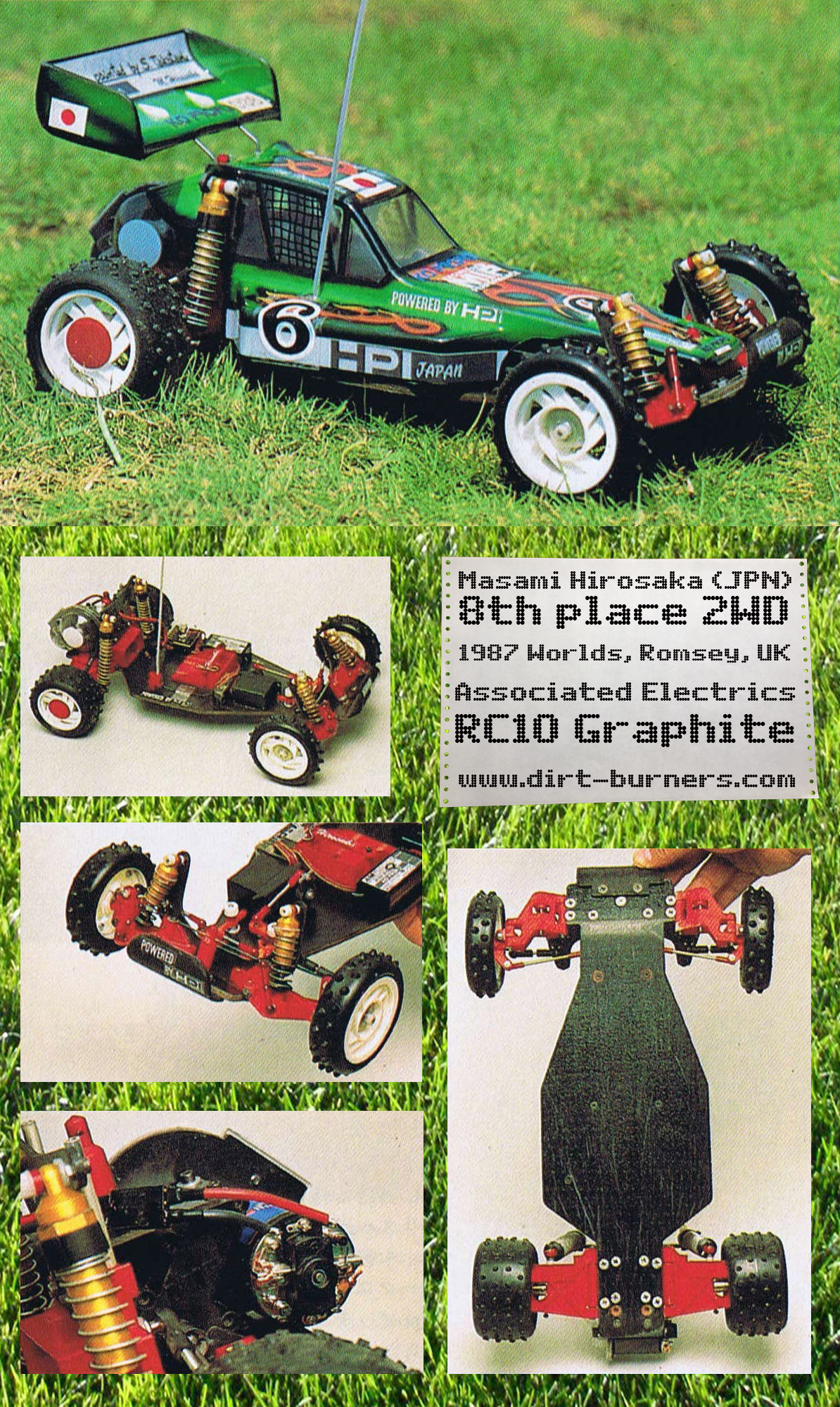 2WD A-Final run #3
With different drivers finishing in the top spots in run 1 and 2, the third run became the deciding one. Kris Moore took an early lead, with Jamie Booth following suit. Jay Halsey and Joel Johnson followed in third and fourth place. When Booth hit Moore while trying to pass, Johnson took the opportunity to pass both, followed by Jay Halsey and Katsunori Kondo. With Johnson making a mistake on a jump (remember what he told about his jumping….), Halsey went in to first, until he too was stopped by a jump. Now Kondo was in the lead, with Johnson chasing him all the way to the finish line and Masami Hirosaka having his best run in 2wd, finishing third, followed by Kris Moore, Jay Halsey, Kevin Moore, Eustace Moore, Rory Cull, Mike Christensen and Jamie Booth (DNF).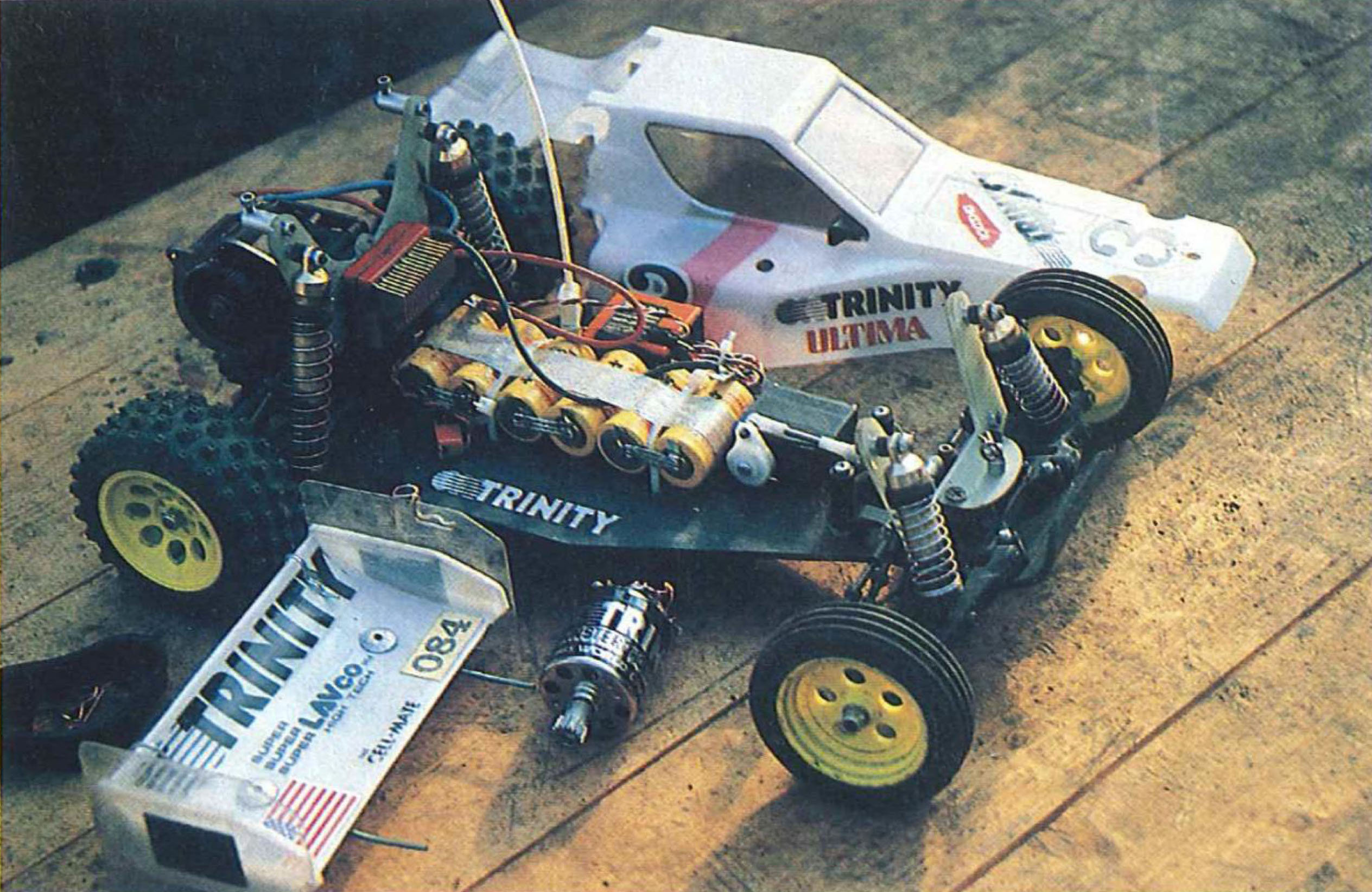 Adding the two best runs, Joel Johnson was awarded the title as the 1987 1/10 2wd World Champion, with Katsunori Kondo taking silver and Kris Moore in third, all three of them running Kyosho Ultimas. Following them were Mike Christensen, Jamie Booth, Kevin Moore, Jay Halsey, Masami Hirosaka, Rory Cull and Eustace Moore.
Talking to Joel many years after the race, he told me that the Ultima drivers really had been blown away by Kyosho's US distributor at the time, Great Planes, that in a series of ads boldly claimed the Ultima to be "the next World Champion". His guess was that this was a stunt orchestrated by Great Planes themselves, not involving Kyosho Japan. "I don't think the Japanese are ever this bold", he told me.

I also asked him about how he came about racing off-road for Kyosho, after all he was a well seasoned on-road driver with Trinity. "I had already won several on-road national titles including the Japanese on-road Nationals in 1985, so Kyosho knew about me. Trinity used Kyosho tear-down motors for all their modified motors so it was somewhat natural that they would approach me to run off-road. Before they approached me; only three months prior to the worlds, I had not run off-road at all. I was fortunate that the track in England was much more on-road like than off-road, and I was able to really take to it quickly when I arrived."
4WD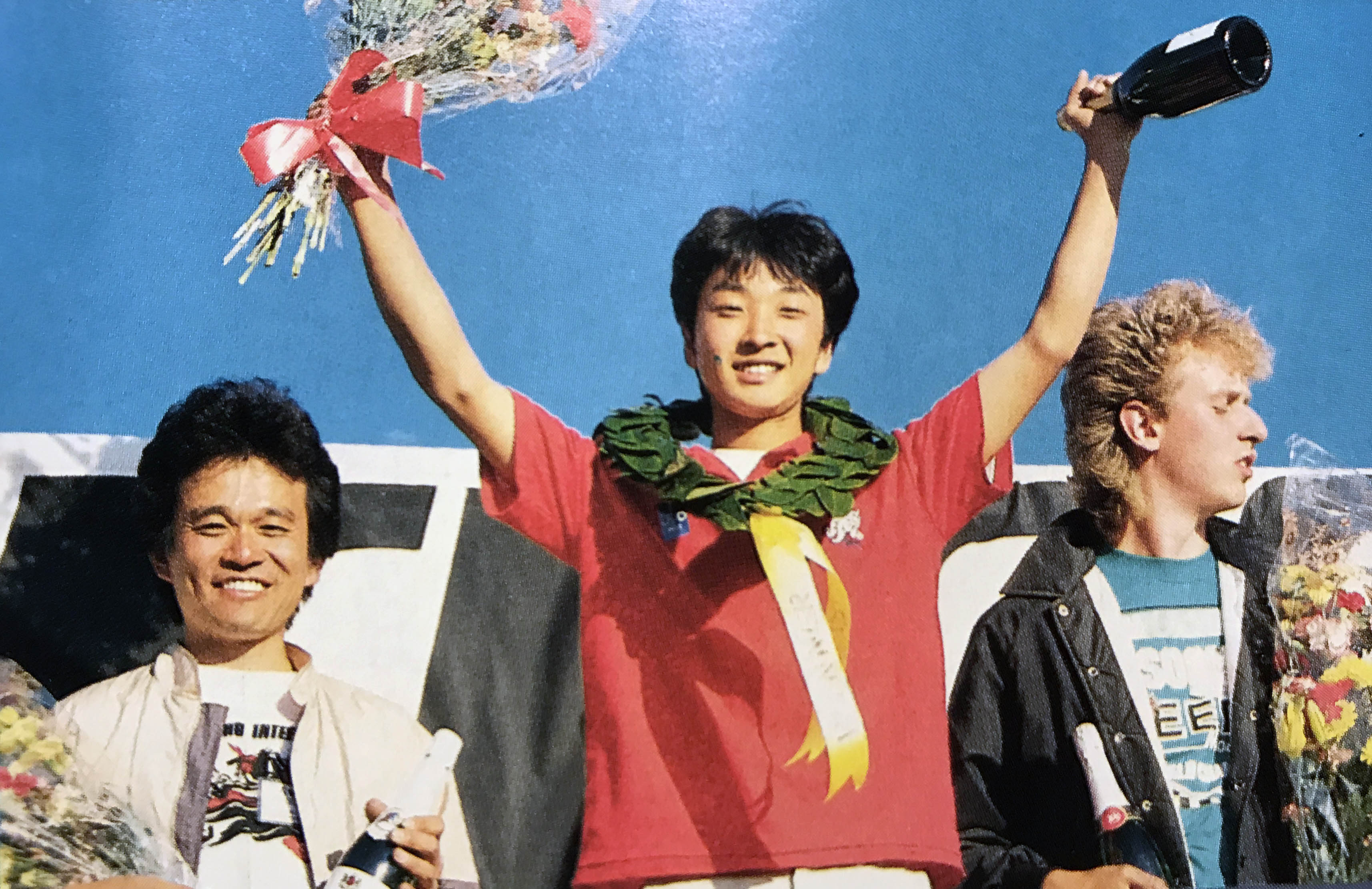 Many of the same drivers that made it into the 2wd A-mains, also qualified for the 4wd A-finals, with Masami Hirosaka being TQ. What's incredible with this story is that Hirosaka, who had brought is short wheel base CAT to the event, was given a pre built (by Phil Booth) CAT XL just the evening before the race. They used the night to fit motor and the rest of the electronics, as well as doing a basic set-up on the car. Phil Booth had lubed the shocks, but not filled them with oil, something that Hirosaka had missed. So the legend that is Masami Hirosaka actually went to the first qualifying round where he TQ'ed, WITH NO OIL IN THE SHOCKS!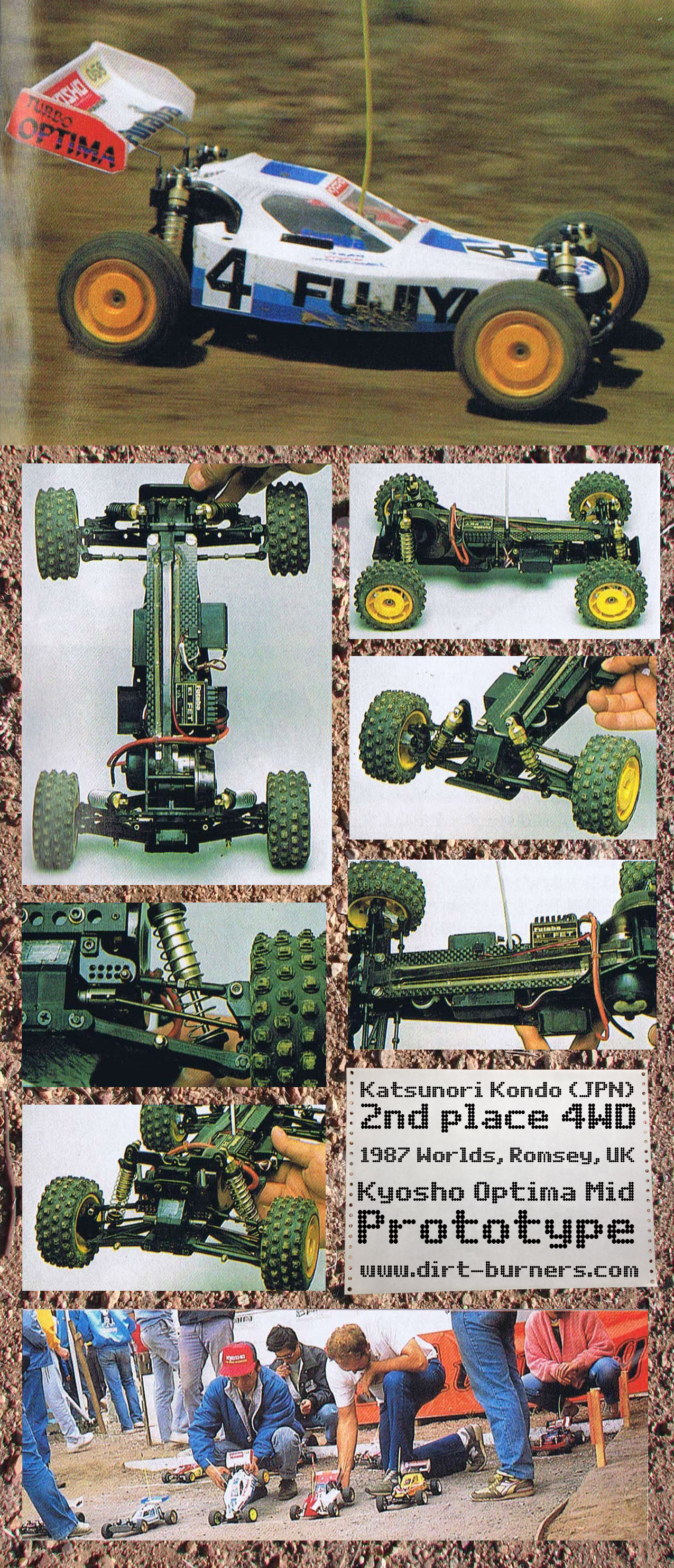 4WD A-Final run #1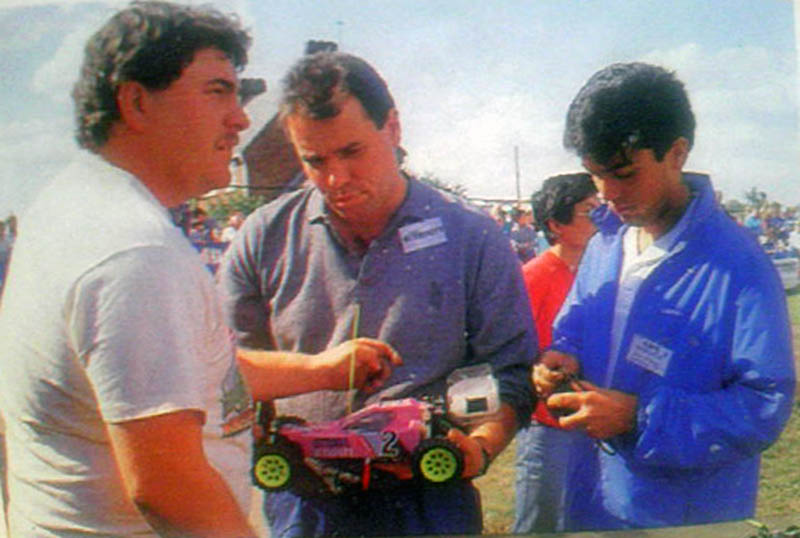 In this first of three legs, TQ Masami Hirosaka went straight into the lead with Jamie Booth chasing him. The most exciting with this first leg was the battle for third place where Eric Soderquist and Jay Halsey had a bit of a fight, with Soderquist winning that duel with a narrow margin. Joel Johnson followed in 5th with Pete Stevens, Cliff Lett, Katsunori Kondo, Mike Christensen and Junichi Koma completing the list.
4WD A-Final run #2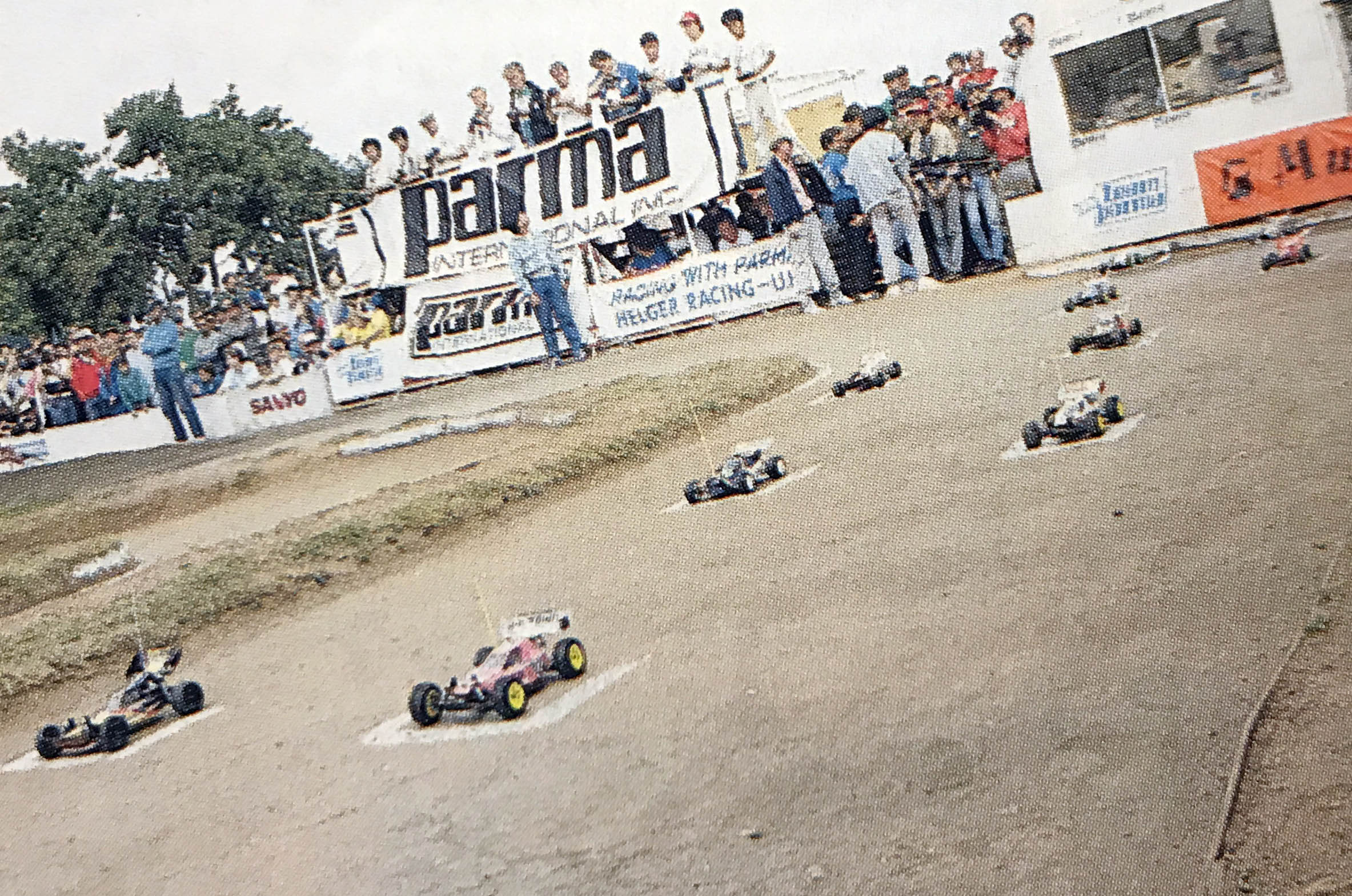 Once again Masami Hirosaka took the lead, with Mike Christensen, Jamie Booth, Cliff Lett and Jay Halsey fighting for positions, resulting in Lett moving into second with Booth following in third. Booth had a great run in this leg. After falling behind in the first corner, he pulled himself together and passed cars everywhere it was possible (and to some even impossible). After a small error by Hirosaka, both Lett and Booth passed him, and with the run nearing the end, the three of them were very close. Lett made every effort to keep Booth behind, but Jamie finally found enough space and snatched the win. Behind Booth and Lett Hirosaka had lots of space and easily took third spot, followed by Joel Johnson, Jay Halsey, Junichi Koma, Katsunori Kondo, Pete Stevens, Eric Soderquist and Mike Christensen.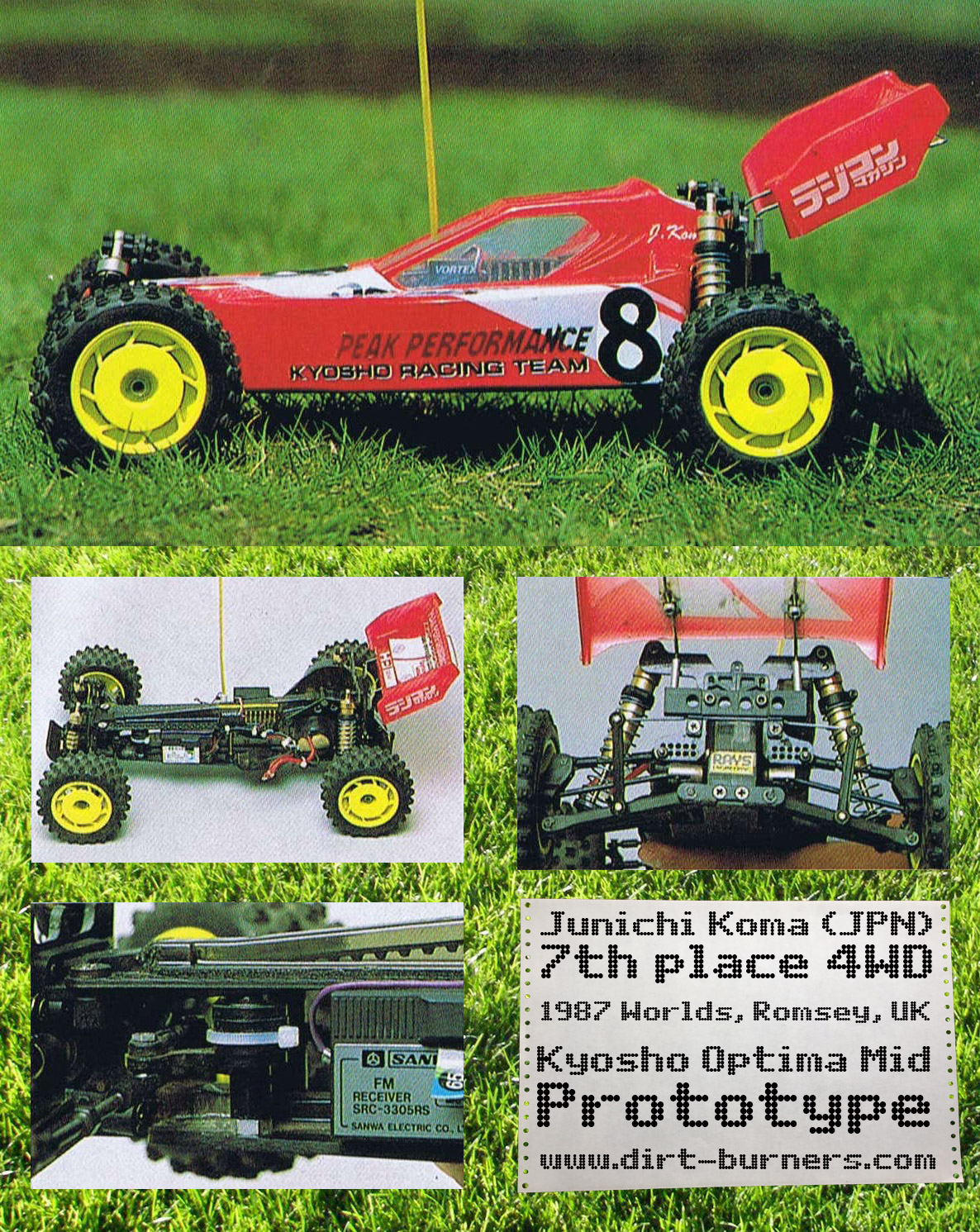 4WD A-Final run #3
In the third and final leg, 2wd silver medallist Katsunori Kondo took the lead with his Optima Mid prototype, and was running very strong. Cliff Lett was following in second, with Booth and Hirosaka following. Hirosaka, who was eyeing the victory went for a clean drive and let the others fight for positions. WIth Kondo winning the run, followed by Lett and Hirosaka in third, it wasn't clear who had actually won the title. Jamie Booth finished 4th followed by Koma, Johnson, Stevens, Halsey, Christensen and Soderquist. After a bit of calculations and studying of the results it was clear that Masami Hirosaka was the 1987 4wd 1/10 World Champion.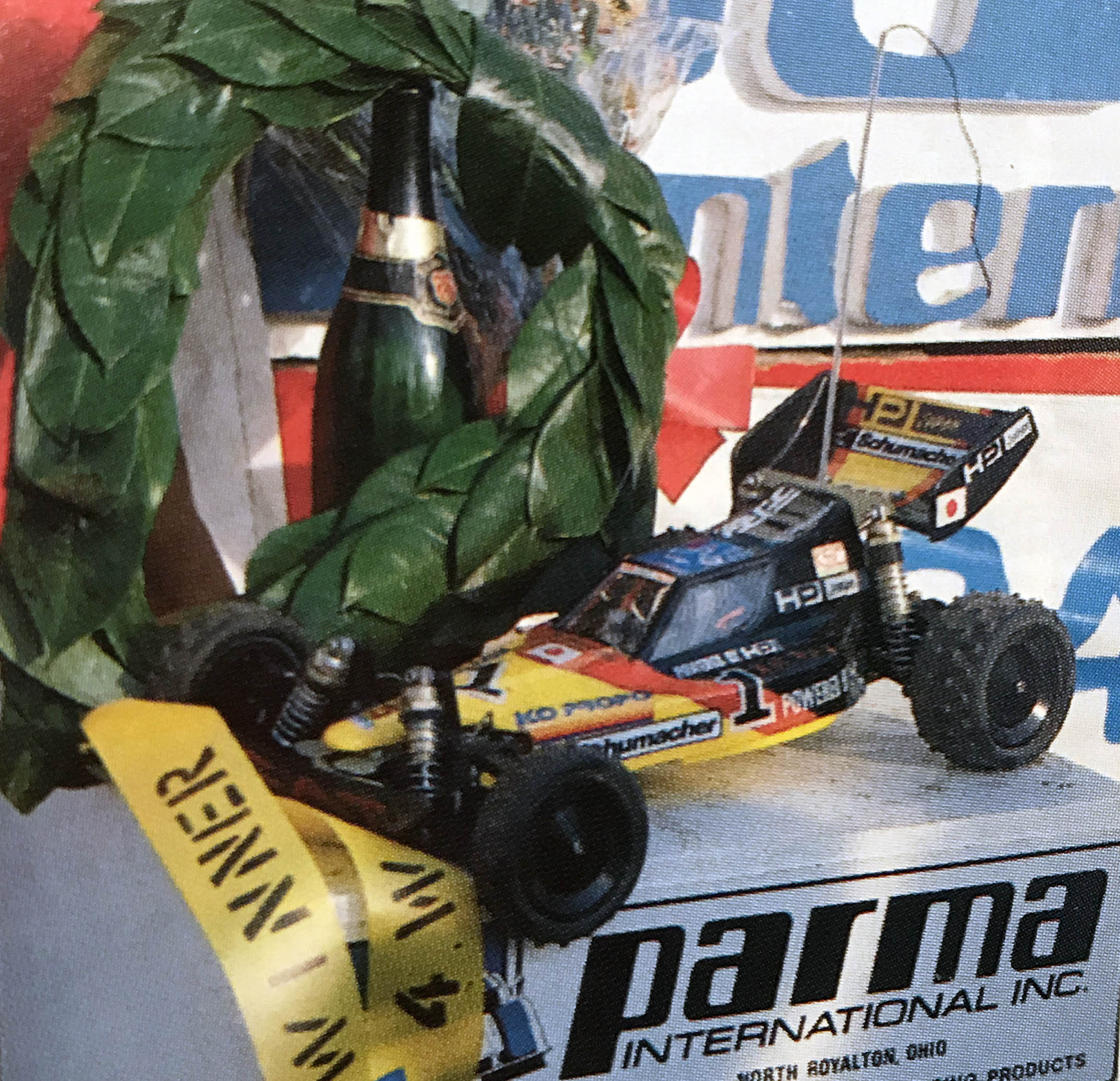 With Hirosaka taking the 4WD gold, Katsunori Kondo had once again to settle for second, while Jamie Booth secured a home medal for England by finishing third. Cliff Lett ended in fourth place followed by Joel Johnson, Jay Halsey, Junichi Koma, Pete Stevens, Eric Soderquist and Mike Christensen.
Even if Masami Hirosaka was Japanese, the victory was also seen as a home-win for the English Schumacher brand. Cecil Schumacher was very happy and proud of this achievement, and when his wife tried to pull him away from getting wet from all the champagne, Cecil responded with "I'm feeling so good I couldn't care if they drowned me in it!". Masami Hirosaka and the CAT was a perfect pair, and looking at the actual split times to 100th of a second, in one of the finals Hirosaka had eight consecutive laps within 2/100 seconds of each other. That's an incredible achievement, and what I would call consistent driving!
Epilog
You can watch the official videos from the event here, including all the six A-main legs.
Part 1:
Part 2:
I have some race reports in my document depository. Direct links (opens in new browser tabs):
Official magazine/programme (.pdf)
Radio Race Car International, October 1987, English (UK) (.pdf)
Radio Control Model Cars, November 1987, English (US) (.pdf)
Auto8, October 1987, French (.pdf)
NEW: Auto RCM, 1987, French (.pdf)
NEW: Dirt & Track, October-November 1987, English (AU) (.pdf)
NEW: Model AutoSport, September 1987, English (AU) (.pdf)
NEW: Radio Control Magazine, October 1987, Japanese (.pdf)
NEW: Radio Control Model Cars, November 1987, English (UK) (.pdf)
IF YOU HAVE ANY OTHER MAGAZINES WITH REPORTS FROM THIS RACE, PLEASE CONTACT ME AS I'M VERY INTERESTED IN GETTING MY HANDS ON GOOD SCANS OF THOSE FOR THE DOCUMENT DEPOSITORY. PLEASE LEAVE A COMMENT BELOW IF YOU CAN HELP!
The sources here are many, so many that I'm a bit afraid of mentioning anyone in fear of forgetting someone, but if you feel you should be listed, please shout!
Obviously the many magazines have been great sources, as has people (directly or indirectly) like Akira Kogawa, Junichi Koma, Joel Johnson, Earnie Provetti, Hiroshi Nakamura, Atsuhiro Ohno, Richard Isherwood, Jamie Booth, Mark Hazelden and of course Mike Haswell and Dan Yurek for their many scans of vintage magazines and articles.