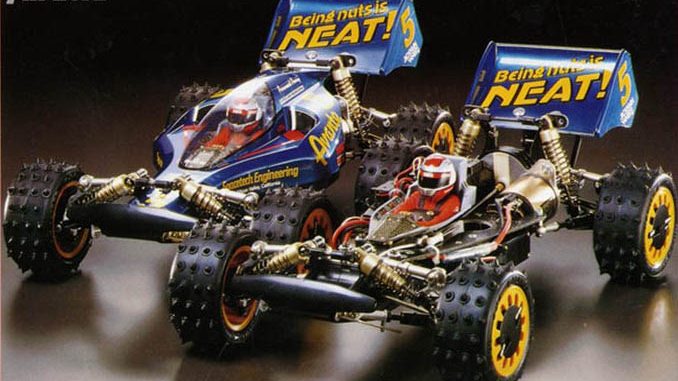 When Tamiya introduced the four wheel drive Avante buggy back in March 1988, it was a clear sign that they intended to get back into the racing circles, that now were dominated by Yokomo, Schumacher, Kyosho and Associated. The Avante base design should eventually lead to Tamiyas first TRF (Tamiya Racing Factory) project, but that's another story you can read more about here. Not since the early days of the SRB's (Sand Scorcher, Rough Rider etc) had Tamiya been a force to be reckoned with in the big races, and were now widely regarded as toys, or at best entry level racing machines. Having gone away from using metal parts, and relying mostly on plastic parts, the likes of the Hotshot, Boomerang and Bigwig buggies were great bashers, but were too fragile compared to the more modern reinforced materials that the competition were experimenting with. Unlike most of the other brands, Tamiya also stood by it's shaft drive 4wd system, while all successful racing buggies now used belt drive, after initially having started out with metal chains. The shaft drive system used by Tamiya (and others, like Marui) were very easy to maintain, but a lot of power were lost in the armada of gears and bevel gears involved to get the propulsion from one axle to the other.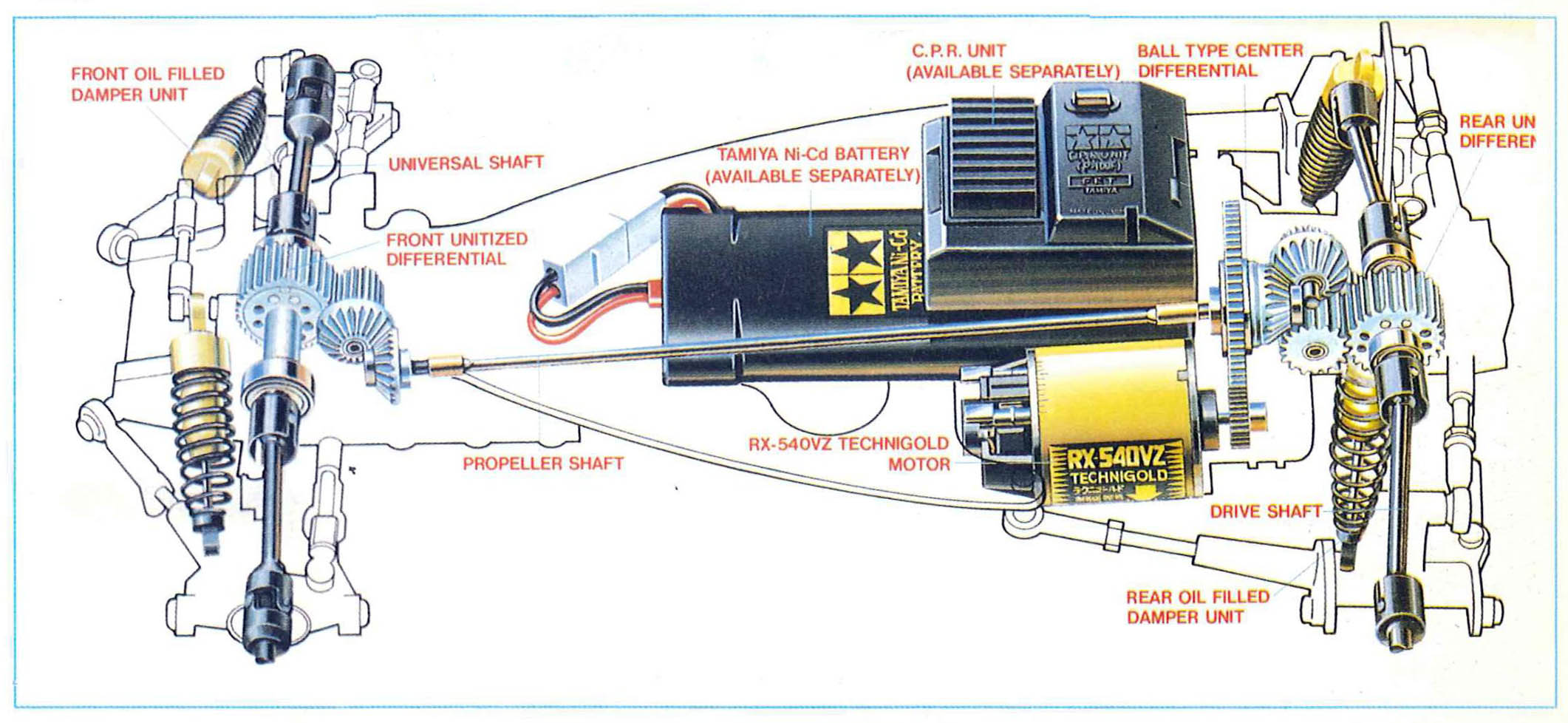 The suspension on the Tamiyas were also fixed, with no way of adjusting things like camber, caster etc. With the Avante, Tamiyas top designer Fumito Taki, addressed all these points, besides the shaft drive system, even if that got an overhaul as well, and were much more efficient than the previous systems. The suspension of the Avante was a very intricate system that could best be described as a cross between a double wishbone and a trailing arm suspension, and actually weren't that bad, as long as it was set up correctly. The setup hassle should be it's doom, as the multitude of adjustment options required the mind of a rocket scientist to get it right. Add that the setup would very easily get out of alignment when driving, and you have a problem if you are a competition driver. If the earlier 4WD buggies from Tamiya had been too simple, the Avante has been described as being over-engineered.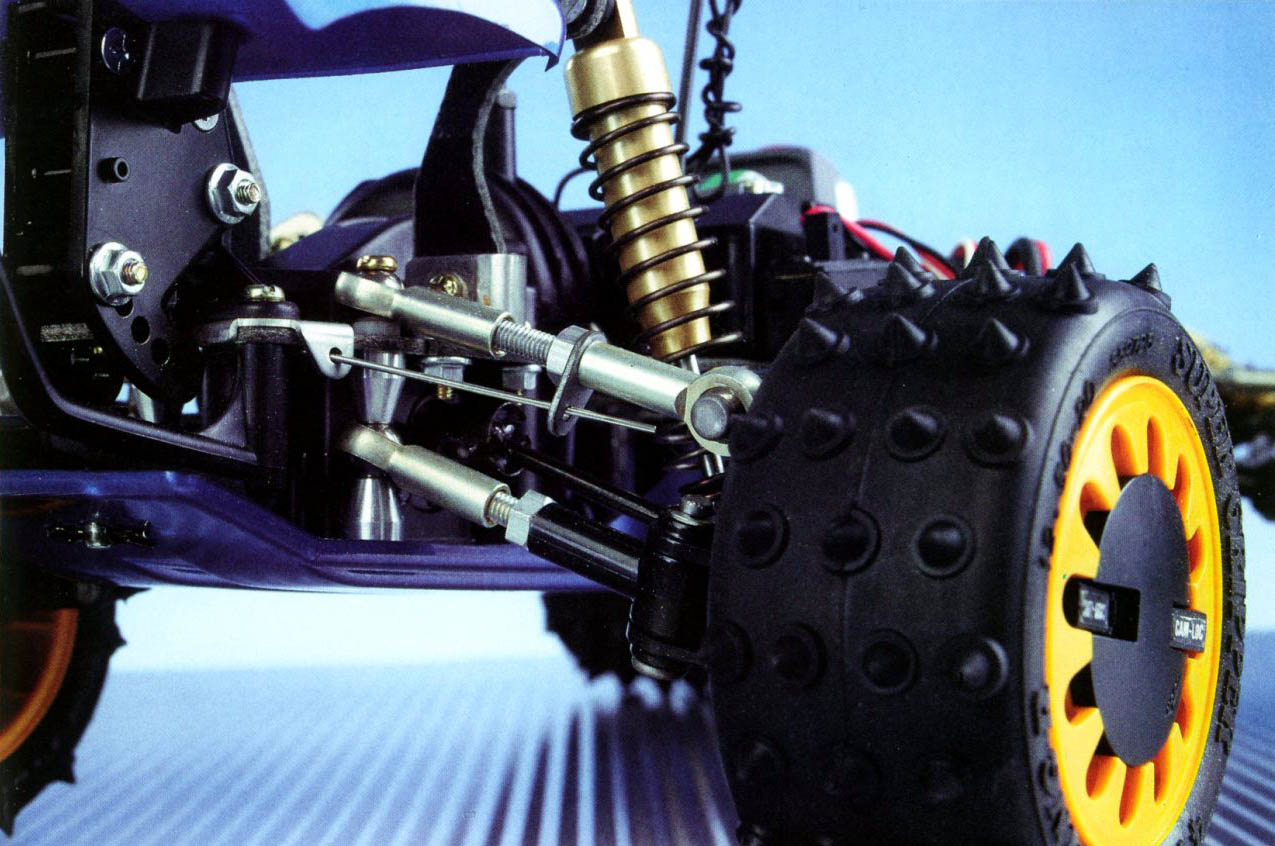 Long wheel base Avantes
The wheel base was also a bit on the short side, which on some surfaces were great, but on most tracks meant that the buggy were somewhat "nervous". Most of these issues were fixed by June 1989 with the release of the Egress, where some of the adjustment options of the suspension were removed, and a longer chassis that made the buggy more stable. But during the year between the Avante and the Egress, Japanese hop-up brand Dirt Burners! made a green fiber glass chassis kit (#2201) for the Avante, with a longer wheel base.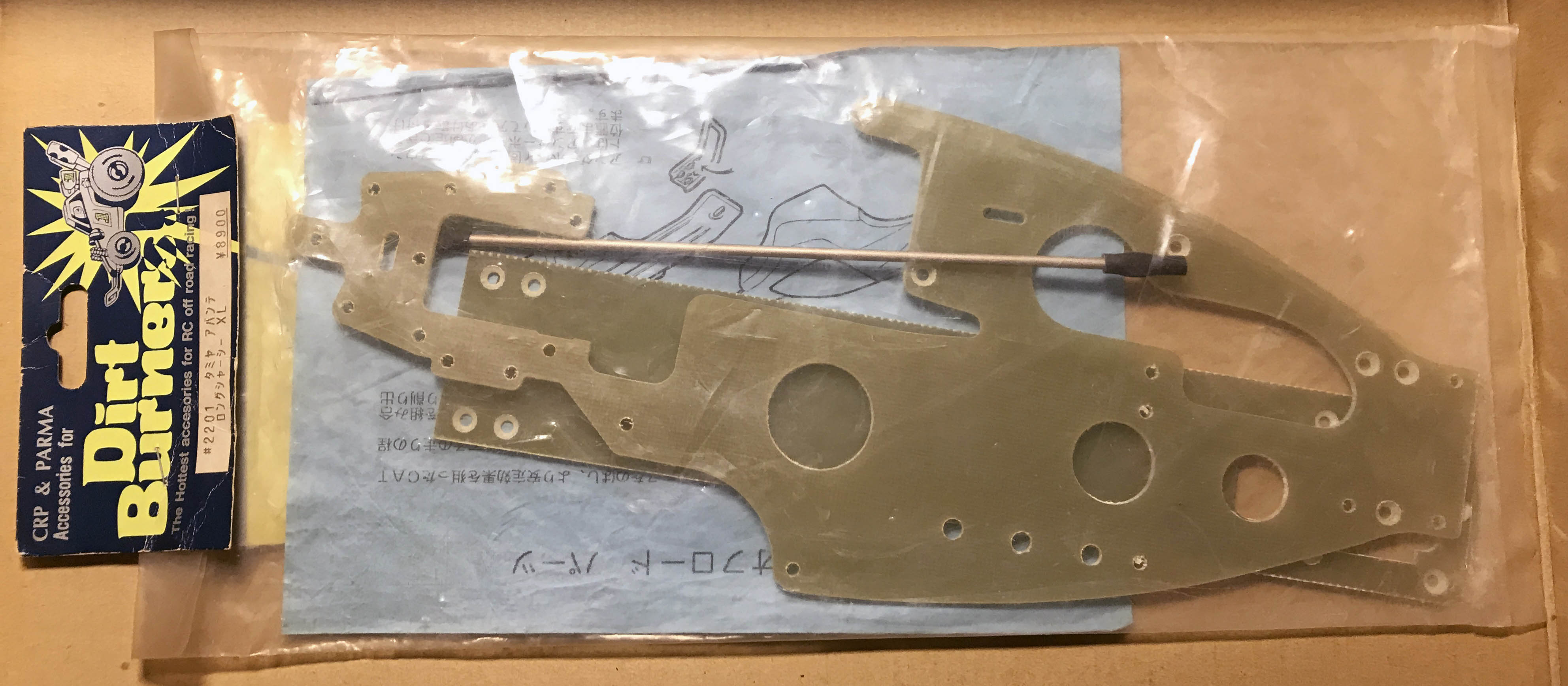 In December 1988 Tamiya themselves released a long wheel base carbon chassis kit (#53038), consisting of parts that later would go on the Egress.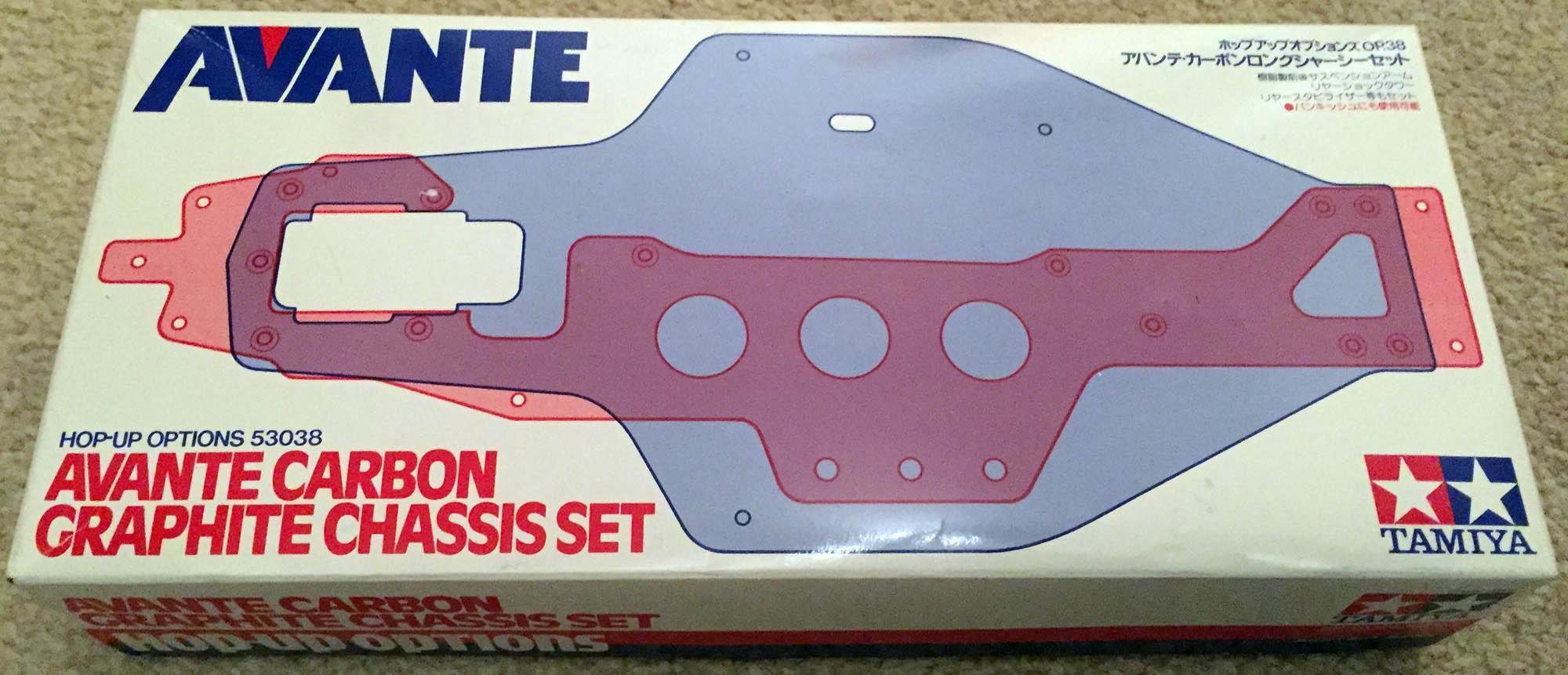 Tamiyas release of the carbon LWB kit might be the reason most of us never even heard of the Dirt Burners! XL kit. Besides the kit you see here, I only ever remember seeing it in the news-section of a magazine back in 87/88. I have searched for that picture, but can't find it, as I can't remember which magazine it was, but it was basically only Radio Control Car Action (US) and Radio Control Model Cars (UK) that were available here in Norway back then. Unlike the Tamiya LWB kit that went more towards an "industry standard" large lower chassis/smaller top plate (the Egress layout), the Dirt Burners! XL kit were true to the original Avante layout with a narrow lower chassis and a wider top plate. The kit also included a longer drive shaft as opposed to the Tamiya kit that came with a longer propeller joint to compensate for the stretch. The Tamiya kit also came with the upgraded suspension parts, while the Dirt Burners! kit only consisted of the chassis/drive shaft. Being far more comprehensive, the 12400 Yen Tamiya kit was not that much more expensive than the 8900 Yen Dirt Burners! kit, something that obviously would steer most people towards the Tamiya upgrade.
As a kid I made my own LWB chassis from a fiberglass plate. My chassis was based on a picture I had found of the Tamiya carbon chassis. I used the original Avante chassis as a template to get the holes right, and drew and cut the shape of the chassis from what I had seen in that picture. I also made a longer propeller shaft. It looks quite rough, I'll admit, but I only had a hand saw and a hand drill, no electric tools…..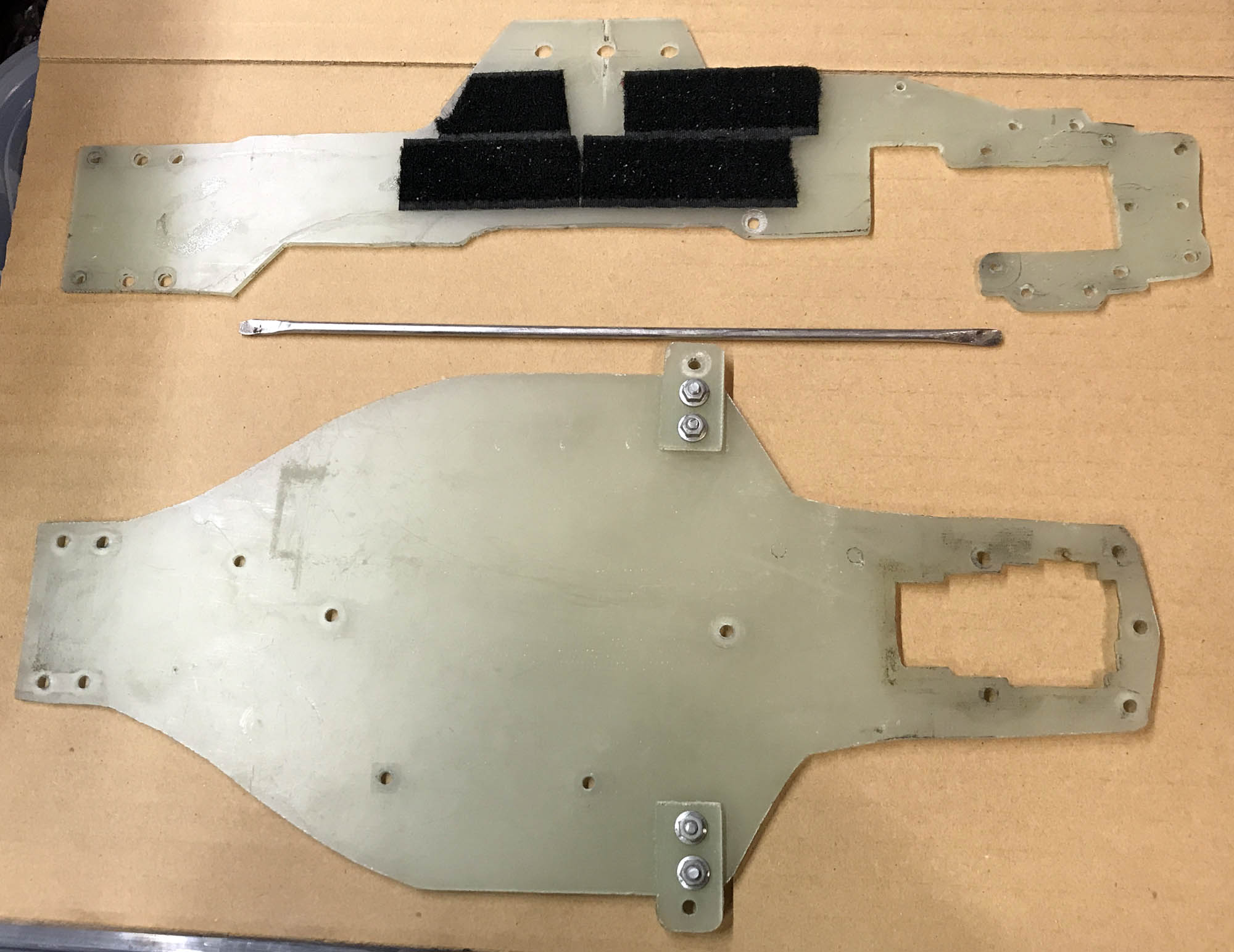 My original Avante has now been restored to its original state, with the original short wheel base chassis. A couple of years ago I was lucky enough to get my hands on a NIB Dirt Burners Avante XL chassis, and now it's time to use it to build a fully spec'd Dirt Burners! Avante XL.
Here is how my original Avante looks now.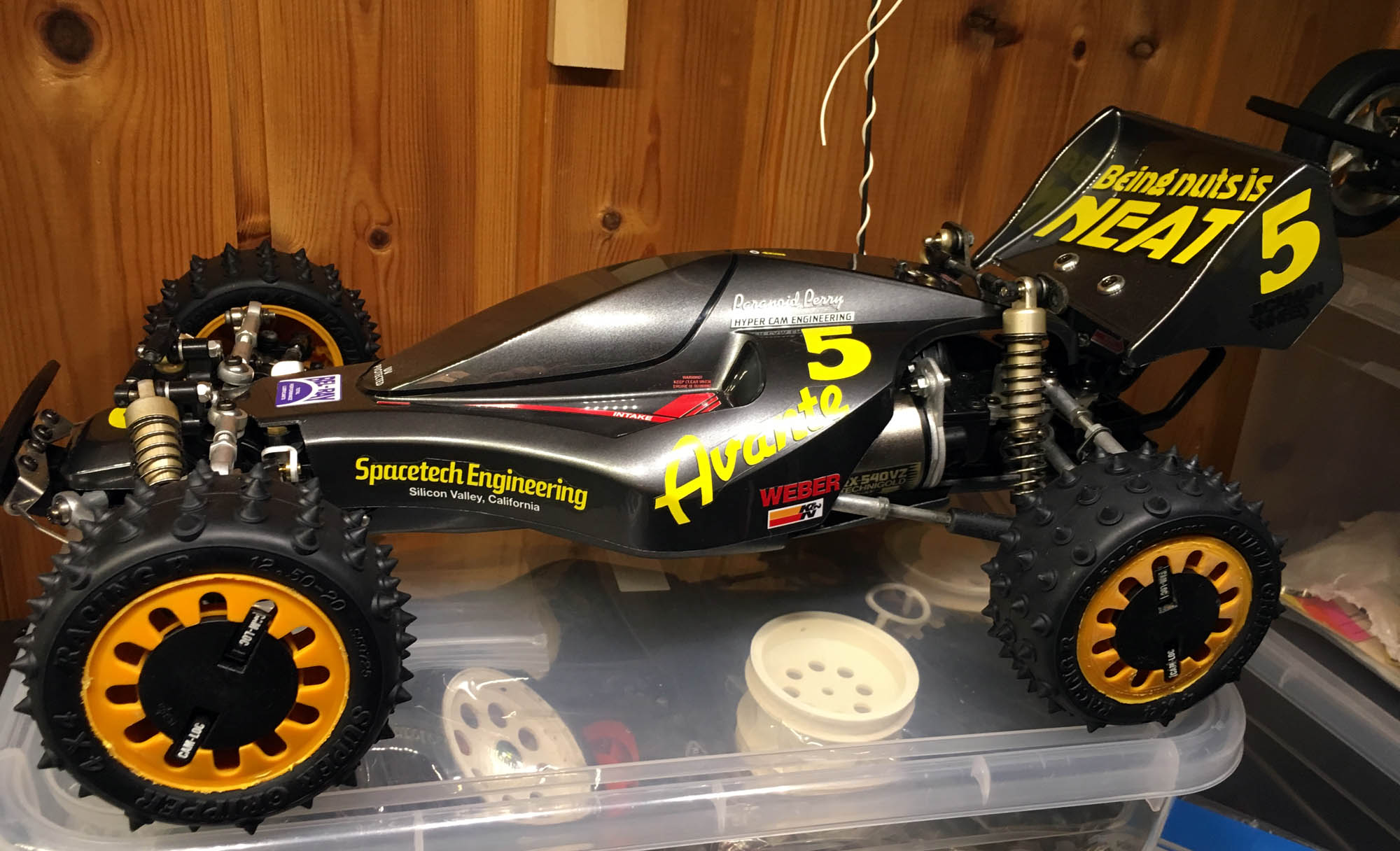 And the inside, with Technigold motor and Tamiya CPR unit.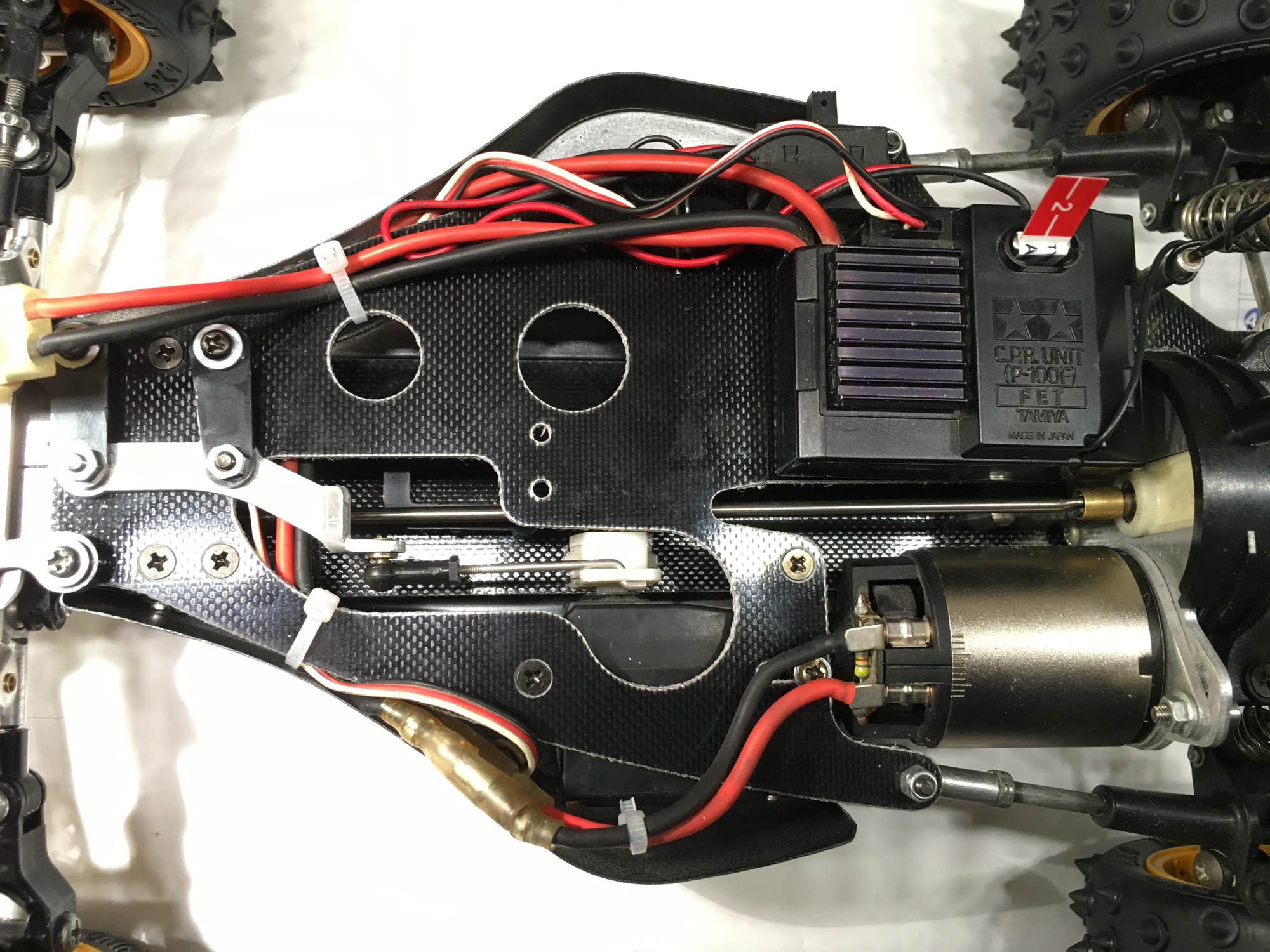 The parts
In addition to the Dirt Burners! XL kit, I will use a number of other vintage hop up parts for this build, both original Tamiya hop ups, and parts from various third party brands. The rest of the parts will be original Avante parts, with one or two re-release parts, where they are similar to the vintage parts.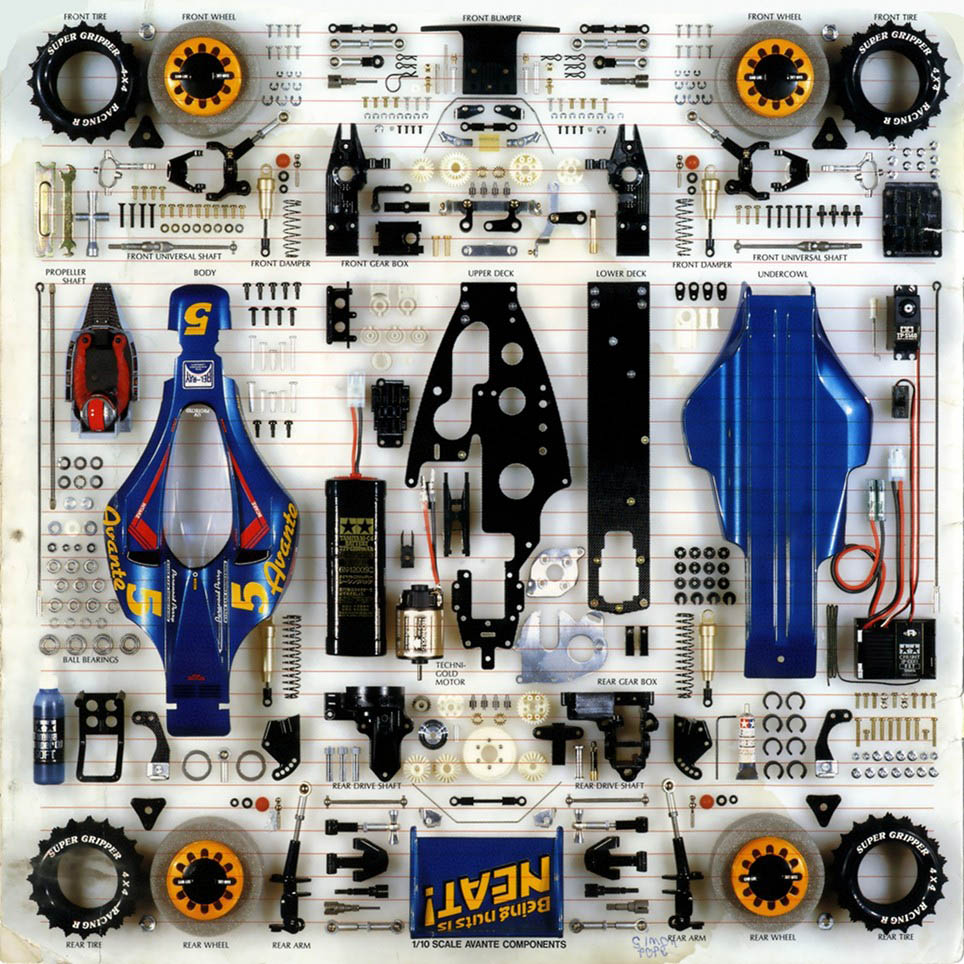 I will use a NIB Tamiya #53034 Dual Ball Diff & Torque Splitter set, at the front there will be a pair of NIB #350 Universal shafts, while I will use a lightly used set of the double jointed #53032 Avante Posi-Joint Universals at the rear. I will use the original Avante suspension setup, but with the steel threaded rods changed for a NIB #53009 Avante Titanium Rod Set, and the aluminum ball joints will be protected with a NIB #53035 Avante Ball End Cover Set. I also have a NIB #53033 Avante Ball Race Steering Set that will go on this build. I wish I had a full titanium screw set, but I haven't found any with a price tag that would qualify as sane.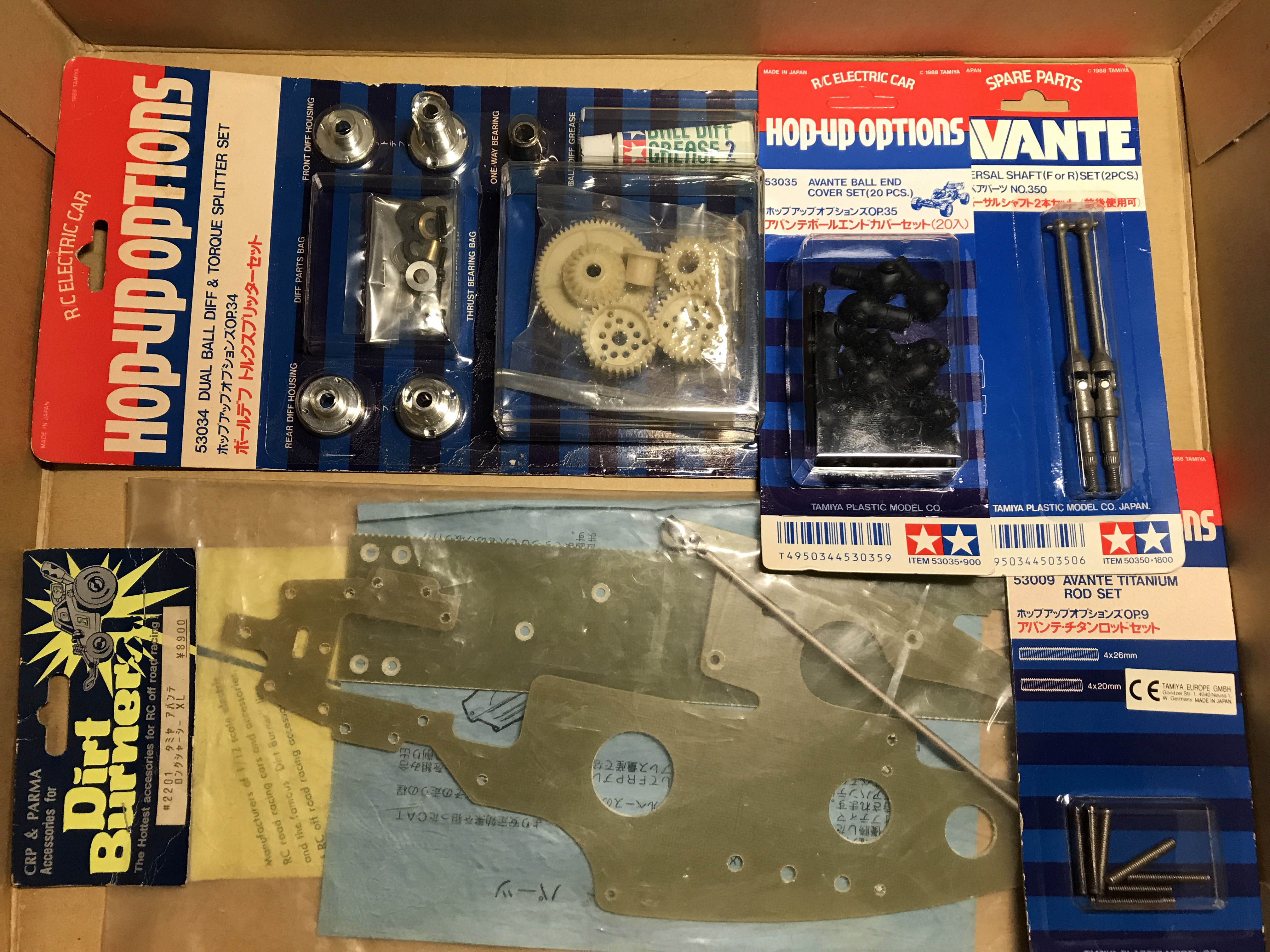 I also have a few Japanese YSP parts that will go on this build, like the YS-25 carbon front and rear shock towers, the YS-26 wide kydex bumper, and a YS-27 kydex wing, all new. The shock towers had been taken out of the packing and all carbon edges were sealed by the previous owner. The wing was assembled, but never mounted. The bumper actually mounts on to the original bumper and is secured to it with zip-ties and screws. We'll see if I'll use that. It depends on how it looks when mounted.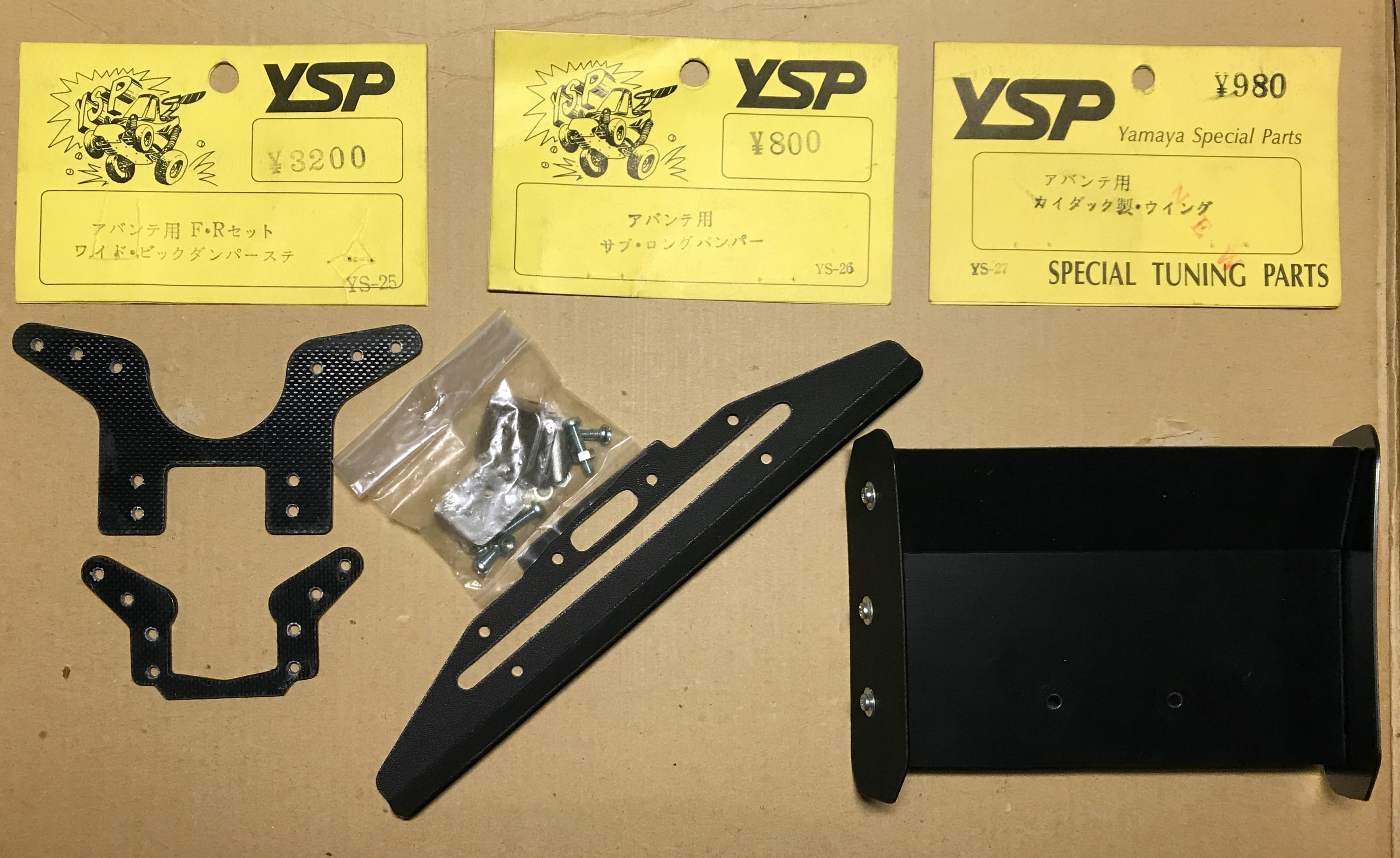 The YSP rear shock tower is in one piece, like on the re-release. On the original Avante it was in two pieces, one for each side. The YSP tower also offers additional mounting positions for the shocks. The original (and re-re) Avante did not have any front shock towers, as the shocks were mounted directly to the front gear box. With the Egress (and the Tamiya LWB kit) a front shock tower were used to mount the front shocks in a more upright position. Like at the rear, the YSP front shock tower offers additional mounting positions for the shocks.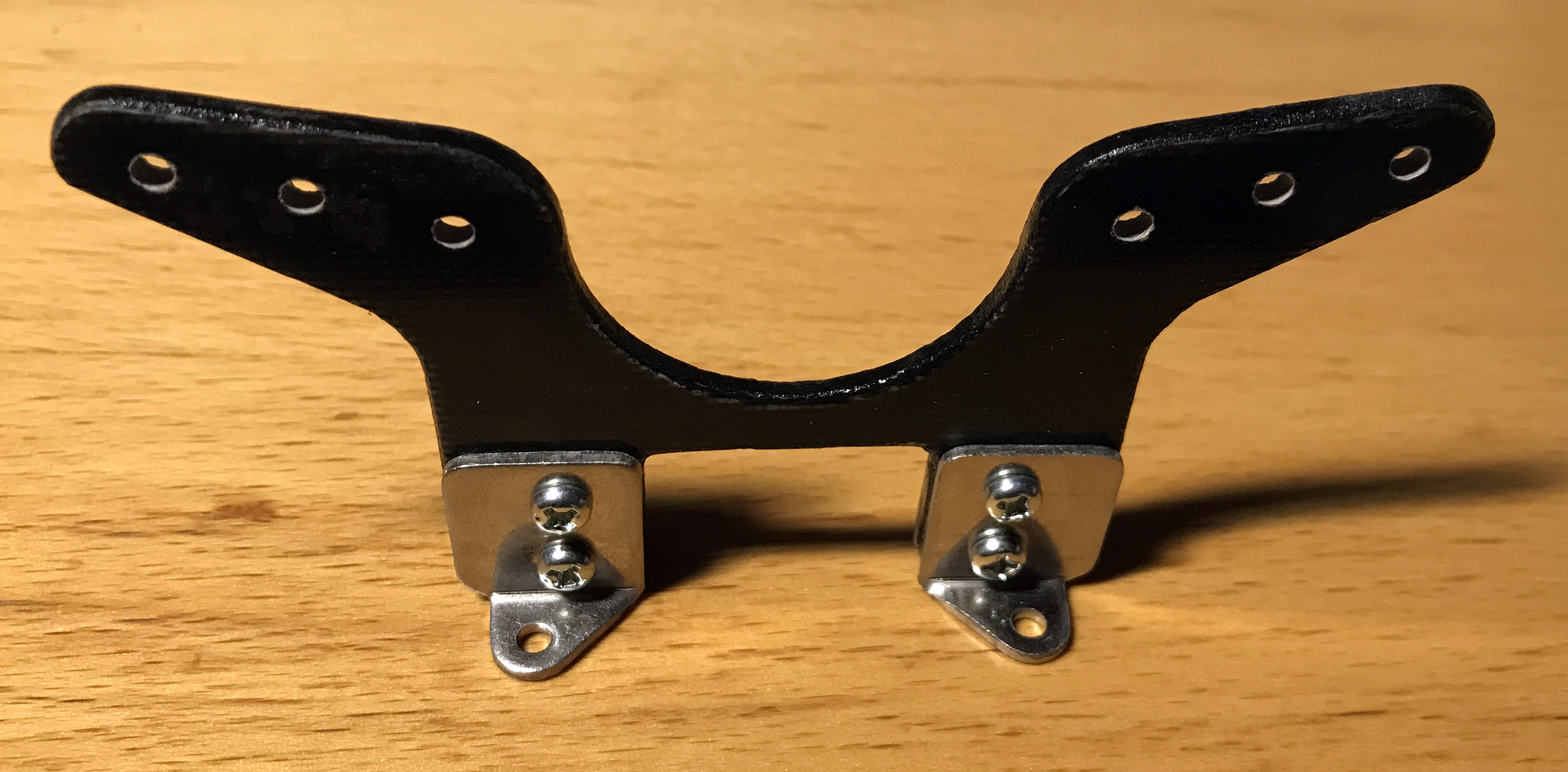 The shocks I plan on using are the beautiful gold HR-02 shocks from You-G's racing brand Racing House, as well as springs and retainers from You-G's HR-06 kit, originally for the Kyosho Optima. These are also all NIB. Unfortunately I only have two pairs of front shocks, but I will try to extend a pair and see if they give enough suspension travel. If not, I'll just use a pair of Kyosho golds at the rear.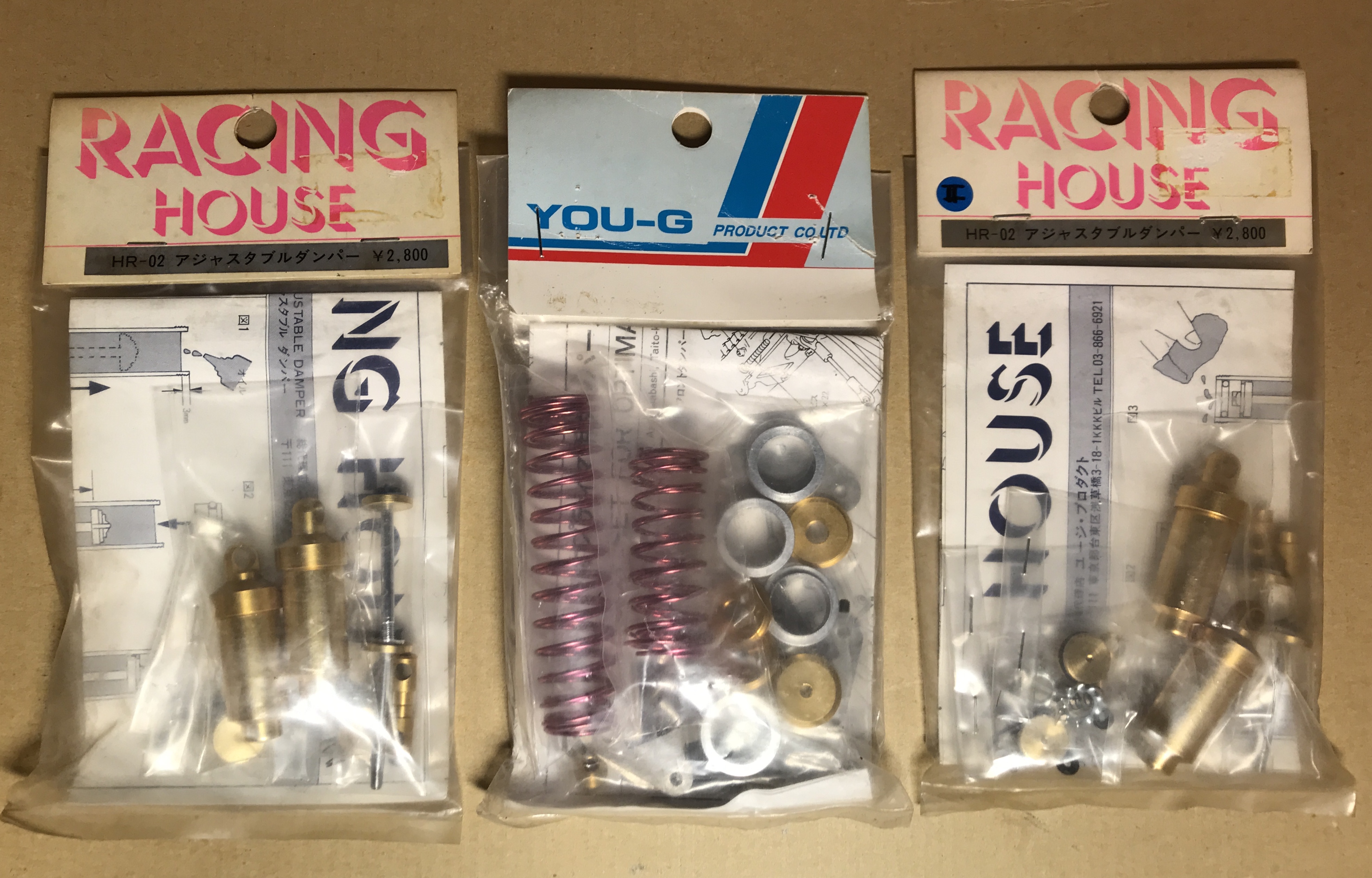 The You-G/Racing House shocks looks really good with the springs and retainers mounted.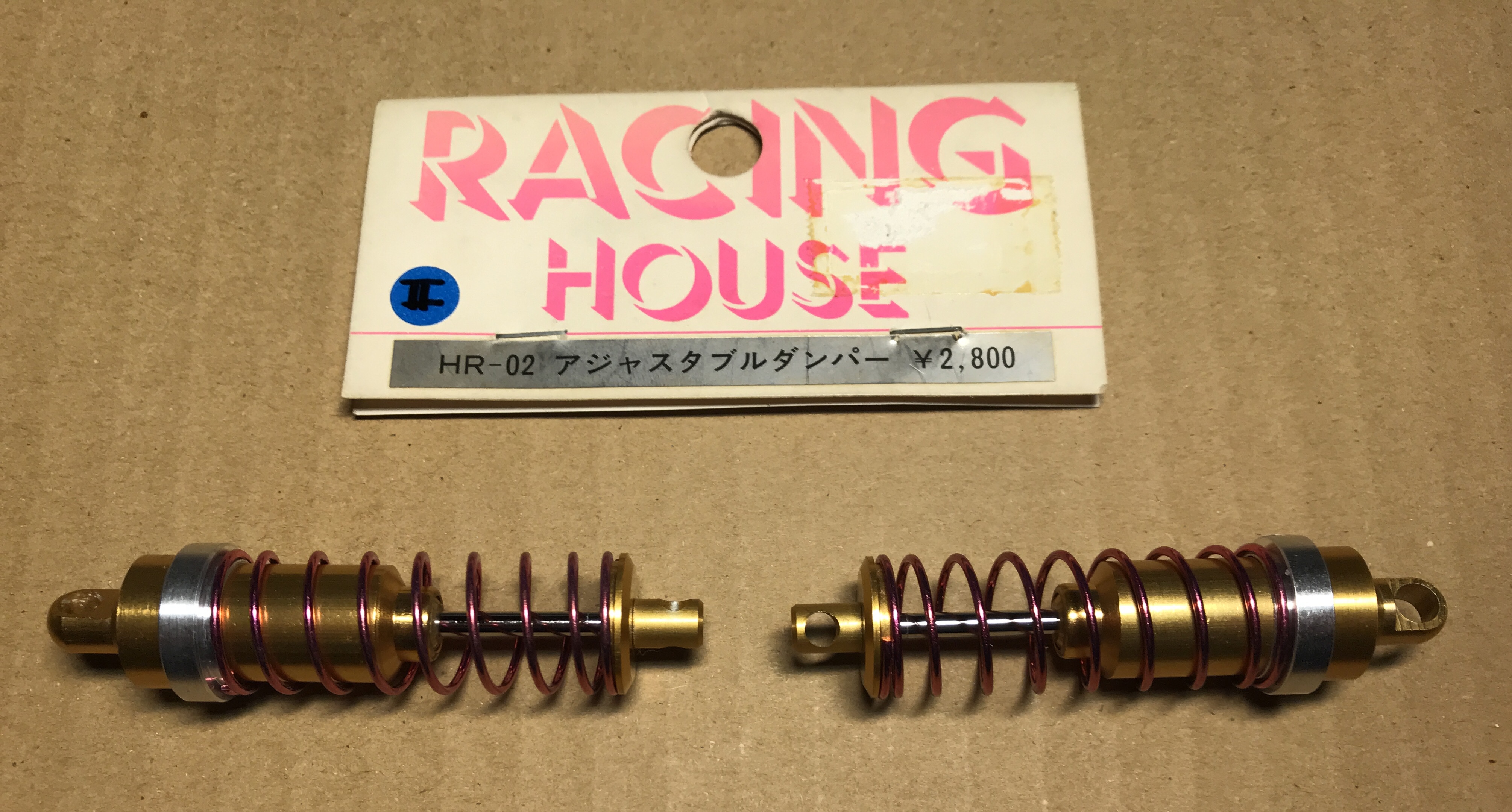 The wheels will most likely be the Pro-Line #2521 nylon wheels originally for the Hotshot series. I will use a set of hex to three-point adapters to make them fit the Avante. I haven't checked the offset yet, but if they won't fit I'll probably go for a set of Tamiya Avante lightweight wheels. If I use the Pro-Lines, I will use Schumacher T650 CAT tires all around, but if I go for the Tamiya lightweights I'll use the narrow T652 tires at the front. Anyway, the wheels and tires used will be NIB.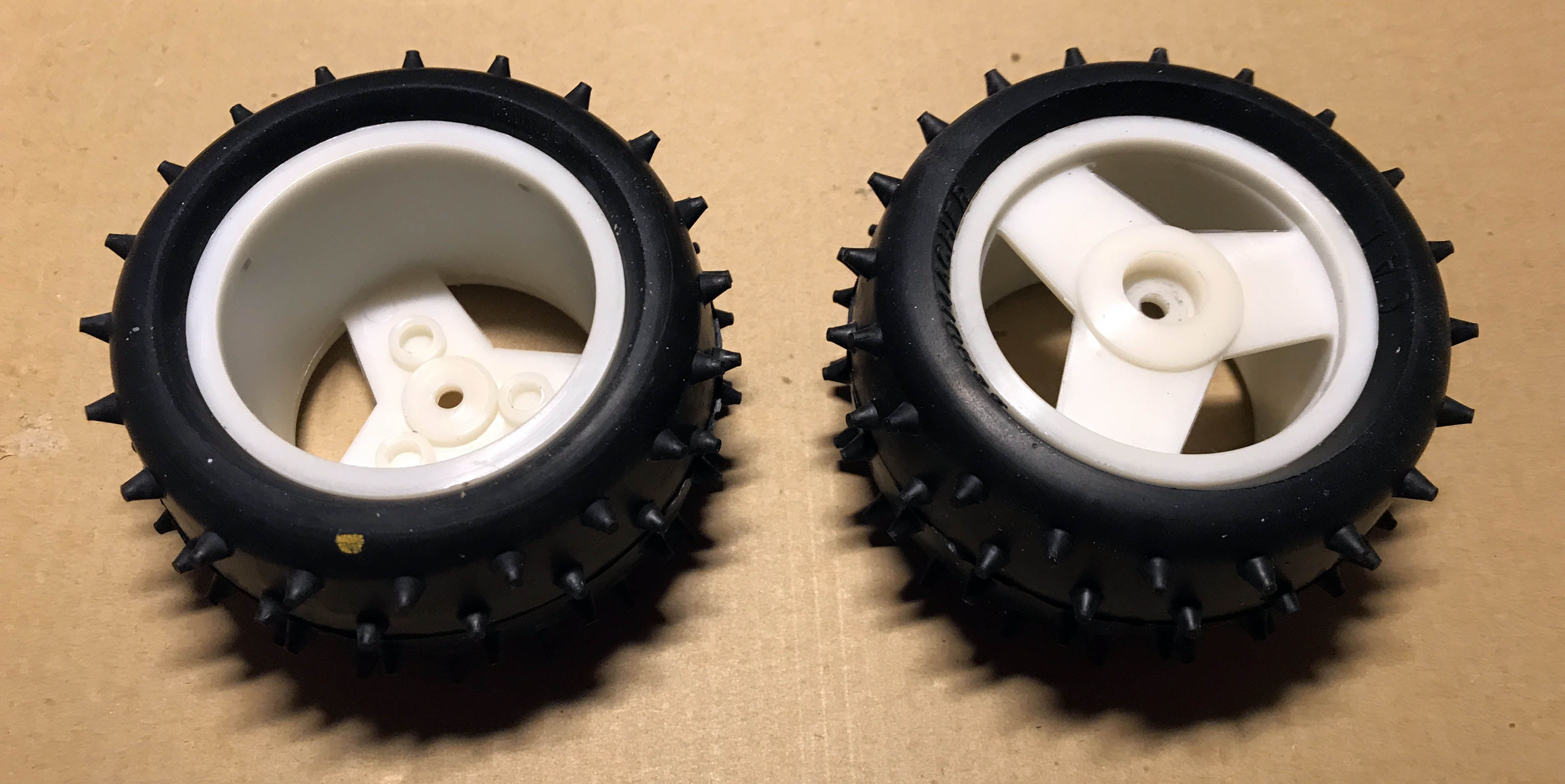 The motor I'm planning on using is a motor I built using a You-G OCT 962 SP can, with a Kyosho LeMans 240SB armature and either a Parma Intercooler end bell or a really insane Phoenix end bell. All brand new of course. As for the rest of the electrics, nothing is decided, yet.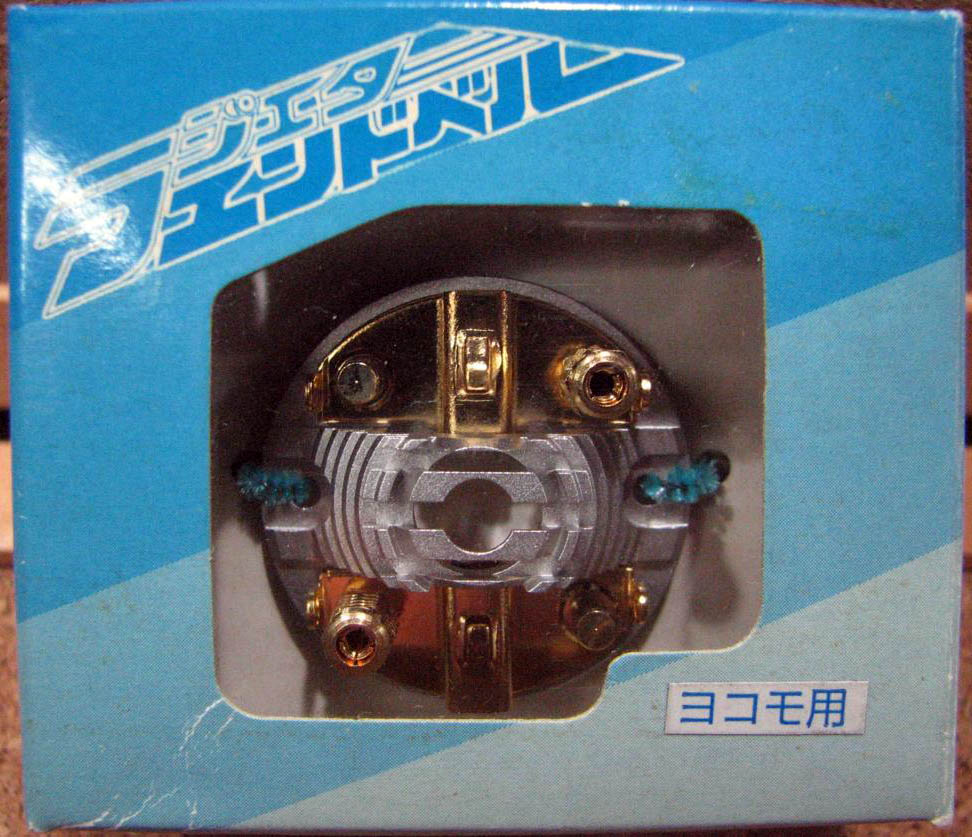 I will try using as much vintage parts as possible, but some of the smaller metal parts and hardware will be from the re-release. The suspension arms will also be from the re-release, as they look just like the vintage parts and should be less brittle than 30 years old parts. Not that the original 1988 arms were particularly weak or anything, they were probably some of the more durable parts on the 1988 Avante. I never broke any of those, at least as I can remember. But anyway, most of the parts will be new, and those that are not have only seen light use. What I don't have are the metal ball ends, and instead of buying originals, I found some very similar ones from China, where I could get 50 pcs. for the price of 4 originals. The China ball ends are 5 mm longer than the original Tamiya parts, but they should fit in most places. It should also be possible to cut them, if the length should be an issue anywhere.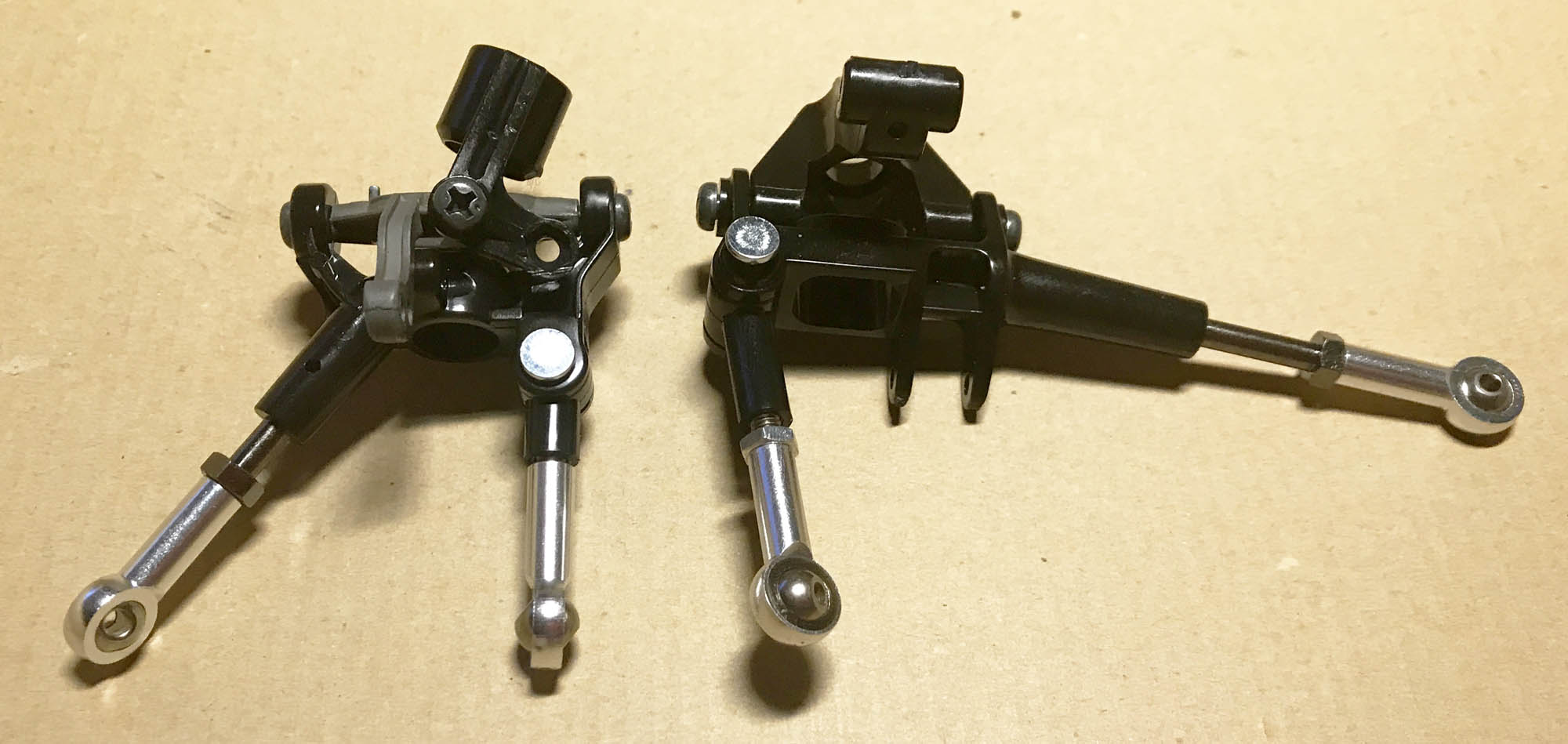 The weak front uprights
I'm a bit concerned about the front uprights, as I have never seen any vintage upgrades for these week pot metal parts, besides the re-release machined uprights that are much stronger than the originals, but also are very different in looks. Put them on and the car immediately looks like a re-release, not what I want. Solid sources say the originals were made from a top secret Israeli hi-tech space age compound of butter and cheese, and would bend out of shape by just staring at them for a prolonged amount of time. Take one of these in your hand, and you could easily pass for Uri Geller. And these were actually the second generation front uprights. The first generation, that were much shinier, even weaker, and only issued with the very first Avantes, have probably all vaporized due to global warming or something, as those are not seen at all these days. I still have a single one of those, stored in a safe place, away from the elements, long stares and warm touches. I will not be tempted to use the re-release uprights, so I'll have to go for the second generation cheese and butter. If anyone have ever seen vintage third party upgrades of these parts, please let me know.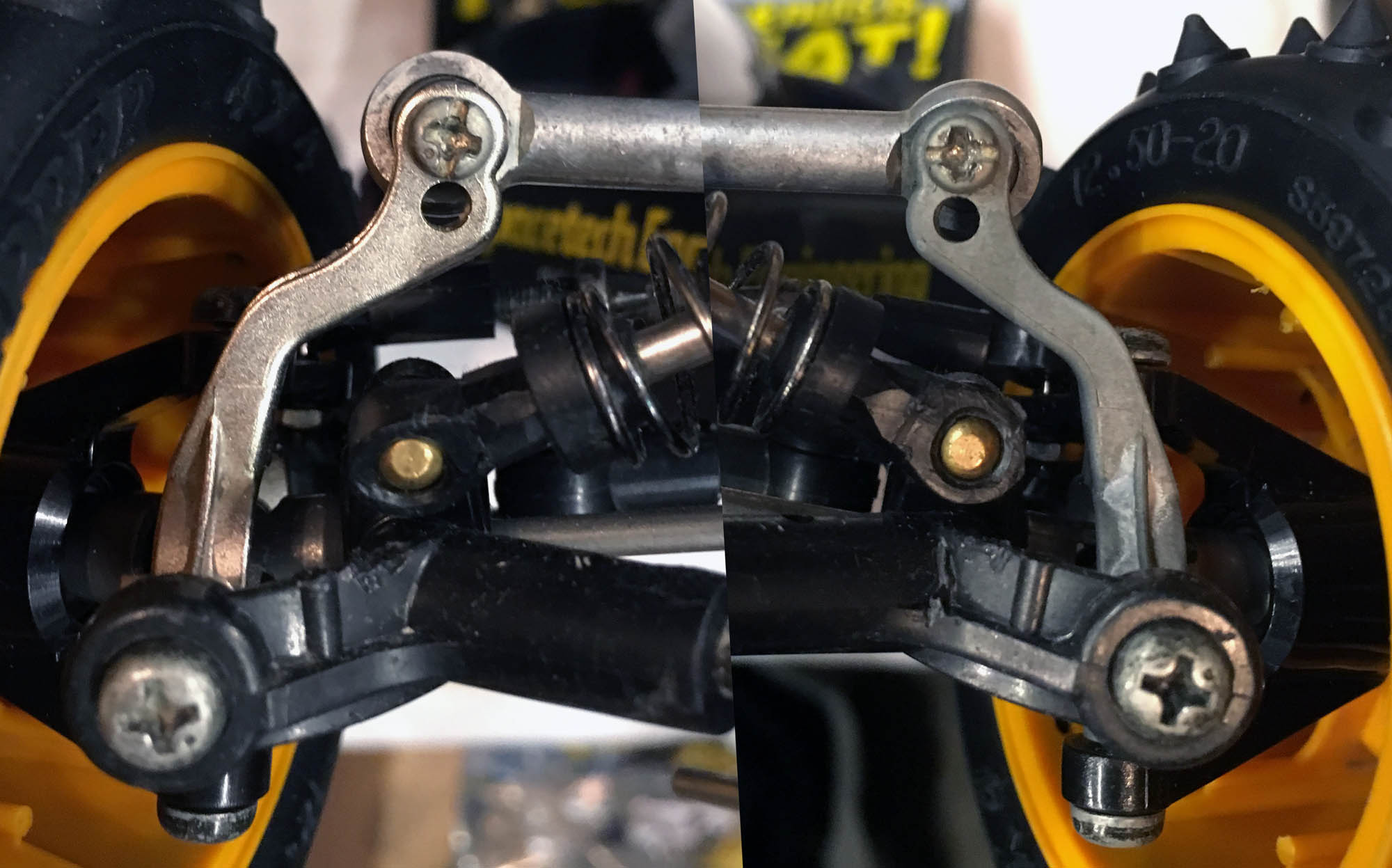 The body, a tribute to Y. Shimotori
When it comes to the body, I'm not sure…. The Dirt Burners! chassis kit includes instructions on how to use the original Avante body and under tray, so that is obviously an option. If I go for this, I will probably try to find an original or re-release body, and skip the third party re-pops. The third party bodies seem to be up to a cm shorter than the originals, and I don't want it even shorter on a stretched car. Ideally I would use the lightweight (thinner lexan) Avante racing body set from Tamiya, but I haven't seen any of those since I got one for my original Avante, back in the 80's. That body is trash now, but I still have it. It's much lighter than the standard body.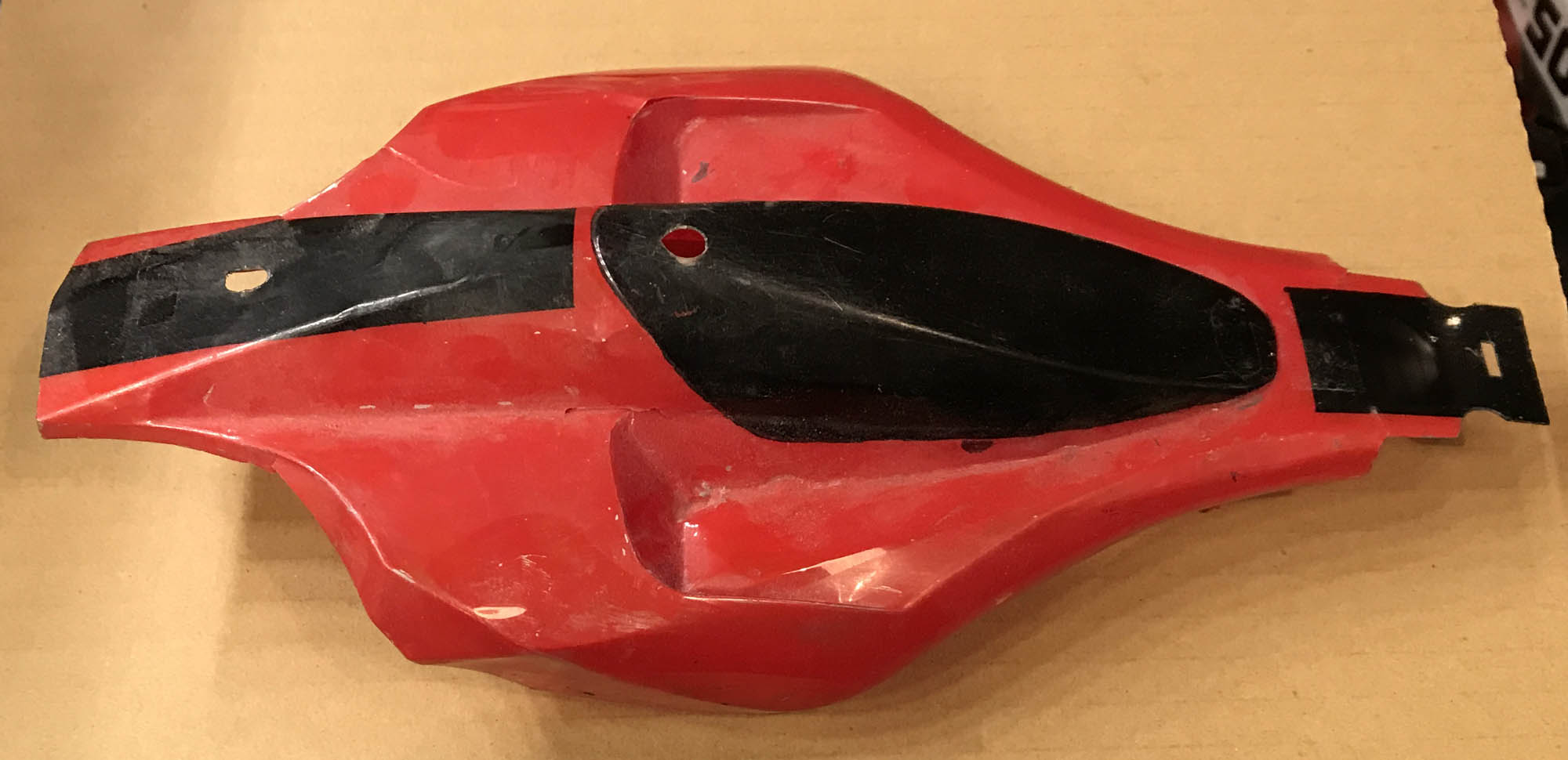 Another option would be to use an Optima Pro body, like the one I used on my home made LWB Avante back in the day. I managed to make it fit nicely.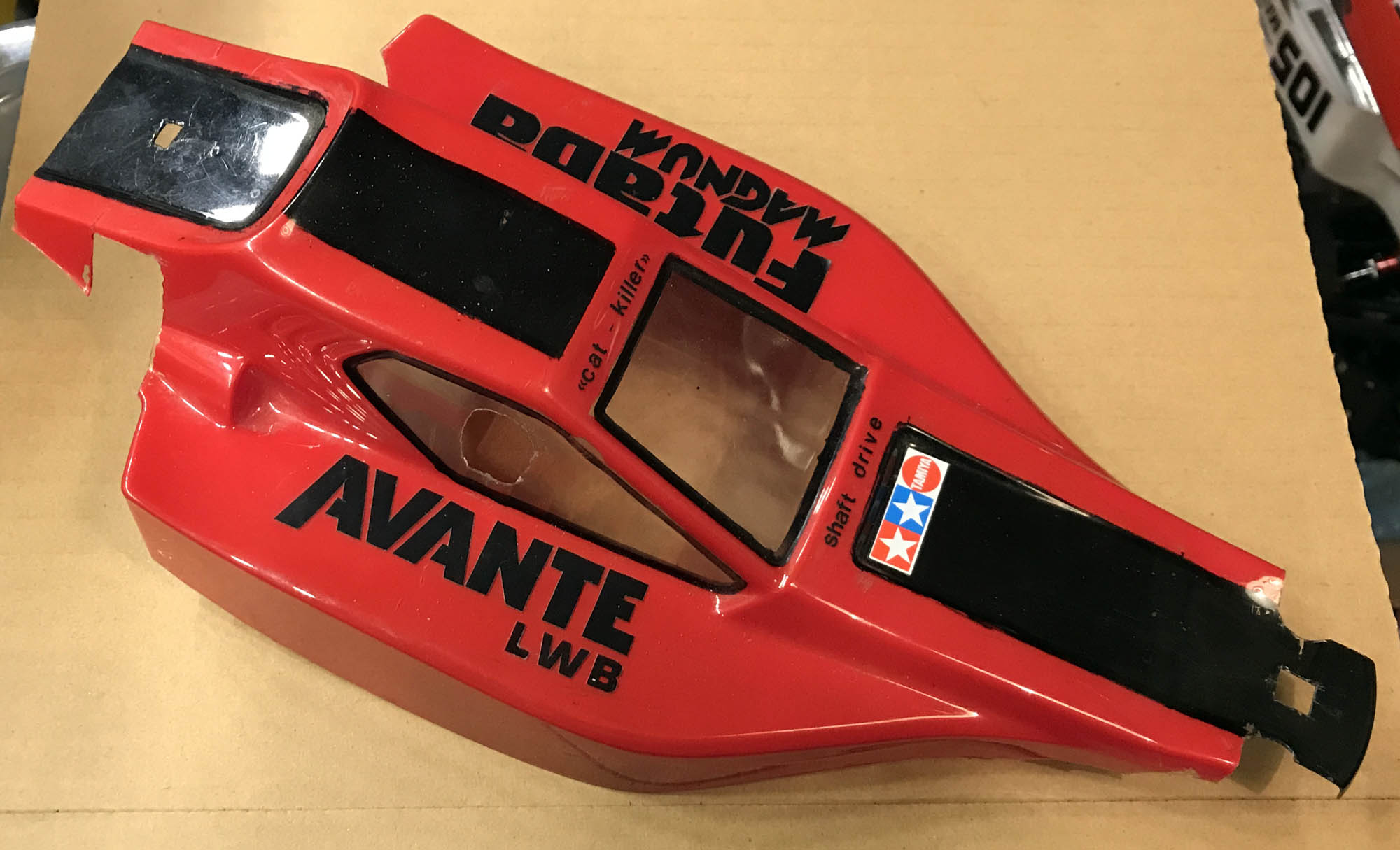 Whatever body I'll decide to use, I would love to paint it in a Y. Shimotori pattern/color scheme, to honor the late legend who so bravely went to the 1985 World Championships at the Ranch Pit Shop in Del-Mar, armed with a mere Tamiya Hotshot and a Hornet…..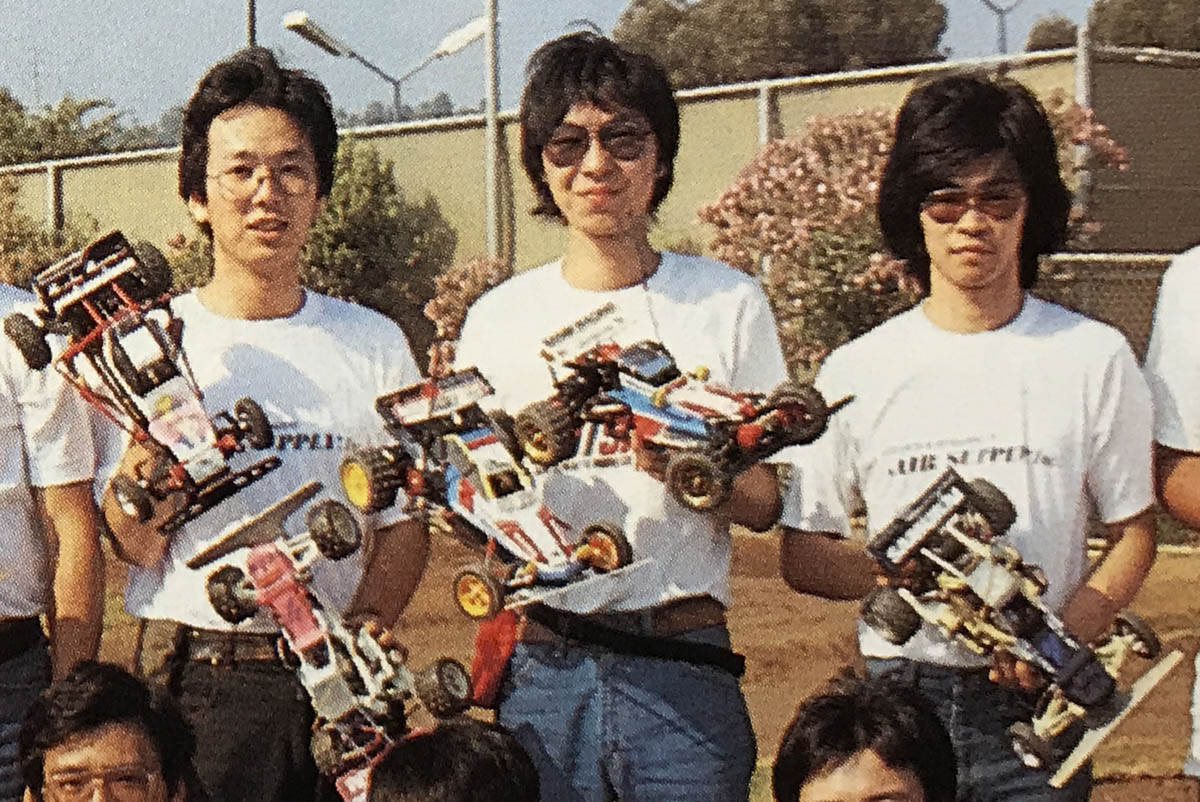 Yoshiaki Shimotori, or just "Y. Shimotori" as he preferred to be called, was a painting artist that had his own painting column in the Japanese "Super Machine" RC car magazine, and even appeared on TV-shows, painting RC cars. He was the one who painted Atsuhiro Ohnos original Torpedo Optima, but he was most known for his red/white/blue patterned color schemes. Y. Shimotori died in 2014 after a brave fight with illness, but his friends have formed a RC car club in his memory, the Y. Shimotori Memorial Driving Association, using his old paint schemes on the cars. A true legend!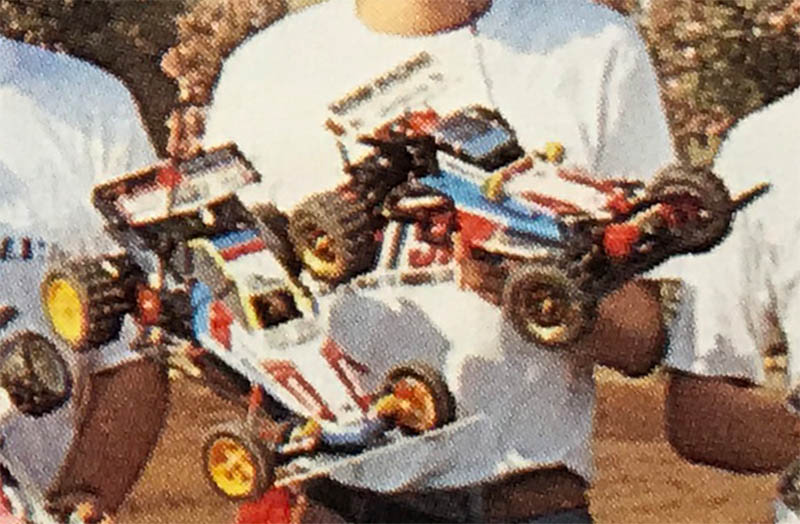 I believe the Hotshot he used in the 1985 WC is long gone, but here is an old Tamiya video where he briefly shows it (at around 1:40), and later in the video you can also see it being driven.
The Hornet used by Y. Shimotori at the 1985 Worlds still exists, and here is a more recent photo that shows how that Hornet looks today. It's a paint scheme typical for Y. Shimotori, and a style I would like to have on the Avante XL.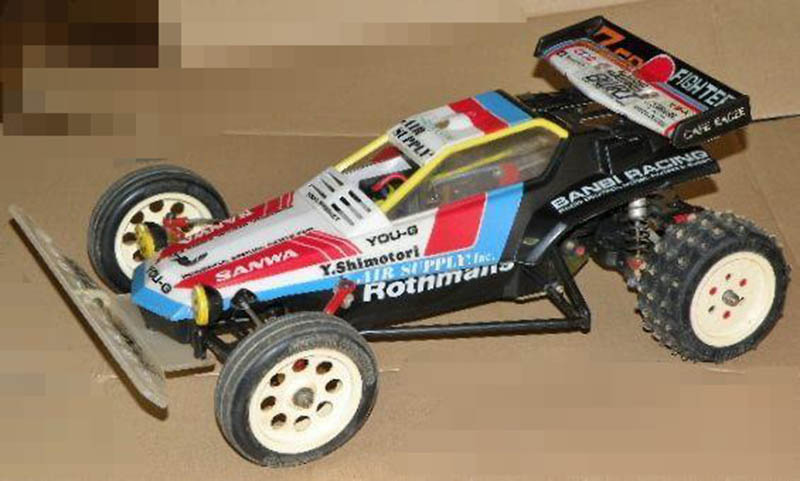 More to come in part 2.