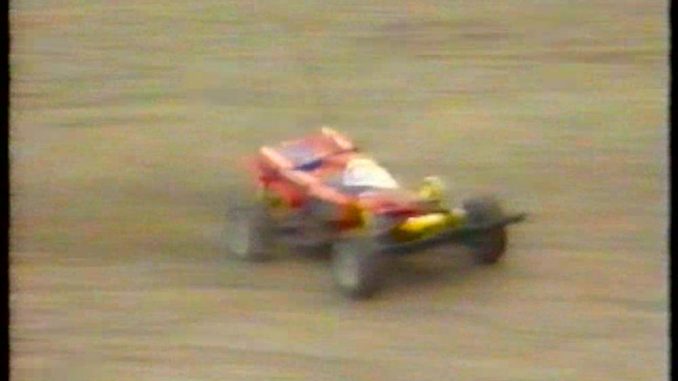 Stupid, stupid, stupid, you probably thought when you read the heading above. Who would add the extra weight of four extra shock absorbers back in 1987, when the big struggle was making the battery last the whole race? Going from a front mono shock to front dual shocks, like the Tamiya Super Shot, was essential, but adding two at the front, keeping the mono, and adding two more at the rear was probably not a smart thing to do, or was it? At least I felt like it was, back then. I did once run out of juice on the battery in a race with that car, but that was not because of the extra weight, but rather that the body came loose at the front, so I was practically driving with a parachute. Of course that happened in the A-final in my biggest race as a driver, the Norwegian Tamiya Cup Nationals in 1987.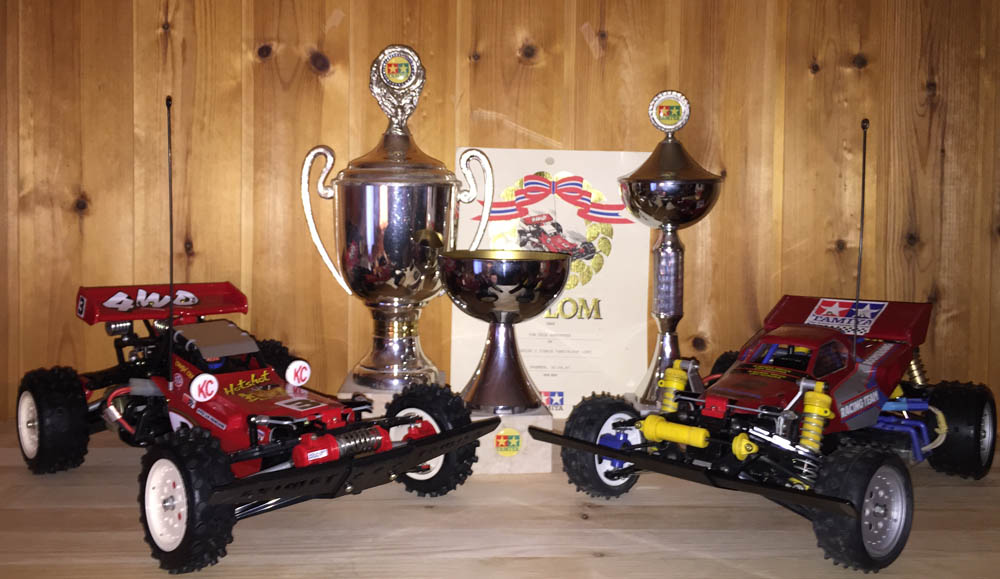 I never actually raced much as a kid, mostly because there weren't many races around where I lived, so expensive travels by plane was the only way to attend races. Of course, that was not much of an option for a kid going to school. But for a couple of years the LHS arranged local Tamiya Cup races, where you could try to qualify for the Nationals, where all expenses were covered for by the LHS and the national Tamiya distributor, Harald Lyche & Co. My first ever race was the local (Tromsø) Tamiya Cup in 1986, a race that I won, after a video recount of the rounds. In that race I used a plain and standard Tamiya Hotshot, and the race was arranged at a provisional astro turf track at an indoor soccer venue (Skarphallen). Winning that race qualified me for the Nationals in Drammen, but unforeseen circumstances did that I could not attend. Instead I was given a brand new Tamiya Boomerang kit, that I did some exhibition driving with at a local trade fair.
Here is a video from that race:
In the following year a few of us formed a club, in fact the first RC car club in Tromsø, and it was called TRCBK, short for Tromsø RC Bil Klubb (Tromsø RC Car Club). We tried to contact the Norwegian RC car association (NRCBF – Norsk RC Bil Forbund), but never received any reply from them, and never was registered. That didn't stop us from arranging a weekly series of training and races at a local school. We ran on a carpet with 1/10 off road cars, as that was what everyone had. We had separate classes for 2WD and 4WD, but apart from that everything was allowed. I raced first with a Turbo Optima, and later with a Turbo Optima Mid in the 4WD class and a brand new Ultima in the 2WD class. I won the 2WD series, and came second in the 4WD class, only beaten by my friend and his Schumacher CAT. I still have all those cars, and I believe both the Mid and the Ultima were only ever used in those indoor races.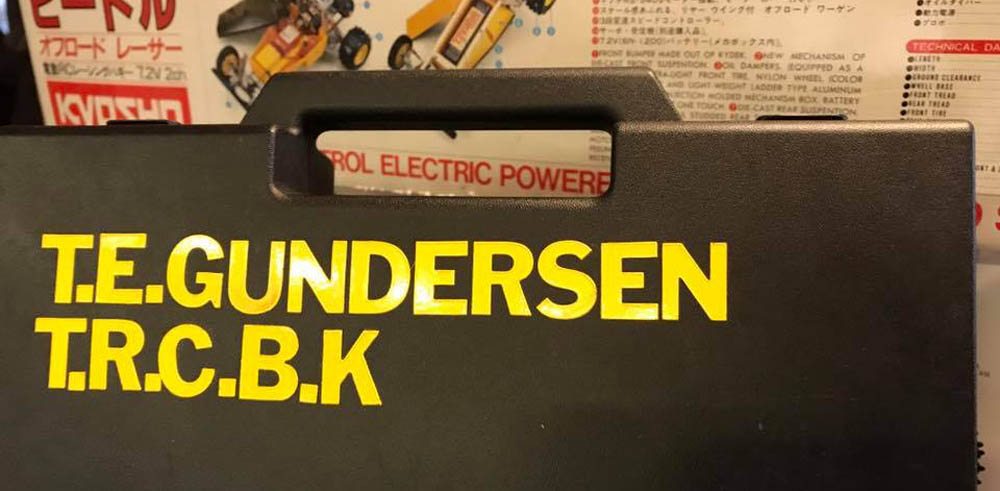 The next year I competed in the local Tamiya Cup again, and like the year before, I won. This time driving the Tamiya Boomerang that I won the year before, as we were only allowed to run Tamiya cars in the Tamiya Cup races. I had spent the whole year modifying my Boomerang for that race, and I had imported a few small hop-up parts from the US and England that I used. I had a CRP brace for the front upper A-arms, Shumacher CAT tires (although I believe I used Kyosho tires in the nationals), a Futaba FP-MC106B electronic speed controller, a Futaba Magnum Jr. radio, and a couple of brand new 8.4v Ni-cads, and of course a Tamiya Technipower motor. I also had some kind of extra magnet that wrapped around the motor. But the most radical modification was the Supershot upgrade shock kit, originally for the Hotshot. While mounting the kit on the Boomerang, I got the idea of not removing the existing shocks, and to change two of the rear shocks for the gold shocks from either my Turbo Optima or my Mid. I experimented a little with removing the springs on some of the shocks, and finally ended up with a setup I liked. I liked that the car was heavy, as that made it stable, and driving it felt like pulling on a wet towel. My new batteries had no trouble lasting the distance, so I decided to go with this setup. This year the race was held outdoors at a provisional asphalt track, but I don't remember much of that race, besides that I won, quite easily.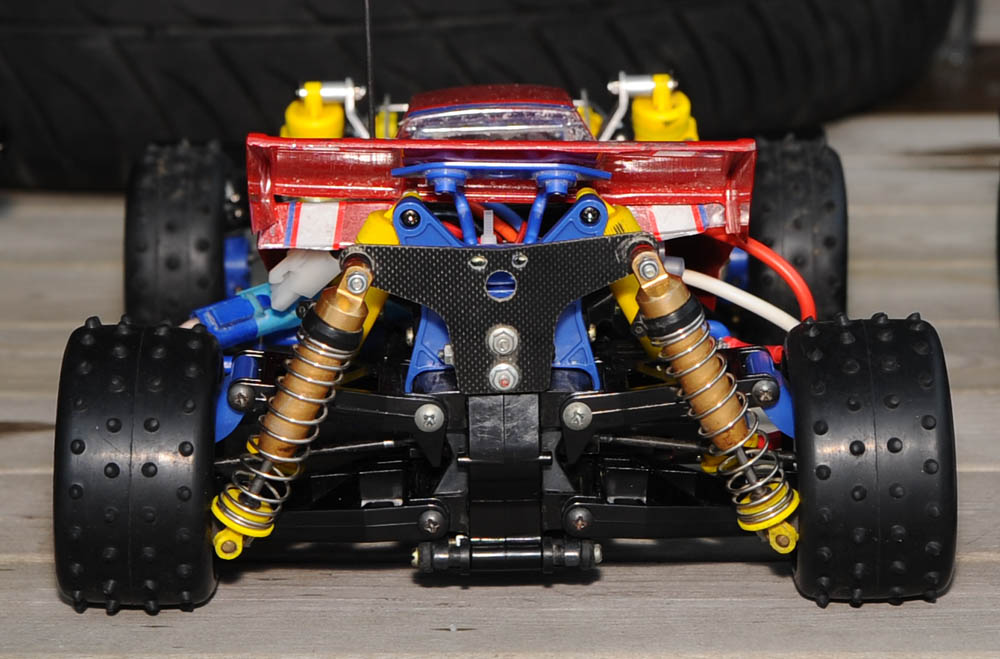 So once again I was qualified for the Nationals in Drammen, and this year I did go. Everything was arranged for us, and I was picked up at the airport and driven to Müller Hotel in Drammen. All the racers received goodie bags from Tamiya with various promo stuff like stickers, patches, catalogs and a Monster Beetle jigsaw puzzle. I also believe I got a Tamiya bag, but that could have been something I bought, I just don't remember. There were 68 participants from all over Norway, and with the local qualifying races there had been more than 2000 drivers involved. On Saturday there were qualifying rounds, and everything went smooth, and I snatched the last direct spot in the A-final, at least that was posted on the result table. Later when we were handed out the lists I discovered I was suddenly moved down the B-final. Not wanting to make any fuzz about it I was prepared to let it go, thinking there probably had been an error on the initial result list, or that I maybe had read it wrong. I was however convinced by other drivers that I should at least go to ask for an explanation. So I did, but nobody could explain why I had been moved down to the B-final. Eventually they sat down to go through my results and the results of the guy who was given "my" A-final spot, and they actually came to the conclusion that our results were exactly the same, and impossible to separate. They concluded that the system probably had separated us using the alphabetical order of our names. As the number of cars in each heat was limited to the available frequencies it wasn't an option to let us both into the A-final, so it was decided we should race a "knock-out" qualifier before the finals on Sunday. We both agreed to that, and when Sunday came, I totally smoked him in that knock-out race.
Here is a video of some of that knock-out race. You'll find the full Tamiya Cup 1987 video further down.
Like on Saturday everything went smooth, and I could start preparing for the A-final. On Saturday I had used a standard 540 motor, as that was the only motor allowed we were told. On Sunday I heard rumors that most of the drivers had used various modified motors, and nobody in the race management had said anything. Luckily I had packed my Technipower motor, so of course I put that in my Boomerang. If everyone else were doing it….. Then it was time for the A-final, and even as we were preparing the cars on the starting line, things started to go wrong. Occasionally the car would "twitch" and start running and stopping, like someone was on my frequency. Then the disturbance disappeared, and everything seemed fine.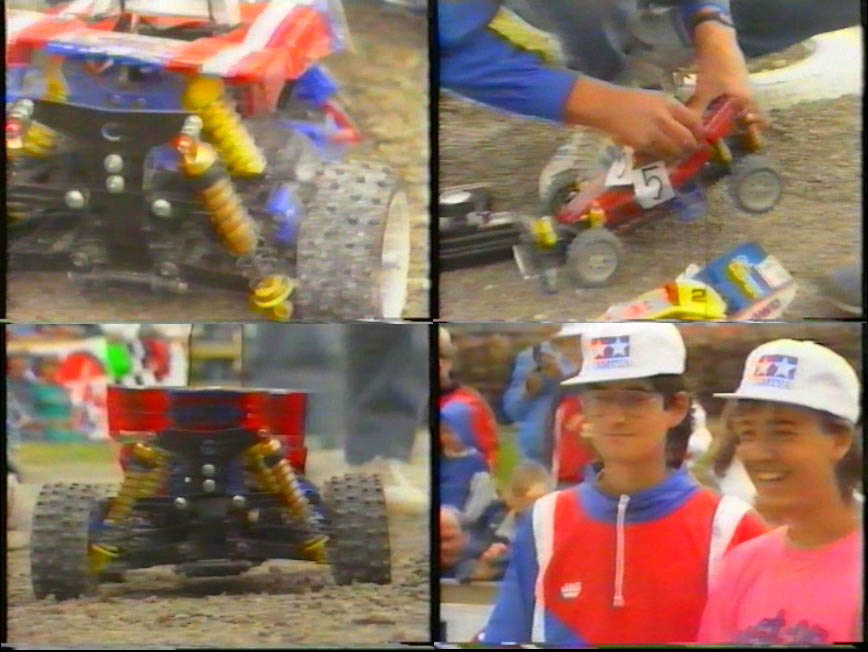 The race started and I held a good pace, keeping up with the best, fighting around 2nd to 4th spot. One of the racers in front of me was the later to be WRC Rally World Champion Petter Solberg, and among the others was the guy I had beaten in the knock-out round. He had gained the A-final spot by winning the B-final. I really felt things were going my way, and that I was competing for the podium. But then disaster struck! The disturbance I had experienced before the start came back, several times. One of the times, after more than half the race was done, I lost control and the car flipped around and the body shell came loose at the front, and with no mech assistant and none of the marshals being able to figure out my "agricultural" way of mounting the body, I had to run the last of the race with my body wide open, like a parachute. This, of course, drained the battery, and I barely managed to reach the finish line. The strange thing is that I never ever experienced those disturbances neither before or after that day. I'm still convinced that someone was playing with a transmitter on my frequency in the pit.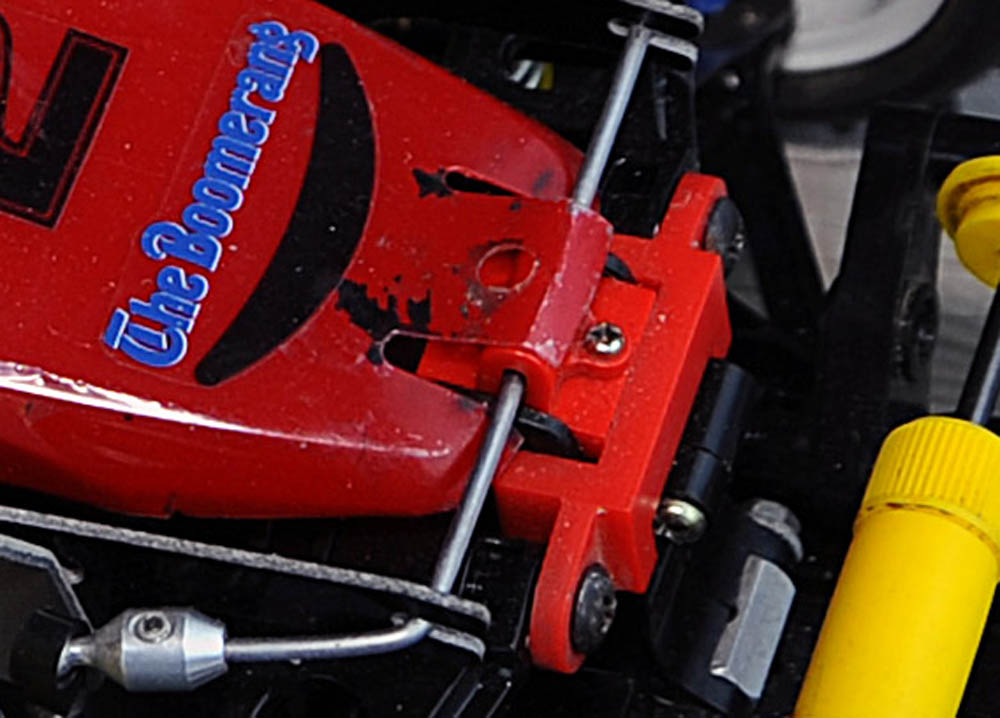 Here is a small video snippet of Petter Solberg being asked about his Bigwig from the 1987 Tamiya Cup. It was a Facebook live interview and I sent a question asking if his new Rallycross Volkswagen was better than his Bigwig from 1987.
Interviewer: Tom Erik is asking if your new car is better than your Bigwig from back in 1987?
Petter Solberg: Nothing beats the Bigwig, no chance!
Interviewer: What is a Bigwig?
Petter Solberg: That's the radio controlled car I raced with in the Norwegian Nationals.
Well I became 6th of 68, or 2000+ if you count the local qualifying rounds, and I was really happy with that. This was actually my very first race on a real off-road track, as all other races I had participated in had either been on astro turf, carpet or asphalt.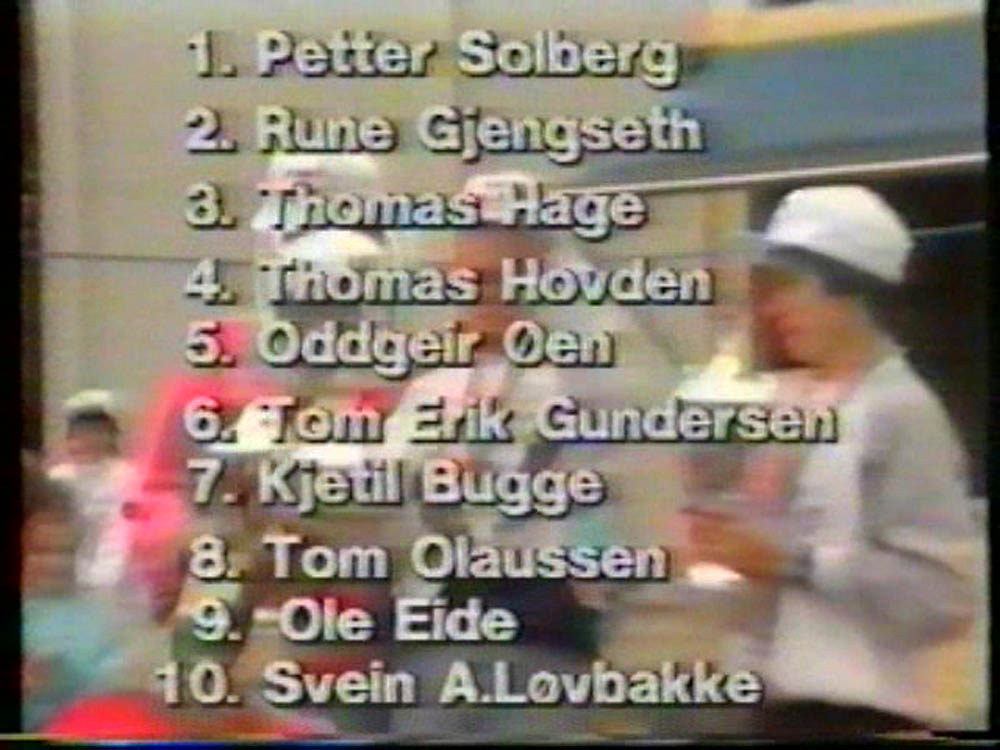 The next year, in 1988, I did not participate in the local qualifier, as I had started my military service. My friend, who had been second the two previous years won the locals, and went to the nationals. I was given a leave from the service to go being his mech assistant, but I don't believe he made it to the final rounds. Myself, even to this day, have never raced again.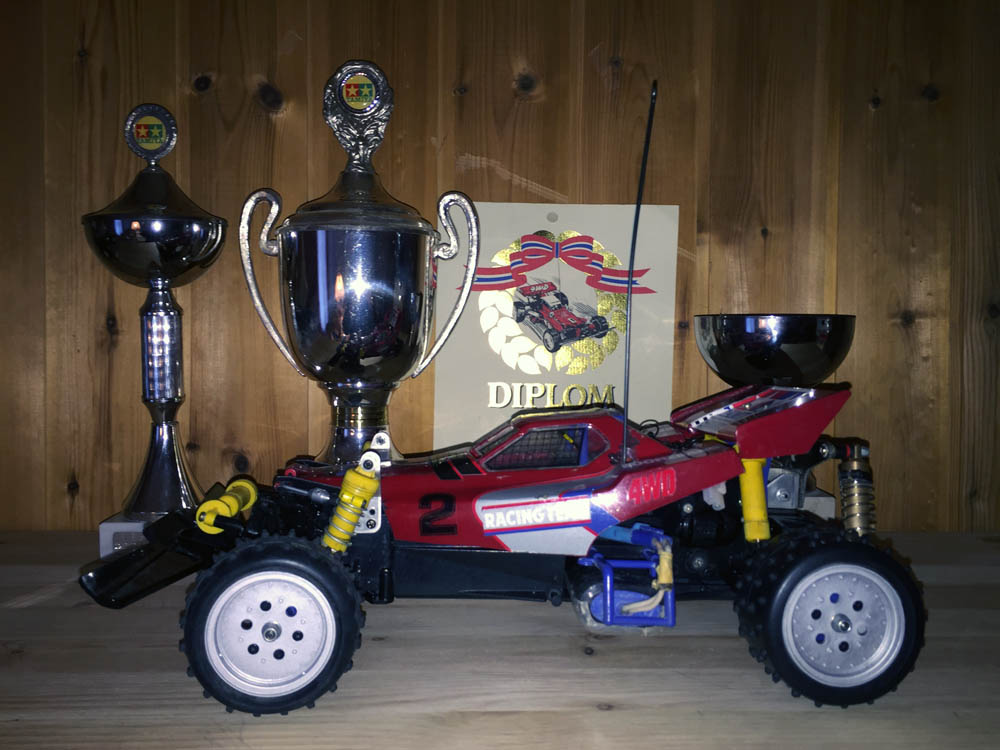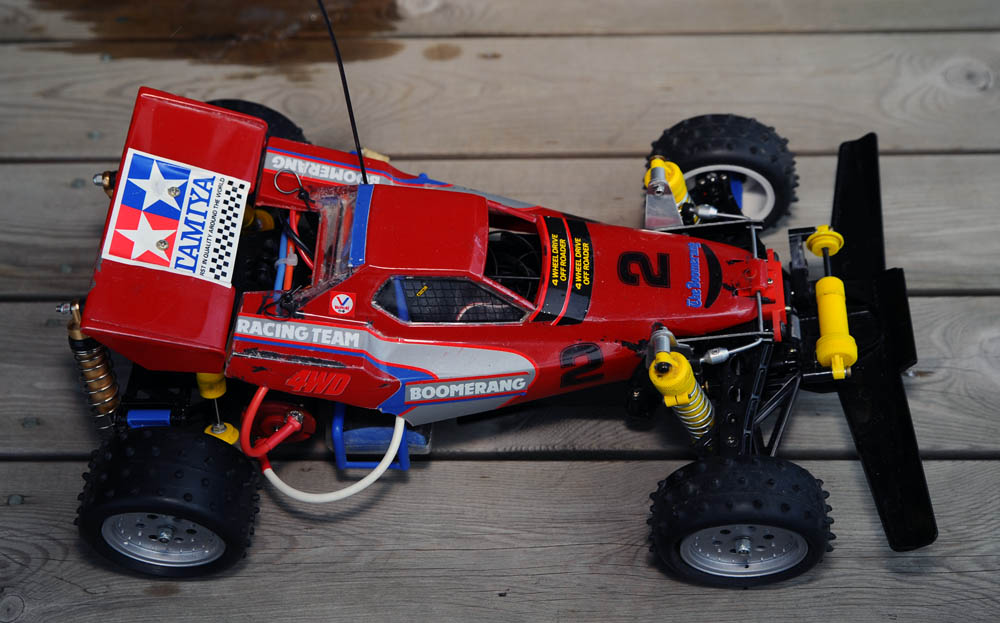 Here is the full video from Tamiya Cup 1987:
Well…. it seems I wasn't the only one experimenting with extra shocks on their Boomerangs…… This is from a Dirt Burners ad that I found in a Japanese magazine. Maybe I was on to something after all….?