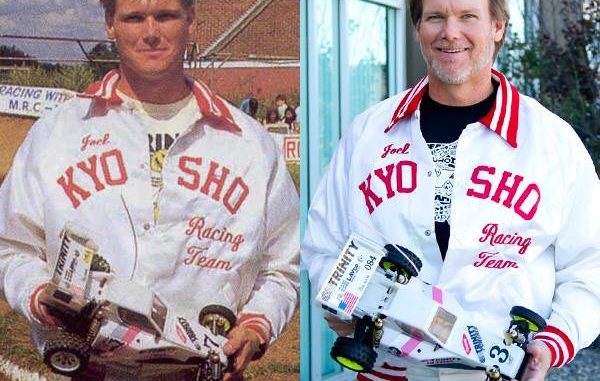 Well, now that it's (to the day) the 30th anniversary for Joel Johnson's legendary victory with the Kyosho Ultima in the 1987 Romsey World Championships, and Kyosho seems to have missed the window of opportunity to celebrate, we'll just have to make our own party!
HAPPY 30TH ANNIVERSARY, JOEL JOHNSON, AKIRA KOGAWA, ERNIE PROVETTI, TEAM KYOSHO INTERNATIONAL AND TEAM TRINITY.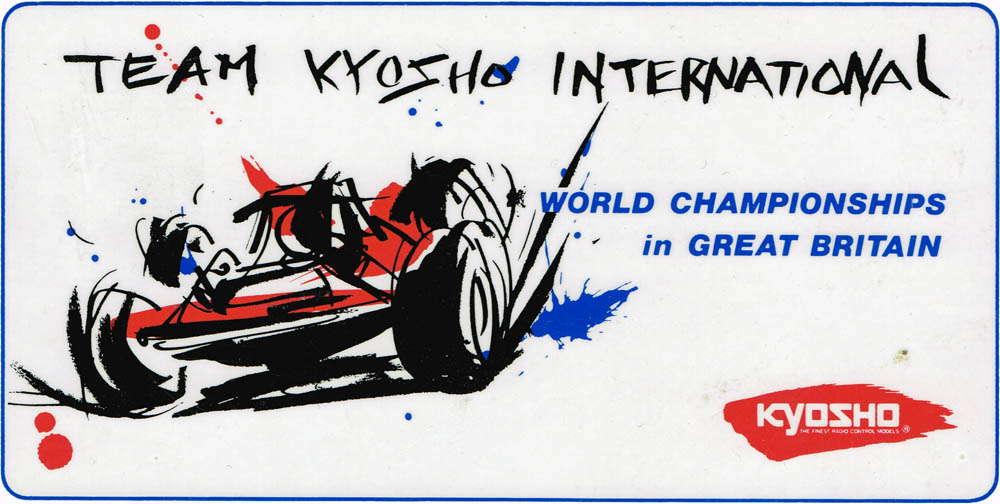 As many of you know, Joel Johnson's 1987 WC Ultima is quite different from the Ultima kits released to the public. The kit most like Joel's car is the Ultima Pro. But even so, there were actually very few custom made parts, as most of the car could be built with hop-ups from various sources and brands. I have been "investigating" since back in 1987, and about 10 years ago I was in contact with Joel, and did a small series of e-mail "interviews", where he told me everything he remembered about the car. The goal was to write an article, and try to have it published, but that never materialized, other than a story on my old web site, with a list of the special parts he used. A couple of years ago I was contacted by the late Daniel Rowlands, who asked if I could assist him in restoring what was left of the original car. That lead to a series of blog entries that I published on my old web site, and did a round up of, here on the new site. Please read it if you haven't already done so. During that restoration I believe we managed to piece together the last pieces of the puzzle, and make a somewhat verified list of different parts used on that car. Most of these parts are hard to come by today, so I will try to list what I would consider suitable replacements, wherever that is possible. For purists it would probably be a no-no to use replacement parts, but then you should brace yourself for quite some years of searching….. At least then you'll have the time to save up for what it would cost you 😉
The body and wing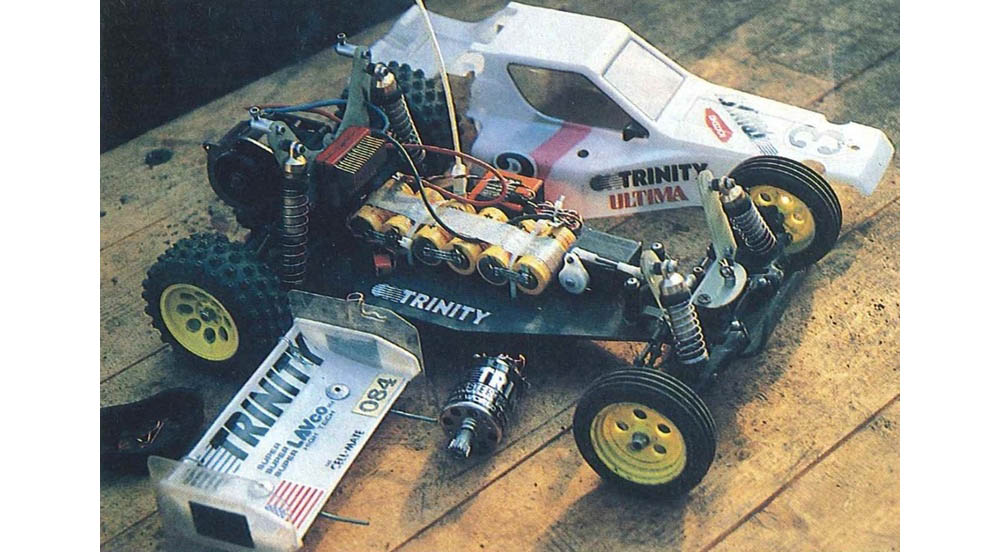 I'll start with the body from the Kyosho Tomahawk buggy. It was painted white, with silver and pink stripes on the sides. The body had the original Tomahawk bolt-on mirror on the right side. The wing was a Kyosho Optima Mid wing. The Optima Mid was raced at the same event in prototype form, and finished second behind Masami Hirosakas Schumacher CAT XLS (only named CAT XL back then). Well back to the Ultima. The wing was painted white (a very lousy paint job, actually), and had large transparent side plates, mounted with black servo tape. If you want the body to look like it did in the qualifying rounds of the World Championship, just change the #3 decals to #7.
Original body: Kyosho SC-71 Tomahawk body parts set.
Possible replacement: Kyosho SCB-004 Tomahawk 2015 body parts set or Team Bluegroove Tomahawk repro body (no mirror).
Original wing: Kyosho OT-107 Optima Mid wing (with transparent winglets).
Possible replacement: Team Bluegroove Optima Mid wing.
Decals: Make your own, or see if you can find a reproduced set.
The chassis


Joel did not use the standard style chassis, although the Ultimas that came in 2nd and 3rd did. The chassis used by Joel was a flat graphite Trinity chassis. It was made by Composite Craft, and sold by both Composite Craft, Trinity and D&D. The chassis used was the solid version, not the one with saddle pack cut-outs. These chassis plates are hard to find, and also very difficult to reproduce due to the hard to find no-weave graphite material and the front kick-up.
Original chassis: Trinity #8028 Ultima chassis plate, or Composite Craft or D&D Ultima chassis plates.
Posible replacement: Trinity, Composite Craft, D&D Ultima chassis plates with saddle cut outs. The Duratrax Ultima chassis could also be used as a replacement. It's easy to distinguish the Duratrax chassis from the Trinity chassis as the Trinity chassis has a longer "tail" behind the screw holes at the rear.
The motor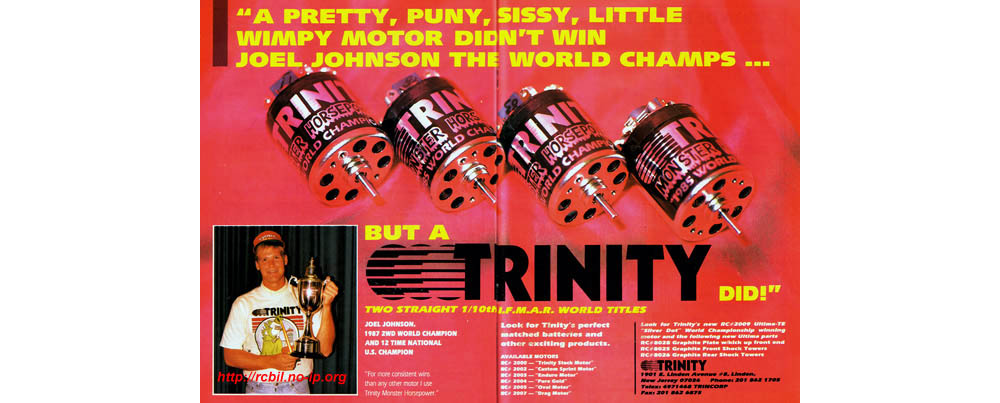 When they arrived in Romsey for the event, they realized that the track was very flat with almost no loose dirt at all. It actually reminded them of a on-road track. That made Trinity boss Ernie Provetti call Trinity HQ in USA, and had them send a special triple wound motor by express mail. That was the only motor Joel used in the competition.
Original motor: Trinity Monster Horsepower #2004 Pure Gold silver can with 17×3 armature. You will be looking for a motor that says "1985 WORLD CHAMPIONS".
Possible replacement: Any silver/black can with silver/black label Trinity Monster Horsepower motor.
The shock towers

Earlier it was reported that Joel used Trinity shock towers on his car, but these were only made as graphite parts (the same Composite Craft material as in the chassis) and not fiber glass as seen on his Ultima. The set he used was the green/yellow fiber glass towers from JG Mfg (John Gudvangen Manufacturing). I'm not sure about the part numbers of those JG shock shock towers.
Original shock towers: JG Mfg fiber glass Ultima shock towers.
Possible replacements: Reproductions made by Jeff Malar at Factory Works, or maybe the graphite Trinity #8025/8026 towers.
The shock absorbers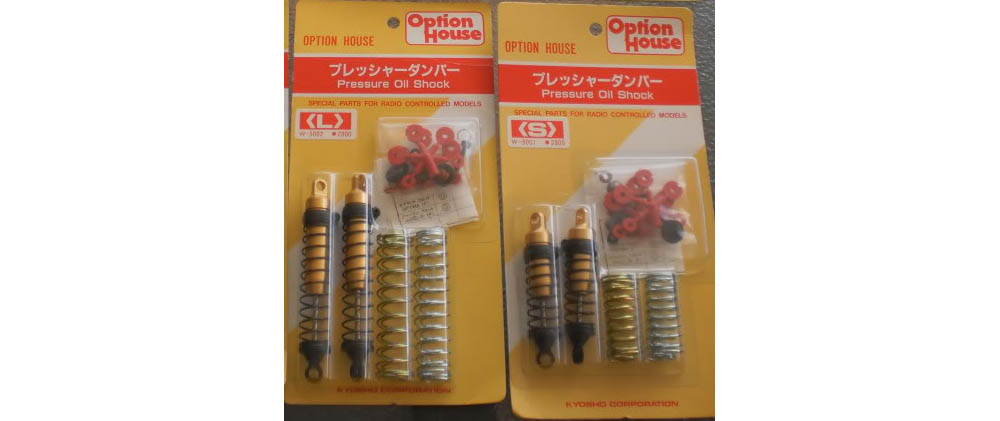 The shocks used were the standard Kyosho Option House gold shocks, found on the Turbo Optima and many of the Optima Mids.
Original shock absorbers: Kyosho Option House W-5001/5002 short and long gold shocks.
Possible replacements: Duratrax gold shocks or the current chinese gold shock reproductions.
The wheels


The wheels used on the car in the finals were yellow dyed Kyosho Turbo Optima wheels at the rear, and yellow dyed Turbo Scorpion (cookie cutter version) wheels at the front. If you want to make it as it was in the qualifying rounds, just leave the rear wheels white.
Original front wheels: Kyosho Turbo Scorpion (cookie cutters) wheels, dyed yellow. I don't know the part #.
Possible replacements: Kyosho SCH007W front wheels (white) for Tomahawk 2015, or strip the "silver" plating from a set of original Tomahawk wheels, and dye yellow.
Original rear wheels: Kyosho OT-67 low profile wheels, dyed yellow in the finals, and white in the qualifying rounds.
Possible replacements: Kyosho Option House W-5023 low profile wheels (yellow).
Original dye: Lightspeed Dylon #0200.
Possible replacement: Any fluorescent yellow dye, or maybe even some fluorescent yellow paint?
The tires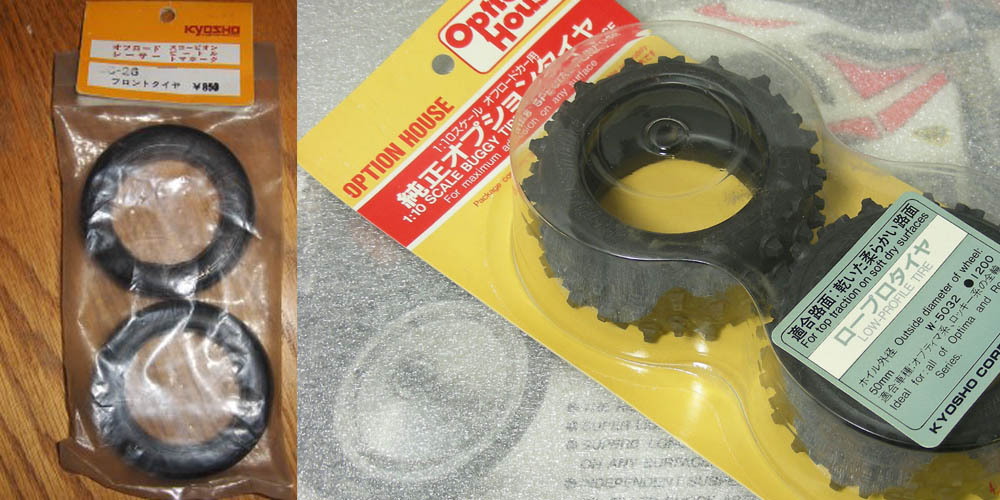 At the front the original Ultima tires were used. The rear tires were Kyosho Option House four row, square pin tires.
Original front tires: Kyosho Ultima (and Scorpion) SC-26.
Possible replacements: Turbo Scorpion SC-90 tires or Marwan SC-90 repro tires.
Original rear tires: Kyosho Option House W-5032 rear tires.
Possible replacements: Kyosho Option House W-5031, W-5077, W-5078 or even the "standard" OT-66.
The motor guard

The motor guard used was the champagne/brownish variant of the standard motor guard for the Ultima.
Original motor guard: Kyosho UM-28 (champagne/brownish).
Possible replacement: Kyosho UM-28 (any other shades), or the repro from Pargustore (dark grey).
The turnbuckles


The turnbuckles for both the upper suspension control links, and the steering links were from the Option House special rod set.
Original turnbuckles: Kyosho Option House W-5005 special rod set.
Possible replacements: Any other adjustable turnbuckles, preferably black.
The universal swing shafts


Instead of the standard dog-bones, Joel used the Option House universal swing shafts.
Original universals: Kyosho Option House W-5061 universal swing shafts for Optima, Ultima and Optima Mid.
Possible replacements: Any other brands of UJ's, even the newer ones meant for pin locked hexes.
The gear cluster

The gear cluster outside the actual gear box was made by Robinson Racing, and was of the finer 48 pitch variant. These came in both black, white and blue, but the spur used by Joel was black, while the counter gear probably was white. The number of teeth on the spur are unknown, but was probably 58. Beware when buying these spur gears, as poor quality control by Robinson Racing let through a lot of these gears that wasn't completely round.
Original spur gear: Robinson Racing RRP-3158 (black)
Possible replacement: Any other colour of the RRP-3158, or something close to 58T, like RRP-3156 or RRP-3160.
Original counter gear: Robinson Racing RRP-3142.
Possible replacement: Robinson Racing have some under- and over-drive gear clusters that comes with both a spur- and a counter-gear. I would have considered using one of those sets, if I couldn't find the RRP-3158 and RRP-3142 gears.
The differential

Here there is actually a bit of controversy. The thing that is certain is that Joel used a ball diff. Akira Kogawa made a prototype ball differential, that I know several Team Kyosho drivers used in the event, and Kogawa believe Joel was one of them. Joel only remembers using a prototype ball diff, but unsure if it was Kyosho or Thorp. Since those prototypes are impossible to get our hands on, and we're not sure about the origin, I'd say any Ultima ball diff will have to do.
Original ball diff: Kogawa/Auto Model/Kyosho prototype or Thorp prototype.
Possible replacement: Any Ultima ball diff, eg. Kyosho Option House W-0109 or Thorp #4660.
The ball bearings

Nobody knows if Joel actually used the Option House ball bearing kit, even if Kyosho claimed so in ads (they also claimed he was using the Kyosho UM-26 shock tower set, which he obviously didn't). So here I'd say, use any good quality ball bearings, and you're good.
Original ball bearings: Unknown, however Kyosho said it was the Kyosho #1974 kit.
Possible replacements: Any good quality ball bearings.
The wing buttons


Joel used Trinity's plano-convex wing buttons, in natural aluminum colour.
Original wing buttons: Trinity #6008 wing buttons.
Possible replacements: Wing buttons from the Scorpion Kyosho SC-62 wing mount kit.
The wing mounts

Joel used a pair of bullet style Yokomo Dog Fighter wing mounts, mounted on the rear side of the rear shock tower.
Original wing mounts: Yokomo Dog Fighter ZC-110.
Possible replacements: Any bullet style wing mounts.
The antenna mount

A standard Associated RC10 antenna mount was used.
Original antenna mount: #6338 from the Associated RC10.
Possible replacement: #6337 from the re-re RC10 Classic/Worlds or make your own from a piece of nylon, or 3D print one.
The servo saver linkage


The linkage from the Associated RC10 was used. The linkage from the servo is also the same RC10 type.
Original servo saver linkage: From the Associated RC10, I don't have the part numbers.
Possible replacement: Linkage from the re-released Associated RC10 Classic or RC10 Worlds Car.
The servo saver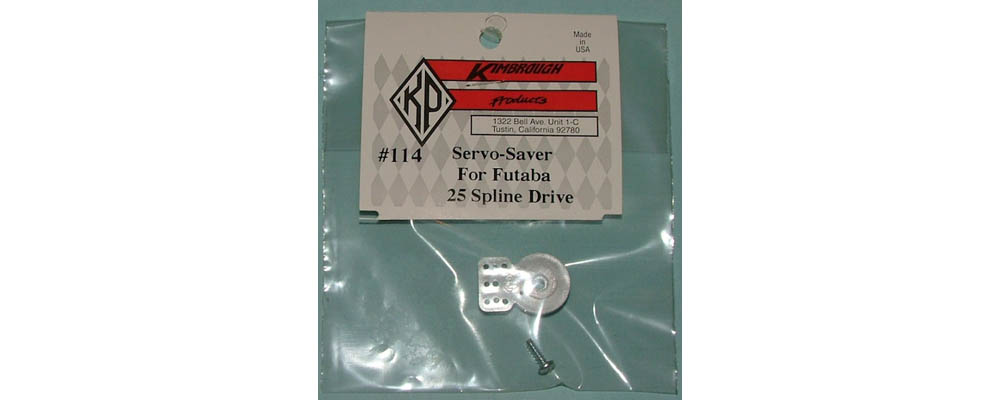 The original servo saver was locked with a nylon zip tie, and a white, slightly cut, servo mounted Kimborough servo saver was used.
Original servo saver: Kimbrough #114 servo saver for Futaba (25 spline).
Possible replacement: Any other direct mounted servo saver.
The front body post


The front body post that Joel used is from the Kyosho Scorpion.
Original front body post: From Kyosho Scorpion.
Possible replacement: Body post from the re-released Kyosho Scorpion.
The front body post fiber glass plate


The oval cut fiber glass plate used to hold the front body post was actually one of the few custom made parts on Joels car, and could easily be made from a piece of fiber glass.
The chassis weights

Two British 1 Pound coins were stacked and glued to the left side of the chassis. Any 1987 or pre 1987 1 pound coins (of the same type as those years) could be used.
The transmitter


Joel told me he was using the 1985 version of the KO Expert EX-I.
Original transmitter: KO Expert EX-I, 40MHz, 1985 version.
Possible replacement: Any old KO transmitter of the same shape as the '85 EX-I.
The receiver

A 40 MHz (yellow antenna) Novak NER-2S for the old style Futaba G-plugs was used.
Original receiver: Novak NER-2S 40MHz G-plug.
Possible replacement: Any Novak NER-2S receiver. Plug style depending on which servo is used, antenna colour depending on which frequencies allowed in your area.
The steering servo

A Futaba FP-S32H high-speed mini servo with G-plug was used. The mounting lugs were cut off to make it fit in front of the Ni-cad pack.
Original steering servo: Futaba FP-S32H G-plug.
Possible replacement: Futaba S132H J-plug (change the plug or use in combination with a receiver for J-plugs).
The Electronic Speed Controller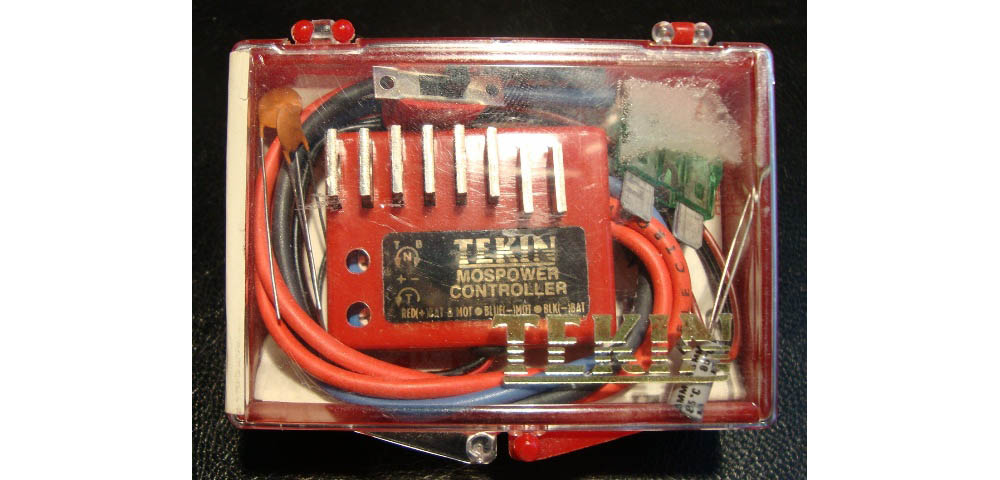 Joel used a Tekin 190PRO speed controller with gold heat sinks. The cables to the motor went through some drilled holes in the rear shock tower.
Original ESC: Tekin 190 PRO.
Possible replacement: Any small and red Tekin ESC, eg. those marked Mospower, Mosfet or Pro Tempfet.
The Ni-cads


The Ni-cad cells used (6 cells) were Trinity matched red print on yellow Sanyo Cadnica 1200SC cells. They were soldered together with small plates, and the positive end at the rear left side and the negative end at the front left side.
Original Ni-cads: 6 Trinity matched Sanyo Cadnica 1200SC cells.
Possible replacements: Any red on yellow Sanyo Cadnica 1200SC cells, or print your own labels and use any cells, or maybe use the red/black on yellow Sanyo Cadnica cells?
So there you are, everything you need to know to build your own awesome Joel Johnson 1987 World Champion replica! Parts that are not mentioned are original Ultima parts. If you have anything to add, or if I have missed something, just leave a comment below, and I'll see if it is something I need to update in the guide. Feel free to send me pictures of your replicas, new or old, or any other images related to the WC'87, and I'll add them to the bottom of this article.
I'll finish this with a picture of the restored original car, together with a replica that Dan made while restoring the original. To be honest, I'm not sure which is the original and which is the replica. I think the original is the one to the right….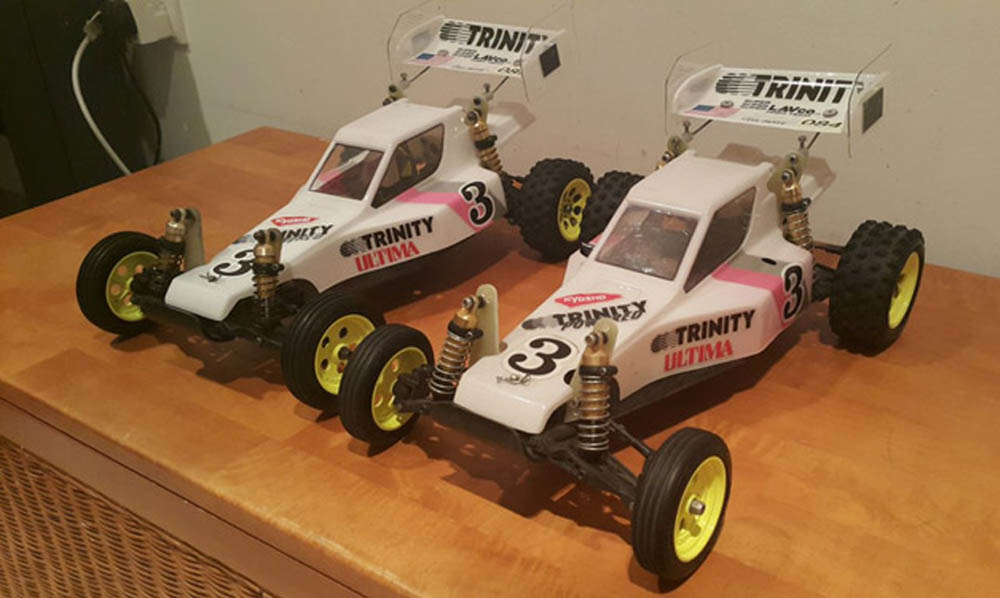 ---
Videos from the 1987 IFMAR World Championships in Romsey (UK):
---
Your images: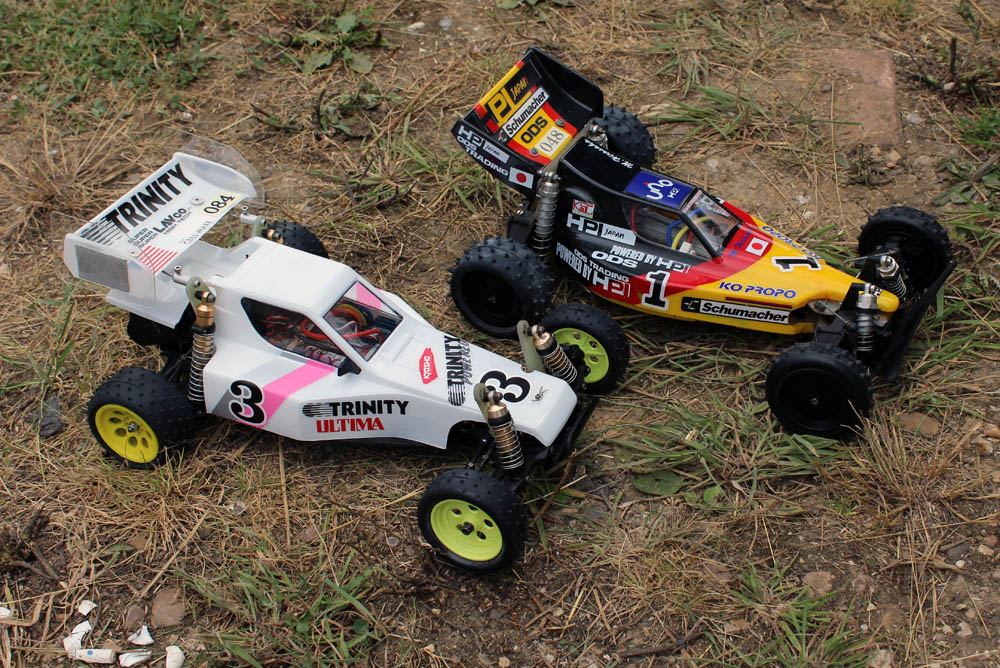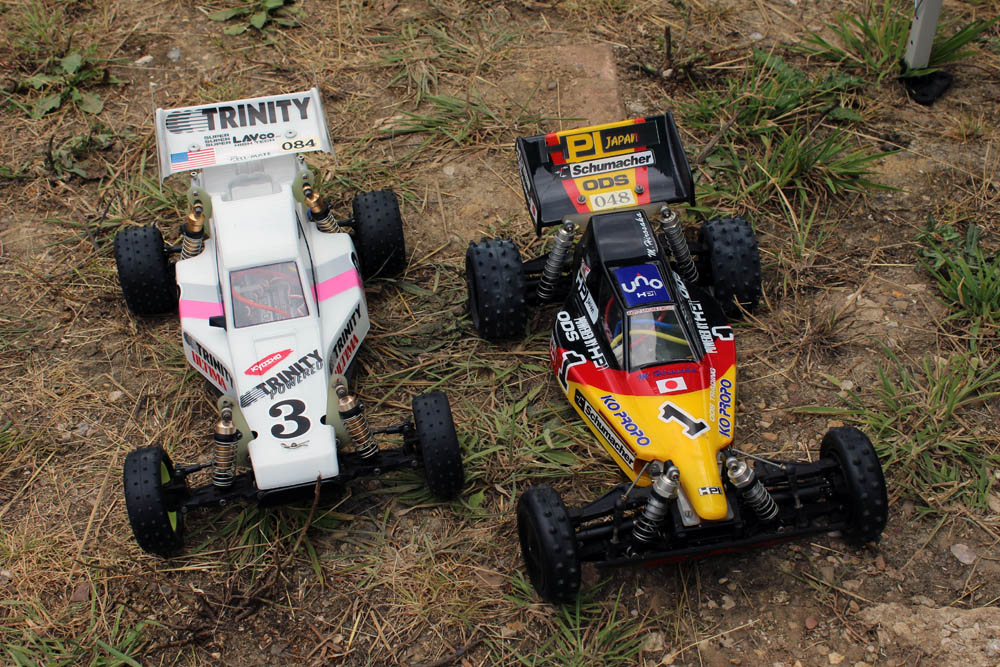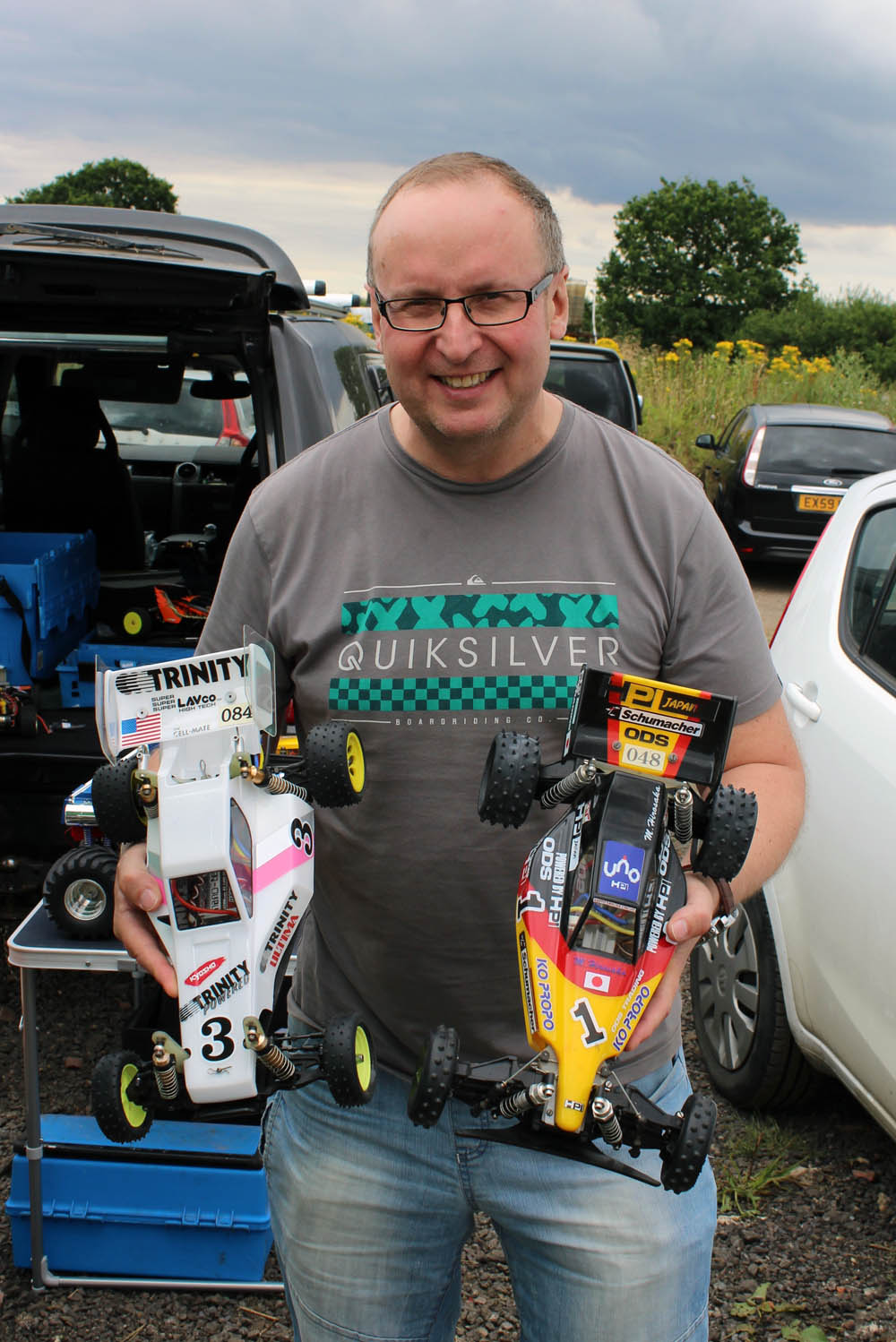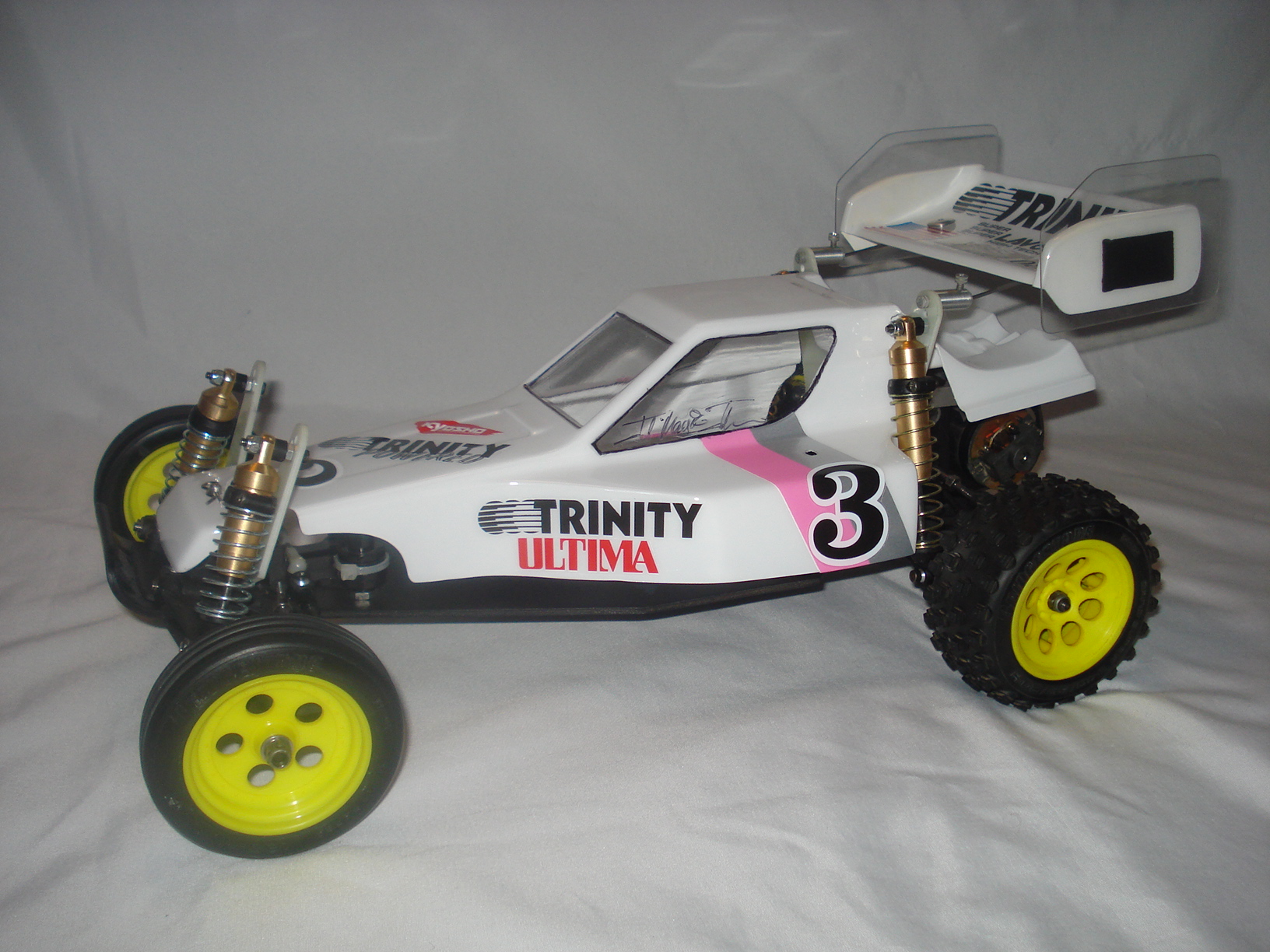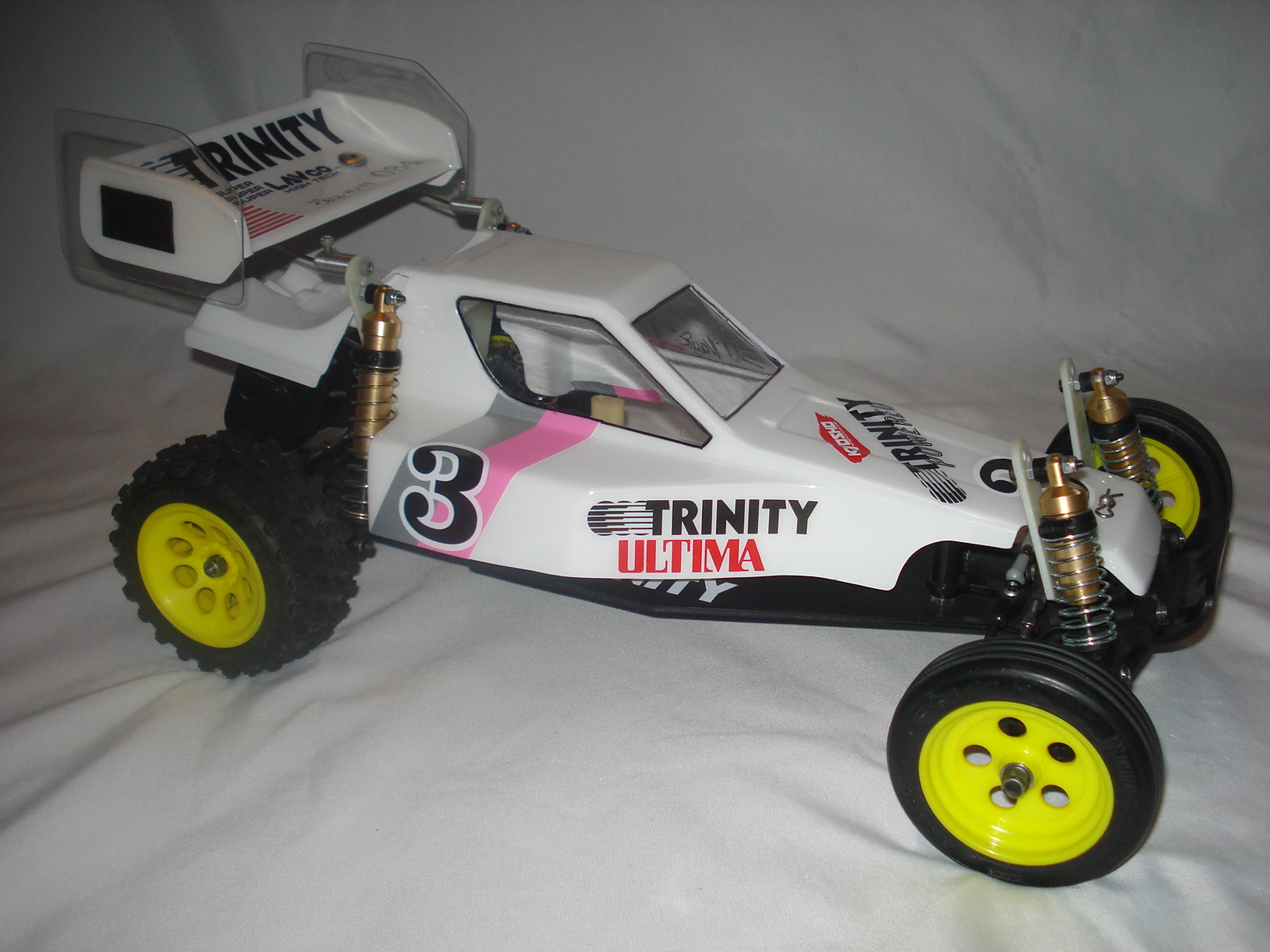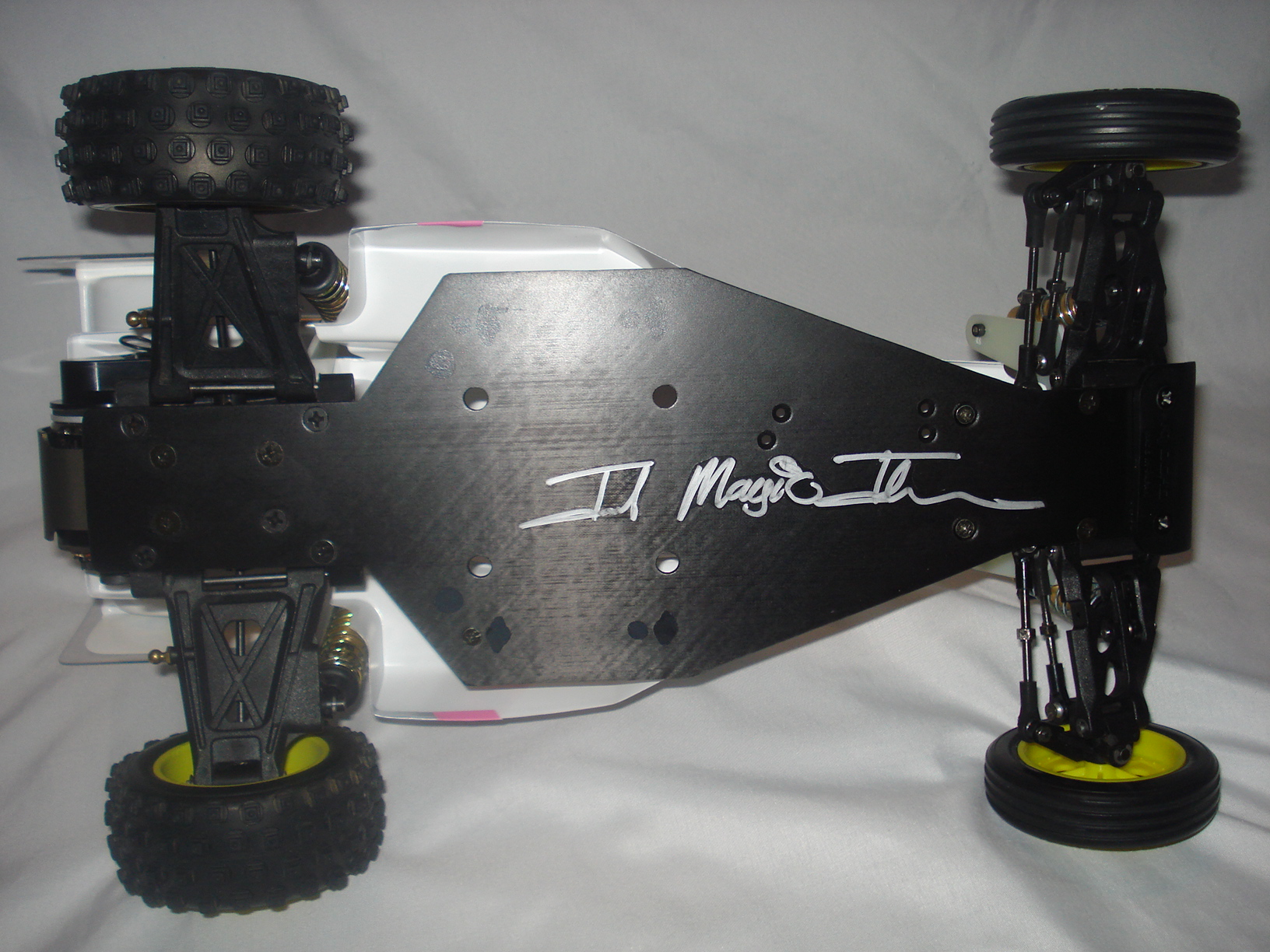 You can upload your own WC'87 images here (just remember to notice me in the comments section below):
http://www.dirt-burners.com/rcdox_uploads/