My vacation to Sweden is getting closer and closer, and my "building season" is coming to an end, so there is not much new to publish at this time. I have arranged with a few people I will visit to get some old cars and parts, among those parts to finish my Blue Bird Super Baja, the Kyosho Optima semi clone. I will also collect a mostly complete new Kyosho Triumph. I have a few others I have lined up as well, but time will tell if those deals comes through. I will bring some of my latest builds, like the Dyna Scorpion and the Torpedo Optima, if someone in the Västra Götaland area would like to take a look (just contact me). I will probably take a few runners too, as there are a couple of nice tracks within driving distance. This is basically the only month of the year I have the chance to drive them on tracks, because where I live we have snow 9 months a year, and no good tracks for 1/10 buggies.
There are a few small things I have done to some of my builds, though.
1. The Torpedo Optima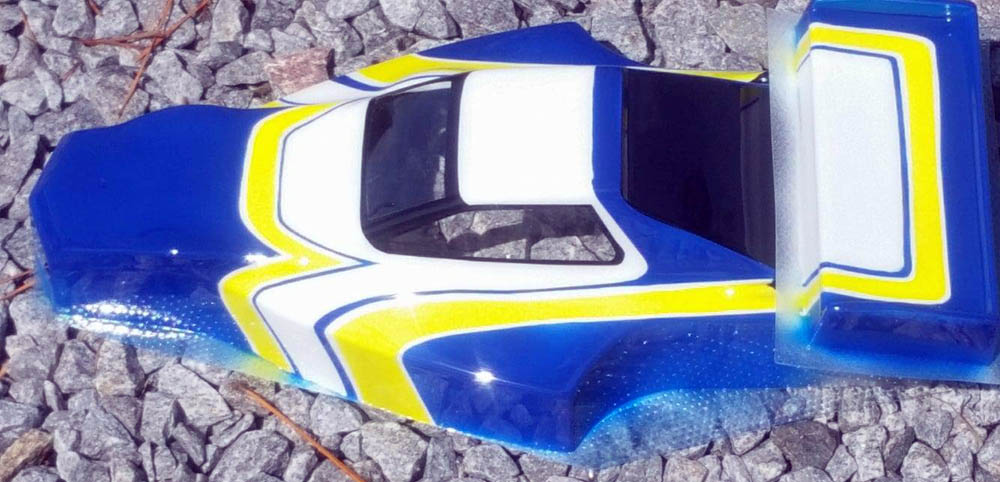 The chassis has been finished for some time now, and Raul Garcia of Garcia Graphix have sent me pics of the painted Ran.co-One body. It's not 100% compared to the original body, painted by the Japanese legend Yoshiaki Shimotori, and I see a few places I will have trouble fitting the decals nicely. But it will have to do, for now. I think it looks nice. I decided to keep the rear part of the body, as opposed to the cut body of the recent popular pictures of the original car. That's because the body was originally uncut at the 1987 worlds, and cut later to be mounted on an Optima Mid. I want it as close as possible to the '87 original.
I'm still waiting for the aluminum rear shock tower from Derrick Durbin, but I have good hopes of getting it before I go on vacation.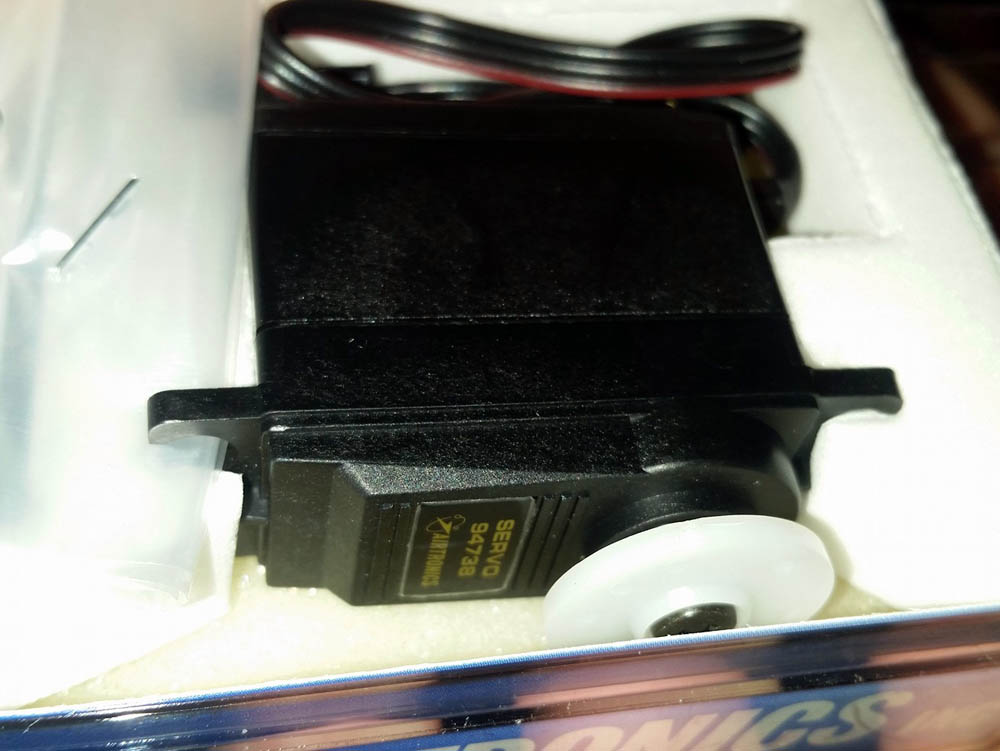 I have also finally found a Sanwa Contest HC servo, although disguised as an Airtronics 94738 Contest Car. Thanks for that Elliot Hollars. The servo has been mounted, but I still need to rewire the Sanwa Champ ESC I got from Dan Rowlands, to finish the electronics part. I'm still looking for a Sanwa Speed Controller 1000 and a Sanwa branded Contest HC servo if anyone should happen to have any of those….
2. The Hot Trick / Trinity Graphite Optima Ram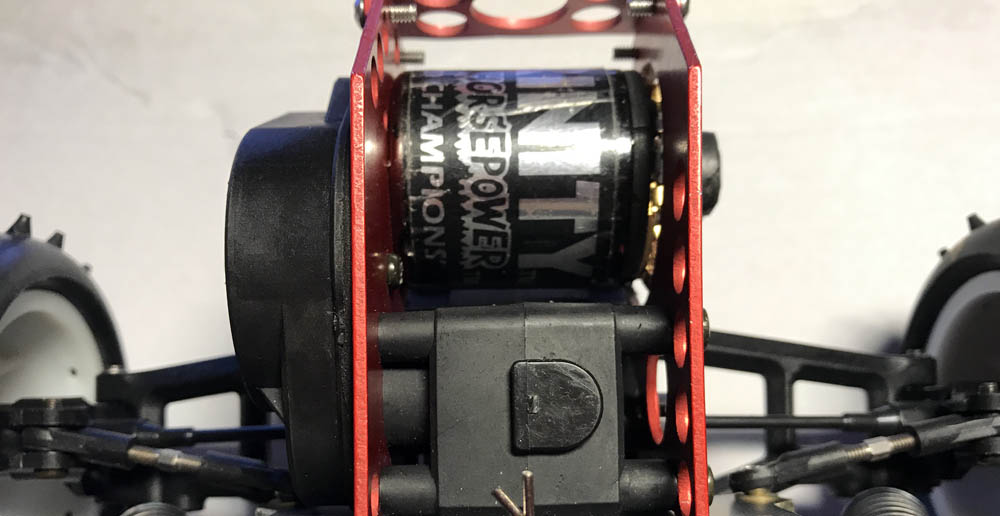 I have switched the black can/pink label Trinity Monster Horsepower motor for a black can/silver label motor. The black/silver combination looks much better than the pink. I have also partially mounted a re-release servo saver, but I'm missing a stupid small thing as one of the screws for it. I'm sure I'll find a suitable screw somewhere, I just haven't had the time to look. I will eventually swap this for a vintage servo saver, but I just used what I had readily available.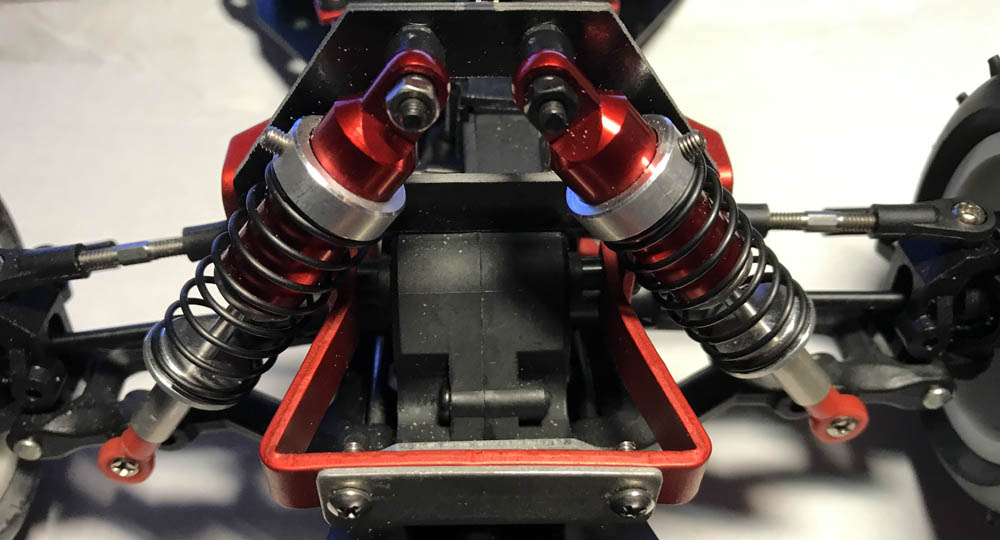 I have also mounted the Trinity Graphite front shock tower that I got from Scoot Mike (I still need to find something to send him as a trade….). The Trinity tower is rather tall, and was originally meant for long/medium shocks. Luckily I had a set of Kyosho gold shock extenders, that made the length just right. I honestly never thought I would ever find a use for them.
The Dyna Scorpion
I'm still waiting for the front bulkheads from Derrick, but I'm "bugging" him every day with a hope that I will get them before I leave for vacation. I really want to bring that car with me to Sweden to take some cool photos of it at a track.
Well, that's it for now. I know some of you are waiting for more comprehensive articles, but during the summer there will only be these small round-ups, I believe. I'll also show whatever cars I find while on vacation. the bigger stuff will have to wait until later.
Tom