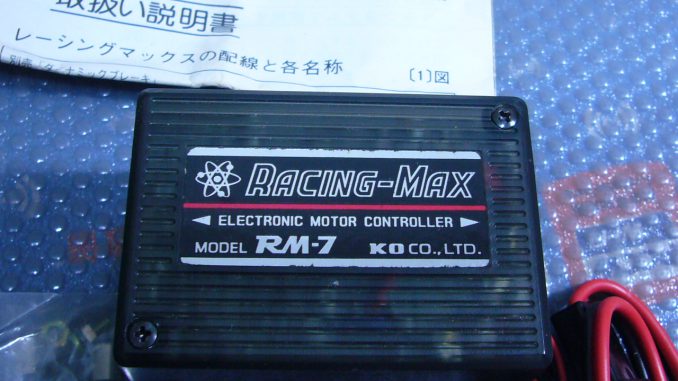 ***THIS ARTICLE WILL BE CONTINUOUSLY UPDATED AS I FIND MORE INFO***
LATEST UPDATE: 2017.06.03
The vintage RM-7 series of electronic speed controllers from japanese Kondo Kagaku (KO) have caused a lot of confusion. Was there ever a RM-6, RM-1 or maybe a RM-8? What's the difference between the various versions? When did the various versions get released? What's the specs? etc. etc.
RM-7 was the name used on all KO (later KO Propo) ESC's, from the beginning and all the way up to the CX-I. Even the first of the CX-series of controllers, the CX-II, used the RM-7 designation in addition to the CX-II name.
We have several different RM-7's, and we can start by trying to group them by age. The oldest versions can easily be distinguished by the lack of "Propo" in the name. They simply say "KO Co., LTD.", and often carried a label on the packaging that said "KO*Digiace", while the newer ones (around 1983) say "KO Propo". All the RM-7 electronic speed controllers, bar the last one (and the previously mentioned CX-II), were "pre-FET" controllers, using the older "Darlingon pairs"-type of transistors. Most of the RM-7's came in metal casings, while at least one came in plastic housing, with a internal metal frame.
These are my findings, studying numerous Japanese magazines and catalogs, and could of course contain errors. The years stated are according to when I first found that model in a magazine or catalog, and should be considered estimates, and not absolutes. Some of the models I just haven't seen in any of the different media I've looked through, so I have tried placing them where they seem to belong according to design, labels, specs etc. If you have additional information, please use the comments field below, or start a thread in the forum.
Lets start trying to build a timeline for the RM-7 series:
1978/79 – KO Racing-Max RM-7 (pre-production?)

The very first ESC's from KO were simply named Racing-Max RM-7, and I have only been able to find one very bad picture of that ESC. This one really puzzles me, as it clearly seems to be very old, both in looks and in specs, but yet was popular in Norway as late as 1982, according to a Norwegian magazine. What makes it even stranger is that I've never seen this ESC in any ads or articles in my many Japanese magazines from that era, and that makes me believe this might actually just be a pre-production version of the RM-7 seen below. The dimensions are 45 x 63 x 34mm, and weights 130g. There is a separate reverse relay with dimensions of 26 x 45 x 32mm. An optional dynamic brake adjuster were also available. It is rated for a 10A continuous output.
1979 KO Racing-Max RM-7 (v1 & v2)

The original Racing-Max RM-7 came in two different spec versions, one for 6v batteries, and one for 7.2-9.6v batteries. They came in grey plastic housings with internal metal frames. They have either silver or gold labels, indicating if they are the 6v (silver) or the 7.2-9.6v (gold) versions. Each of the versions were available with plugs for KO, Futaba, Sanwa and JR systems, so there were actually 8 different versions in total. They are rated for 15A continuous output, with a 20A peak rating. That makes these controllers suitable for use with standard Mabuchi RS-540S motors. The dimensions of the casings are the same on all versions (45 x 63 x 34mm) and they have lugs with mounting holes (2.7mm) at each short side, with a spacing of 69mm between them, and the weight (including the wire harness) is 120g. They have a special plug for connecting an optional dynamic brake adjuster.
There also seems to be a later metal casing version of this ESC, that came in a red anodized case, very similar to the gold anodized cage of the Super Racing-Max RM-7 Limited ESC, below. The red one I also believe came in 6v and 7.2v versions, with the 6v weighting 120g and rated for 20A continuous and 25A peak. The 7.2v version is a tiny bit heavier at 150g and rated for 25A continous and 30A peak. All material I've found on these are in Japanese, so that's why I'm not 100% sure about this. This version should probably had it's own entry on the timeline, as the Racing-Max RM-7 (v2), but until I have found more on this, I'll leave it here with the first version. It could be argued that this one should be grouped with the RM-7 Limited shown below, and I may move it down there later.
1981 KO Super Racing-Max RM-7 Limited

The next one out was the Super Racing-Max RM-7 Limited, that came in a gold anodized metal casing. It is rated for use with batteries from 6-9.6v, and a continuous output of 30A, with a peak of 45A. The dimensions are 55 x 44 x 30mm, and it has mounting flanges on the longest sides, with 3 mounting holes on each side. The weight is 115g. It would have set you back 11.000 Yen, back in 1981.
1982 KO Super Racing-Max Expert RM-7 (RM7-EX)

Then we have the Super Racing-Max Expert RM-7 (RM7-EX), that have a black anodized case, similar to the gold casing of the RM-7 Limited. The Expert came with a price tag of 13.700 Yen. And yes, this one was called "RM7-EX", and is the only one of the RM-7's to actually have a different "RM-7" designation. I have not been able to find any specs on the "Expert", but it seems to use the same size casing as the Super Racing-Max RM-7 Limited and it came at a price of 13.700 Yen.
1982 KO Super Racing-Max RM-7 Turbo

The last one before the change from "KO" to "KO Propo" is the Super Racing-Max RM-7 Turbo, that came in a smaller gold anodized case, with mounting lugs and one screw hole on each of the longest sides. I have not been able to find any specs on the "Turbo", but the price tag was 14.000 Yen.
1983 KO Propo RM-7 480

The first one to carry the "KO Propo" name is the RM-7 480. I have seen this ESC with two slightly different labels, but both were marked "KO Propo". From this version on, the "Racing-Max" or "Super Racing-Max" were omitted from the names. The RM-7 480 is rated for 6-7.2v, have a maximum continuous output of 25A, with a peak rating of 45A. The dimensions of the gold anodized casing are 19 x 33 x 43mm, and it has no holes for mounting it with screws. It weights 55g, and came with a price tag of 9.800 Yen.
1984 KO Propo RM-7 Limited II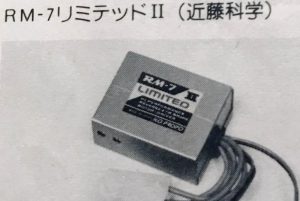 Around the same time as the 480, there were also a RM-7 Limited II. Like the Super Racing-Max RM-7 Limited, the Limited II has a gold anodized case, but with out the flanges with mounting holes. Later versions of the Limited II came with a heat sink, with embossed/carved label markings that covers the full top of the case. The earlier ones have no heat sink, and a standard label, and I've seen versions both with and without the two large screws on top. The dimensions are 50 x 25 x 38mm, and it weights in at 70g (with the heat sink). In addition to that, I have also seen yet another version, with the same label as the original Super Racing-Max RM-7 Limited, but with a case more like this RM-7 Limited II. That one was probably a prototype for the "II". The dimensions of that version are 48 x 37 x 20mm, rated to a peak of 43A, weighting 62g. These were probably preliminary data. Like the original Super Racing-Max RM-7 Limited, the "II" was priced at 11.000 Yen.
1985 KO Propo RM-7 FET

The last one to carry the RM-7 name (excluding the before-mentioned CX-II) is the RM-7 FET. This is the only ESC in the RM-7 series that uses "MosFET" transistors instead of the older "Darlington pairs". I have seen claims that this actually was named CX-I, but that is wrong. The CX-I is very similar, but not identical, and unlike the CX-II, the CX-I does not carry the RM-7 name, at all. The CX-I was actually introduced after the CX-II, in 1987, while the CX-II came in 1986. The dimensions of the lightly gold anodized case of the RM-7 FET are 25 x 36 x 14.5mm, and it weights 29g. It has a rating of 450A. The price tag was rather hefty, costing 28.500 Yen, more than double of the previously most expensive RM-7, the Super Racing-Max RM-7 Turbo.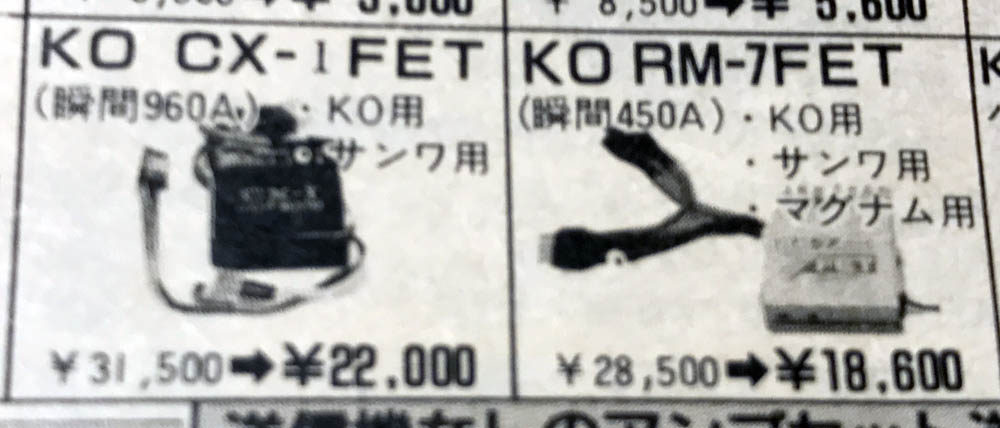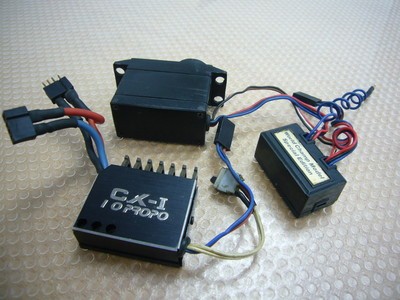 After the RM-7 FET, KO Propo started naming their ESC's CX-I, CX-2 etc., as well as ZX-100, ZX-400 etc. I may (or may not) write an article on those later…..