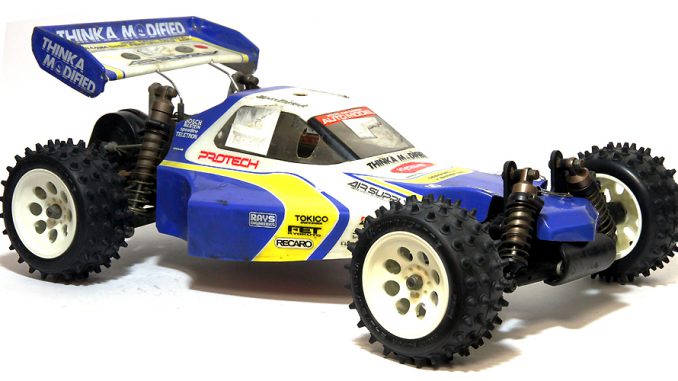 While everyone is celebrating the re-release of Masami Hirosakas WC'87 winning Schumacher CAT XLS, and have started planning building replicas of that buggy, I looked further down on the result table, and decided to make my own replica of probably the last real race incarnation of the Kyosho Optima, Atsuhiro Ohno's "Torpedo Optima". Raced in the World Champs by Japanese driver Atsuhiro Ohno, this modified Optima finished in 78th place (of 90) and marked the final change into mid motor 4wd buggies for Kyosho. While the top Kyosho team drivers were running prototype Optima Mids, other Kyosho drivers still had to use the old rear motor Optimas, and even if they got access to the full line of Kyosho option parts, they were really competing in a lower league.

Having been inspired by reads on various Japanese blogs I started making plans for my own Torpedo Optima build. Luckily those blogs had been fortunate enough to study the car up close, and they provided lots of pictures, that I could work from. In fact all pictures of the original buggy featured in this article are "stolen" from those sites. I have tried getting in contact with both parties for permission to use the images, but I haven't been able to get any response from neither. I'm sure they will take contact if they read this and have any objections…. There's not much more I can do, I feel.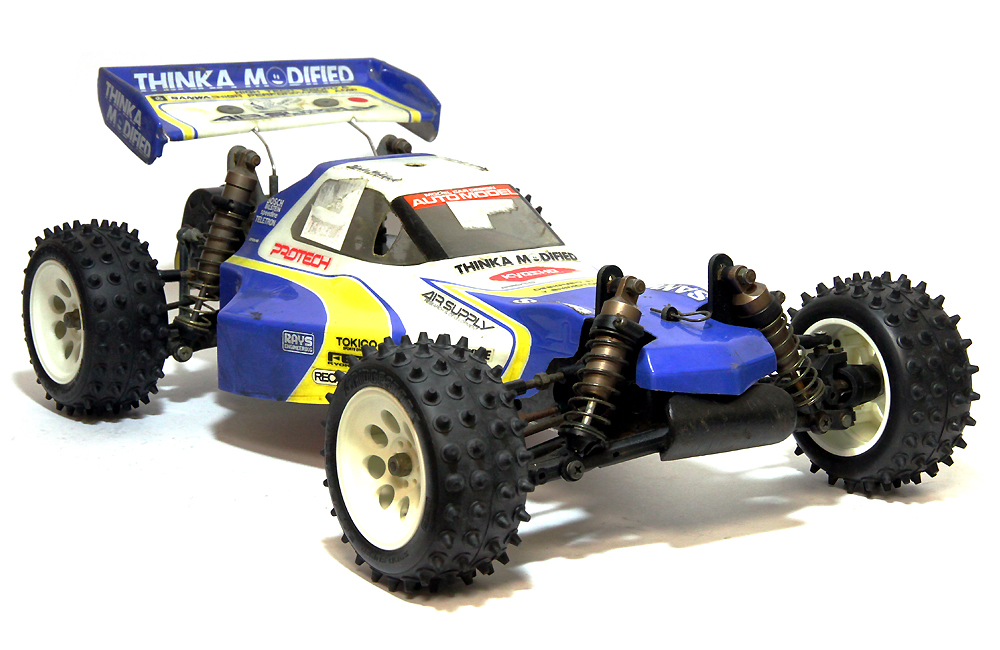 Well, what differs the Torpedo Optima from the standard Optima, you might say… Really not much, but at the same time; a lot, if that makes any sense. The basics are all the same, but various parts have been changed, either for commercially available hop-up parts or in several cases for custom made parts. Some of the parts were actually custom fitted by the Kyosho team, on site in Romsey, at the World Champs.
Starting with the body that was painted by Y. Shimotori (he actually left a caricature drawing of him self on the body), and is a Mugen Manx/Panda Cyclone body. The Mugen Manx and the Panda Cyclone were "clones" of the Tamiya Grasshopper/Hornet, and the body they both used was called the "Ranco One". That is according to a popular translation service, at least. The body was designed by the late Mr. Kurihara that once used to work for Kyosho where he designed, among other things, the body for Akira Kogawas Scorpion based Beetle. Kurihara left Kyosho to start his own design studio called "Proto". You can see a small PROTO sticker just below the Kyosho sticker, under the windscreen of the original Torpedo Optima. Mr. Kurihara also designed other RC related products like cars, planes etc. Among his most famous creations are undoubtedly the Samurai and the Ninja 1/10 buggies for Tokyo Marui. They are both regarded as classics today.
In the recent colour pictures of the car you can see that the rear part of the body has been cut off, but by looking at the small b/w picture from a race review in a 1987 magazine, it's easy to see that it indeed had the rear part attached back in the day. The rear part was actually cut off later to fit the body on a Optima Mid. The wing is a Kyosho OT-58 for the Ultima/Javelin/Optima (option part), that is mounted with the Kyosho OT-65 optional wing stay set for the Optima. The body is available through Team Bluegroove in Canada, and the same goes for the wing. I already have a couple of bags of that OT-65 wing stay set, so I only needed to order the lexan parts. Having come to the conclusion that I really have no talents at masking/painting, I decided to order a paint job through Raul Garcia and his "Garcia Graphix" in the US. I arranged with him to order the body parts from TBG directly. I'm now waiting for him to do the job and send the final body to me.
The wheels are standard Turbo Optima OT-67 wheels with standard OT-66 tires. I believe I have some of those somewhere, but I haven't really looked. If not the tires can be bought as repros from Marwan in Kuwait, but I really believe I have a few good sets. The suspension arms are the late hardened OT-69 Optima/Optima Mid arms.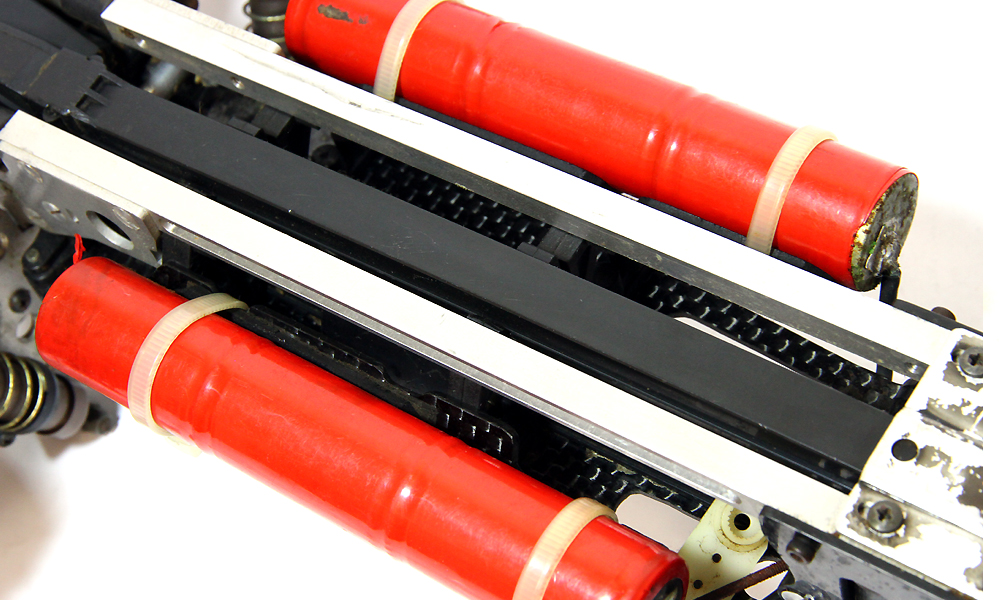 The standard chassis rails have been swapped for the Option House W-0104 rails, and while I have various different Optima rails (Answer graphite rails, Dirt Burners hollow rails etc.) I don't have any of those Option House rails. So I will have to look for a set of those, either new or used. The aluminum front plate has been cut, and the whole U-shaped bumper support brace have been removed. The bumper is custom made, and I have cut one from a sheet of kydex, but I still have to heat it up and bend it to the correct shape. I think that will be good enough.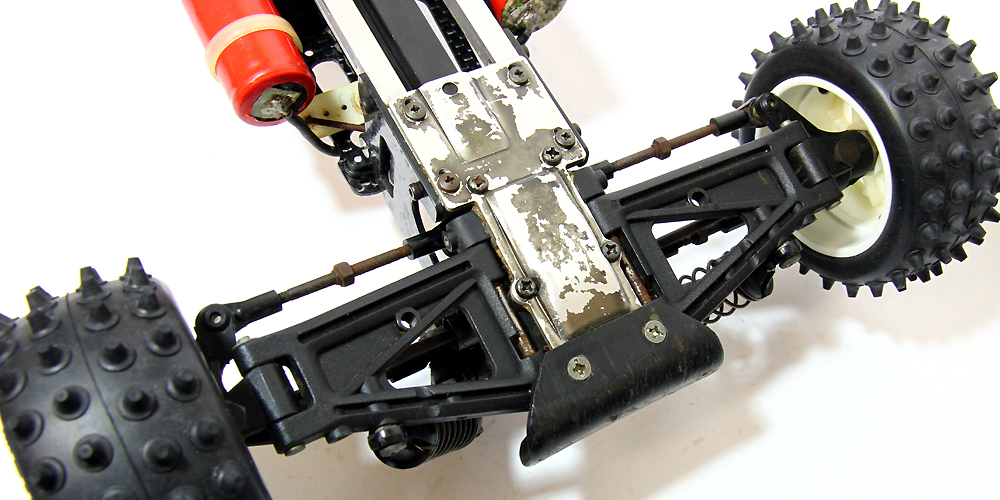 There are MRE/Tech Racing universal swing shafts at the front. These are very similar to the Option House W-5061 UJ's, and I'm not sure if these were fitted at a later point in time, or if they were used on the original car at the WC'87. There are also some plastic Lazer front steering knuckles in the newer pictures of the original car. These were obviously mounted later. I will be using the W-5061's on my replica, as the MRE/Tech Racing shafts don't exactly grow on trees. From what I can see from the pictures, there are standard dog bones at the rear. I have plenty of these parts so that will not be a problem. There is no sway bar at the front, but at the rear there is the standard Turbo Optima OT-54 stabilizer, a part I also have a few bags of in my "stash". There is no OT-74 limiter gear, and the whole gear cluster with spur and counter gears are prototype parts for the Kyosho Option House W-0110 and W-0111 gears, that were released later.
The standard Optima chain drive has been changed for a prototype version of the Kyosho Option House W-0105 Belt drive unit. I'm not sure if that prototype belt drive had the modified rear gearbox and the small spool/tension gear of the release version.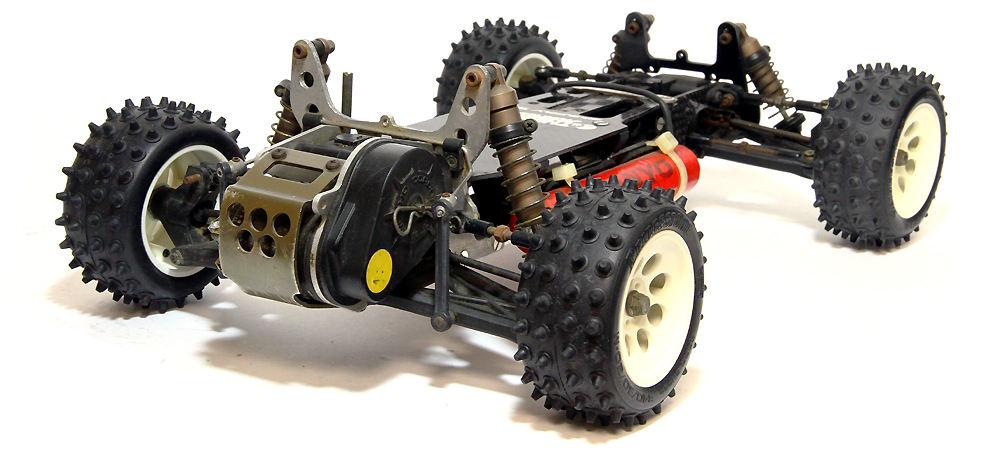 There is also a Option House W-0101 motor guard, but actually that's a prototype version too, and is in a different colour than the commercially available part. The gold shocks also seems to have a darker colour than original, but I'll have to stick with the standard parts for this build, unless someone comes up with a simple solution to darken the anodizing……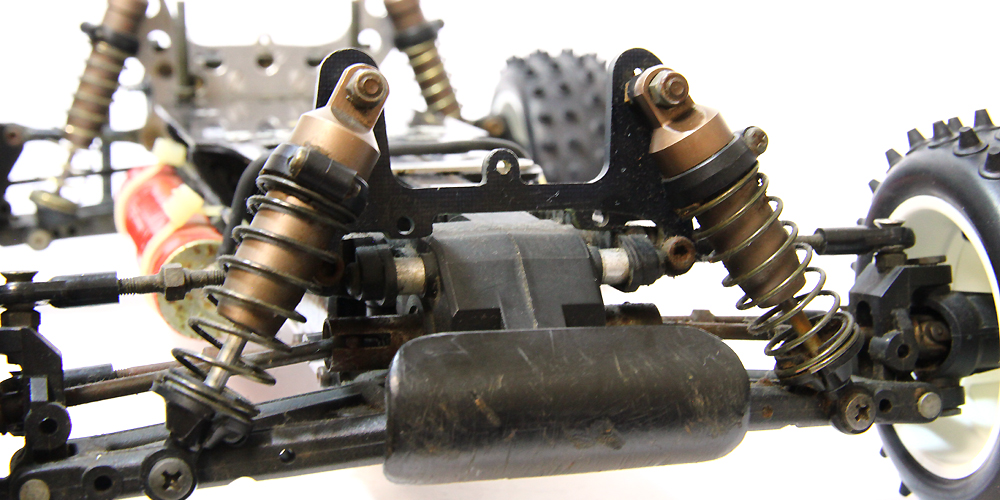 The front shock tower is a prototype Optima Mid tower, that was custom cut, and fitted to the car on site by the Kyosho team at the world champs. I guess the Kyosho techs felt a bit sorry for the drivers who had to run the old cars at the event…. I'm not sure if that tower is a carbon part or if it's just black fiberglass, but it definitely don't have the "weave pattern" mostly seen on carbon. But there were various types of carbon/graphite used back then, some of them without that pattern nor the glossy look. That old graphite material is not easy to find today, so I decided to have it cut from black G10 (by Jeff Malar of Team A&L) as that's the material I have found to look most like the old "graphite" material. I looked closely at the pictures of it, and tried to copy it as closely as I could. In fact I started with making an exact copy of the Turbo Optima Mid tower, then "cut it" in the CAD software until it looked like the tower on the Torpedo Optima.

The only "problem" I see with the front tower is that the body mounts 0.5 cm higher than with the original tower, something you can actually see when looking at the car from the side. But that's a "feature" of the original car, and I don't want to have it any different!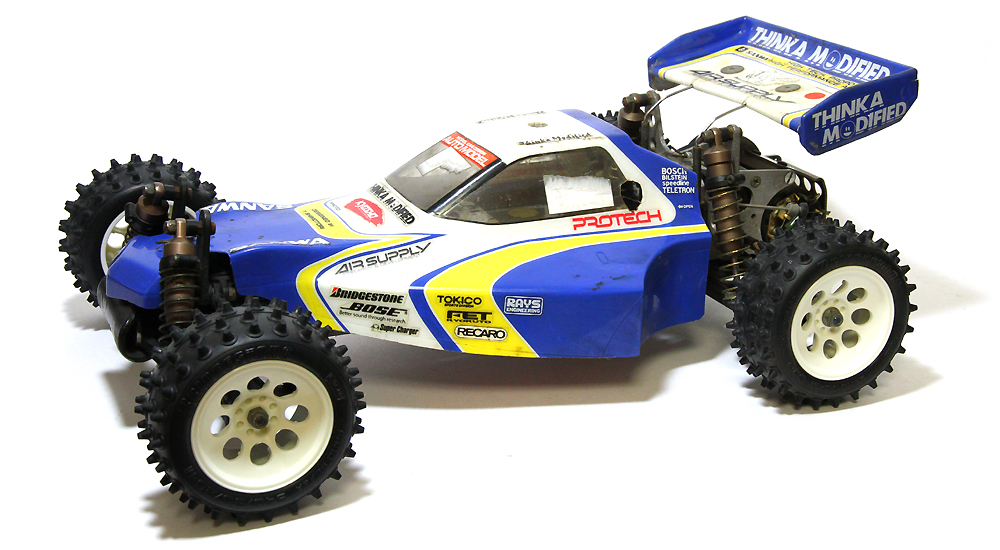 The rear shock tower is in aluminum, and must be a completely custom/home made part. I have not seen anything like it before neither on a Optima nor on any other types of cars. The tower was fairly easy to copy in CAD, and I have sent the file to Derrick, so he can CNC cut it in aluminum. Derrick does some great work, but can be a little bit slow 😉 (I'm still waiting for some parts for the Dyna Scorpion that I ordered half a year ago) but I don't want to push him too much, as I'm really grateful to have a friend who actually can do these small volume parts for me. So instead of waiting for the aluminum part, I sent the file to Jeff as well, so he could cut it in the same G10 material as the front tower. It will be a placeholder until I get the aluminum part from Derrick.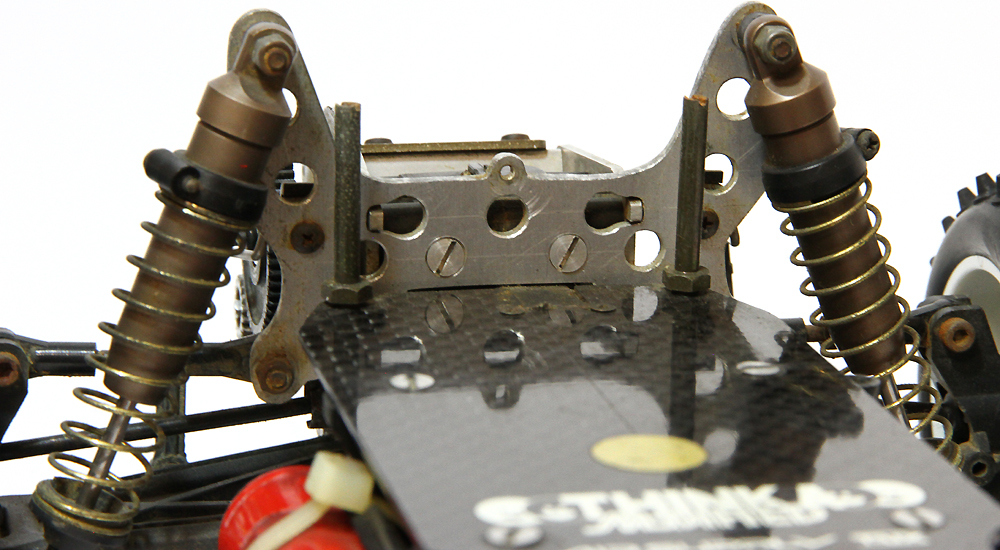 The radio plate (top plate) and the front side plates/gear box mounts are custom carbon parts. These parts actually have the "carbon fibre weave" and are glossy as you can expect from modern carbon as well. Having a great relationship with Fibre-Lyte in England, it was no problem to get those cut. I can't praise them enough, they are very nice to deal with, and they have a fast turnaround when sending them files to be cut. Not to mention the very fair prices for these one off parts.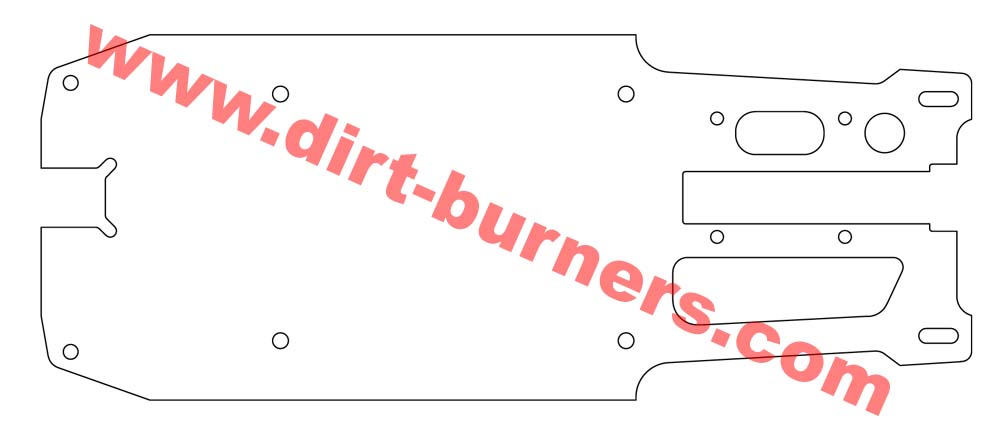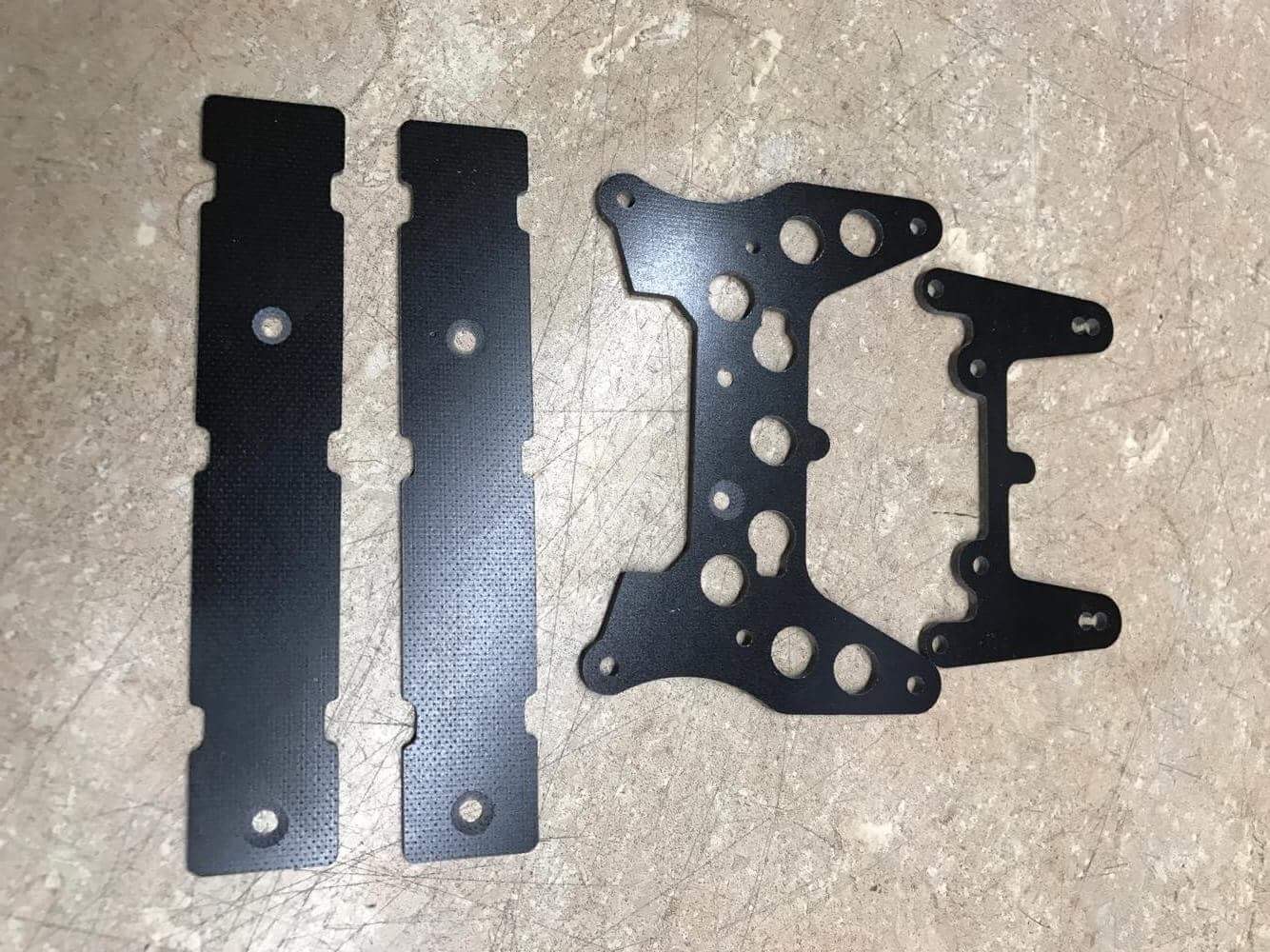 Something I haven't mention yet is why the car is called "Torpedo Optima"… Well I guess you have figured that out already, but for the "slow" readers, I can say it has to do with how the ni-cads are mounted. Instead of a single stick pack, individual cells or saddle packs, The cells are arranged in form of 2×3 sticks, and mounted lengthwise on each side of the car, like…. yes…. torpedos! The sticks are held by zip-ties onto mounting plates that are screwed onto the radio plate support brackets (yes there are actually two brackets). There are adhesive foam in between the mounting plates and the sticks. I had Jeff cut me some of those as well, but in a thinner black G10 material than the shock towers. Having praised both Derrick and Fibre-Lyte, I feel I really have to extend a thank you to Jeff as well. Amid his buyout of Team A&L and Factory Works he took his time to cut these parts for me, without hesitation. If you read this Jeff….. You're a star! Thank you my friend!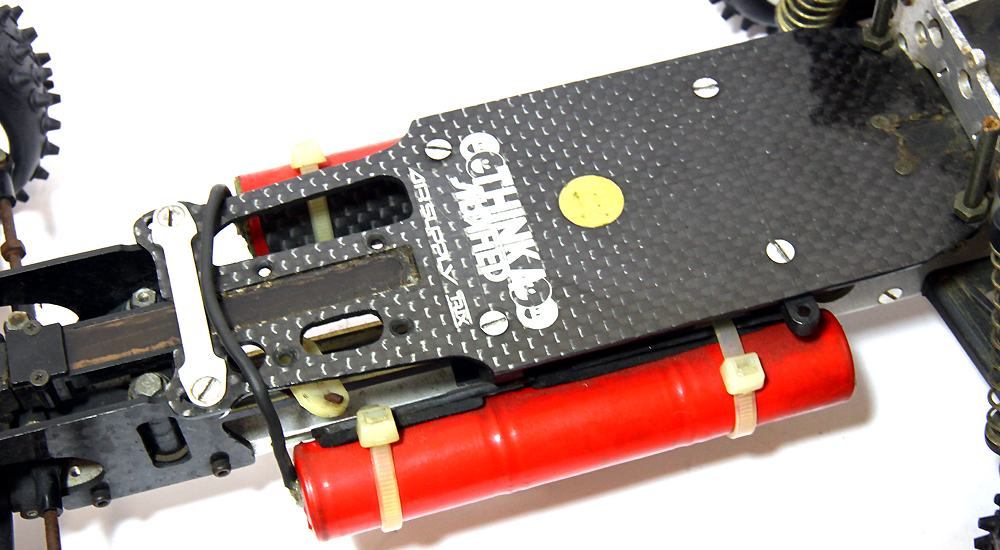 The rear plates (motor plate and left plate) are standard parts, just countersunk to fit flat head screws. That will be easy to fix. As for the screws…. Finding those single slotted screws turned out to be harder than expected, so I initially settled for using cross head screws instead. That was until I had a dig in my Ultima and Optima Mid boxes….. And look what I found! Trinity #7077 Optima Mid and #7078 Ultima "aluminum lite-weight screw kits". I also found a second partial bag of the Ultima kit. I'm positive that these are the screws used on the Torpedo Optima, as Trinity parts were readily available in Japan at the time.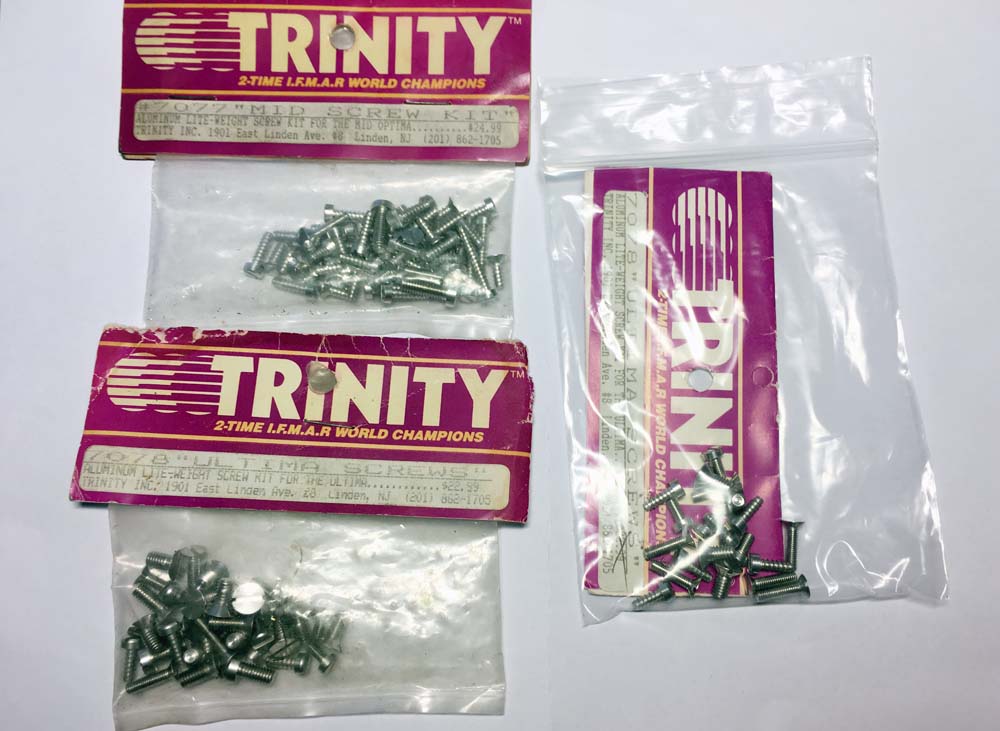 The motor that Ohno used on his Torpedo Optima at the world champs was a Thinka Modified (never heard of that before….) Air Supply Trix motor, that was custom made for him. Obviously I don't have one of those Thinka motors as they must be über rare, but I do have a Air Supply Trix modified 4wd off-road motor (those are actually rather rare themselves), that will have to do. You can see from the picture that the end bells are the same, at least….

The ESC he used was a modified version of a made-to-order ESC called the Sanwa SM-378 Speed Controller 1000. Ohno had his ESC modified with a double set of FET's, and had the output characteristics set to his taste. The modified version he used was called the Speed Controller 1000 SP V-Max. The Speed Controller 1000 was only made in very small numbers, and that's why "nobody" have heard of it, I believe. A big thank you Atsuhiro san for the pictures and the additional info regarding this!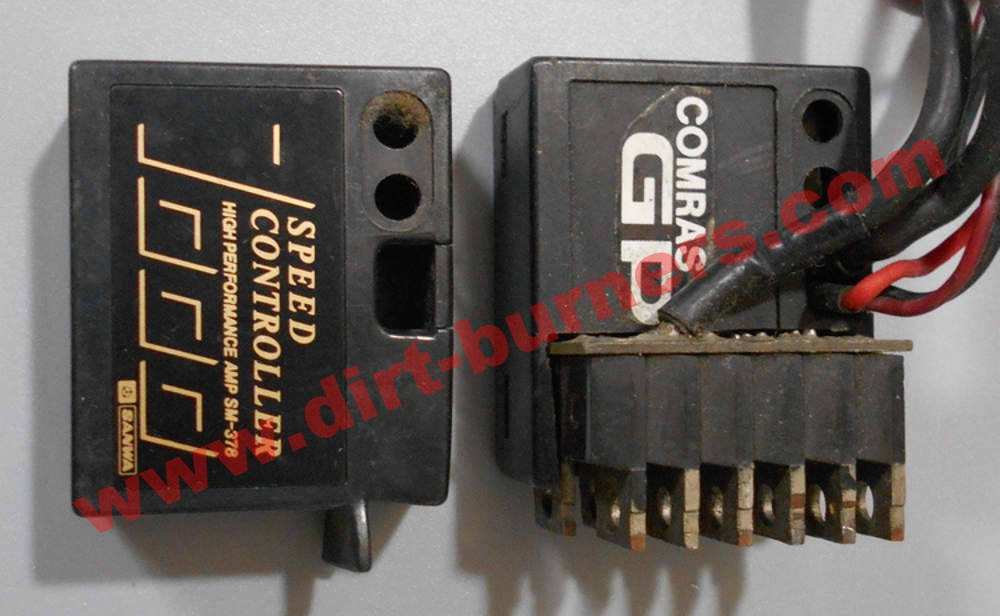 Well that's it for part one. Status is that I'm waiting for the painted body and wing from Raul, as well as an answer about some Option House rails I have a lead on from Mini, Jeff has cut and sent the G10 parts, the carbon parts from Fibre-Lyte are being produced as we speak, and the same goes for the decal set from MCI. I'll guess we'll see at least a partially built car in part 2.
PS. I'm sure I've forgotten to mention some things, so feel free to use the comments to ask. You could also sign up for the forum and ask questions there.
Tom