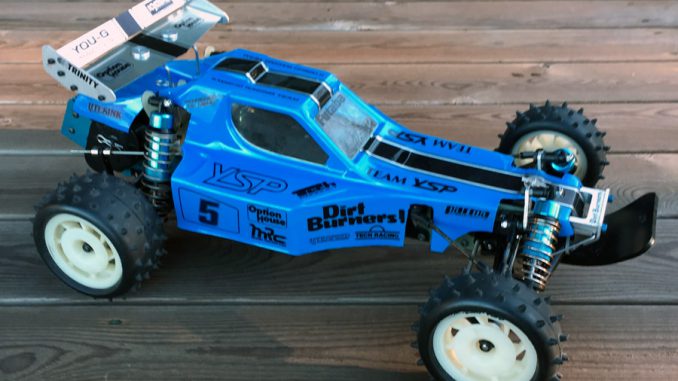 After having collected Optima hop-ups for some time, I decided it was time to build a vintage racer. The Kyosho Optima must be my absolute favorite vintage buggy, and this was a build I really was looking forward to.

Here I have just started the assembly of the car, and so far I have used the following parts; The official Optima belt conversion kit, with a Parma one-way front "diff", a pair of Dirt Burners! extra strong chassis rails, Dirt Burners! fiber glass front side plates, the latest "thick" version of the Optima front bumper support plate and a LiteSpeed LiteSink motor plate with integrated heat sink. I was originally told that the fiberglass front plates were Parma, but having investigated that, I now believe they are from the Japanese Dirt Burners! brand, that sold parts by Parma (among many others). These plates I no longer believe originated from Parma, but rather from one of Dirt Burners! Japanese sources.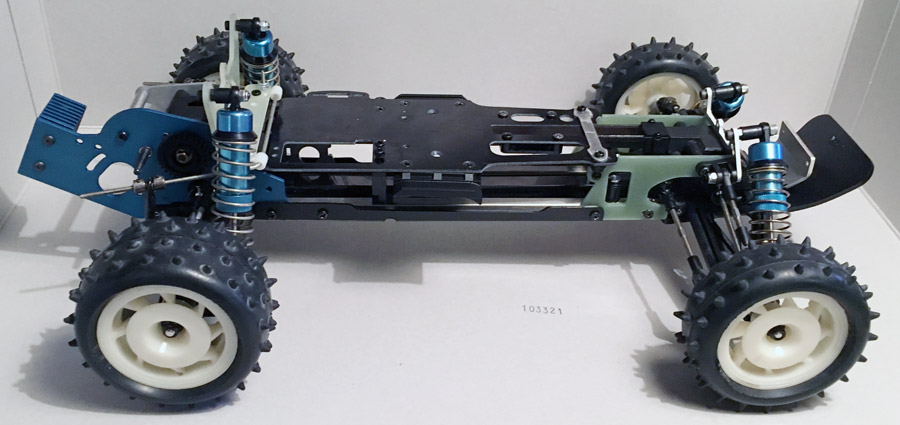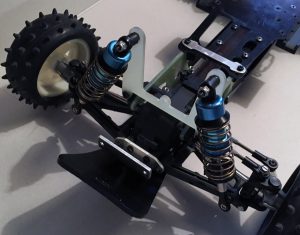 I was planning to use a full set of Andy's A-arms for this build, but discovered to my surprise that those arms didn't have mounting holes for sway bars. That was a deal-breaker, so I decided on using late Optima arms instead. I did use the Andy's nylon steering hubs, though. Here I have also mounted a YSP front bumper, as well as a YSP under guard. The Parma rear sway bar is also in place. The rear shock tower is a Parma fiber glass tower, and I tried mounting a Parma front tower as well. The front tower was way too tall for my liking, taking away too much of that classic Optima look, so I decided against using it, and went for the Turbo Optima tower instead. The shocks are from Tech Racing. There are also Dirt Burners! adjustable steering linkage, as well as front and rear camber adjusters. The radio/tech plate is a standard Optima plate. There are UJ's all around, a pair of Trinity and a pair of Kyosho Option House. Wheels are vintage MRC nylon wheels (no, not the Tamiya MRC from the US, but the French MRC who made the Santana etc.). These wheels are very strong, in my experience far stronger than the standard Kyosho wheels. They are however all the same, so on the right side of the car, the "fins" are slanted backwards (as they should), but on the left side they are slanted forwards. This seriously triggers my OCD. These wheels were very popular in Norway for the Optimas and the Mids (and Tamiya Avante etc), as they were availible in many colours, and were half the price of original Kyosho or Tamiya wheels. The tires are old Schumacher CAT tires. There is a Turbo Optima OT-74 (spring version) limiter gear in the rear gear box.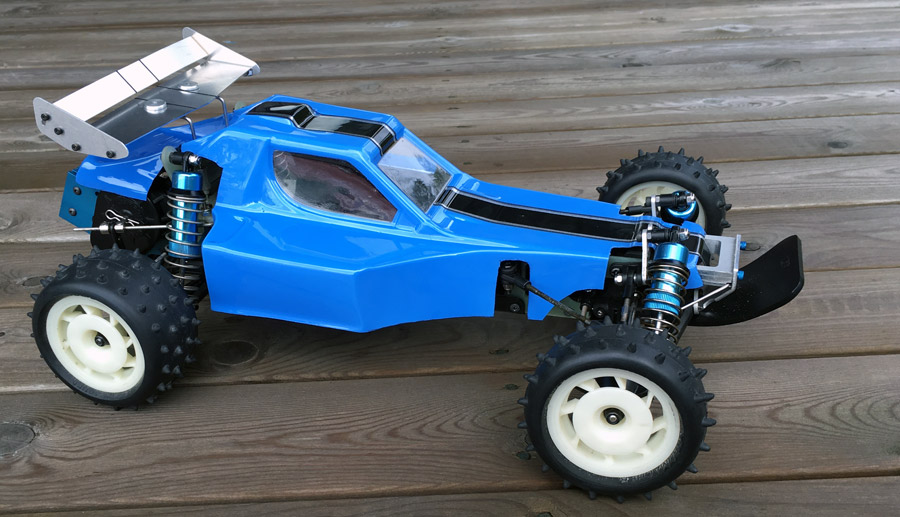 The following parts have been used on the build:
Kyosho OT-54 stabilizer set (front only)
Kyosho OT-74 limiter gear set
Kyosho #1891 LeMans 480s motor (24×1, 22.000 rpm)
Kyosho Option House W-5061 universal joint driveshafts (rear)
Parma #12659 fiberglass rear shock mount
Parma #12856 suspension balls w/E-clips (and some GW/SRM)
Parma #12857 front links (repro)
Parma #12867 positive lock front one way diff
Parma #13230 adjustable rear anti-roll bar with mounts
Dirt Burners! extra strong chassis rails
Dirt Burners! fiberglass front plates
Thorp #4731F front camber adjusters
Thorp #4731R rear camber adjusters
Thorp #4732 steering linkage
Litespeed #1011 Litesink motor plate w/heat sink
Tech Racing shock absorbers
YSP YS-02 front bumper
YSP YS-08 underguard
Andy's #3620 precision nylon steering hubs
Trinity universal joint driveshafts (front)
You-G OP-31 variable duralmin wing and wing mount
MRC Santana wheels
Schumacher T650 CAT rear tires
Schumacher T652 CAT front tires
Home made (by GoMachV) fiberglass rear side plate
Unknown aluminum bumper support brace
Yet to be mounted:
Futaba MC106B electronic speed controller (40A/64A)
Futaba receiver
Futaba servo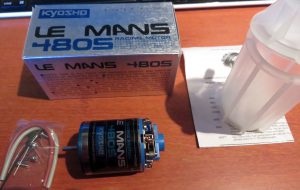 Since I had decided on a blue "theme" for this build, there really was just one option for a motor, and that was of course the Kyosho LeMans 480S. This was one of the few LeMans motors I didn't have, but with some help form my friend Guillaume, I managed to get hold of a NIB. Up front there are some extra links, adding a second anchor point, basically converting the upper part of the suspension into an A-arm. This makes the front suspension a lot more sturdy, with absolutely no slop at all. This was a kit from Parma, but when I built this car I didn't have that kit, so I had to make my own. Later I got my hands on such a kit, but I will probably use that on another build. You don't see these very often, but must be one of the most useful hop-ups for the Optima. It's a big difference with or without this mod.
The decals I printed myself, trying to keep a clean look by only using black. I think they turned out great. I still need to mount the electrics. There is  bit strange lighting in some of these pics, as they were taken at a time of year when we don't have much light here, way up north above the Polar Circle. That's way the colors are a bit off.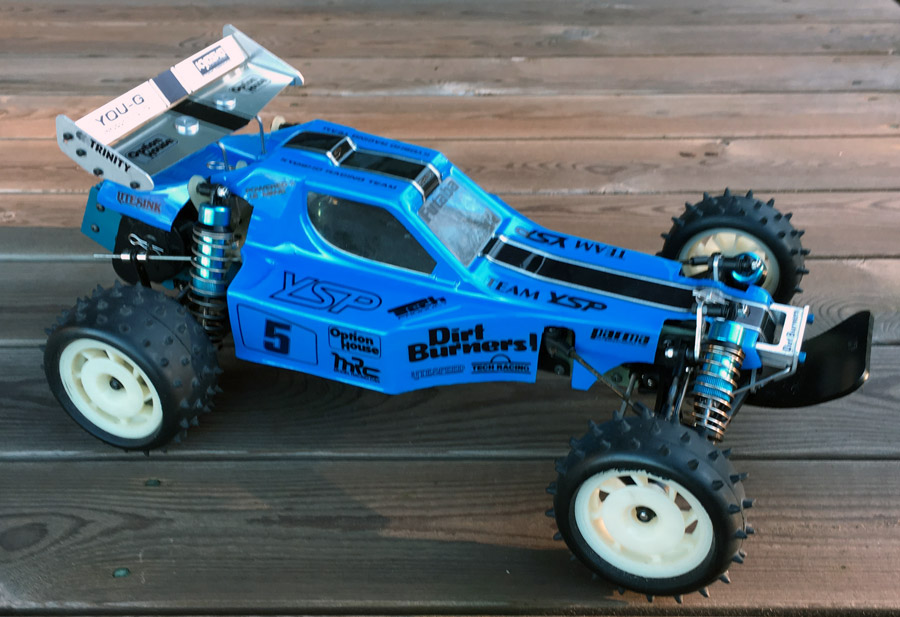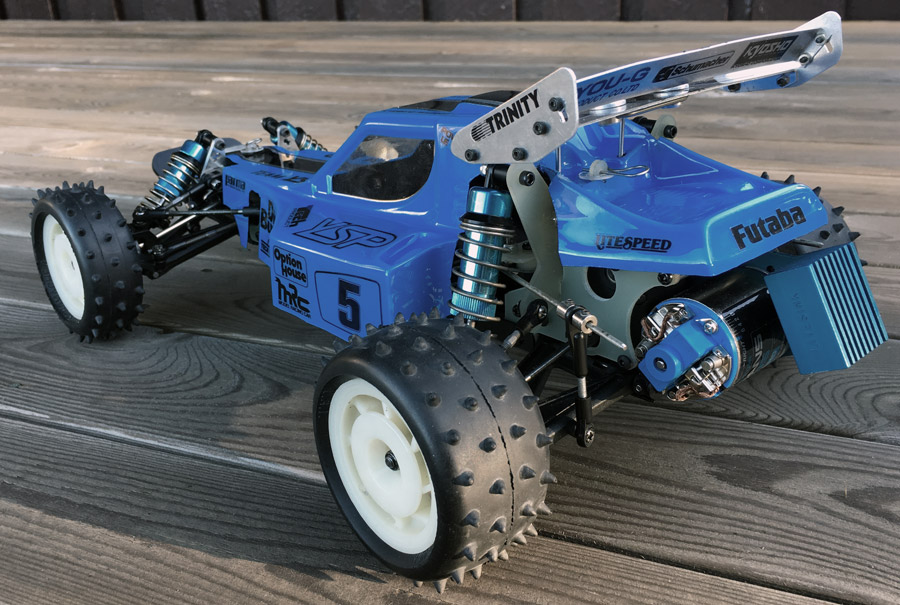 I still need to mount the electronics, wire the motor and do some detailing on the body.